Healthy Roasted Vegetable Sandwich recipe that's filled with veggies. This easy to make vegetarian dinner meal is only 550 calories, including roll and cheese!
Roasted Vegetable Sandwich
What I love about roasted vegetables is that it's plug and play. I am using mushrooms, green peppers, jalapeno peppers, tomatoes, potatoes and green beans in this recipe because they're my favorite and they're in season veggies from the garden but you do you. Want to add onions, broccoli or squash? Go for it. Ready to get your hoagie on?
Best Vegetables to Roast for Veggie Sandwich

Now chop and dice them up! It's really important to dice your potatoes up into 1/2 inch pieces as they will cook quicker and evenly with the other vegetables. If you cut them up larger then they are going to take longer to cook and your other vegetables will be overly cooked.

Throw them in a large bowl and give them a flip.

Now start making your olive oil dressing ready that you'll be drizzling over these vegetables.

Drizzle it on your veggies and continue flipping them so they're coated in your oil.

I had to use 2 cookie sheets for this recipe because it's alot of vegetables. Now it goes into the oven… roasting time!

How long does it take to roast vegetables in the oven at 450?
About 30 minutes! Enjoy that roasting smell in your home…. and now the before and after!
SWOON!
Vegetarian Sandwich
I love this sandwich because it's a delicious vegetarian option! Most sandwiches are packed with meat, and sometimes I get sick of the usual mozzarella/pesto/tomato sandwich, so this roasted vegetable sandwich is a dinner favorite!
Now grab your rolls. It's up to you what you want to use, I love hoagie rolls but I also love big sandwich rolls for a Roasted Vegetable Sandwich!

Put your hoagie on a sheet of paper towel and start adding the roasted veggies inside them. See, aren't you happy that you put that paper towel under them?

Grab a slice of cheese and put it on top, watch how it magically melts.

Now add some more roasted vegetables on top! We're going to overflow these hoagies with veggies.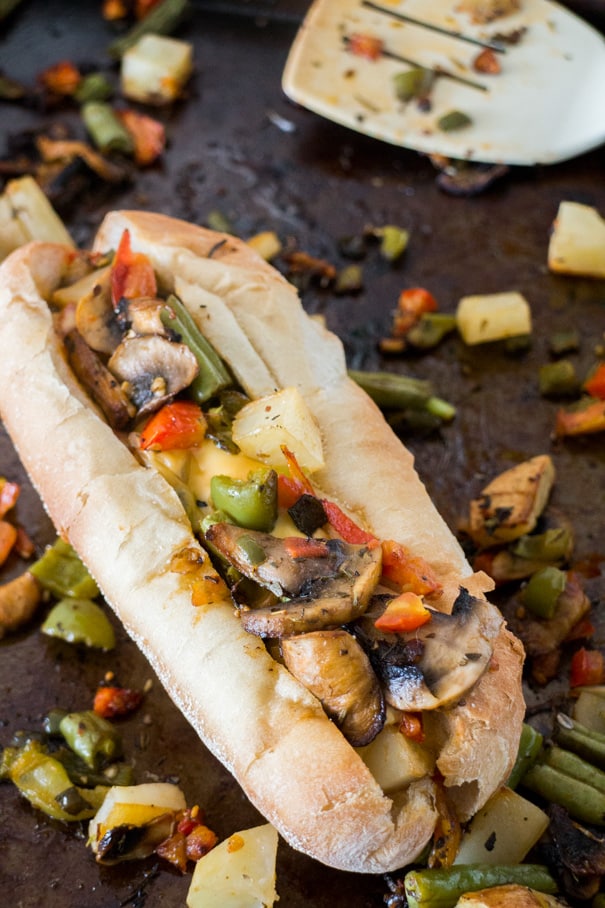 How to Make a Vegetable Sandwich Spread
If you are serving these sandwiches for a party, or you want your family to make their own, then it's easy to make a spread! When roasting, I try to keep the vegetables separate on the baking sheet – the potatoes in one corner, the mushrooms in the other corner, etc. Then when they're done roasting, I will place them each in their own bowl.
After that, spread out a few different rolls (hero rolls and sandwich rolls), and a stack of cheese. Now everyone can make their own sandwich!
Enjoy this Roasted Vegetable Sandwich friends!
Looking for more Vegetarian recipes? Try my Vegetarian Taco Casserole and Cauliflower Soup!
Looking for more Sandwich recipes? Try my Peanut Butter Burger!
Pin for later:


Roasted Vegetable Sandwich
Print
Healthy Roasted Vegetable Sandwich recipe that's filled with veggies. This easy to make vegetarian dinner meal is only 550 calories, including roll and cheese!
Prep Time: 10 minutes
Cook Time: 30 minutes
Total Time 40 minutes
Ingredients
8 oz mushrooms sliced
2 green peppers sliced
2 jalapeno peppers diced remove the seeds
2 large tomatoes cut up
2 potatoes cut up into 1/2 inch cubes this is important because you want them to cook quickly
1 cup green beans cut into thirds
1 tablespoon dried oregano
1 teaspoon dried thyme
1 teaspoon dried rosemary
3 cloves garlic minced
salt + pepper to taste
1/3 cup olive oil
4 hoagie rolls
4 slices of cheese
Instructions
Preheat oven to 425 degrees.

In a small bowl mix oregano, thyme, rosemary, garlic, salt + pepper and olive oil.

Put vegetables on a a large roasting pan or cookie sheet that's been sprayed with nonstick spray. I used 2 cookie sheets because there was lots of vegetables.

Pour olive oil mixture onto the vegetables and toss to coat.

Roast for 30 minutes, stirring half way.

Once out of the oven put vegetables on hoagie rolls and then add a slice of cheese on top.

Serve and enjoy!
Nutrition Information:
Calories: 530kcal (27%)