This vegetarian Cheesy Vegetable Soup is loaded with a creamy cheddar cheese sauce, lots of vegetables, and plenty of flavor! A steaming hot bowl with fresh parsley on top is the answer to all of your comfort food cravings.
Cheesy vegetable potato soup
This Cheesy Vegetable Soup is the ultimate comfort food. Thanks to the simple ingredients and quick cook time, it comes together in minutes and tastes velvety smooth. It's best enjoyed as an easy weeknight dinner, for lunch the next day, or a warming appetizer, so dig in!
I made this cheesy vegetable soup with frozen vegetables so the recipe can remain simple, easy, and budget-friendly. Either stick to the recipe as-is or add more to it if you'd like! I think this homemade creamy soup would be divine with added chicken, bacon, broccoli, or leafy greens.
Every slurp of cheesy soup is thick and creamy, just like classic Broccoli Cheese Soup. While the frozen vegetables tenderize in a pot of boiling vegetable broth, you'll tackle the easy and cheesy roux. This cheese sauce not only thickens the soup, but helps every bite taste intensely cheesy, savory, and comforting.
A hot bowl of vegetable cheese soup with a Pumpkin Roll on the side is enough to warm you up on a cold day or enjoy as an appetizer before the Italian Sausage Pasta hits the table. You can't go wrong!
How to make cheesy vegetable soup with frozen vegetables
This could be one of my easiest and creamiest soup recipes ever! As a bonus, you don't need any special equipment and only 2 pots to get it going. Here's how it's done:
Pour the veggie broth into a pot over medium-high heat on the stove and bring it up to a boil. Add the frozen vegetables, potatoes, and carrots and cook until fork tender.
Make the cheese sauce in a separate saucepan over medium-high heat. Start by melting the butter, then whisk in the flour. Continue to stir as you add the milk. Finally, stir in the cheese and cook until the sauce thickens.
Pour the finished cheese sauce into the pot of vegetables. Season to taste and continue to cook for another 5 minutes.
Serve the cheddar vegetable soup in individual bowls with parsley or shredded cheddar on top and fresh dinner rolls on the side.
Tips to make the best cheesy vegetable soup
Want it even creamier? Turn this into a Velveeta cheesy vegetable soup by substituting the same amount of cheddar cheese for Velveeta cheese.
Try not to skip the potatoes! They add a special heartiness that distinguishes this soup from the rest.
For deeper flavors, saute white onion and garlic in oil in the soup pot before adding the broth and frozen vegetables.
Turn up the freshness by making it with homemade vegetable broth out of carrot tops or broccoli leaves.
Substitute vegetable broth for chicken broth to give the soup an added richness.
I don't recommend freezing this soup because dairy has trouble thawing and returning back to its creamy consistency.
Add more to this vegetable soup
There's plenty of room to play with this vegetable soup recipe. Try these add-ins to make the soup exactly the way you like it:
Vegetables: Add fresh or frozen broccoli, celery, peas, butternut squash, tomatoes, kale, or cabbage.
Meat: Ham, boiled chicken breasts, ground turkey, leftover shredded chicken, or bacon would all give this soup some added protein and savoriness.
Cheese: Any type of good melting cheese will work in this soup recipe. Swap the cheddar for Velveeta, Gouda, Gruyere, Monterey Jack, or Provolone instead.
Herbs and garnish: Add some "oomph" to the frozen vegetables by stirring dried oregano, basil, thyme, or parsley into the soup. Garnish each bowl with fresh or dried parsley, shredded cheddar cheese, parmesan cheese, or homemade croutons.
Can I make it ahead of time?
You can! When the soup is done cooking, you can store it in an airtight container in the fridge for up to 2 days. Reheat the soup on the stove or for a few minutes in the microwave and enjoy!
More creamy soup recipes
Pin for later: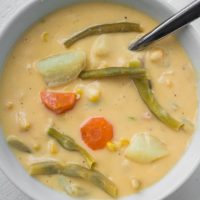 Cheesy Vegetable Soup
Print
This vegetarian Cheesy Vegetable Soup is loaded with a creamy cheddar cheese sauce, lots of vegetables, and plenty of flavor! A steaming hot bowl with fresh parsley on top is the answer to all of your comfort food cravings.
Prep Time: 5 minutes
Cook Time: 25 minutes
Total Time 30 minutes
Ingredients
2 cups vegetable broth
10 oz bag frozen green beans
1 cup frozen corn
3 potatoes peeled and diced
1 carrot peeled and diced
2 tablespoons butter
1/4 cup flour
1 cup milk
8 oz shredded cheddar cheese (if you want extra creamy, use Velveeta)
pepper to taste
fresh parsley optional
Instructions
Bring your vegetable broth to a boil in a large pot. Add green beans, corn, potatoes and carrots to the pot and cook on medium heat for 20 minutes.

In a medium sized saucepan, melt the butter over medium high heat. Whisk in the flour, constantly stirring. Add in milk and continue to stir. Add in cheese and stir for about 5 minutes, or until your sauce thickens and cheese is melted.

Pour cheese sauce into pot of vegetables. Sprinkle with a pinch of pepper and stir. Cook for 5 more minutes.

Serve in bowls with fresh parsley on top (optional).