Hello,
I love you. I just wanted to tell you that first. I also want to sip some tea with you, in the garden, with cats on our laps.

My name is Pamela. I was born and raised in the coal mines of Pennsylvania where I helped my father grow his tomato plants so high we couldn't see out the kitchen window in the summer. I then moved to Pittsburgh, PA to attend art school much to the confusion of all my family. There I met a boy named Matthew who wore tall striped socks and had matching neon blue hair as me, so I fell in love with him. We moved in together quickly and he brought his childhood cat Essy along. I also fell in love with Essy. Shortly after finishing school, we packed up all our belongings in a U-Haul and moved from one city to the city; New York City. We moved to Brooklyn in 2005 and we have lived here since.
A year after we moved to New York, we got another cat, Xanadu. Then a few years later we got another cat, FiFi Bofinkles. Then a few days later we got our fourth cat, Brother Bear. I'm dearly in love with our furry critter babies. You can find me usually on the floor talking to them in baby voices or dancing with them in my arms while kissing them. If I'm at a friend's house you can can probably find me on their floor talking to their cat in baby voices. I love cats. I really love all animals. Animal documentaries make me cry, nature is brutal – why can't everyone get along?
Essy, Xanadu, FiFi Bofinkles, Brother

Update: Our beloved Essy died in January 2014. She was the love of our lives. We'll always remember her as the Queen of our home and hearts. I made a long post dedicated to her.
Update: In March 2014 we added a kitten to the family. His name is Goblin and he is crazy.

Update: In July 2015 we added a beautiful Maine Coon girl to the family. Her name is Toes and she is full of love!

So yeah, we have 5 cats. They all get along. Sort of.

Every summer Matthew and I talked about gardening memories that we both experienced. We had no back yard, we had no soil to dig into, so we thought – what if we make a garden many stories up on our roof? It started small, just a few containers, then every year later it continues to expand. Today's garden remains on our rooftop that many people refer to as a mini farm due to the numerous crops we grow. We grow broccoli, cauliflower, tomatoes, peppers, beans, sugar snap peas, potatoes, pumpkins, watermelon, kale, strawberries, onions, carrots, sprouts, lettuce, soy beans, corn, cucumbers and more. We happily spend many hours there every single week during the growing season getting our hands (and nails) dirty.
So that's how Brooklyn Farm Girl began. I wanted to share with others my experience of living in a big city but has that itch sometimes for a small town life.
Love,
Pamela
Facebook //Instagram // Email
Things to know:
While I write this Xanadu (who is a crazy Siamese cat) is snuggled on my lap.
My nickname is Meowza.
I am a obsessive tea drinker. Visiting Twinings in London was one of the most memorable moments of my life.
My dream vacation is Tokyo. And Galapagos. And Antarctica.
I work as an artist with my creative partner and love, Matthew. We direct crazy, colorful, fun films! Some people say we were one of the first people to do fashion gifs.

I have had blue hair for many years in my past. I miss it dearly. I'm back to blue! I'm gray! I'm back to blue! I have black hair now.
I also really love gray hair. Go gray girls!
I love Disney World. I cried the first time I went there. Yes, I have Disney luggage.

I went to Disney World for my birthday and Halloween in 2014 and it was the happiest time. We dressed up as clowns and went trick or treating in the Magic Kingdom.

My nails are often chipped. And sparkly.
I'm the Northeast Gardeniere for Home Depot & Miracle Gro.
I love anything cute with a face. After I saw this pizza I immediately hugged it and then bought it.

How much do we love cute things? This is our house.

I have a special place in my heart for bears.
I love rainbow sprinkles!

I'm obsessed with holidays. We go all out for Halloween and Christmas.
I love basketball. We are season ticket holders for the Brooklyn Nets.

We are big Cavs fans. Matthew if from Cleveland so the love runs deep. We went to the NBA Finals in Cleveland the last 2 years.

My other favorite part of basketball games is the delicious cake they sell.
I plan for tomato harvests and spend all day in the kitchen making sauces to last all year long.

Mayo really grosses me out.
I sing and dance to our plants, I feel like it makes them happier.

The garden at sunset makes me a happy girl.

I love flashy sneakers, cat print clothes and smiley faces on sweaters. Sometime I wear them all at the same time.
We like waffles.

I love snowmen.

I love pizza.

We have a very large collection of stuffed animals which might appear from time to time in posts. It might weird you out but that's totally okay.
I can't wear lipstick without feeling silly.
I would love to cook you dinner.

I learned how to ride a bicycle in my 20's.
I'm scared to ride a bicycle in NYC.
I wear long dresses so I can hide my cats under them.

I made a Hello Kitty costume for Halloween that made people on the streets stop and ask me for hugs.

Everytime I go to Target for one item, I end up buying 16 things.
I love Target.
I love farms. I will help you on your farm if you ask me, but only if you let me talk to every single one of your animals. I will love them all dearly.
No seriously, I will love all your animals. You will have to pull me away from them.

In 2016 we started our own Upstate New York farm! You can read more about it here.
Don't let me around holiday themed Oreo Cookies.
Or donuts.

I am most excited when we grow pumpkins.

This is my dance I do when we spot pumpkins.

My dad is one of my best friends.
When I was a child I made everyone on my street play BINGO with me. I had my own BINGO set.
I use a PC.
Matthew and I were together for nearly 10 years before getting married at City Hall.

I love sushi.
I really love cats.

My bookmarks folder for recipes to try is out of hand to the point I can't find anything.
I will hold the door open for you.
My vacuum is a robot named Blinky.
I sleep with a eye mask on. Until a cat takes it off me.
I love county fairs, especially the food.

Goodbye for now. Power to girls.

And Happy Gardening!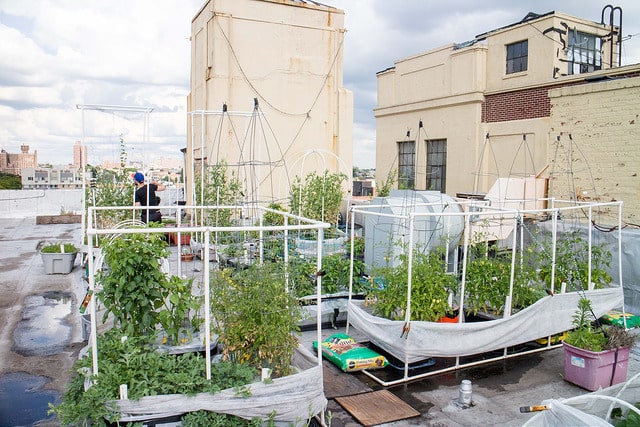 Thank you,
Pamela and Matthew (site owners of Brooklyn Farm Girl)