HOMEMADE BAKED Sugar Donuts recipe that is easy to make and ready in 15 minutes. These simple and extra soft donuts taste just like raised sugar donuts from your favorite bakery!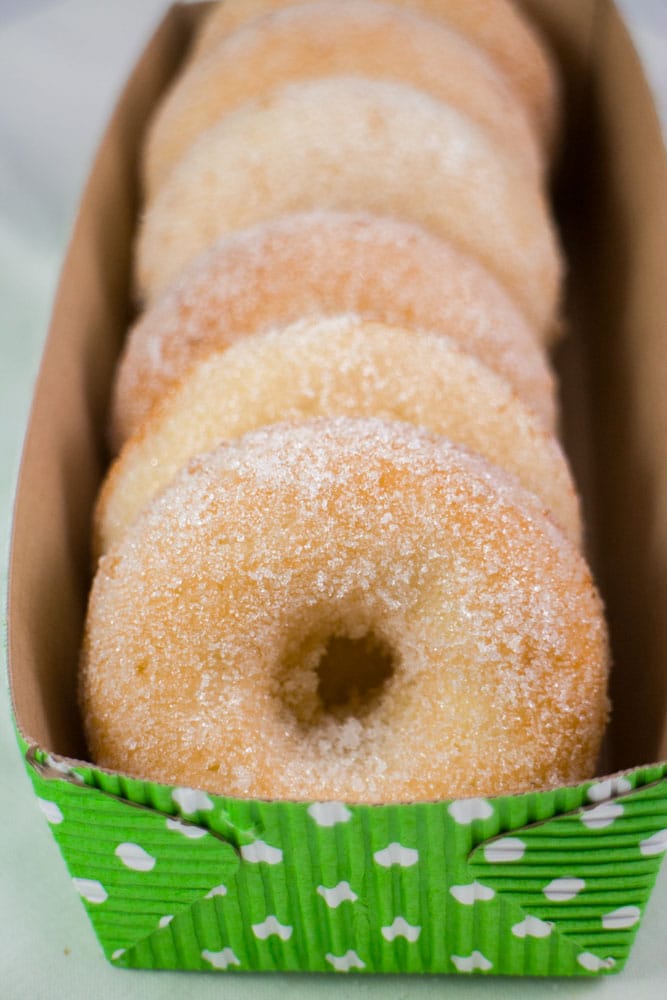 How to Make Sugar Donuts
We live in a world filled with crazy and exciting donut flavors and combinations. Remember the half donut/half croissant craze? Have you checked out the exotic flavors that bakeries are offering for donuts?
There's Blood Orange, Cafe Au Lait, Hibiscus, Passion Fruit, Horchata, Matcha and more. And while these unique flavors are exciting, sometimes it's just not practical nor economical to hunt down the ingredients.
Maybe I'm just not an adventurous foodie. Sugar, Glazed, Chocolate donuts – now you're talking my language. So, because I was craving donuts today, I came up with this simple Homemade Baked Sugar Donuts recipe. I think you'll love it. Who else loves homemade baked donuts? Me, me, me!
Homemade Sugar Donuts Recipe
When you make your own donuts at home you know exactly what is going into them. There are no fillers and extra junk that donuts really don't need. And let's face it, as delicious as those exotic donuts are, do we really know what's in them?
This recipe is so simple and requires almost nothing that you don't already have around the house. You will need a donut pan! Make the $10 investment and buy one because it's worth it!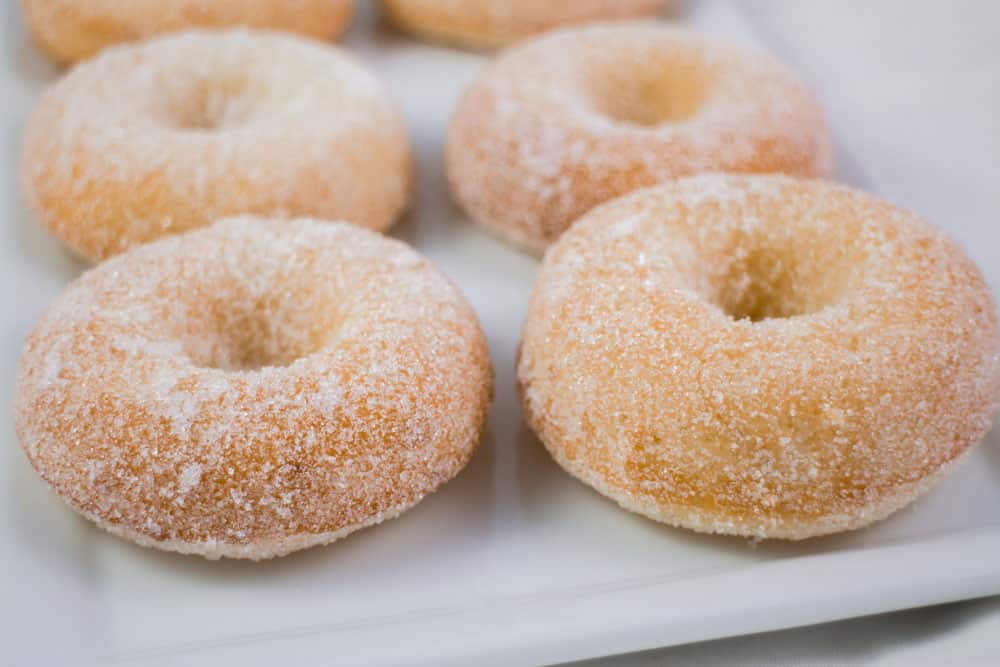 These homemade donuts are so delicious and extra soft! They are made with buttermilk so you know they are going to be moist and soft. These donuts are not heavy at all but instead have a light, airy texture to them, more like a raised donut.
Buttermilk Substitute With Vinegar
Not everyone keeps buttermilk around the house, but it is easy to substitute if you cannot make a run to the store. I know how it is when you want your donuts NOW! So instead, you can use 1 1/2 teaspoon of white vinegar or lemon juice plus enough milk to measure 1/2 cup. Stir it and let stand for 5 minutes. Then you're good to go!
Buttermilk Substitute With Yogurt
Another option is using 1/2 cup of plain yogurt instead of the buttermilk. It's much more common to have regular milk or yogurt in your house than buttermilk, unless you are someone who bakes all the time.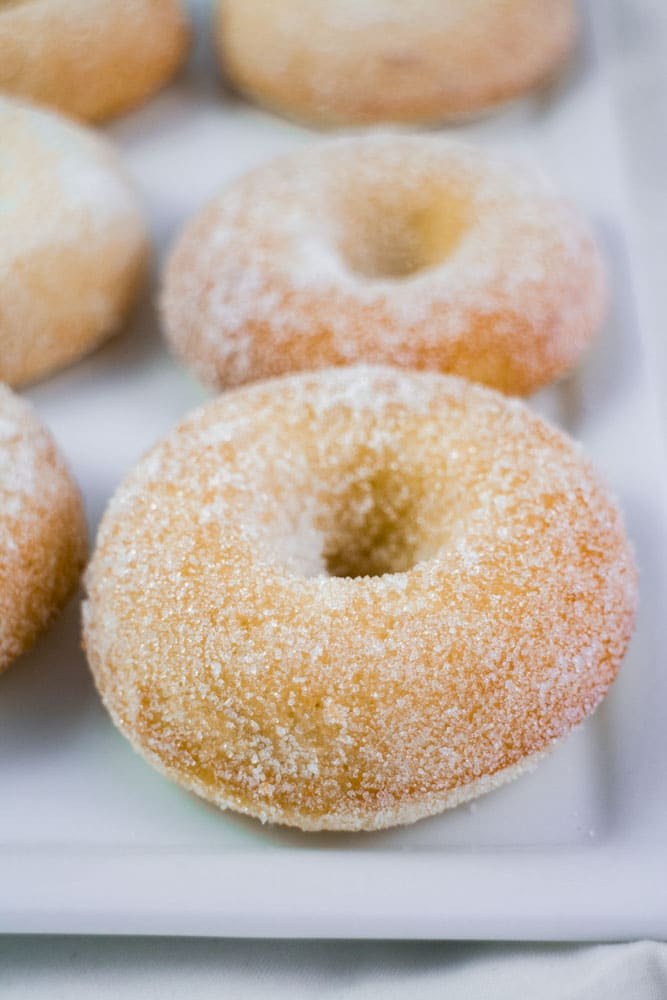 This recipe is so quick and easy. Mix up your batter, throw your donut pan in the oven for 15 minutes, let cool for a few minutes and then shake the donuts in a bag of sugar and your Homemade Baked Sugar Donuts are ready to be eaten and enjoyed!
It really is that quick! You'll be eating your own delicious donuts in no time. Eat them while they're still warm, yummmm.
They are great for breakfast, a snack and dessert. They are so simple that you can make up a batch anytime you feel like it with no trouble at all. It's so easy that many of my readers have told me they had fun baking them (and eating them!) with their kids too.
I hope you like them as I do (and I really, really like them)! Feel free to mix it up too. Add some raw cacao to make chocolate donuts. Make a simple glaze with powdered sugar and milk and glaze them. The possibilities are endless.
Enjoy!
More Donut Recipes
Looking for more donut recipes?
Try my Chocolate Donuts with Chocolate Frosting!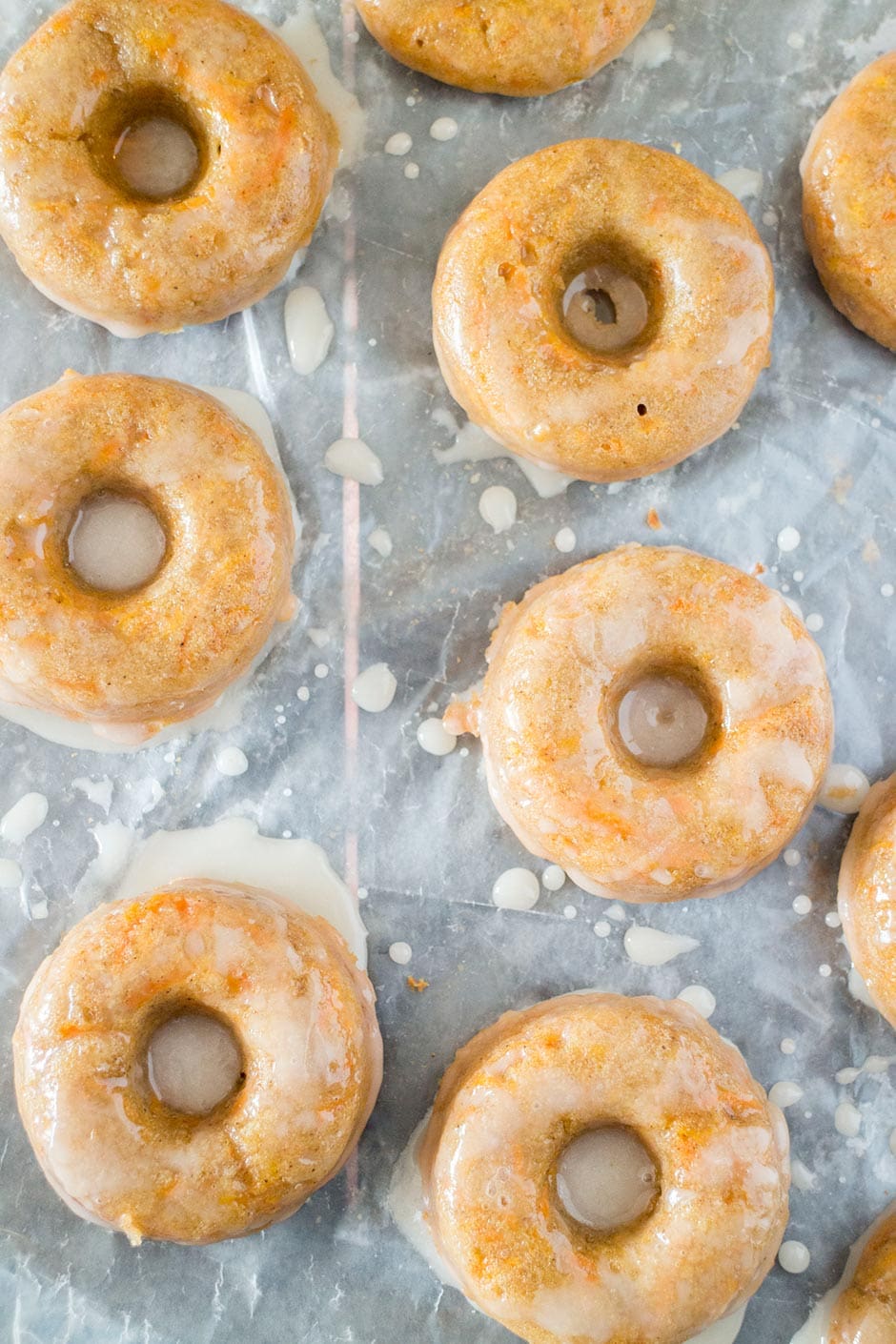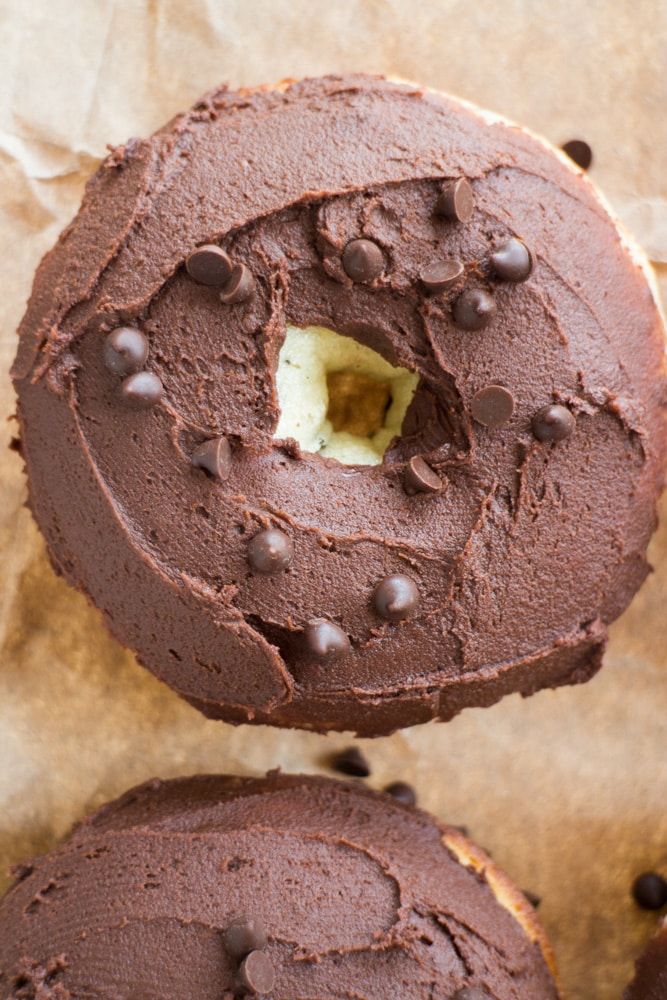 Pin for later: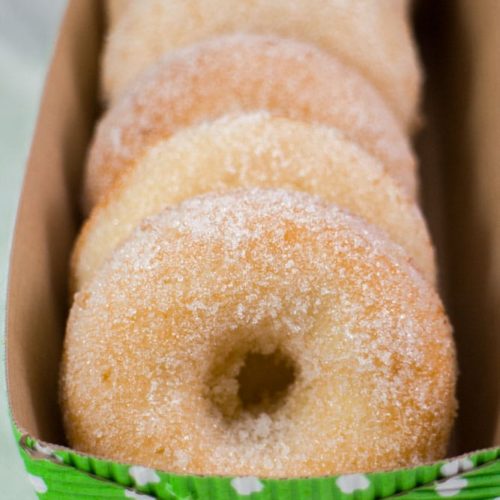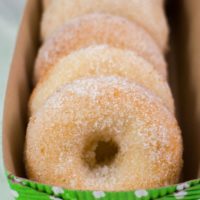 Homemade Baked Sugar Donuts
Print
HOMEMADE BAKED Sugar Donuts recipe that is easy to make and ready in 15 minutes. These simple and extra soft donuts taste just like raised sugar donuts from your favorite bakery!
Prep Time: 15 minutes
Cook Time: 15 minutes
Total Time 30 minutes
Ingredients
1/4 cup vegetable oil
1/2 cup buttermilk
2 eggs
3/4 cup sugar
1/2 teaspoon salt
1 teaspoon baking powder
1/2 teaspoon vanilla
1 cup all-purpose flour
Instructions
Preheat oven to 350 degrees.

Spray donut pan with nonstick spray.

Mix together oil, buttermilk, eggs, sugar, salt, baking powder and vanilla until combined.

Stir in flour and continue to mix until smooth.

Fill the donut pans up about 3/4 of the way.

Bake donuts for 15 minutes.

Remove from oven, let cool for 5 minutes, then remove donuts from pan.

Put sugar in a sandwich bag.

One at a time, drop your donuts in bag and shake lightly to cover.

Eat right away or store in container.
Notes
Recipe makes 1 dozen 3 inch donuts.
Nutrition Information:
Calories: 172kcal (9%)