Making your own Frozen Pesto Cubes will save you from buying jars of storebought pesto and wasting your garden herbs. Use the cubes for months to make easy weeknight dinner meals!
Never waste your garden herbs again! These Frozen Pesto Cubes made from basil and parsley pesto are so handy when you're craving a big bowl of Pesto Pasta or when you need a fresh garnish on a Tomato Pie. I'll show you how to make the pesto, freeze it, and keep using it for months!
Parsley is delicious year-round but can sometimes grow like a weed in your garden. Instead of running out of ways to use it or drying it out in the microwave or oven, blend it into pesto to freeze! This method not only saves you from buying storebought pesto, but it's also an easy way to add fresh and vibrant flavors to almost all of your meals.
Think about it: you come home after a long day and you're too tired to cook an extravagant meal. Instead, just thaw a few pesto cubes, boil some pasta, and throw them together for an easy pesto pasta meal!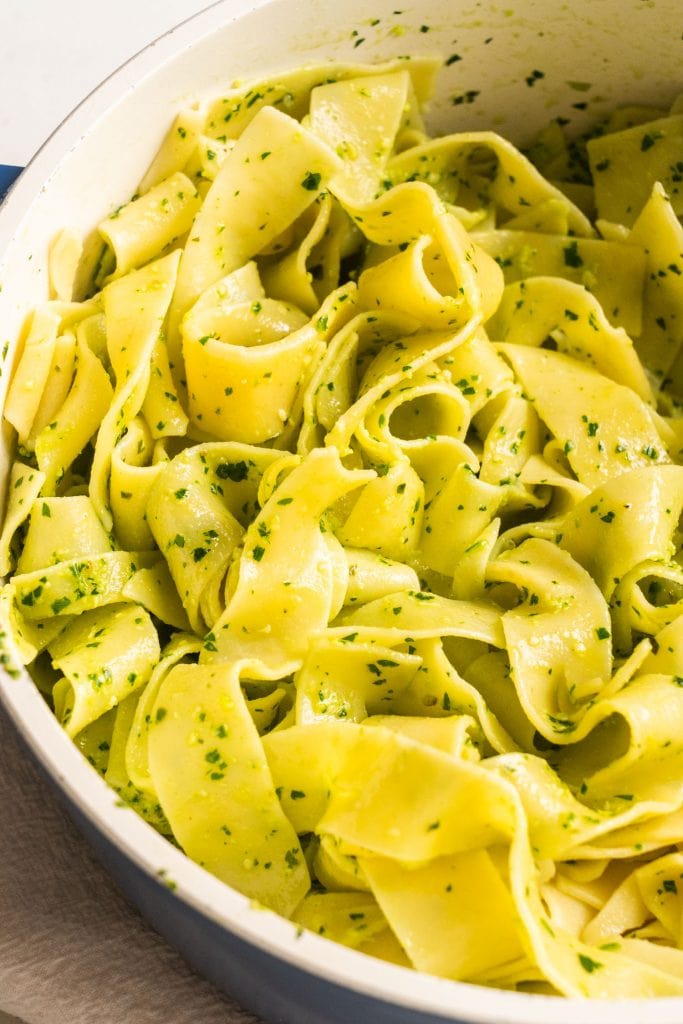 No fancy tools needed. All you have to do is blend the homemade pesto in a food processor or blender before freezing it in ice cube trays.
How to make pesto
All you need to do is add the herbs, garlic, cheese, walnuts, and oil (I buy it in bulk) to a blender or food processor. You can make separate batches of pesto using just parsley, and the other with only basil, or use both herbs in one batch (that's how I like it)!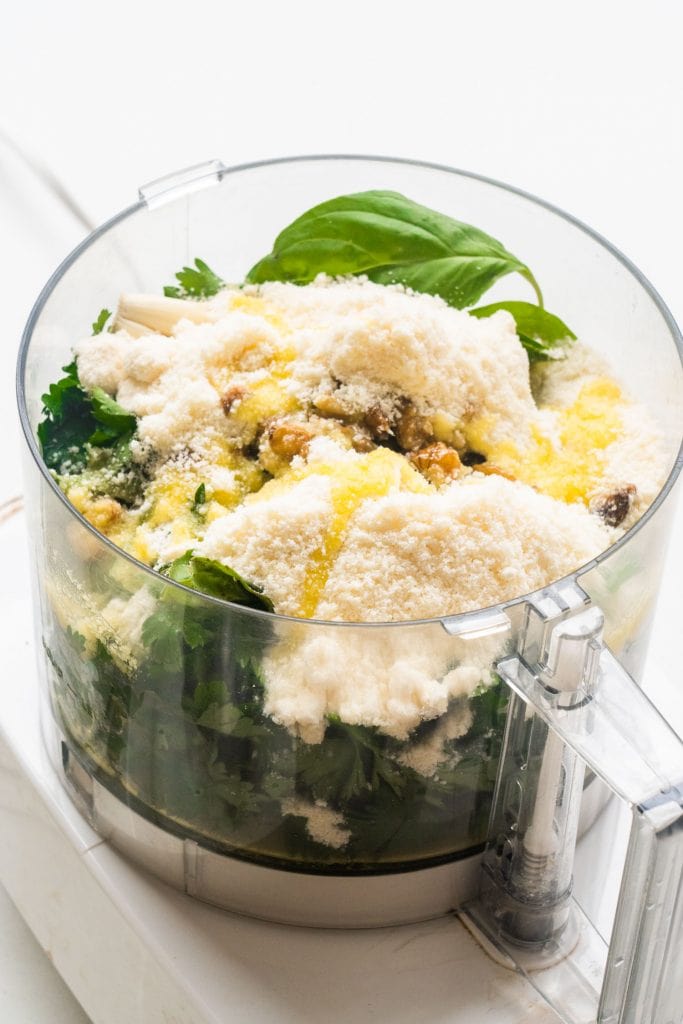 Blend the pesto until everything is incorporated and smells amazing. 🙂
This recipe will make 1 cup of pesto and fill up 1-2 ice cube trays depending on their size.
How to freeze pesto
Spoon the pesto directly into ice cube trays or for easy cleanup add to a plastic bag, cut the tip off of the bag and pipe the pesto into your ice cube trays. Cover the trays with lid or plastic wrap so the pesto doesn't brown. Place them in the freezer for a few hours or overnight.
Once the cubes are frozen solid, pop them out of the trays and store them in sealed freezer-safe bags.
How to make easy pesto pasta
One of the best and easiest ways to enjoy your pesto is with a bowl of pasta. It's a great go-to dish you can throw together in minutes on busy weeknights or for meal prep. To make pesto pasta:
Cook your pasta noodles according to the package instructions.
Drain the water and, while the pasta is still hot, add in 1 or 2 pesto cubes (I usually cook 8 oz of pasta to 1 cube). Remember, a little bitt goes a long way in flavor. 🙂
Stir until pesto completely coats the noodles and then serve. Enjoy!
Recipe tips
Do you have more veggies from your garden to use up? Feel free to make this recipe with any green garden veggies you like, such as kale, spinach, edamame, arugula, or cilantro. My Kale Pesto or Edamame Pesto would be delicious after they've been frozen and thawed.
To freeze pesto without it turning brown, wrap the trays with plastic wrap before placing them in the freezer.
Label the freezer bags with the date they were stored. This way, you can use the cubes while they're still fresh.
How long do frozen pesto cubes last? Freeze the cubes for up to 3-4 months.
When it's time to use the pesto cubes, let them thaw completely at room temperature for about half an hour, or you can heat them up in the microwave. Mix them into your meals or drizzle some on top as a garnish.
What goes well with pesto cubes?
Yes, pesto on pasta is a classic pairing that can't be beat. But did you know that you can use it on so many more dishes?
You can use pesto with pizza either as an alternative to tomato sauce, as a garnish on top of cooked pizza or pizza casserole, or as a dipping sauce. It also works as a chicken marinade, with steak, or tossed with shrimp. You could even stir some into a vegetable soup and mashed potatoes to give them a boost of herby flavors!
I like to put out a bowl of pesto at parties with cut vegetables and crackers for dipping. It pairs so nicely next to homemade hummus!
More herby recipes to try
Pin for later: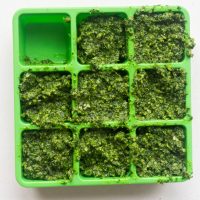 Frozen Pesto Cubes
Print
Learn how to make and freeze Frozen Pesto Cubes using parsley and basil. The cubes stay fresh for months and can be used on plenty of easy dinner recipes!
Prep Time: 10 minutes
Cook Time: 0 minutes
Total Time 10 minutes
Ingredients
3 cups fresh, packed parsley stems removed
3-4 cloves of garlic (depending on how much you like garlic)
3/4 cup grated Parmesan cheese
1/2 cup olive oil
1/4 cup walnuts
1/2 cup fresh basil
Instructions
Add all ingredients into a food processor and blend until smooth.

To Freeze: Spoon pesto in ice cube trays, cover and place in freezer. Once frozen pop out the cubes and place in freezer bags. Frozen pesto is good for 3-4 months.

To use for dinner: Make your favorite pasta, drain and once it's still hot, add 1-2 frozen pesto cubes on top. Stir until pesto coats the noodles. I like to use 1 cube for 8 oz of pasta (a little goes a long way!).
Notes
This will make about 1 cup of pesto, or 1-2 entire ice cube trays.