Black Bean Corn Salsa that takes 2 minutes to make. Serve this Mexican salsa on tacos or eat with tortilla chips!
Easy black bean and corn salsa
We eat lots of Mexican food in our house so anything that can be made quickly while still tasting delicious is a great recipe in my eyes. This easy recipe for Black Bean Corn Salsa fits the bill because it's made with only 7 simple ingredients and takes just 2 minutes to assemble!
This easy salsa recipe is made extra quick using canned black beans and corn. Pair the beans and corn with a bit of lime juice and Mexican spices to create a dip, side dish, or garnish everyone will enjoy.
Not only is this salsa delicious, but there's so many ways to use it. We like using it as a topping for our Chicken Tacos, Slow Cooker Steak Tacos, Barley Tacos or rolling it up in some Black Bean Baked Tacos. Use tortilla chips to scoop up the corn and bean goodness to eat as is or serve it on a bed of tasty Cilantro Lime Rice.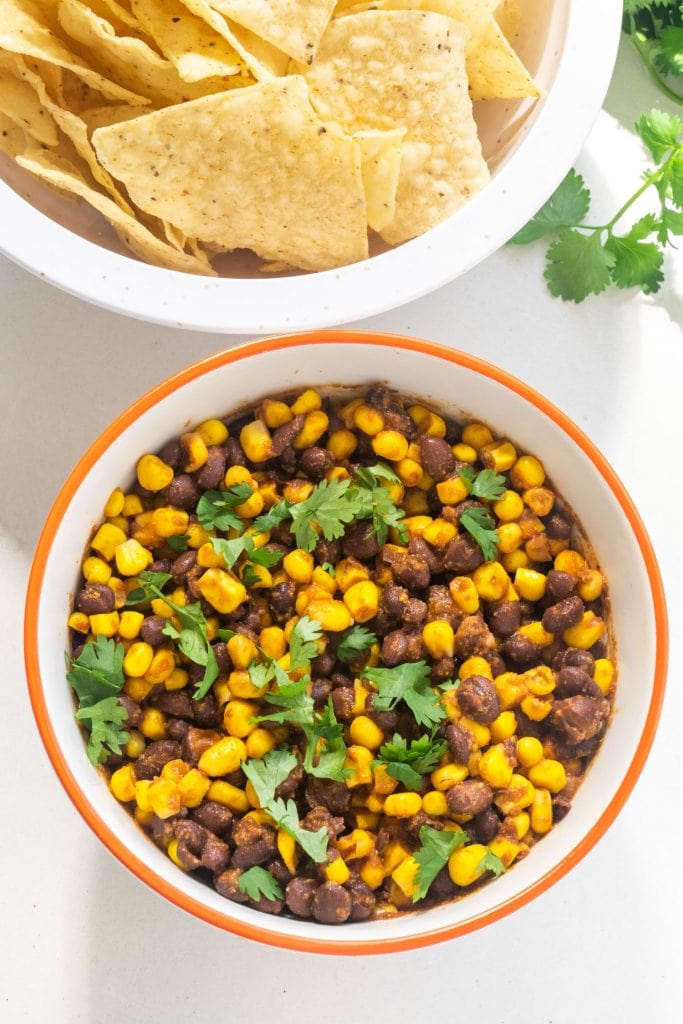 How to make black bean corn salsa
It's so easy and you don't need any special equipment! Canned beans and corn makes this recipe as quick and easy as possible, but you're more than welcome to use cooked dried beans or frozen corn instead.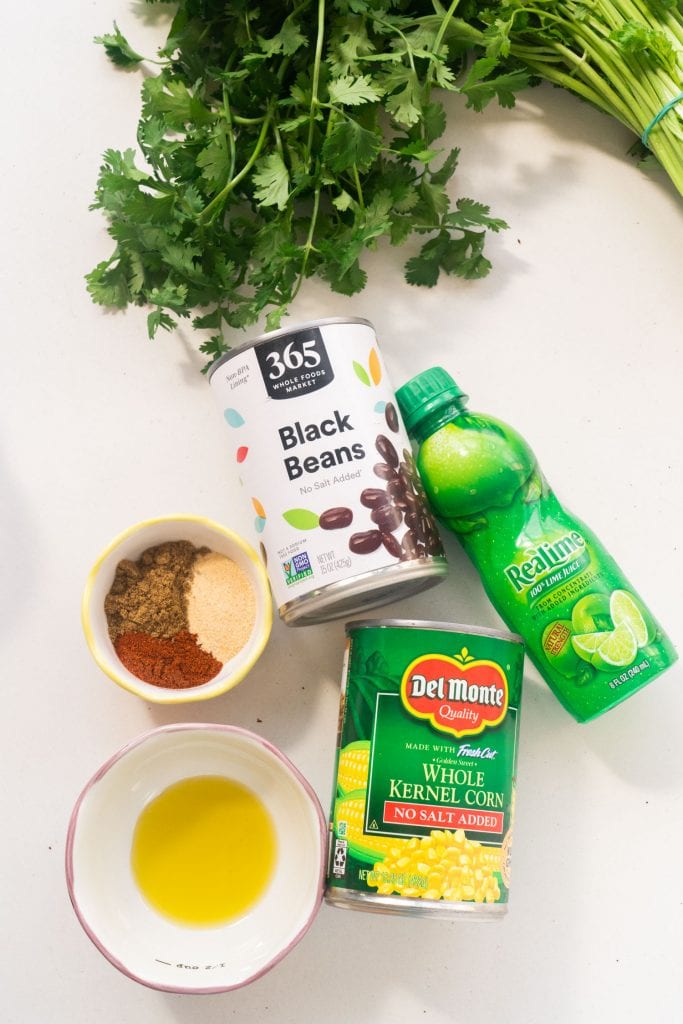 Assemble the salsa by adding the corn, black beans, lime juice, and spices into a medium-sized bowl. Use a spoon to mix everything together.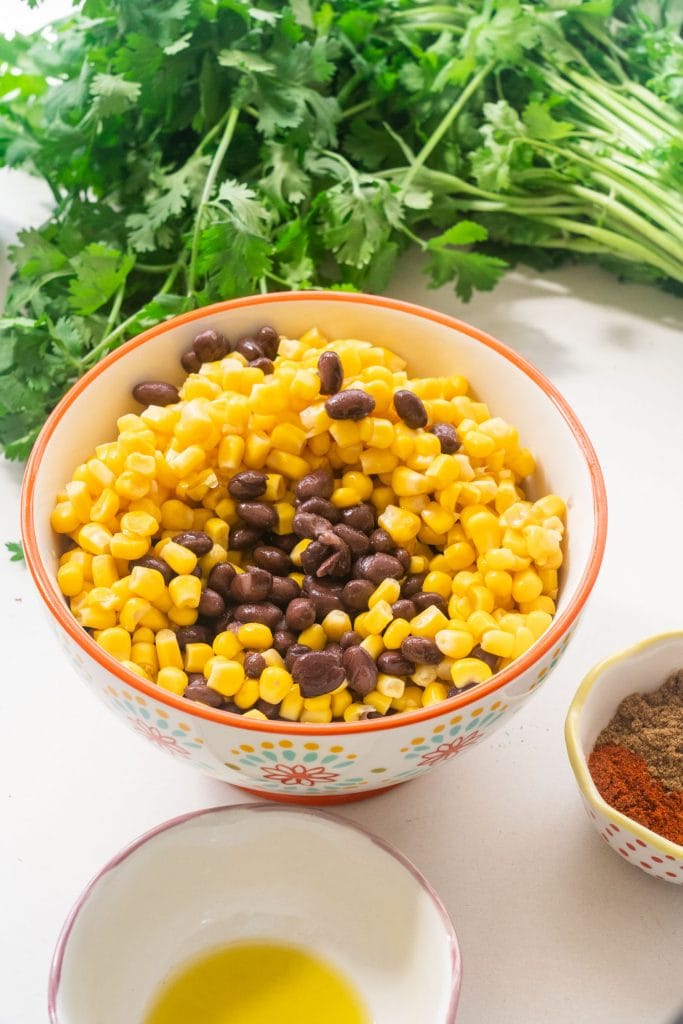 Cover the bowl with a lid or plastic wrap and refrigerate for at least 30 minutes to let the flavors come together. Now the best part – time to serve and eat!
Recipe tips and variations
The salsa needs to chill for at least 30 minutes before serving. This helps all of the flavors get to know each other so the salsa can taste even better.
Give it a hint of smokiness by using fried corn instead. Slice off the kernels using a knife and add them right into the salsa.
Like a little spice in your salsa? Add some freshly diced jalapeno with or without the seeds to make it as spicy as you want.
Make it cheesy by sprinkling some crumbled cotija or shredded cheddar cheese into the salsa.
To store, keep the leftovers in an airtight container in the fridge for up to 3 days.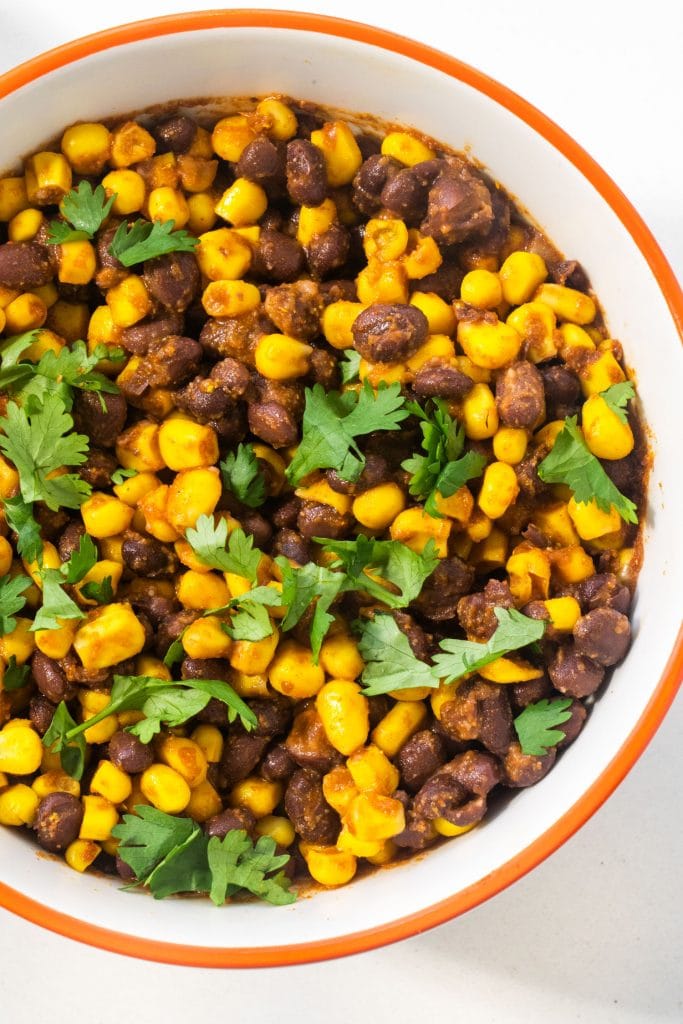 More mix-ins
There are so many fun mix-ins you can add to this salsa if you'd like!
Chopped red onion, garlic, or shallots
Sliced cherry tomatoes
Diced avocado
Diced cucumber
Lemon juice instead of lime
More dips to try
Pin for later: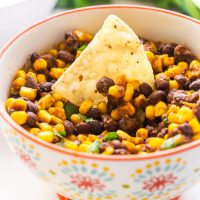 Black Bean Corn Salsa
Print
Black Bean Corn Salsa that takes 2 minutes to make. Serve this Mexican salsa on tacos or eat with tortilla chips!
Prep Time: 2 minutes
Cook Time: 0 minutes
Total Time 2 minutes
Ingredients
15 oz can corn drained
15 oz can black beans drained
2 tablespoons lime juice
1 tablespoon olive oil
1 tablespoon paprika
2 teaspoons cumin
1 teaspoon garlic powder
1/2 teaspoon salt
Cilantro (optional) chopped
Instructions
Mix all ingredients (except cilantro) in a medium-sized bowl.

Place in refrigerator and chill for at least 30 minutes.

Remove from refrigerator, garnishing with fresh cilantro on top (optional). Serve with tortilla chips or on top of tacos. Enjoy!