If you love sautéed fried onions and corn, this is a simple side dish you can whip up in less than 10 minutes!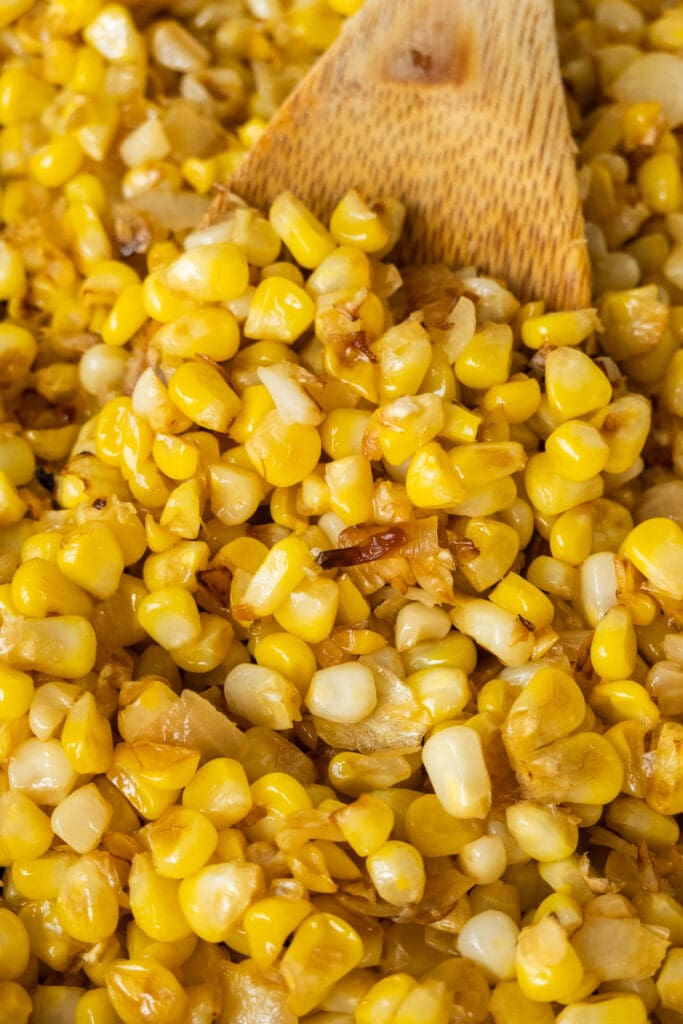 Fried Corn and Onions is the perfect side to accompany your main course. The next time you're scrambling to figure out a healthy side dish to serve with dinner, you can pull out your secret weapon—this delicious corn recipe!
Why You'll Love Fried Corn and Onions
What's not to love about a simple, healthy side dish you can prepare in minutes and serve alongside any dish? As far as side dishes go, this is a great option for those busy weeknights when you don't have much time but still need to serve your family something healthy and tasty. This recipe is so scrumptious that your kids won't even argue when you ask them to eat their veggies. They might even ask for seconds!
We get a ton of use out of this simple recipe in my household. I love it because it goes with anything, is super easy to make, and tastes amazing!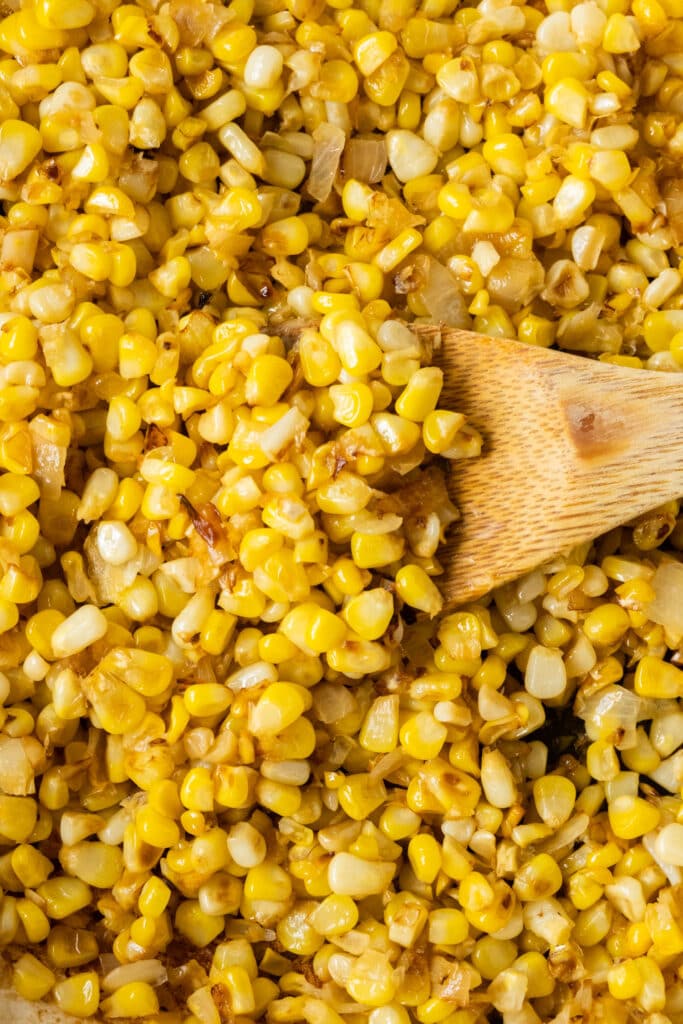 How Do You Make Fried Corn and Onions?
Making this delicious side dish only takes a few minutes of prep time. To get started, gather together the following ingredients:
fresh corn on the cob (you can use canned corn or frozen corn if you don't have fresh corn on hand)
sweet onion
garlic (you can add a little extra garlic if you're a big garlic fan)
butter
salt and pepper to taste
Once you have all your ingredients prepared, you're ready to get started cooking!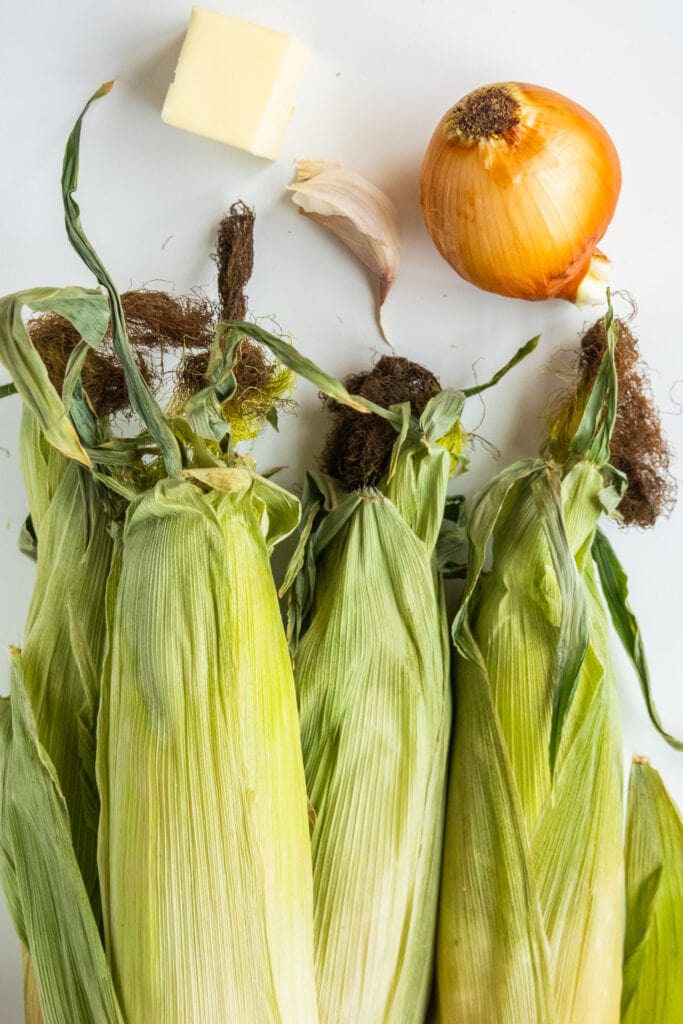 Instructions
The first step is to remove corn kernels from the ear of corn using a sharp knife. You can skip this step if you are using canned corn.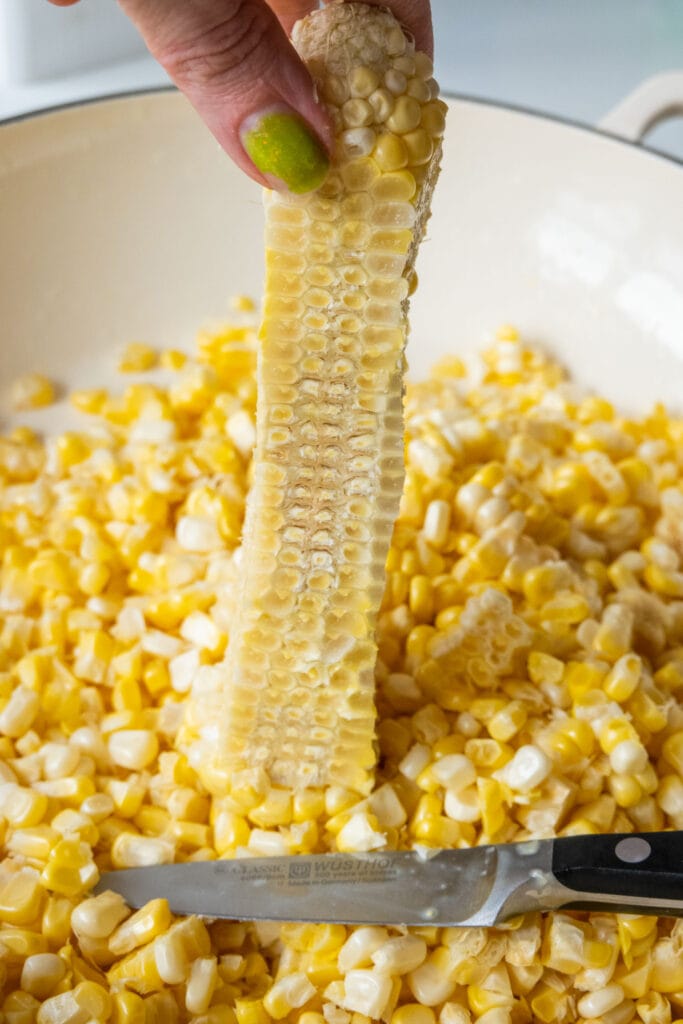 Then grab a cutting board, and finally, chop your onion.
Next, add corn kernels, diced onion, garlic, and butter into a skillet. Cook over medium-high heat until butter is melted and corn and onion are lightly browned. This process will likely take about 5-7 minutes.
Once your corn and onions are lightly browned, sprinkle a little salt and pepper on top to flavor.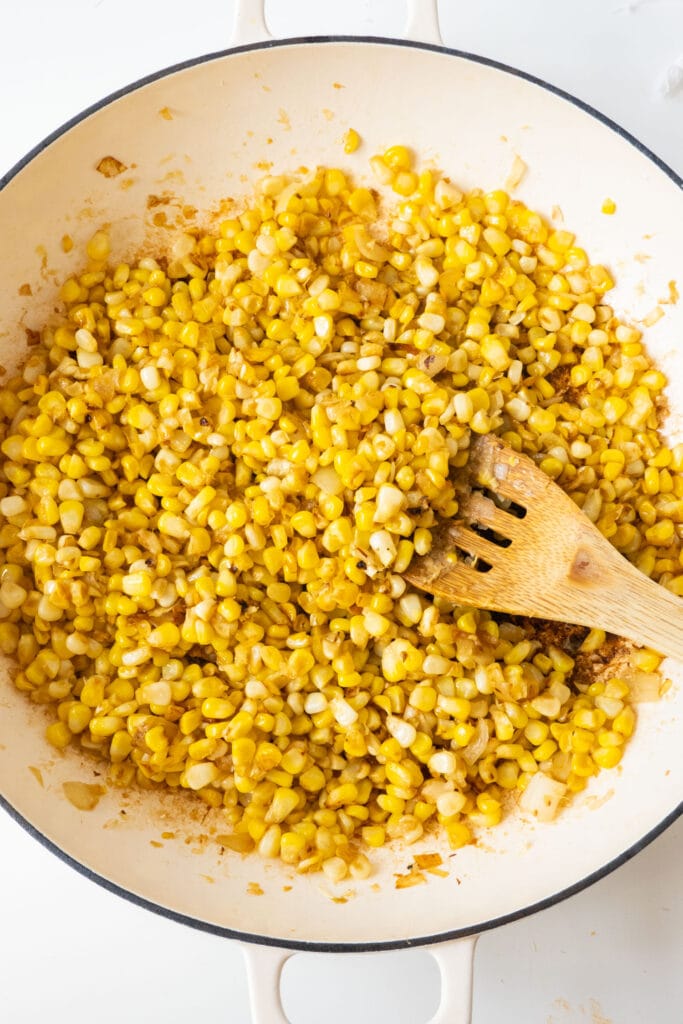 Serve and enjoy!
Can I use canned or frozen corn?
I know corn isn't always in season—canned or frozen corn is a great substitute! But if you can get your hands on some fresh ears of corn, that's always best!
If you opt for canned corn, use (2) 15-ounce cans. Make sure to fully drain the corn before adding it to the pan. You don't want any excess liquid added to the skillet.
For frozen corn, use approximately 20 oz of frozen corn for this recipe. Boil the corn for a few minutes in water with 2 tablespoons of sugar—this will make it taste like sweet corn.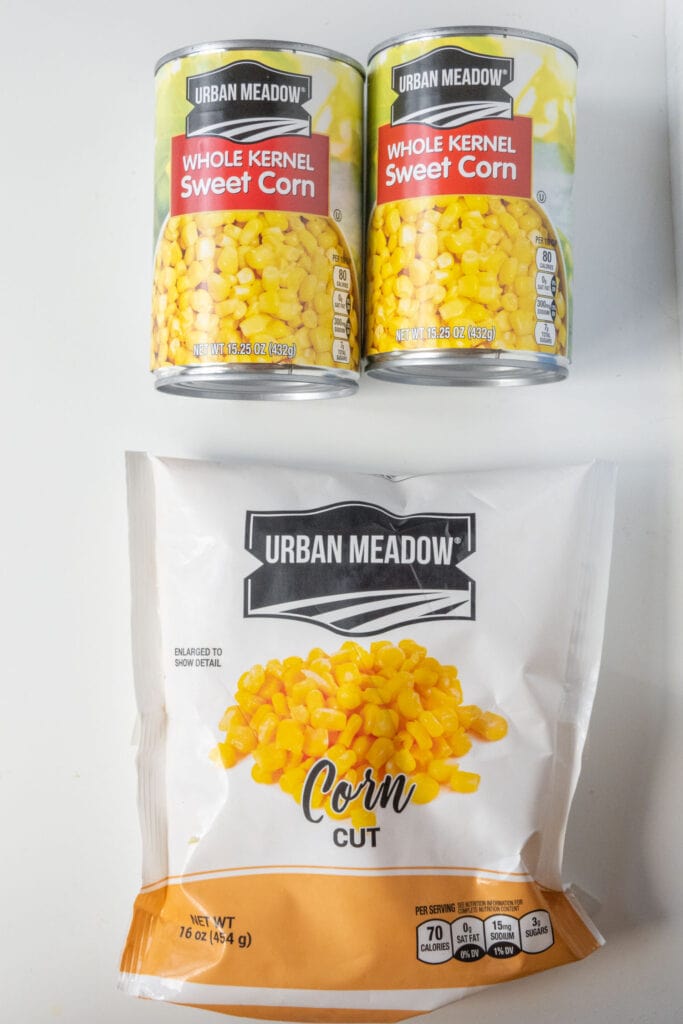 Recipe Help
Can I add bacon?
My answer to this question is always yes! It doesn't matter the dish; you can always add bacon—hah! A little crispy bacon never hurt anyone. You can add crumbled bacon or slices of bacon to this easy recipe for your own spin on this great recipe!
How do you fry corn in a skillet?
To fry corn in a medium skillet, add your corn kernels to the frying pan with some butter. Cook on medium-high heat for about 5-7 minutes until the corn is lightly browned. This fried corn and onion recipe is one of our favorite ways to get our fill of corn!
What to serve fried corn with?
You can serve fried corn hot or cold. It's perfect next to Cheeseburgers, Lentil Sloppy Joes, Rotisserie Chicken and BBQ Thighs. Honestly, you can serve this wonderful recipe alongside any dish you fancy. It's truly the perfect side dish and extremely versatile! No matter what time of year it is, it's always a good time to enjoy this wonderful recipe!
How To Store Fried Corn and Onions
Store any leftovers in a storage container in the fridge. You can keep leftovers for up to 5 days. If you like, you can prepare it ahead of time and serve it all week long aside from a variety of main dishes. Having this tasty side dish on hand is a fantastic way to save time in the kitchen.
You won't be able to get enough of this buttery corn salad! I love serving this sweet side dish to guests. When they ask for the recipe, they are surprised by how quick and easy it is to make! I hope you enjoy this easy side dish as much as we do!
Pin for later: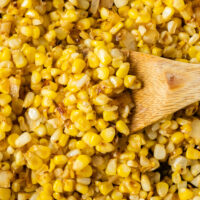 Fried Corn and Onions
Print
This Fried Corn and Onion recipe might be the best-tasting vegetable side dish I've ever had! If you love sautéed onions and corn, this is the perfect, simple side dish you can whip up in less than 10 minutes!
Prep Time: 3 minutes
Cook Time: 7 minutes
Total Time 10 minutes
Ingredients
4 ears fresh corn
1 small sweet onion finely chopped
1 clove garlic minced
2 tablespoons butter
salt and pepper to taste
Instructions
Remove corn kernels from cob using a sharp knife.

Add corn, onion, garlic and butter into a skillet over medium high heat. Cook until butter is melted and corn and onion are lightly browned, about 5-7 minutes.

Sprinkle salt and pepper on top to flavor, and then serve.
Bonus: Check out my recipe story!