Quick, easy, and comforting, this Vegetable Pot Pie is the perfect vegetarian family meal. Make it fresh with frozen pie crusts, cream sauce, and an array of veggies, or assemble it and freeze for later!
Vegetable pot pie recipe
When you hear the words, "pot pie", does your mind immediately turn to chicken pot pie? Although we love chicken recipes in this house, I assure you that a creamy pot pie with just vegetables tastes just as good, if not better than the traditional choice.
My family is obsessed with this Vegetable Pot Pie recipe! They request it so often that I'm beginning to think I should have multiple pies in the freezer so I don't need to spend as much time in the kitchen. I don't mind though, because this recipe is just so easy to put together!
Simple vegetables (both frozen or fresh work!) are tossed in a cream sauce before they're placed in the storebought pie crust (you can also use homemade). Baked to golden brown-deliciousness in under 1 hour, the vegetarian pot pie is piping hot and ready to be devoured.
Feeling adventurous? Go ahead and customize this veggie pie any way you like! Add in more vegetables, swap the milk for homemade cream of mushroom soup, or make your own pie crust. I must warn you though: thinking of your customizations will still take longer than baking the actual veggie pot pie!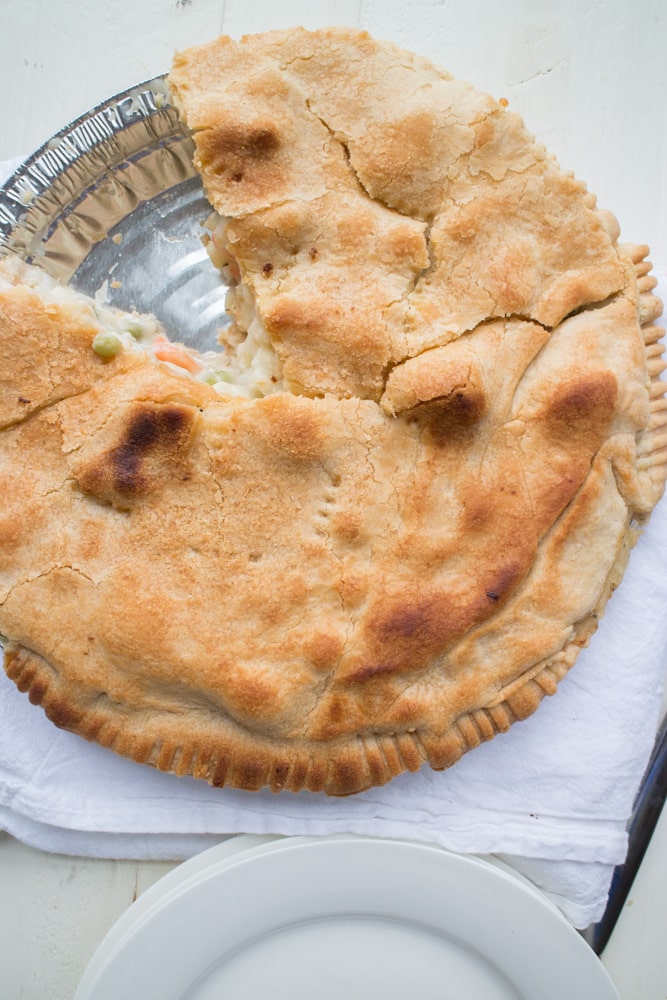 How to make vegetable pot pie
Not only is this vegetable pot pie a pure comfort food and super satisfying, but it's also easy to assemble and have ready in no time. I made it with frozen pie crust but you can always make your own! The only equipment you need is a pie pan and a few basic kitchen tools, then you're ready to get this recipe started:
Thaw the pie crusts while the oven preheats. Boil a pot of water on the stove.
Cook the cauliflower and frozen vegetables until cauliflower is softened. Drain and place in one of the pie crusts.
Add the butter and flour to a separate saucepan, then stir in the milk, broth, and seasonings. Simmer until it thickens.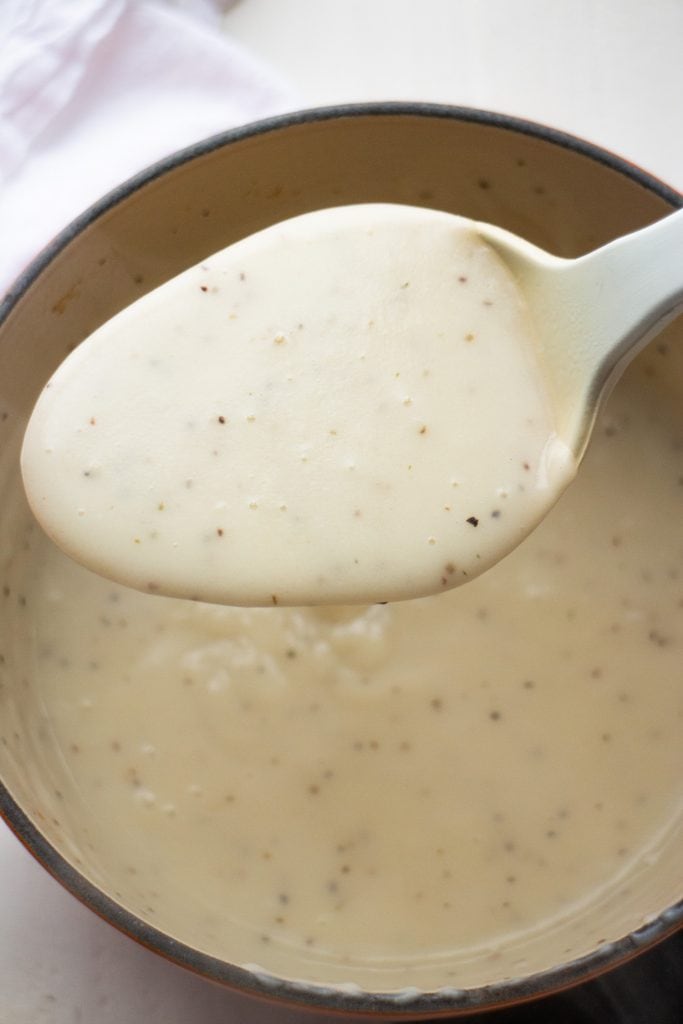 Pour the creamy sauce on top of the vegetables and stir to fully coat.
Place the last pie crust on top and crimp the sides down with a fork. Cut a few vent holes in the top of the crust.
Bake until golden brown and let the pie cool for 15 minutes before serving.
What to serve with vegetable pot pie
Since a vegetable pot pie is a full meal in itself, you can serve it with a few supporting foods on the side. My family loves the pie with a slice of buttermilk cornbread, jalapeño biscuits or a homemade pretzel roll.
If you're looking to add even more nutrients alongside, try serving the pie with a side of sweet potato fries, or oven-baked frozen corn. It even goes well with any green kale salad!
Vegetable pot pie variations
Pot pie is truly one of the most flexible comfort food dishes you can make and there's ample room for variations in the filling! Any of these delicious additions would work well:
Veggies: You can use whatever frozen vegetable you want. You could also add mushrooms, onions, garlic, broccoli, asparagus, zucchini, or bell peppers. Or you can even swap broccoli instead of cauliflower (I do this often when it's broccoli season in the garden).
Cheese: Stir shredded mozzarella, cheddar, pepper jack, gouda, or parmesan into the cream sauce.
Beans: Add some protein with chickpeas, white beans, black beans, or kidney beans along with the veggies.
Seasonings: Cajun, Italian, curry, fresh herbs, or taco seasoning will give the filling an added bite.
Vegetarian protein: Like plant-based sausage or crumbles, baked tofu, or tempeh.
Can I make veggie pot pie ahead of time?
The best way to make pot pie ahead is to make the veggie filling and cream sauce up to 3 days beforehand. Store it in a container in the fridge until you're ready to assemble.
Can I freeze pot pie?
Vegetable pot pie is very freezer-friendly. I recommend freezing the pie in a foil pie pan and leaving it unbaked. Wrap the assembled pie tightly in plastic wrap, then add a layer of aluminum foil to prevent freezer burn.
Bake the pie right from frozen for about 45 to 60 minutes or until the filling is warmed through and the crust is golden brown.
More comforting dinner recipes
Pin for later:
Vegetable Pot Pie
Print
Quick, easy, and comforting, this Vegetable Pot Pie is the perfect vegetarian family meal. Make it fresh with frozen pie crusts, cream sauce, and an array of veggies, or assemble it and freeze for later!
Prep Time: 10 minutes
Cook Time: 40 minutes
Total Time 50 minutes
Ingredients
1 small head cauliflower chopped into small florets
2 cups frozen vegetable medley (corn, carrots, green beans)
1/3 cup butter
1/3 cup flour
1 1/2 cup vegetable broth (or chicken broth)
2/3 cup milk
1/2 tespoon salt
1/4 teaspoon pepper
1/4 teaspoon celery seed
2 9 inch frozen pie crusts
Instructions
Preheat oven to 425 degrees F. Remove pie crusts from freezer. If you're using store bought pie crusts that have the aluminum foil pan, you don't need to do anything else. If you're using homemade pie crusts, butter a pie pan and then roll out one pie crust to fill the pie pan.

Bring a large pot of water to a boil. Add cauliflower and frozen vegetables and cook for 10 minutes or until cauliflower is softened. Drain.

Pour the cauliflower and vegetables into the pie crust.

In a medium saucepan over medium high heat melt butter. Add flour and whisk until combined. Add broth, milk, salt, pepper and celery seed and continue to stir until creamy, about 5-7 minutes.

Pour cream sauce over the vegetables in the pie crust, stir so vegetables are fully coated.

Place other frozen pie crust on top, using a fork to crimp together the sides. Use a knife or fork to cut a few holes in the top of the crust so the steam can escape.

Bake for 40 minutes, or until browned. Tip: I like to place the pie on top of a baking sheet in the oven in case it bubbles over. Let cool for 10 minutes before serving.