EASY Buttered Rice and Cabbage dinner! One of the best buttered cabbage recipes! This dish uses cooked cabbage and is ready in 20 minutes! It's a healthy vegetarian rice meal my entire family loves!
This Buttered Rice and Cabbage is an easy comforting meal filled with healthy vegetables that I hope you'll love as much as I do. It's so easy to make and it involves one of my favorite ingredients – cabbage!
As a girl my Mother would make the best Polish cabbage recipes, so every time I make it I get a smile on my face!
Cooked Cabbage Recipe
I wanted to create a recipe that would be ready in 20 minutes that is still wholesome with fresh ingredients – a meal you'll feel good about serving the family.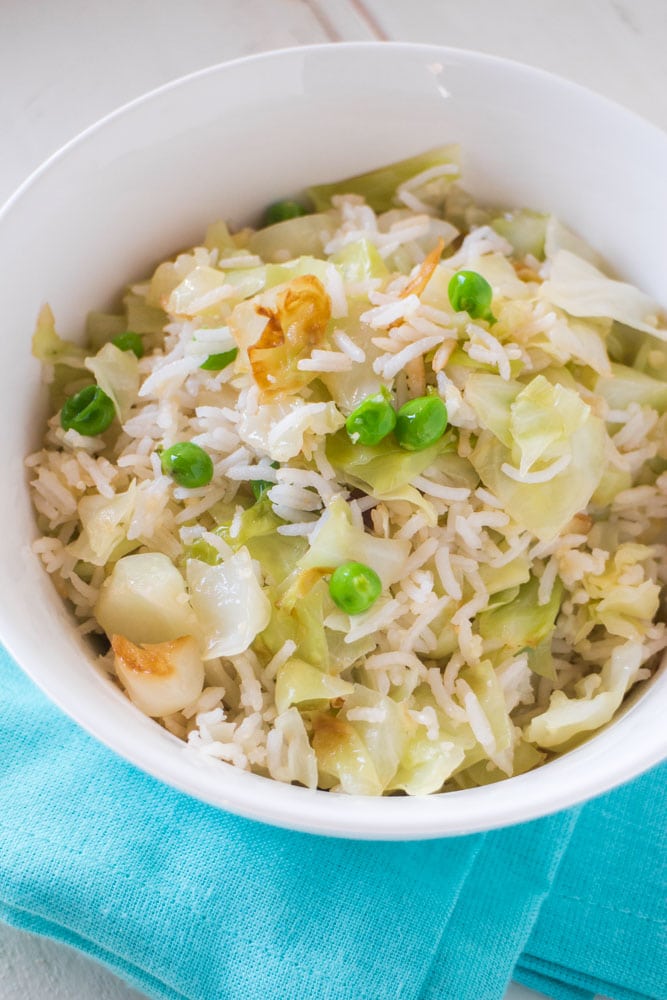 Ingredients for Buttered Cabbage
The main vegetables in this recipe are cabbage and peas, 2 things that we have in abundance right now in the garden.
I've always liked cabbage, but this Summer I turned into a real cabbage lover. I can't get enough of it, especially sauteed and buttered! Yum.
Our sugar snap peas are coming to a end this season, what's left is those monster peas that are busting through the pods.