Do you love soup? Do you love chinese restaurants? Do you love chinese restaurants soup? Ok, then this is for you! What is your favorite soup from chinese restaurants? There's wonton, which I love. Then there's shrimp noodle which is great. Then there's this….
This is egg drop soup and it's so good.
Can you believe it takes 10 minutes to make? I'm not kidding. And you can customize it if you'd like. Maybe you'd like to add some onions or carrots, that would be good too! For this recipe I wanted to use some fresh garden harvest so I threw in some sugar snap peas and salad greens – *pats self on back * – good choice. The salad greens wilt because of the hot broth making them perfect for this soup. The sugar snap peas still keep their snap and crunch so it's a nice bite to the soup.
I hope you try this soup. I really really do!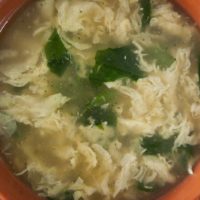 Egg Drop Soup with Sugar Snap Peas and Greens
Print
Ingredients
4 3/4 cups low sodium chicken broth
1/4 teaspoon ground ginger
1/4 teaspoon salt
1 1/2 tablespoons cornstarch
3 eggs
1/2 cup ripped salad greens
1/2 cup chopped sugar snap peas
Instructions
Heat up your chicken broth in a pot. Take 3/4 cup out of it and set aside.

Add salt and ginger to chicken broth in pot. Bring to a boil.

In your reserved 3/4 cup chicken broth, add cornstarch and stir until smooth. Set aside.

In a bowl whisk your 3 eggs together with a fork.

Add your greens and sugar snap peas to boiling chicken broth.

With a fork, drizzle your eggs into the boiling chicken broth a little bit at a time. Once it hits the broth it will cook right away.

Add your cornstarch broth mixture now and stir until it's all mixed.

Enjoy!
Step by Step:

You need 4 and 3/4 cups of chicken broth for this. I usually always use bouillon cubes for my broth but you can use the packaged stuff too. Whatever you do though, use low sodium broth. When I first made this without low sodium broth I found it way too salty. If you absolutely have to use regular broth, I would omit the additional salt the recipe calls for. When your chicken broth is boiling, remove 3/4 cup of it and set aside, we'll use this later.

My beloved sugar snap peas picked from the garden.

Then you de-string them. Is that a word de-string? I don't know but that's all I could come up with.

Then chop them up into bite size pieces. I usually cut each pea up into 2 or 3 pieces.

Then grab your salad greens, I just picked these from the garden so I threw them in a bag to keep chilled.

Rip them up, no certain way, just rip them up.
Great! Now your vegetables are set.


Remember that chicken broth you set aside? Now we're going to use it to thicken the soup.

Add your cornstarch and stir, stir, stir until it's smooth.

Now we want to get the eggs ready for this soup.

Take 3 our and whisk with your fork.
I couldn't take any pictures of the process of dropping in vegetables, eggs as I don't have a 3rd arm (one day?) but after you put everything in and add your cornstarch broth to thicken…

Then your delicious egg drop soup will be ready!

It's a messy looking soup, but it's also a pretty looking soup. I love the greens in it.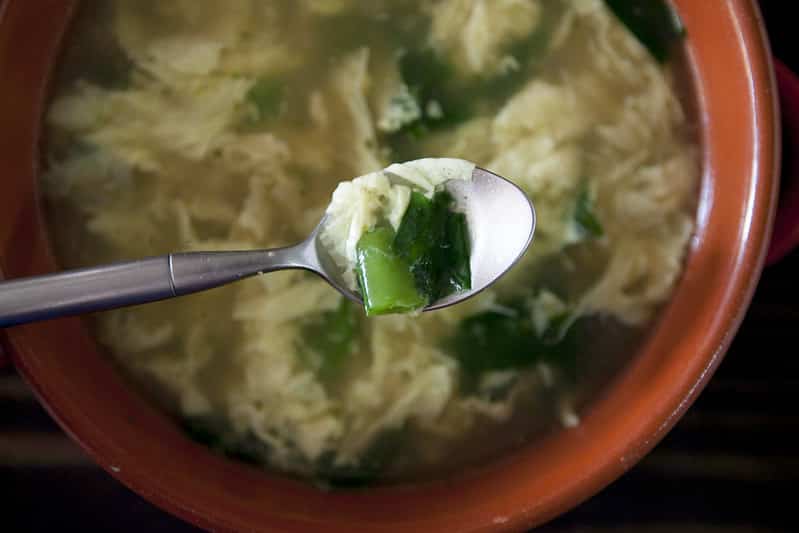 Sit down and enjoy, I hope you like it!