Making Homemade Chinese Wonton Soup is easy! Juicy seasoned pork is stuffed into homemade wonton wrappers before being cooked with chicken broth and vegetables. It's a filling and savory dinner that tastes better than takeout!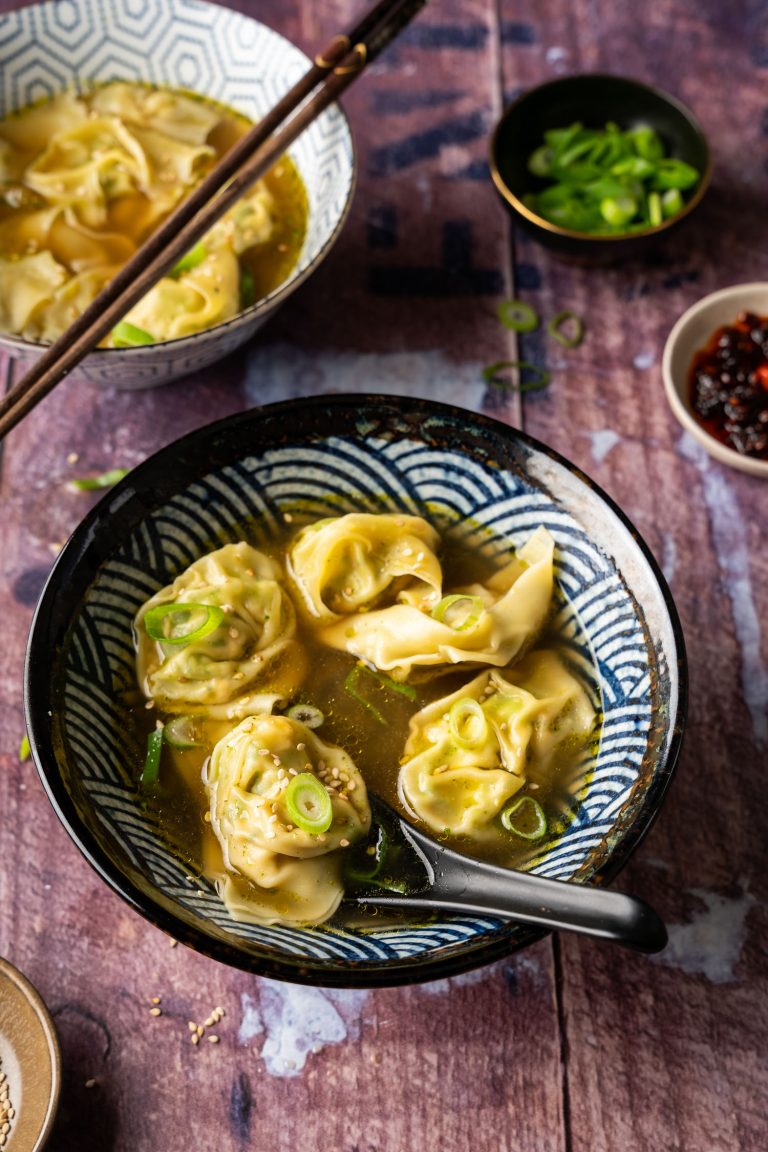 Homemade pork wonton soup
Chinese takeout is always a delicious and time-saving choice on busy nights, but these classic recipes can be so much fun to make at home! Chicken and broccoli , General Tso's Chicken, Beef and Mushroom Dumpling Soup and General Tso's cauliflower are some of my favorite dishes to make. When I'm really craving something warm and comforting, I always turn to homemade wonton soup.
Wontons are made by stuffing a seasoned filling into squares of thin dough. They're cooked to perfection in a simmering broth with as many soup vegetables as you like. In the end, you have a savory and filling Homemade Chinese Wonton Soup!
Making homemade wontons is pretty easy, too! All you need to do is whip up a simple dough and roll it out into small thin squares before adding the precooked meat or vegetable filling. I stuffed mine with seasoned ground pork, but you could use minced oven roasted mushrooms, shredded cabbage, prawns, ground chicken, and more!
Over time, we've grown to love making wontons from scratch and rarely get takeout wonton soup anymore. I love the ability to control the ingredients, and I know that we're not getting too much salt or preservatives inside. I promise you this recipe tastes just like the real deal!
What is wonton soup?
Wonton soup is the Chinese equivalent of Italian ravioli or tortellini. Thin flour dough is wrapped around a seasoned filling before being cooked in a flavorful broth and served as a soup. Although wontons originated in China as street food, they quickly gained popularity all over the world and can be made in hundreds of different ways!
How to make wontons
Making wontons is easier than it looks. They're made with a simple homemade dough, but if you're short on time, go with storebought wonton wrappers instead. Here's how it's done:
Mix the egg, salt, and water together in a small bowl before pouring the mixture into a large bowl with the flour. Gently stir to combine.
Use your hands to knead the dough in the bowl until it's smooth and not sticky. Form it into a ball and let it rest for an hour.
Divide the dough ball in half. Roll each half out on a clean surface with a little cornstarch until it's as thin as you can get it without tearing.
Cut the dough into 3-4 inch squares before adding the filling.
How to make wonton soup
Once you have your wonton wrappers made, all you need to do is add the filling, seal them shut, and cook in a broth. I like using chicken broth, but you can use any soup base you enjoy. Here's how it's done:
Add the ground pork to a skillet over medium-high heat to brown, then stir in the ginger (fresh or powdered), garlic, and soy sauce.
Add a spoonful of the seasoned pork to each wonton wrapper. Close each one by bringing one corner to the other, then pressing it down with a fork to crimp it shut.
Bring your broth to a boil in a large pot. If preferred, add in any soup veggies you want now. I usually add frozen peas and baby bok choy into our soup.
Let everything simmer for 5 minutes until cooked through. Serve hot with scallions on top and enjoy!
Storing, freezing, and reheating
To store: Homemade cooked wontons will last in the fridge for 3 to 4 days in an airtight container.
To freeze: Place the cooked wontons on a baking sheet lined with parchment and freeze until solid. Then, transfer to a freezer-safe bag or airtight container for up to 4 months.
To reheat: Wontons are best reheated in broth on the stovetop at a slow simmer. You can also add them to a skillet with a bit of broth or water to steam them through until reheated.
More Asian-inspired dinner recipes to try
Pin for later:

Homemade Wonton Soup
Print
Making Homemade Chinese Wonton Soup is easy! Juicy seasoned pork is stuffed into homemade wonton wrappers before being cooked with chicken broth and vegetables. It's a filling and savory dinner that tastes better than takeout!
Prep Time: 10 minutes
Cook Time: 20 minutes
Total Time 30 minutes
Ingredients
Wonton Wrappers
2 cups all-purpose flour
1 egg
3/4 teaspoon salt
1/2 cup water
Pork Wonton Soup
16 wonton wrappers see recipe above or use storebought wrappers
1 pound ground pork
3 cloves garlic minced
1 (one and a half inch piece) fresh ginger peeled and minced, or 1/2 teaspoon ground ginger
1/4 cup soy sauce
6 cups chicken broth
1/4 cup scallions finely chopped
Instructions
Wonton Wrappers
Pour flour into a large bowl. In a separate bowl mix together egg, salt and water. Add this to the flour mixture.

Knead the dough until it's smooth, forming into a ball. If the dough is not forming into a ball, add a little more water but do not make it sticky.

Cover and let the dough rest for 60 minutes.

Divide dough in half. One half a time, roll out on a floured covered surface, rolling the dough as thin as you can get it.

Cut into approximately 3-4 inch squares.
How to Make Wonton Soup
Brown ground pork in pan over medium high heat, about 8-10 minutes.

Mix garlic, ginger and soy sauce in a small bowl. Add this to the ground pork mixture and stir until combined.

Lay out your wonton wrappers and add a spoonful of the ground pork mixture to each wonton. Close each wonton by bringing one corner to the other, then crimping the dough together with hand or fork.

Bring your chicken broth to a boil on the stove in a large pot.

Add in wontons, along with any vegetables you want to add in (optional, but I love adding in frozen peas and baby bok choy). Simmer 5-7 minutes or until everything is cooked.

Serve in bowls and garnish with chopped scallions.