Battered and fried General Tso's Chicken is a saucy treat to replicate your favorite Chinese takeout. Dressed in a sweet and savory sauce, you won't be able to get enough!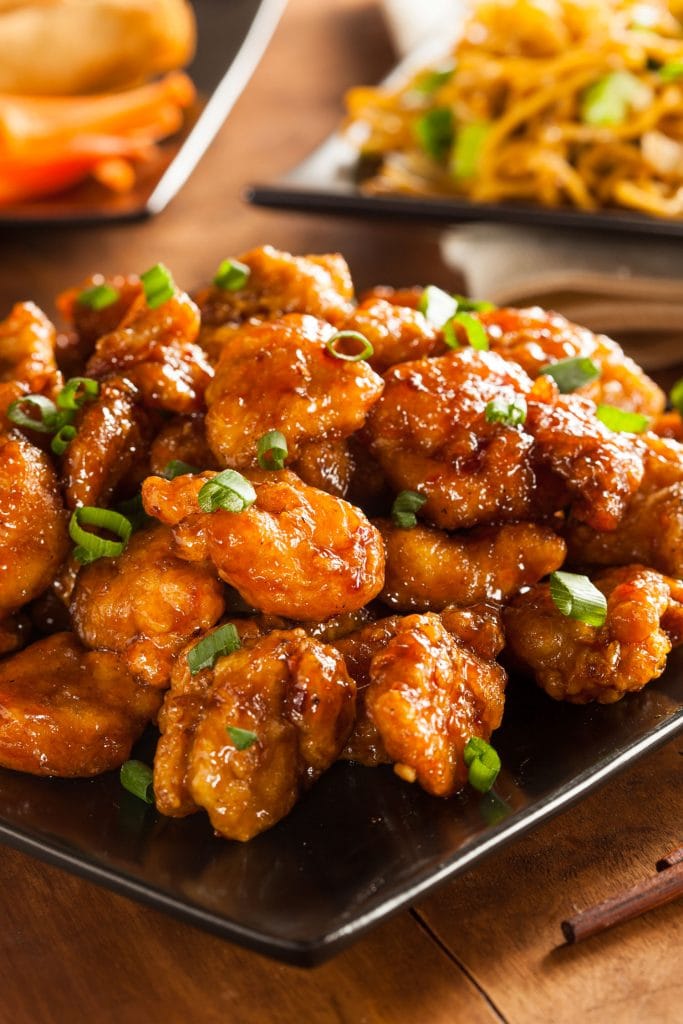 General Tso chicken recipe
I really can't get enough of Chinese takeout. Chicken and broccoli, wonton soup, chow mein… it's all just so good! If you're like me and could recreate your favorite takeout menu every night, add this General Tso's Chicken to the line up.
General Tso's Chicken is a sticky, saucy, and slightly spicy meal you can almost always find on the menu as westernized Chinese restaurants. Bite-size pieces of chicken breasts are battered and fried before being glazed in a delicious savory sauce. The final glaze really makes the golden brown chicken irresistible!
This saucy chicken is the best addition to any copycat Chinese takeout night. Don't forget to make extra for tasty leftovers the next day!
What is General Tso's chicken?
General Tso's chicken (pronounced "sowz") is a popular Chinese-American dish made with sauce-covered fried chicken. The sweet and savory sauce is easy to make using a handful of ingredients and gives the chicken a slightly tangy and spicy flavor. Each bite is a little complex and savory, which pairs nicely next to rice and steamed broccoli.
How to make General Tso's chicken
The chicken is fried in two stages: first with the batter in oil, and second with the sticky sauce. Once you know the steps, it's really easy to put together! This is how it's done:
Mix the cornstarch and egg together in a mixing bowl. Add the chicken pieces and stir to coat.
Heat vegetable oil in a frying pan over medium heat before carefully adding in the chicken. Fry until they're golden brown, then transfer to a paper towel-lined plate. (Tip: Be careful, a splatter screen is great to have for this!).
Make the General Tso sauce by mixing sugar, soy sauce, chicken broth, cornstarch, sesame oil, rice wine vinegar, peanut butter and red pepper flakes together in a bowl.
Remove all but two tablespoons from the pan. Add in the chicken pieces once more and cook until fully cooked and crispy. Pour the sauce over the chicken and toss to combine.
The General Tso's chicken is ready when the sauce thickens slightly and looks like a glaze. Serve with rice or Vegetable Lo Mein, then enjoy!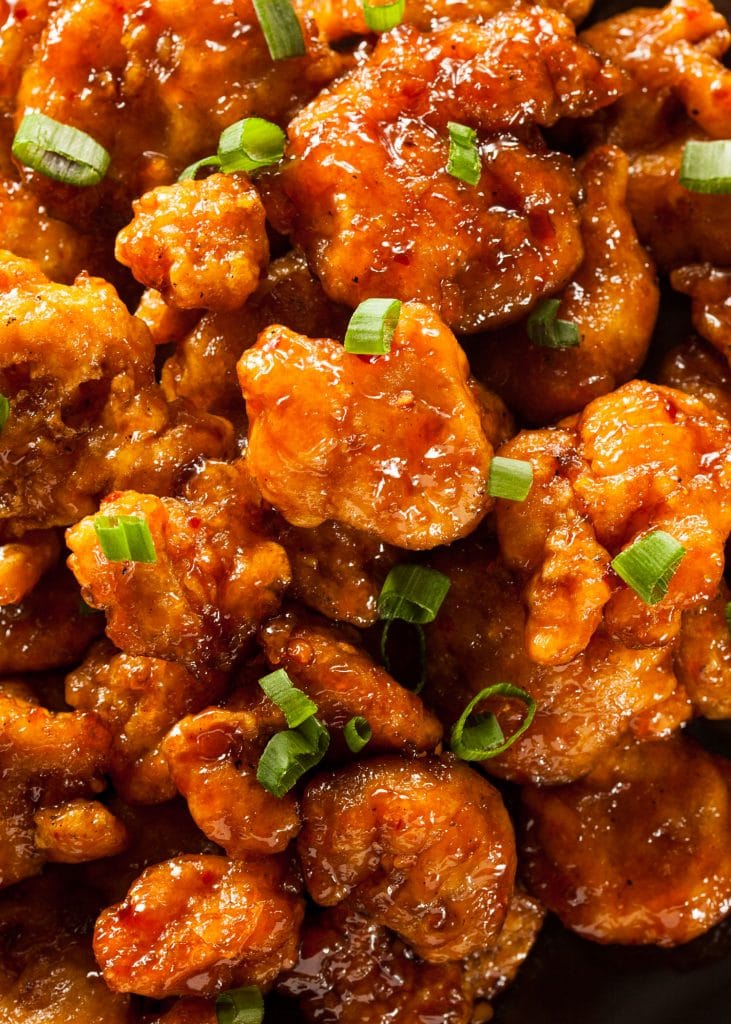 Can I bake the chicken instead?
If you'd rather skip the extra oil and calories, you can bake the chicken using a similar process I used in my General Tso's Cauliflower recipe. This is how it's done:
Bread the chicken pieces in cornstarch and egg before laying them on a parchment-lined baking sheet.
Bake the chicken at 425ºF for about 15-18 minutes or until cooked through.
Heat the sauce in a small saucepan over medium heat. Bring it to a boil and let it simmer for a few minutes or until it thickens slightly.
Take the chicken out of the oven and pour the sauce over top or mix the two together in a bowl. Once the chicken is fully coated, enjoy with rice and broccoli!
Variations
Chicken – I love making this recipe with boneless, skinless chicken breasts. Boneless chicken thighs would also work but they would need to be cooked longer. Otherwise, feel free to replace the meat with tofu, cauliflower, or even chickpeas.
Rice wine vinegar – If you can't find this, the best substitution would be white wine vinegar or apple cider vinegar.
Soy sauce – Use tamari to make this recipe gluten free. You could even add a teaspoon or two of hoisin sauce for a stronger, richer flavor.
Red chilies – Want more spice? You can replace the red pepper flakes with chopped up red chilies or a teaspoon of chili sauce. You can always omit them entirely if you don't like spice or are keeping it more kid friendly. The general spiciness in this recipe is very minimal.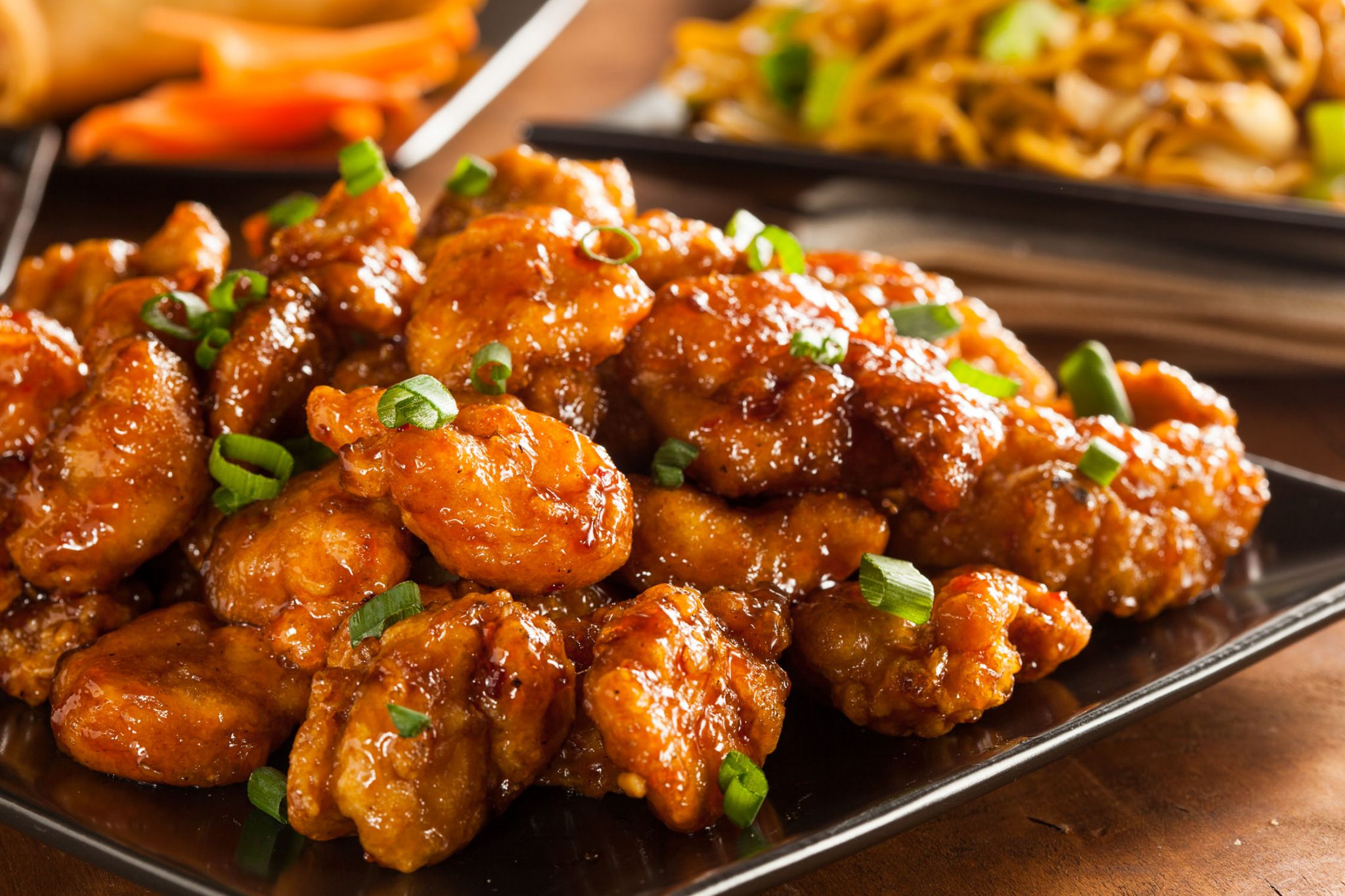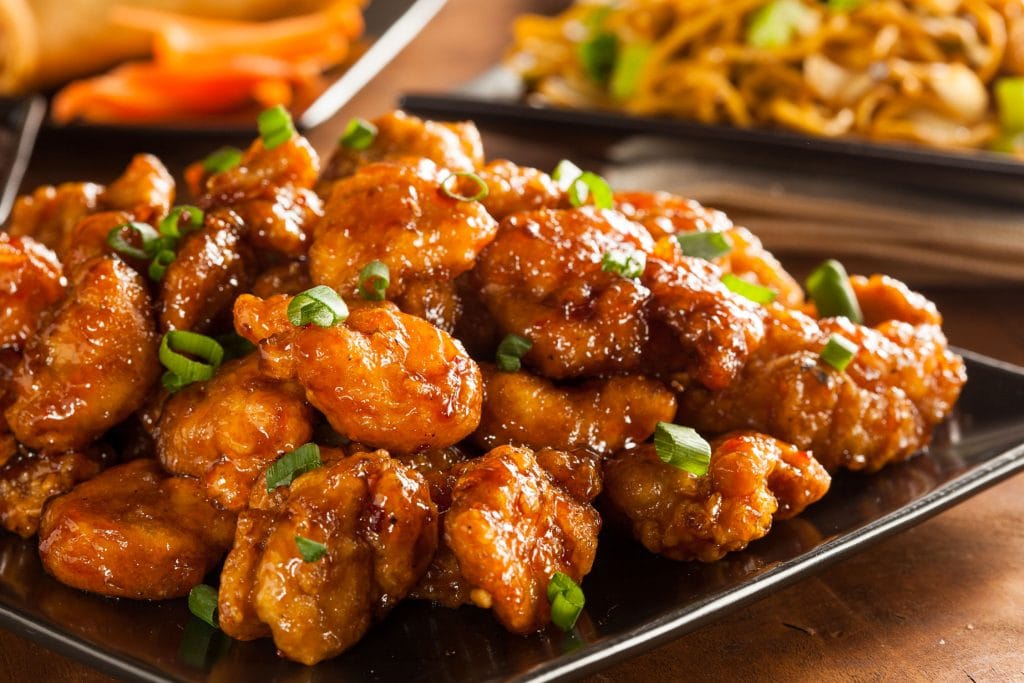 What to serve with General Tso's chicken
I like to keep my Tso chicken simple with some fried rice and steamed broccoli on the side. If you're looking to make the meal more exciting, include a bowl of Chinese wonton soup, hot and sour soup, green beans, basmati rice, or bok choy on the side.
Pin for later:
Takeout General Tso's Chicken
Print
Battered and fried General Tso's Chicken is a saucy treat to replicate your favorite Chinese takeout. Dressed in a sweet and savory sauce, you won't be able to get enough!
Prep Time: 5 minutes
Cook Time: 15 minutes
Total Time 20 minutes
Ingredients
1 egg beaten
1/2 cup cornstarch
1 pound skinless boneless chicken breasts cut up into bite size pieces
2 cups vegetable oil for frying
For the sauce:
1 clove garlic minced
1/2 cup sugar
1/2 cup soy sauce
1/2 cup chicken broth
1/4 cup cornstarch
2 tablespoons sesame oil
2 tablespoons rice wine vinegar
1 tablespoon peanut butter
1/2 teaspoon crushed red pepper flakes
Instructions
Beat the egg in a medium-sized bowl. Add pieces of chicken and coat with egg. Add cornstarch to bowl and mix chicken until it's fully coated.

Heat vegetable oil in a large frying pan (or deep fryer) over medium high heat (you want it at 350 degrees). Careful as it gets hot and can splatter. Carefully drop the chicken into the vegetable oil, cooking until the outside turns brown and chicken floats, about 3-4 minutes. Remove the chicken and place on a paper towel to remove any excess grease.

Drain vegetable oil from saucepan, leaving 2 tablespoons in it. Over medium high heat, add minced garlic and cook until browned and fragrant, about 2 minutes. Add the chicken in again and cook until crispy and no longer pink inside. This will take about 5-7 minutes, make sure to keep stirring so the chicken cooks on all sides and doesn't stick to the pan.

To make the sauce: add sugar, soy sauce, chicken broth, cornstarch, sesame oil, rice wine vinegar, peanut butter and red pepper flakes into a bowl. Stir to fully mix.

Add sauce into pan, stirring with a spoon to fully coat the chicken. Continue heating until the sauce thickens, about 2-3 minutes.

Optional: Serve over rice, alongside steamed broccoli or chopped green bell peppers. Garnish with chopped greens onions or sesame seeds.