Potatoes and Peas cooked in a simple cream sauce in 30 minutes. Creamy New Potatoes are a classic, old-fashioned inexpensive meal that my family loves!
Creamy Potatoes and Peas Recipe
Need some comfort that comes in a bowl? Then you need to make this Potatoes and Peas dish! We absolutely love creamy potato meals in our house, like yukon gold potato soup, no peel mashed potatoes and this potatoes and peas dish!
Tender potatoes and peas are served in a old-fashioned, like your grandma used to make, simple cream sauce that's been seasoned with garlic, turmeric and salt and pepper.
Grab a fork, dive in and lick your bowls clean (or at least that's what my kids do). Enjoy!
How to Make Potatoes and Peas
Boil potatoes and peas in a large pot until tender. Drain.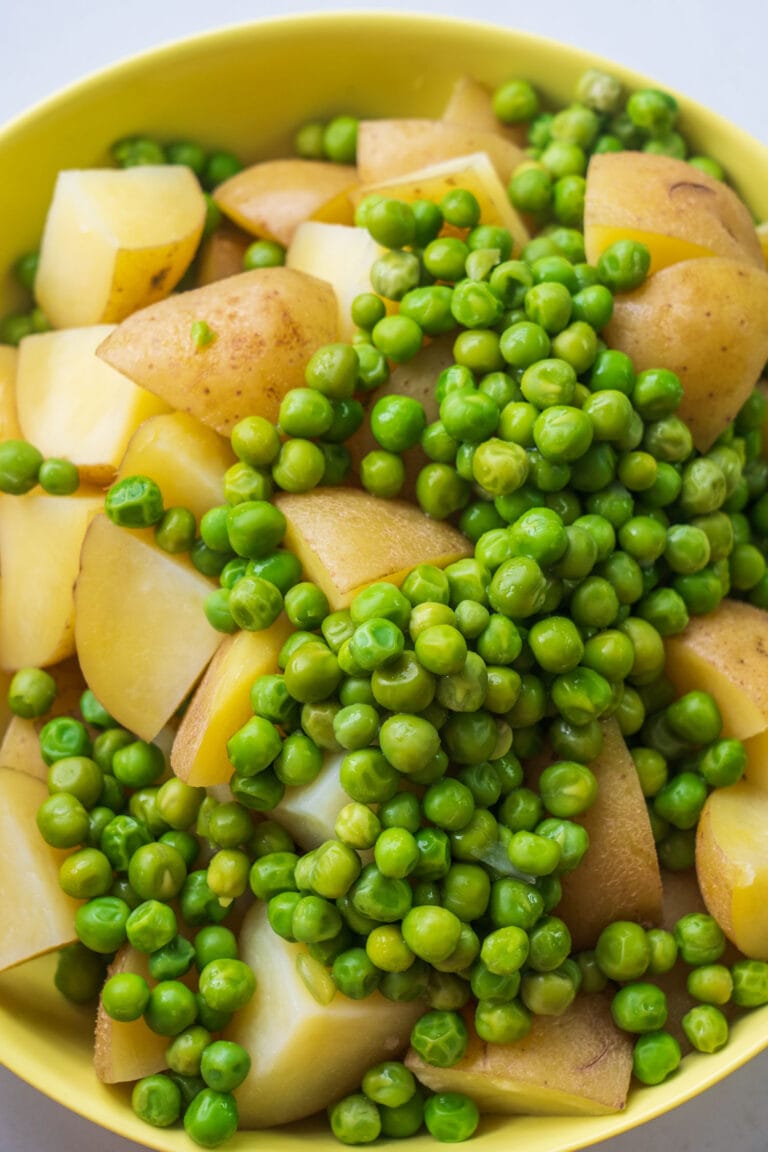 Make the cream sauce in a skillet by first melting butter and garlic together. Add in flour and mix until a paste forms.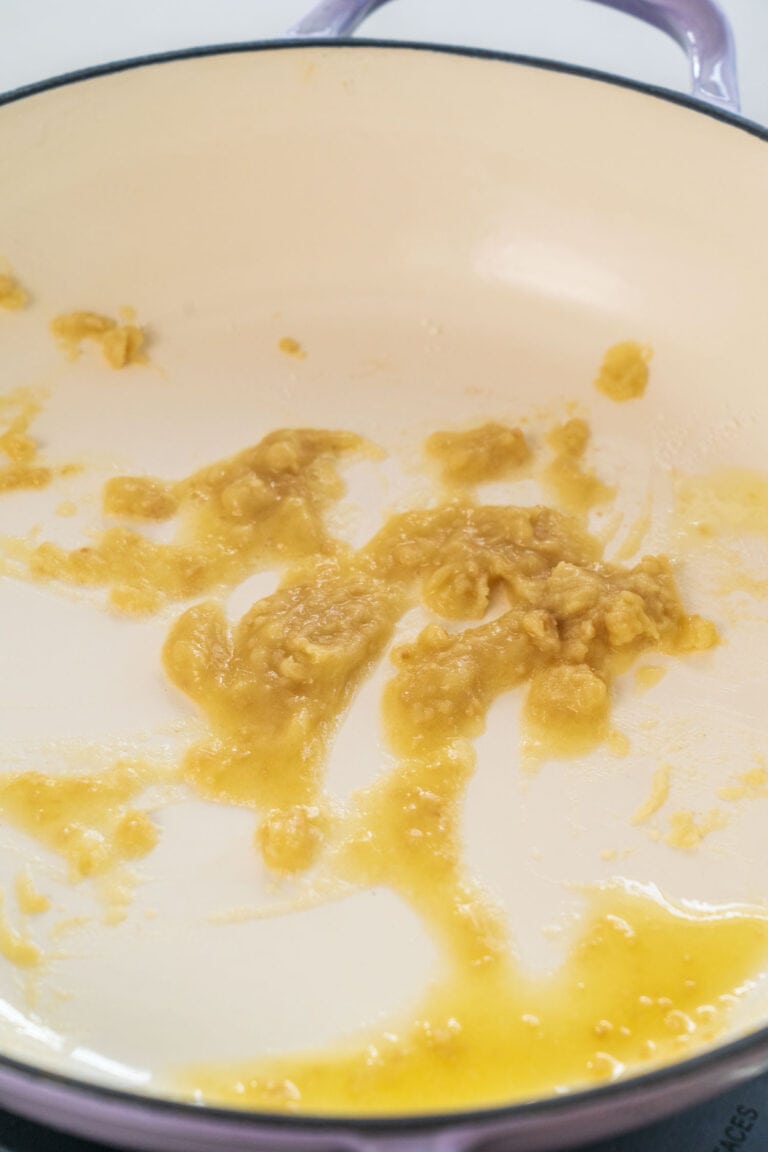 Slowly add in the milk, whisking until the sauce thickens.
Season with turmeric, salt and pepper (to taste).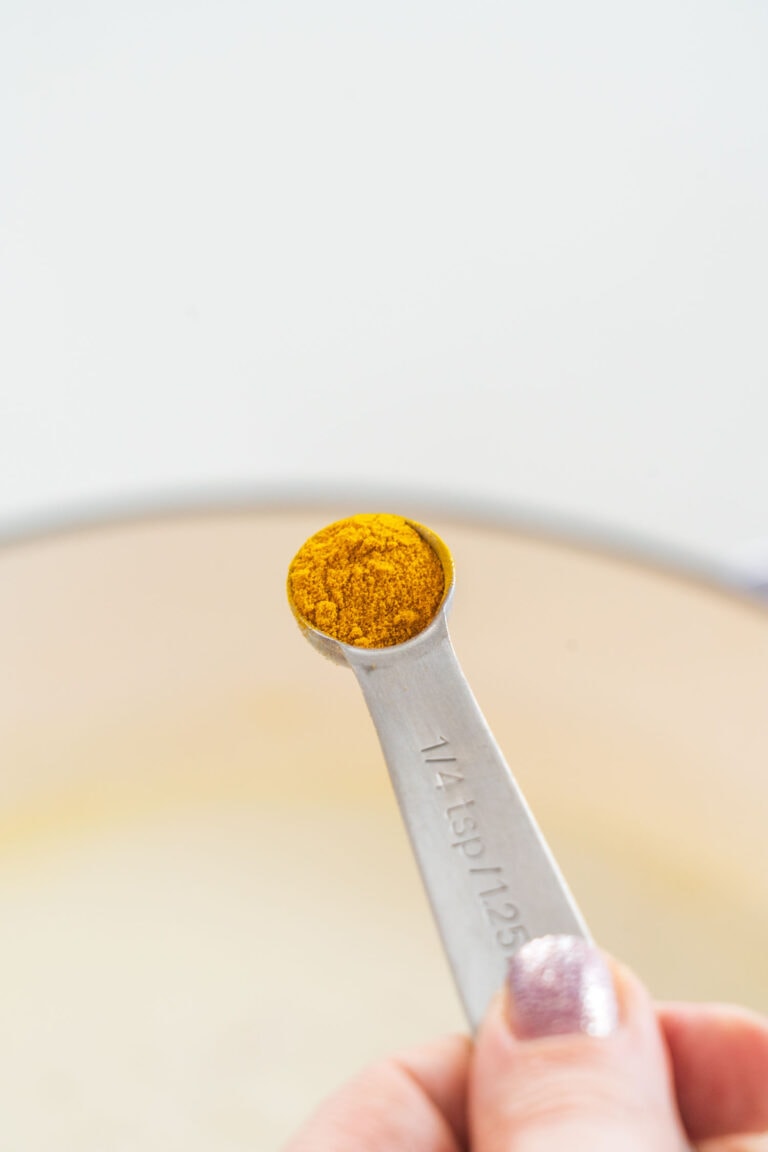 Add cooked potatoes and peas in and stir to fully coat them in the cream sauce.
After heated, I like to let the dish sit for a few minutes. This cools it down a little bit while allowing the sauce to thicken up. Serve and enjoy this pure comfort food!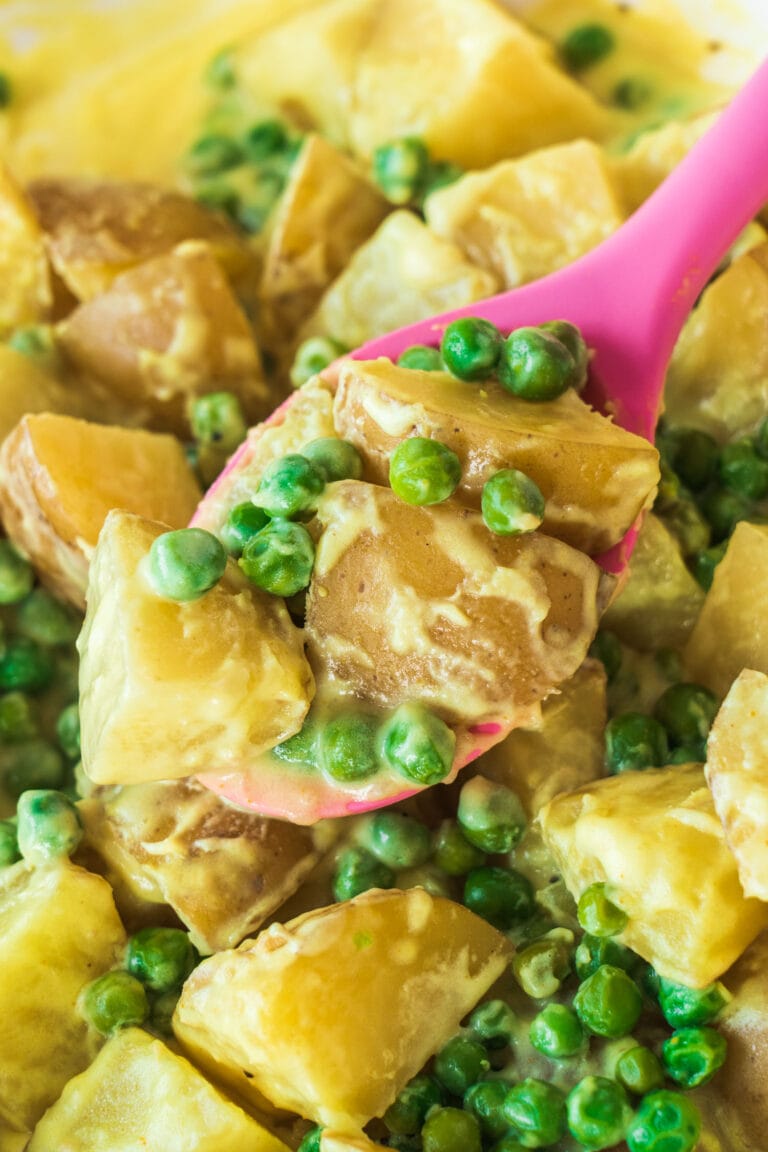 What kind of potatoes should I use?
Honestly, you can use any type of potato that you have on hand – Idaho, Yukon, New Potatoes and baby red potatoes all work good!
You can also use a mixture of half sweet potatoes, half regular potatoes if you want to get wild.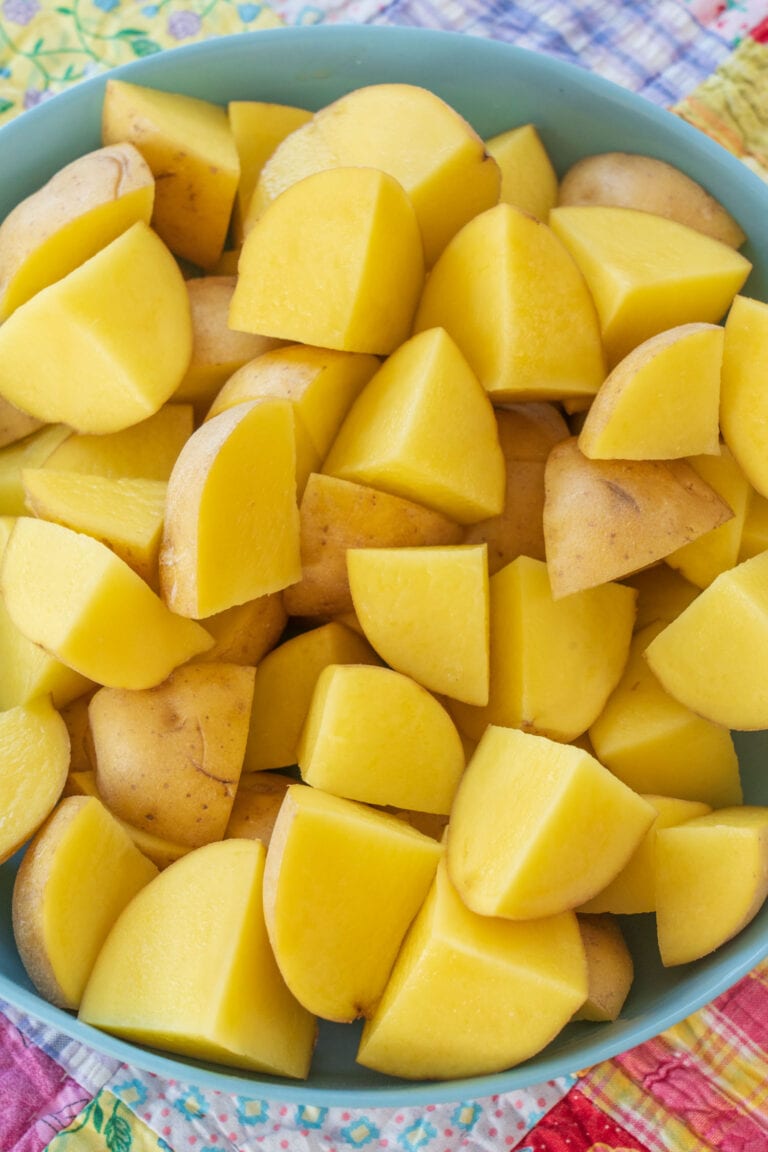 What are New Potatoes?
This dish is great to use with new potatoes! New Potatoes are small potatoes, harvested when the potatoes are young and small. They are simply dug up earlier in the season, and because they are younger, they taste sweeter, with more tender skins than their older potato siblings.
Can I use fresh peas instead?
Absolutely! Frozen is usually more convenient to most people, but I often use fresh peas during Spring garden season.
One pound of frozen peas equals one pound of fresh peas.
How to Serve It?
You can serve Potatoes and Peas as either the main course or a side dish. More than often we serve this in bowls as our main dinner with some crusty bread or dinner rolls to dip in the cream sauce.
Storing Leftovers
Store in the refrigerator in an airtight container for up to 3 days. Reheat in the microwave or on the stove top.
More Potato and Pea Recipes
Pasta and Peas (Pasta e Piselli)
Crock Pot Chicken Pot Pie
Slow Cooker Sausage Barley Soup
Crockpot Kielbasa and Green Beans
Crockpot Baked Potatoes
Slow Cooker Broccoli Cheese Potato Soup
Pin for later:

Creamed Potatoes and Peas
Print
Potatoes and Peas cooked in a simple cream sauce in 30 minutes. New Potatoes are a classic, old-fashioned inexpensive meal that my family loves!
Prep Time: 5 minutes
Cook Time: 25 minutes
Total Time 30 minutes
Ingredients
2 pounds potatoes cut up into bite size pieces
2 cups frozen peas
2 tablespoons butter
2 cloves garlic minced
2 tablespoons all-purpose flour
2 cups milk
1/4 teaspoon ground turmeric
salt and pepper to taste
Instructions
Place potatoes in a large pot and cover with salted water. Bring water to a boil over high heat, and then reduce to a simmer until potatoes are tender, about 15-20 minutes. With 5 minutes remaining, add the frozen peas. Drain.

In a large skillet, melt butter and garlic together over medium heat. Stir in flour and whisk until a paste forms with the butter. Add in milk, a little at a time, whisking it constantly until it thickens – about 5 minutes.

Season with turmeric and salt and pepper, stirring to fully combine. Taste, adding more salt if needed.

Add potatoes and peas to cream sauce, and stir to fully coat them. Continue to cook for 5 minutes until everything is heated thoroughly.

Remove from stove and allow to sit for 5-10 minutes before serving. This allows the cream sauce to thicken as it cools down.

Serve in bowls and enjoy this comforting potatoes and peas meal!