This Green Pepper Cheese Bake is a garden vegetable delight. Made with green bell peppers, tomatoes, corn, spinach, cream, cheese, and eggs, this comforting casserole makes for a delicious vegetarian side dish or main meal.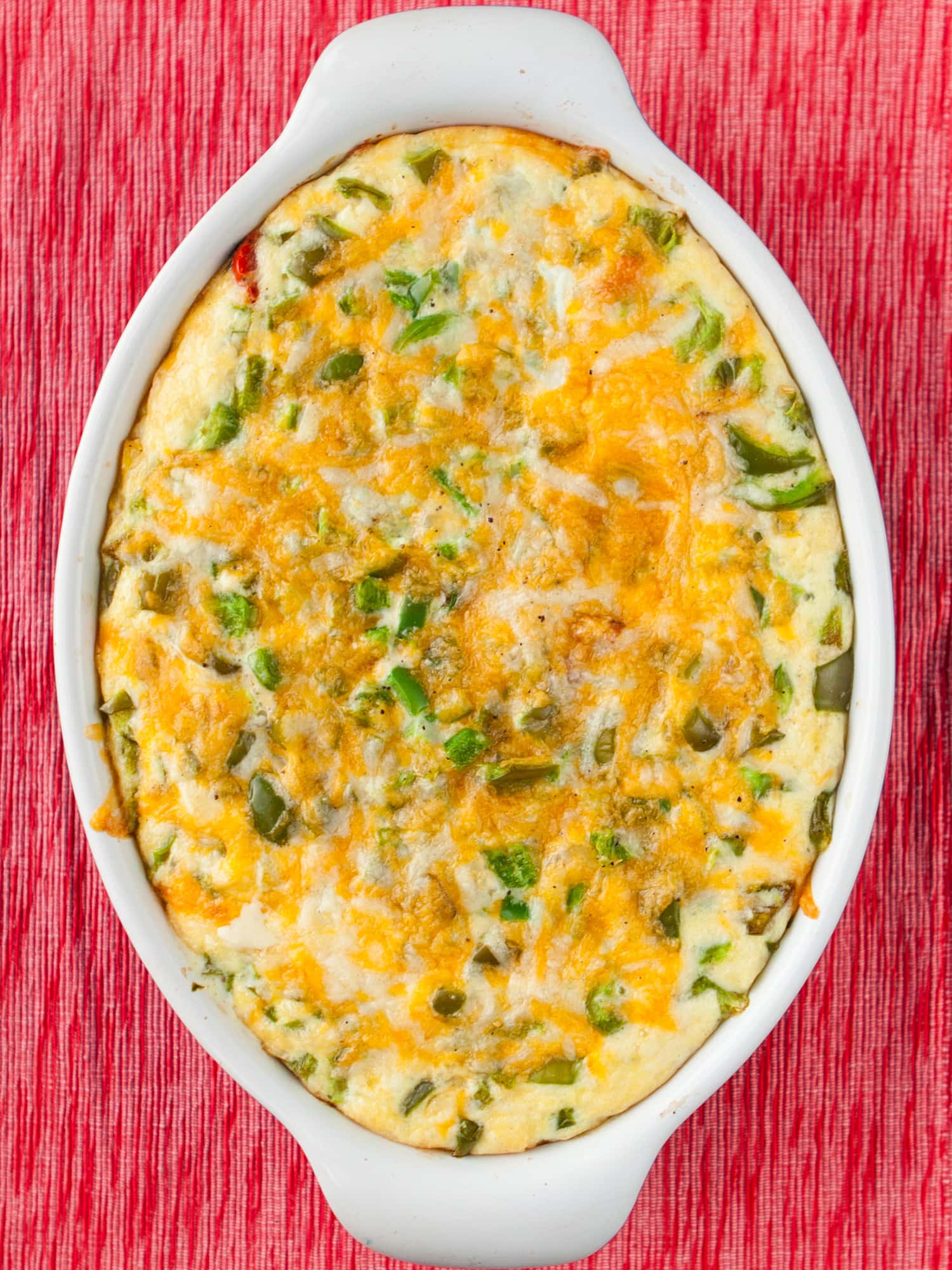 Vegetarian bell pepper casserole
There's something so hearty and comforting about a stuffed pepper. Tender veggies, cheeses, and grains stuffed into a garden fresh bell pepper makes for a perfect and filling main dish or side. They're extremely flexible too!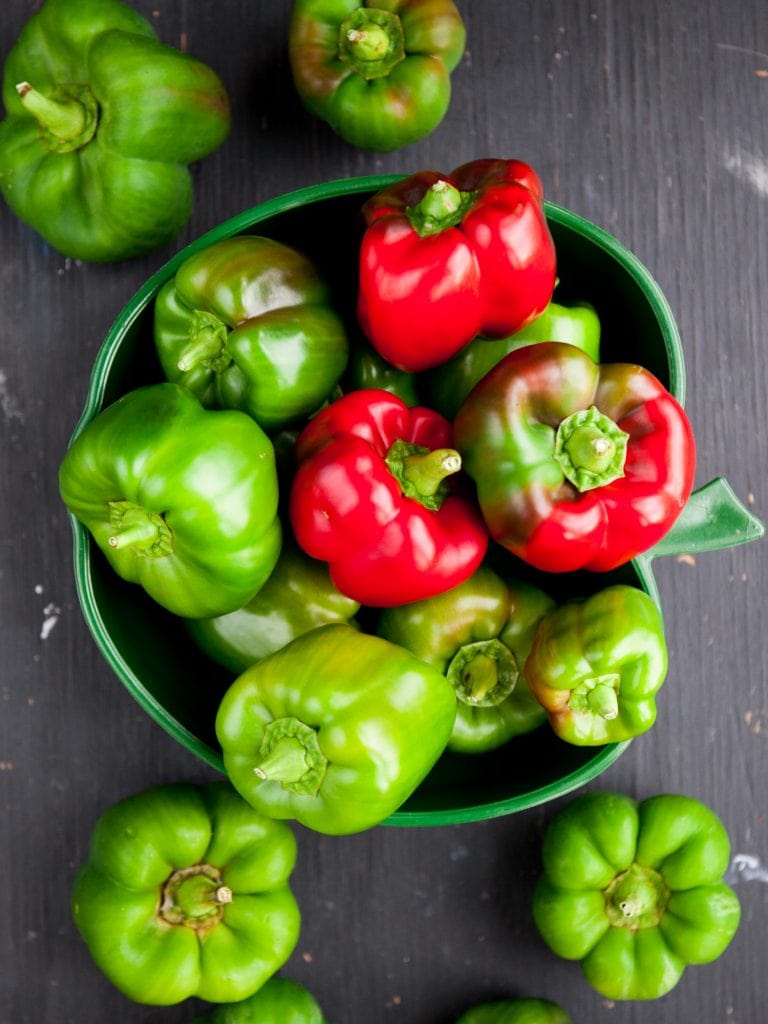 This Green Pepper Cheese Bake casserole lands somewhere between a deconstructed stuffed pepper and a cheesy omelet. Instead of being lumped into one category, this recipe is made with the best features of stuffed peppers and omelets, and can be enjoyed at any time of day!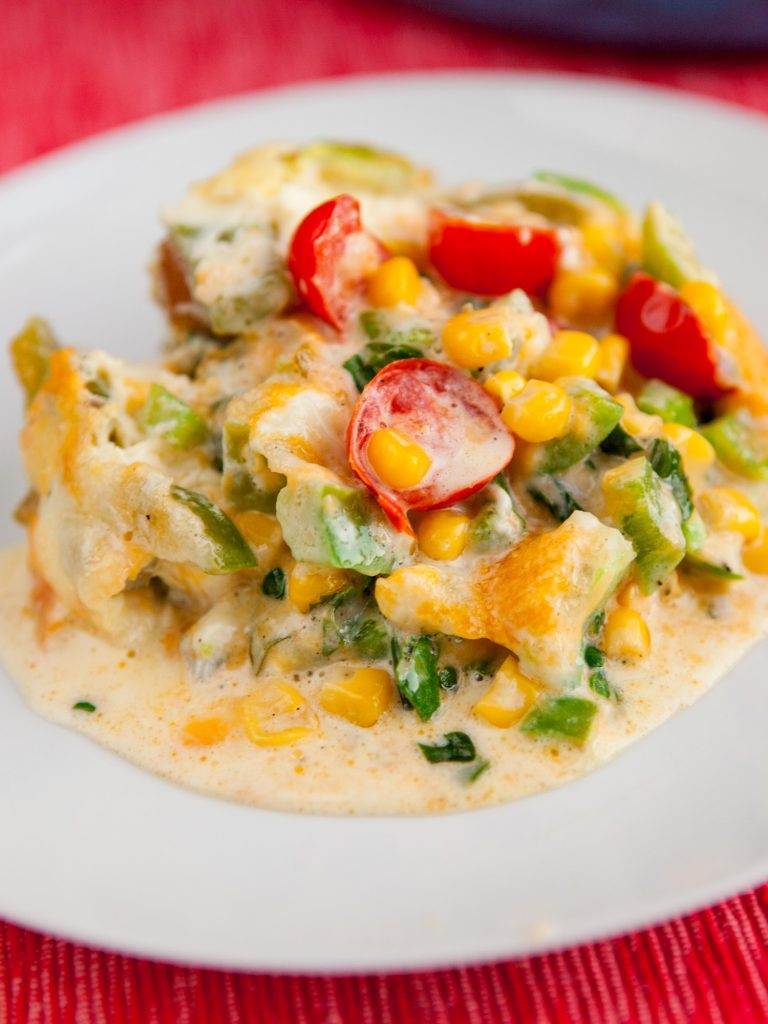 My cheesy pepper bake is made with layers of green bell peppers, sauteed veggies, shredded cheese, eggs, and cream. Once it's done baking to golden brown perfection, you can serve a scoop of the finished casserole with garlic knots for dinner, on the side of quinoa burgers, or with toast and fruit salad at brunch.
Make it just the way you like with more vegetables added in or swap the existing ingredients for your favorites. It's truly a vegetarian and gluten free delight you can make any way you want!
How to make an unstuffed pepper bake
This simple pepper bake is much easier than making stuffed peppers. Instead of making a filling and carefully stuffing them into bell peppers, all you have to do is pile everything into a casserole dish. It's the best way to get a good dose of veggies in every bite!
Follow the steps to put this creamy comfort food together:
Melt the butter in a pan over medium heat before sauteeing the tomatoes, spinach, and corn. If you don't have fresh corn you can substitute canned or frozen corn. Don't love spinach? You can also use baby kale or even arugula.
Assemble the pepper bake by adding green peppers to a baking dish, followed by the tomato mixture and shredded cheddar cheese. Mix to fully combine all these veggies.
Whisk the cream (or milk), eggs, and seasonings together in a bowl. Pour the mixture over the top of the casserole.
Bake uncovered for 10 minutes, then lower the heat and continue baking for another 25 minutes. When it's done, the peppers should be fork tender and the cheese fully melted.
What to serve with a cheesy pepper bake
Make this creamy casserole the centerpiece at dinner! It pairs so nicely with moist buttermilk cornbread and jalapeno buttermilk biscuits on the side. Otherwise, serve it as a vegetable-packed side dish next to spare ribs, meatloaf, or chicken as the main.
If you're not vegetarian, feel free to add in your favorite meats to bump up the protein. I like adding shredded roasted chicken or leftover Salisbury steak into the mix. You can even stir in a can of chickpeas or white beans for more protein and fiber.
Making ahead, freezing, and reheating
Making ahead: Once the casserole is assembled, cover the dish with plastic or foil and keep it in the fridge for up to 24 hours.
Freezing: Freezing a dish with peppers and vegetables with high water content can be tricky and the results won't be as good as freshly baked, but it can be done! Once the baked casserole is fully cooled, transfer it to an airtight container and freeze for up to 1 month. Let it thaw in the fridge overnight before baking. It will release a lot of water as it thaws, so be sure to drain as much liquid as possible before reheating.
Reheating: Preheat the oven to 350ºF and add the pepper bake to an oven-safe dish. You may need to add additional cheese, especially if it's been thawed. Bake for 15 to 20 minutes uncovered or until the dish is fully warmed through.
More recipes with bell peppers
Pin for later: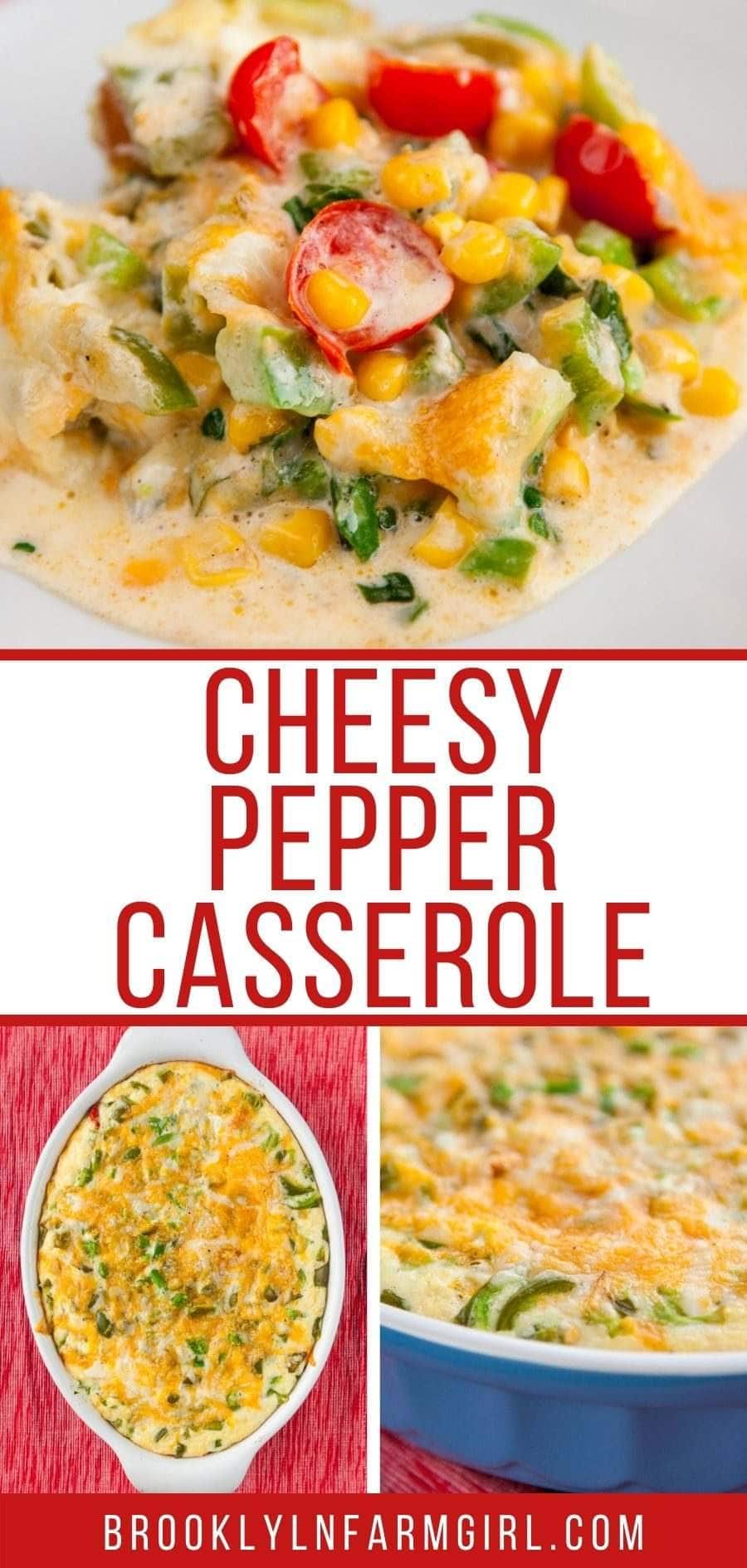 Cheesy Green Pepper Bake
Print
This Green Pepper Cheese Bake is a garden vegetable delight. Made with green bell peppers, tomatoes, corn, spinach, cream, cheese, and eggs, this comforting casserole makes for a delicious vegetarian side dish or main meal.
Ingredients
1 tablespoon butter
1 cup cherry tomatoes cut in half
2 cups fresh corn kernels
1 cup spinach chopped
2 pounds green peppers cut up into bite size pieces
2 cups shredded cheddar cheese
3 eggs
1 cup heavy cream
pinch salt + pepper
Instructions
Preheat oven to 425 degrees F.

Melt butter in a skillet over medium high heat. Once butter is melted add tomatoes, corn and spinach, stirring to coat all in butter. Continue heating for 2-3 minutes or until spinach is wilted.

Spray a 11×9 baking dish with nonstick spray. Place green peppers on the bottom of baking dish.

Add tomato, corn and spinach mixture on top of peppers, along with shredded cheese. Stir to fully combine all ingredients.

In a medium sized bowl beat eggs, heavy cream and a pinch of salt and pepper.

Pour egg mixture on top of the ingredients in baking dish.

Bake for 10 minutes, and then reduce oven temperature to 350 degrees and bake for 25 additional minutes.

Remove from oven and allow to sit for 5 minutes before serving. Enjoy!