Add a southern flair to your meals with these soft Jalapeno Buttermilk Biscuits. Made with tangy buttermilk and simple ingredients, each bite is fluffy and buttery with a spicy kick!
Every meal of the day calls for fresh biscuits. Used for a breakfast sandwich, as a buttery treat at lunch, or on the side of a green bean casserole for dinner, fluffy buttermilk biscuits are always a treat.
These easy Jalapeno Buttermilk Biscuits are flaky, moist, and full of flavor. Plus, with diced jalapenos added to the mix, they have a small pop of heat that balances out the comfort and keeps you on your toes. I can't get enough of them!
Even though I love making Flaky KFC Biscuits or ones to top my Chicken Pot Pie, these spicy southern homemade biscuits are secretly my favorite. Top them with shredded cheddar cheese or jalapeno slices for an extra hit of flair or enjoy as-is for the perfect partner to Ground Beef Chili and Mexican Lasagna.
What does buttermilk do to biscuits?
Biscuits made with buttermilk instead of regular milk are on a different level. Buttermilk is naturally acidic and when it reacts with leavening agents like baking powder or baking soda, the dough bubbles up. This extra air helps the biscuits rise and fluff up, plus they have a slightly tart and bright flavor.
How to make homemade buttermilk biscuits with jalapenos
Buttery dough mixed with jalapenos results in a homestyle biscuit texture that can't be beat! They're easy to make in only a few steps:
Cut the frozen butter and place it in a small bowl with a handful of flour. Mix to coat, then pulse the flour-coated butter in a food processor to chop it up. Note: Refrigerated butter works ok too, but don't use room temperature butter as it's too soft.
Add the dry ingredients to the food processor and pulse a couple of times. Don't have a food processor? That's ok, you can use a bowl and electric hand mixer instead. Remove the dough from place in bowl.
Add the buttermilk and chopped jalapeño and mix until a dough forms. Knead the dough for a few minutes.
Spread the dough on a floured surface to 1/2 inch thick (it doesn't have to be perfect shape).
Use biscuit cutters or circle cookie cutters to cut the biscuits from the dough and place them on a greased baking sheet.
Bake on baking sheet until the bottoms are slightly brown. Serve warm with butter and enjoy!
Tips for the best buttermilk biscuits
The secret to flaky biscuits is frozen butter! The colder your butter, the easier it will be to work with and cut into the dry mix. The cold butter will melt as it bakes in the oven, resulting in flaky, moist, and fluffy biscuits.
If you don't have a hand mixer, cut the butter into the flour using your fingertips, a fork, or a handheld pastry cutter until the dough resembles damp sand.
If you don't have a circle-shaped cookie cutter, use a greased mason jar or round water glass instead.
Did your biscuits turn out a little flat? The biscuit dough should only be mixed and kneaded a few times until it just comes together. Overmixed dough will result in flat, dense biscuits.
Craving jalapeno cheddar biscuits instead? Mix shredded cheddar cheese into the dough to give these biscuits an extra creamy and savory center.
For a golden brown finish, brush the raw biscuit tops with cream or milk before they go in the oven.
Storing and freezing biscuits
To store, keep the leftovers in an airtight container at room temperature for 3 to 4 days. Enjoy them as-is or warm them in a 325ºF oven for 10 minutes.
To freeze, place the unbaked biscuits on a sheet pan and let them freeze overnight. Place the frozen solid biscuits in a ziploc bag or airtight container for 3 to 4 months. To bake from frozen, place the biscuits on a sheet pan and bake at 375ºF for 20 minutes or until they're thawed and cooked through.
More homemade bread recipes
Pin for later: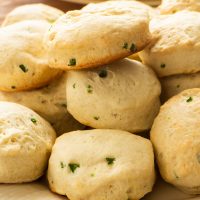 Jalapeno Buttermilk Biscuits
Print
These southern Jalapeno Buttermilk Biscuits are moist, flaky, and easy to make. Serve them as the perfect partner to chili and casseroles.
Prep Time: 10 minutes
Cook Time: 20 minutes
Total Time 30 minutes
Ingredients
1/2 cup butter frozen or chilled
2 cups all-purpose flour
2 1/2 teaspoons baking powder
1/2 teaspoon baking soda
1/2 teaspoon salt
1 tablespoon sugar
3/4 cup buttermilk
1 jalapeño seeds removed, finely chopped
Instructions
Preheat oven to 400 degrees F.

Take butter and cut it up into small cubes. Add butter to a bowl, along with a small handful of flour, and mix the butter so it's fully coated with flour. Add butter to the food processor and pulse a few times to chop it up.

Add flour, baking powder, baking soda, salt and sugar to the food processor and pulse a couple more times to get a crumbly mixture.

Remove the dough from the food processor and add to a large bowl. Add in buttermilk and chopped jalapeño, mixing to fully combine. Knead the dough with your hands for 2 minutes.

On a lightly floured surface, spread out dough to 1/2 inch thick. Using biscuit cutters or circle cookie cutters, cut biscuits. Keep repeating until all dough is used, sometimes re-spreading the dough if needed. You will get 18-20 biscuits.

Put biscuits on greased baking sheet. Bake for 13-15 minutes, or until the bottoms turn slightly brown. Serve and enjoy!
Notes
Note: Freeze butter beforehand, for about an hour. This will allow it to more easily be cut into the flour. If are you in a rush, refrigerated butter will work too.