Spice up your morning with this easy and Cheesy Jalapeno Omelet. Made with eggs, jalapeno peppers, and your favorite cheese, this savory pepper omelet is the best way to start your day.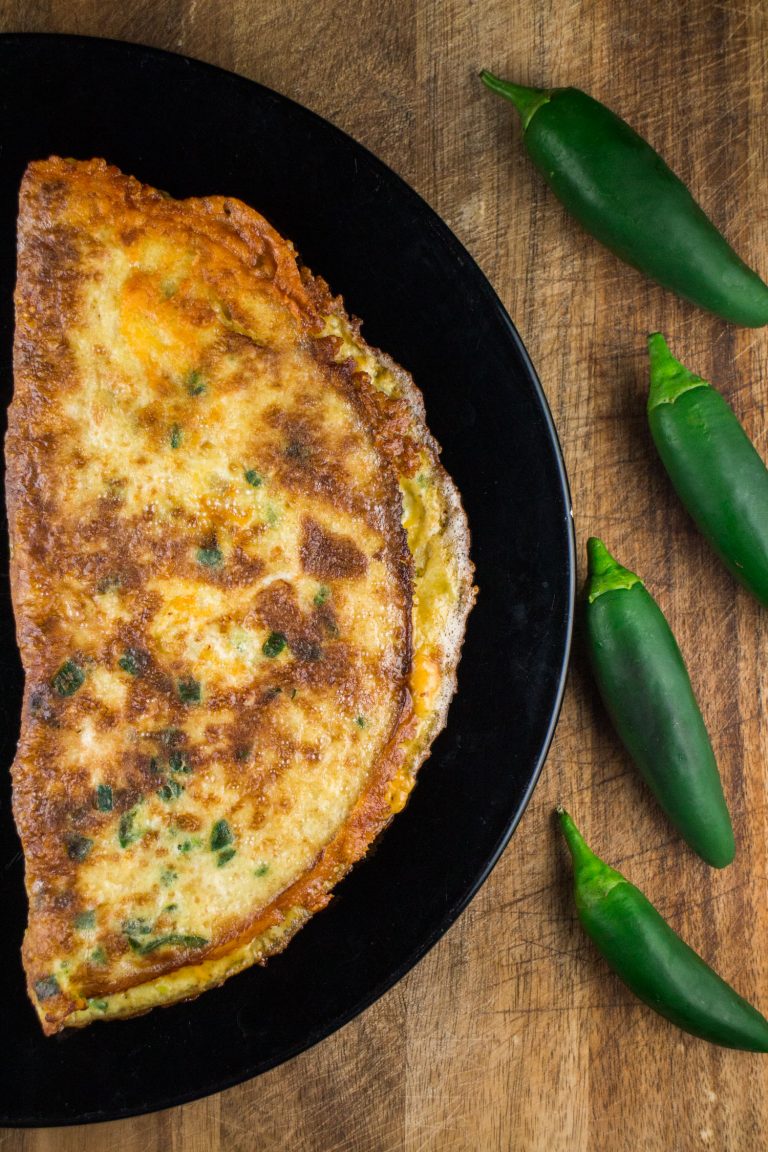 Vegetarian pepper omelet
When our jalapeno plants start producing in the Summer, I try to come up with new recipes to use them all. Our favorite jalapeno recipes are Jalapeno Buttermilk Biscuits, Jalapeno Mac and Cheese, Jalapeno Cornbread and Candied Jalapenos!
Last but not least, I added some to this Cheesy Jalapeno Omelet. Not only did it add some exciting spice to my day, but this easy pepper omelet kept me full and satisfied. Ready in just 7 minutes, it's one of the best vegetarian breakfast options to turn to in a pinch or on busy mornings.
This recipe couldn't be easier: scramble some eggs, add in the diced jalapenos and cheese, then cook it all up in a skillet to have a keto breakfast in just minutes! It's completely customizable as well, meaning you can add more spices, veggies, or even meat to the omelet. No matter which way you flip it, it's always a delicious and protein-packed meal that will start your day off right.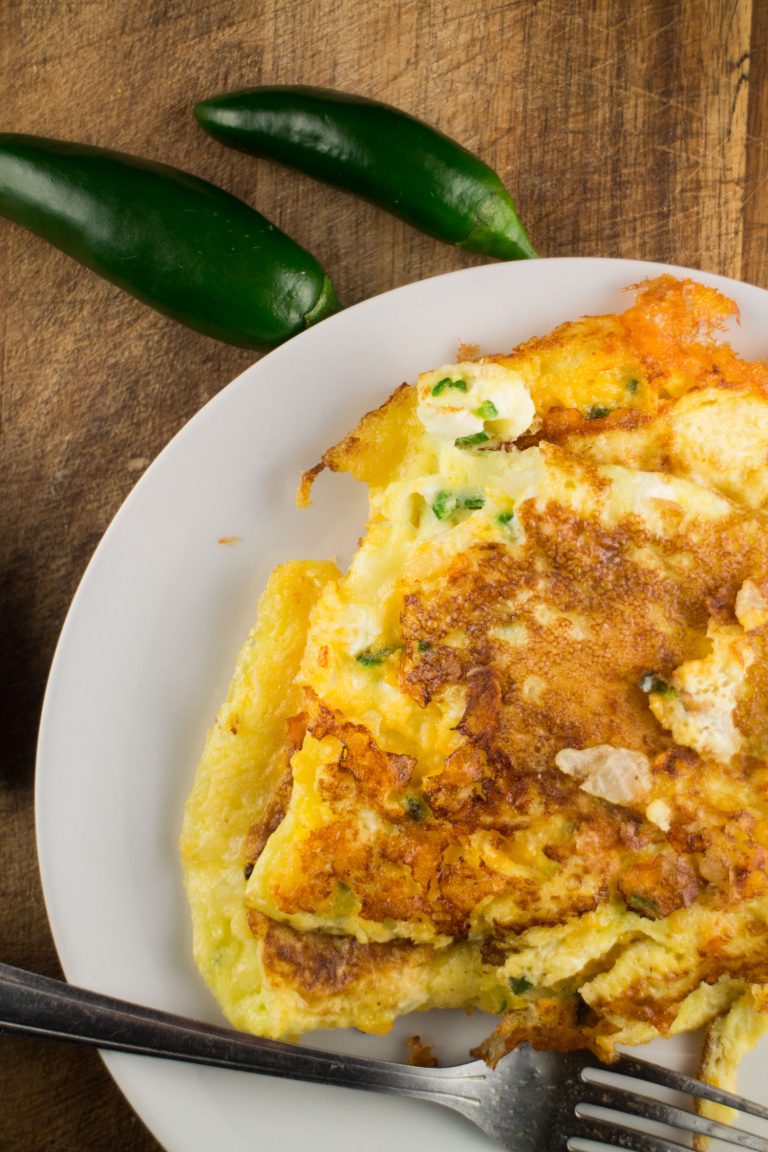 How to make an omelet with jalapenos
This 4-ingredient omelet takes minutes to prepare and cook, all while packing in lots of flavor and spice. Here's how to make it:
Whisk the eggs together in a bowl with the jalapenos and salt.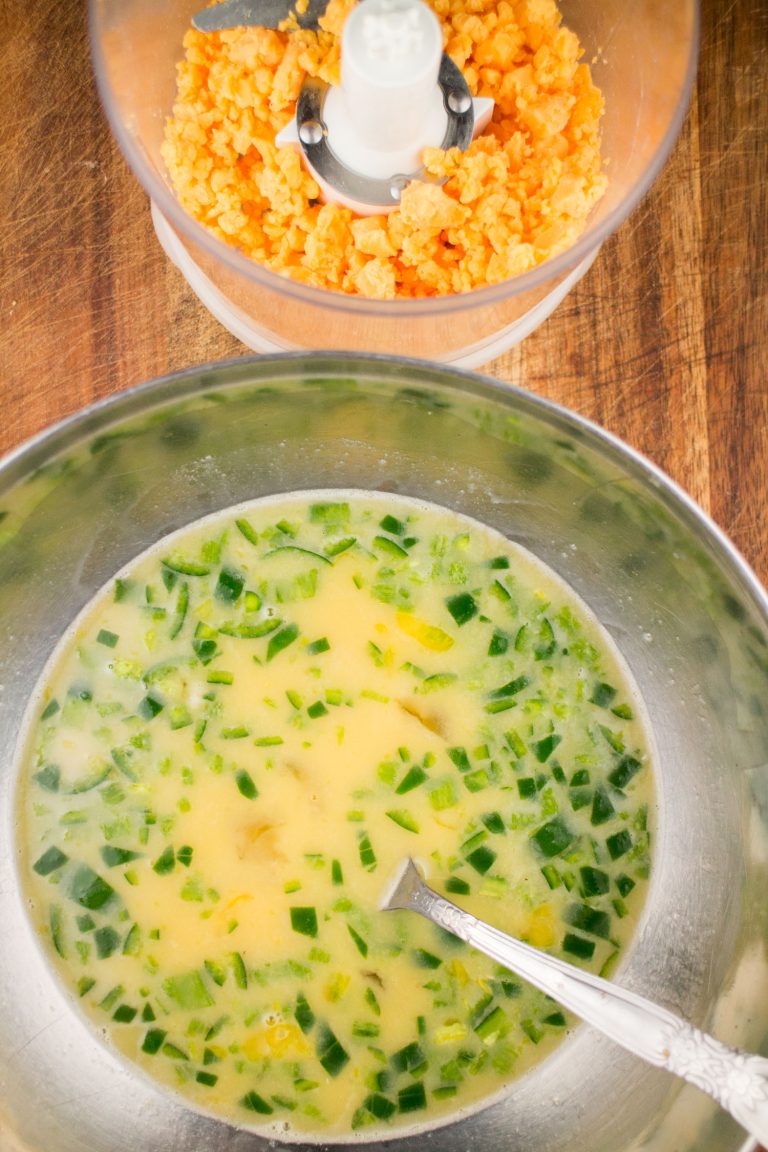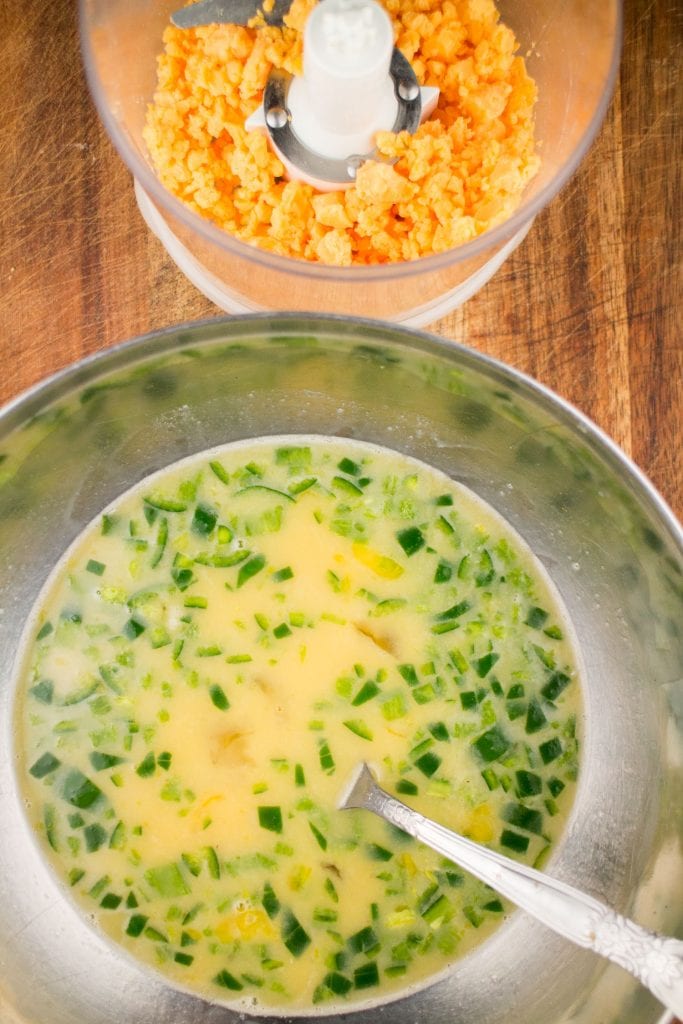 Add some butter to a skillet and heat over medium high heat.
Pour the egg mixture into the skillet and add the cheese on one side of the eggs.
When it's firm, flip the plain portion of the egg over top of the cheese. Cook for a few minutes before flipping again. It's ready to eat when the omelet looks crispy and firm on both sides.
Recipe tips and substitutions
To make it less spicy, remove the seeds and veins from the jalapeno.
For deeper flavors, saute the diced jalapeno with chopped onions and garlic in the skillet before adding them to the scrambled eggs.
Use different kinds of peppers to adjust the flavor and heat. Bell peppers are mild and sweet whereas poblanos are much spicier and smoky.
Bump up the nutrients by adding in more veggies like tomatoes, onions, or chopped zucchini.
Give it some protein by adding black beans, bacon, shredded chicken, or tofu to the mix.
The cheese choice is yours! Feel free to use cheddar, swiss, cotija, queso fresco, pepper jack, or any cheese you enjoy.
Do you like your omelets extra fluffy? Add a splash of milk or cream to the scrambled eggs.
To keep your omelet from burning, make sure the skillet is not heated too high. This will scorch the outside and undercook the inside. Maintain an even medium heat and only flip the omelet when it's ready!
What to serve with a cheesy pepper omelet
Serve this spicy pepper omelet alongside meaty homemade breakfast sausages, avocado, and roasted shishito peppers for the ultimate low-carb breakfast. For your carb-loving friends, serve the omelet with a side of leftover cilantro lime rice.
Believe it or not, omelets also pair well with the sweet things in life. Include a platter of baked sugar donuts or blueberry muffins to the spread for a sweet and savory balance.
Lastly, this Mexican-inspired omelet is the perfect partner to extra spice, veggies, and toppings. I like to add a drizzle of fresh tomato salsa or salsa verde for some added spice and texture. To make it extra hearty, add a scoop of my corn and black bean salsa, sour cream, avocado, and fresh cilantro on top!
More savory breakfast recipes to try
Pin for later:
Cheesy Jalapeno Omelet
Print
Spice up your morning with this easy and Cheesy Jalapeno Omelet. Made with eggs, jalapeno peppers, and your favorite cheese, this savory pepper omelet is the best way to start your day.
Prep Time: 2 minutes
Cook Time: 5 minutes
Total Time 7 minutes
Ingredients
6 eggs
2 tablespoons milk
1/2 teaspoon salt
1 jalapeno seeds removed and finely diced
1/4 cup shredded cheddar cheese
1 tablespoon butter
Instructions
Crack eggs open into a medium-sized bowl and add milk, salt and jalapenos. Beat eggs with a fork to fully mix everything together.

Add butter to a large skillet over medium high heat. Once butter is melted, pour in 1/2 of the egg mixture into the skillet.

Cook eggs until firm, about 3-4 minutes. Add 1/2 of the cheddar cheese to one side, and then fold the other side over making an omelet. Continue to cook for 1-2 more minutes on both sides until crispy and fully cooked.

Remove from skillet and repeat directions to make the other omelet. Serve and enjoy!