Easy Ground Beef Chili Recipe With Bread Bowl
Easy Ground Beef Chili Recipe served inside bread bowls! This quick dinner is ready in 20 minutes and your family will love it! This post is sponsored by Red Gold® and SheKnows Media.
Easy Chili Recipe
If you live in the Northeast, you're likely feeling the fall season. The temperature changed quickly, suddenly calling for heavy jackets and hats. To warm you up, I wanted to share this Easy Ground Beef Chili Recipe with you; it's a simple meal that the entire family will enjoy!

If you're a parent, you probably have an endless list of activities to do every day. Between your career, your children's school, and their extracurricular activities, it's probably difficult to carve out an hour to make dinner once everyone is home.
I'm excited to share a homemade chili recipe that doesn't require a slow cooker or an hour in the kitchen – this dish only takes 20 minutes and it's sure to warm everyone's hearts (and tummies!) on the busiest nights.
Beef Chili
The base of this recipe is ground beef. I recommend using a 90% lean beef that won't make your chili greasy. You should brown your beef alongside garlic powder, green pepper and onion. As soon as you start doing this, your family will already be running to the kitchen wondering what smells so great!
In addition to the ground beef, you'll need the other key components of a great chili: a delicious tomato sauce, diced tomatoes, kidney beans and black beans.
For my tomato sauce and diced tomatoes, I always use Redpack Tomatoes. Their tomatoes are family owned, grown and made – for over 75 years, the brand has partnered with family farms they personally know. Their mission is "to provide the freshest, best tasting tomato products in the world" and that's what you'll taste in the chili! Their tomatoes are steam packed fresh, with nothing artificial and proudly made in the USA. Because a good chili needs a good tomato sauce, trust the difference family makes when it comes to taste!
The tomato sauce in this chili recipe adds a nice creaminess, perfect for eating with a spoon on a chilly night! Instead of using broth, like some chilis call for, the tomato sauce is going to thicken up the entire meal, perfect for serving it in a bowl.
The diced tomatoes add a fresh flavor, alongside the beans. Redpack Petite Diced Tomatoes are great to use when you don't have time to dice up fresh tomatoes. Because of how fresh they taste, no one will even know they came from a can! And this is coming from a vegetable gardener who knows her tomatoes! 😉
Do you live in the Midwest? Check out Redpack's sister brand Red Gold Tomatoes for products with the same family grown quality in your area.
Chili Bread Bowl
You could serve this easy chili in a regular bowl, sure, that would be delicious, but to take it to the next level, put the chili in a bread bowl. This is a sure way to make your family happy, because you can all dip the bread right into it. Who doesn't love dipping bread into chili? I sure do!
To make easy bread bowls, you will need Kaiser sandwich rolls. You can usually find these in the bakery section of your supermarket and they're cheap – my bakery sells 4 for $1! What a steal!
Then carefully, with a knife, cut out a circle on top of each bread bowl, but not too close to the sides otherwise the bread bowl will cave in. Remove the circle and the bread that's connected inside the Kaiser roll.
And just like, ta-da! You have a bread bowl.
Then comes the best time – time to dive into this Easy Ground Beef Chili! I hope your family loves it as much as mine does!
Enjoy everyone!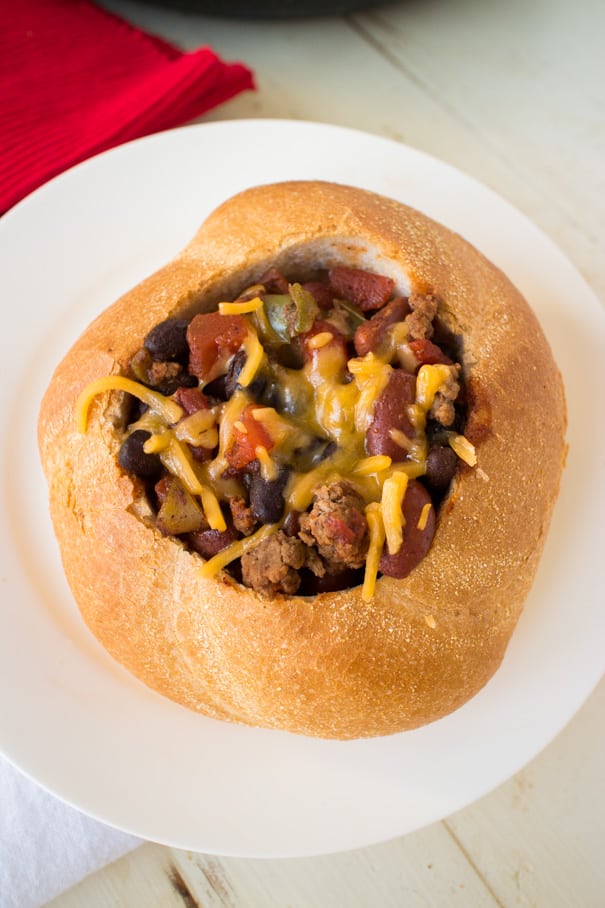 Pin for later:

Easy Ground Beef Chili Recipe
Easy Ground Beef Chili Recipe served inside bread bowls! This quick dinner is ready in 20 minutes and your family will love it!
Ingredients
1

pound

lean ground beef

1

teaspoon

garlic powder

1

small onion

diced

1

green pepper

diced

1

14.5 ounce can

Redpack Petite Diced Tomatoes

1

8 ounce can

Redpack Tomato Sauce

1

15 ounce can

kidney beans

undrained

1

15 ounce can

black beans

undrained

1/2

teaspoon

salt

2

tablespoons

chili powder

6

kaiser rolls

optional: to use as bread bowls
Instructions
Add ground beef, garlic powder, onion and green pepper to large pan. Cook beef on medium high heat until browned.

Add in diced tomatoes, tomato sauce, kidney beans, black beans, salt and chili powder, mixing to combine. Cook on high heat, simmering for 10 minutes, allowing some of the liquid to boil off.

Cut open kaiser rolls to use as bread bowls and scoop chili inside of each. Optional: Top the chili off with shredded cheese and a scoop of sour cream!