4 HOUR JUICY Slow Cooker Whole Chicken recipe. This easy complete meal makes a 6 pound chicken in the the crock pot with potatoes and vegetables! You'll love how simple it is to cook a HEALTHY Rotisserie Chicken!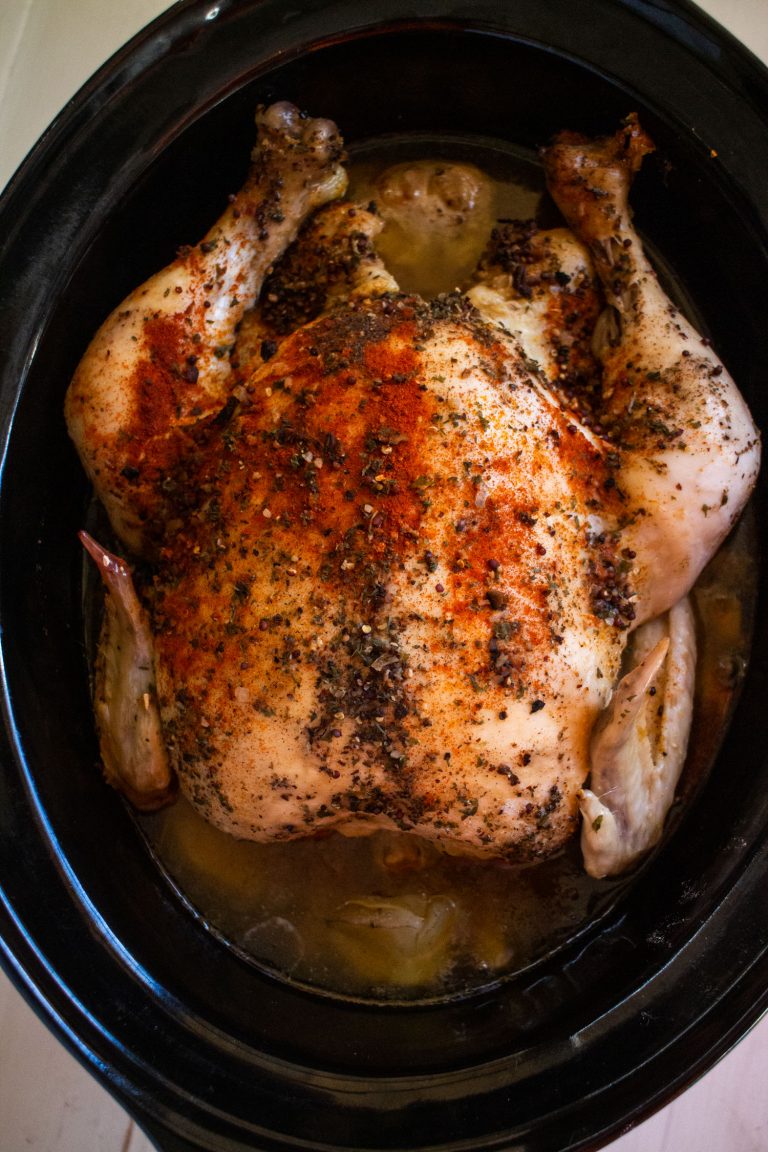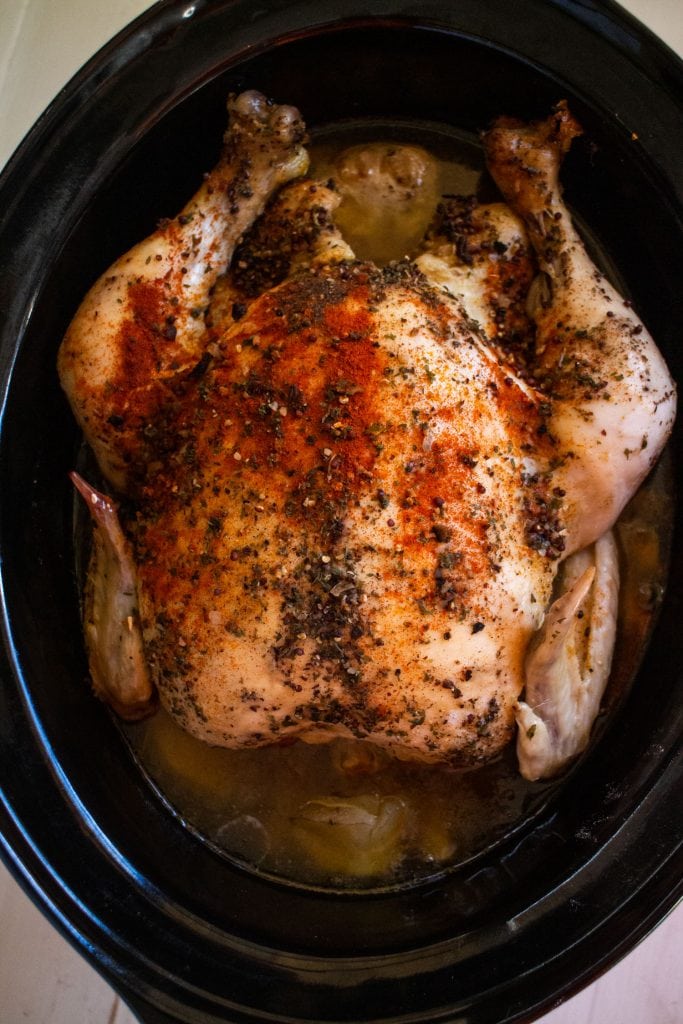 Slow Cooker Whole Chicken Recipe
I've been really big on Slow Cooker recipes lately. Just last week I shared with you my Slow Cooker Bread, and this week I'm sharing the main course to go with it – a whole chicken!
This chicken is juicy, full of flavor and is so easy to make! The key to a juicy chicken in the crockpot is that you cook it in chicken broth! Serve this with Green Bean Broccoli Casserole, roasted Carrots and Mushrooms, for a full dinner meal.
Here's the recipe video to help you cook it!
How long to cook a whole chicken in a slow cooker?
Close the lid and cook the chicken on high for 4 hours. Now sit back and relax while your kitchen starts to smell amazing! This is one of the many bonuses to owning a slow cooker! Alternatively you could set it to 7 hours on low if you want it to cook longer – sometimes this is easier for work days!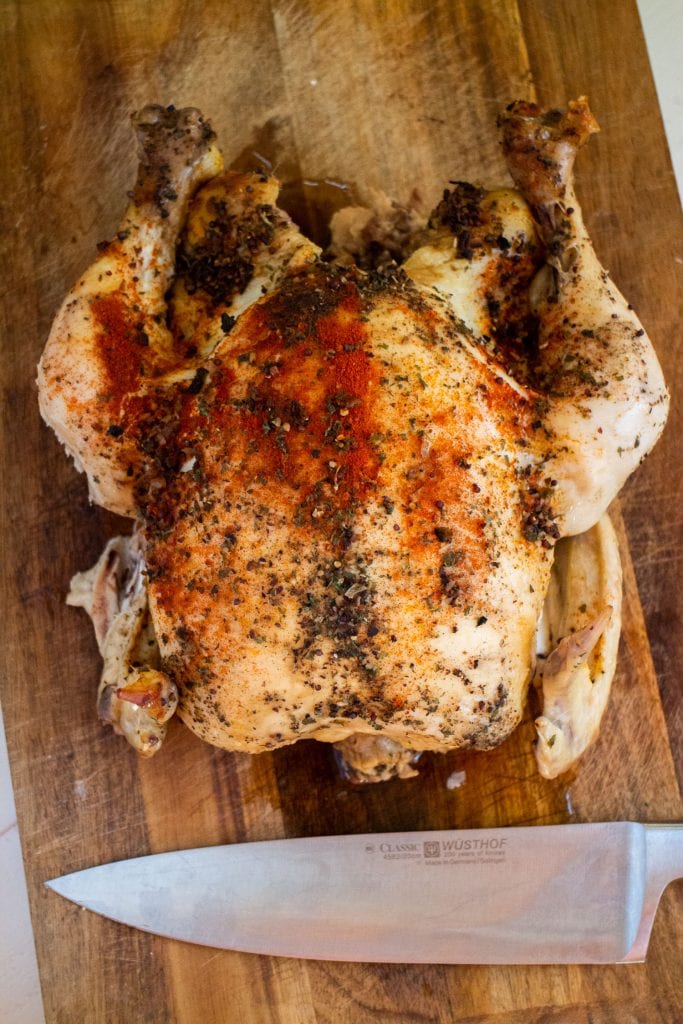 How to Make a Juicy Chicken
The key to making a juicy chicken in the slow cooker is that you want to give it some liquid to become moist, but you don't want it to sit in the liquid. The solution is that you cut up a bunch of vegetables so the chicken has a "bed" to be placed on, keeping it above the liquid for the majority of cooking time.
And then you place the whole chicken in crock pot with chicken broth. Chicken broth in my opinion keeps the flavor in the right pallet but you could however play around with it! Do you want a citrus zest? Add some orange juice. Apple juice will add some sweetness. Just remember your veggies are cooking in it as well.
This Slow Cooker Whole Chicken recipe is going to give you a very tasty chicken but you need to help it out with some seasoning! Rub 1 teaspoon paprika and 1 tablespoon chicken poultry seasoning all over the chicken, top and bottom.
This seasoning includes sea salt, garlic, pepper, and spices and herbs. So there is no need to add any extra salt or pepper. This one-shot seasoning has everything you need for great flavor!
At the end of the cooking time use a meat thermometer to make sure the internal temperature of the chicken reaches 165 degrees.
After the chicken is finished cooking, remove it from the slow cooker and cut it up. This should be fairly easy as it will be very tender. This cooking method allows the chicken to stay nice and juicy too.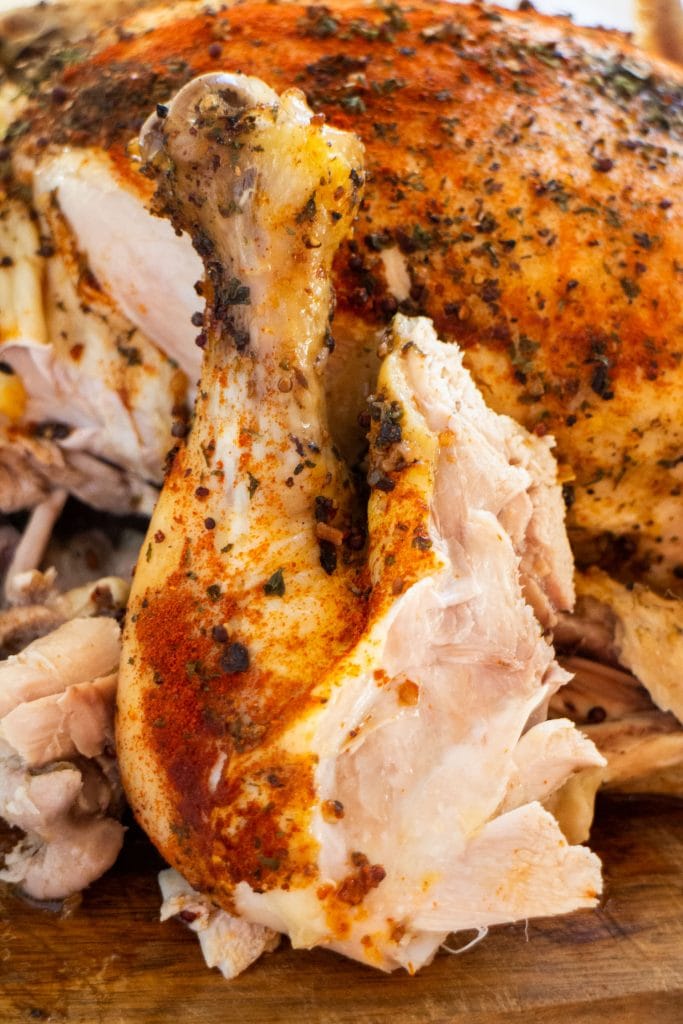 How To Make Chicken in Crockpot
What that also does is provide you a full meal, so you have your whole chicken and vegetables! I cut up potatoes, celery, carrots and onions to place in the bottom of the slow cooker.
Place your chopped up vegetables in the slow cooker first. Try to place denser veggies, like carrots or potatoes, on the very bottom, where it will be the hottest and sitting in the liquid. They will better tolerate the longer cooking time without becoming mushy. and then place your seasoned whole chicken on top.
It's good to use thick, dense veggies so that they don't get too soft and mushy sitting in the crockpot for hours. Thinking about a low-carb option? Use cauliflower instead of potatoes.
After 4 hours is up, the potatoes are perfectly cooked, you can slide your fork right into them. They're delicious too! The veggies catch all the run-off juices, sit in the added liquid, and even take some of the seasoning you applied to the chicken. This means they are tender and full of flavor.
Serve them as a side dish and you have an easy chicken meal for your family. I hope you enjoy this 4 HOUR Juicy Slow Cooker Whole Chicken recipe!
More Chicken Recipes
Here's some of my family's favorites:
Oven Roasted Whole Chicken with Cabbage
How to make a Rotisserie Chicken in the Oven
Easy Chicken Pot Pie
Chicken Tortilla Soup
Chicken Schnitzel
Cast Iron Chicken with Mint Chutney
Chicken Dumpling Soup
Pin for later: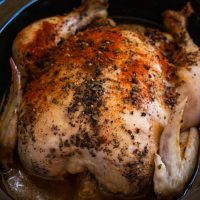 4 HOUR Juicy Slow Cooker Whole Chicken
Print
4 HOUR JUICY Slow Cooker Whole Chicken recipe. This easy complete meal makes a 6 pound chicken in the the crock pot with potatoes and vegetables! You'll love how simple it is to cook a HEALTHY Rotisserie Chicken!
Prep Time: 10 minutes
Cook Time: 4 hours
Total Time 4 hours 10 minutes
Ingredients
4 cups vegetables potatoes, carrots, celery, onions
1 cup chicken broth
6 pound whole chicken giblets removed
1 teaspoon paprika
1 tablespoon chicken poultry rub
salt and pepper
Instructions
This recipe calls for 4 cups of vegetables. It's up to you how you want to divide it up. I like to do 2 cups of potatoes and 2 cups of carrots, celery and onions. For the potatoes, peel and quarter. Fo the carrots, peel and chop up. For the celery and onions, chop. Place the vegetables in the bottom of your slow cooker.

Pour chicken broth on top of the vegetables.

Rinse your whole chicken under cold water. Make sure you take the giblets out of the cavity. Pat your chicken dry with paper towels. Rub paprika, poultry rub and salt and pepper to taste all over the chicken – top and bottom.

Place chicken on top of the vegetables in the slow cooker. Close lid.

Cook on HIGH for 4 HOURS or until internal temperature reaches 165 degrees.
Nutrition Information:
Calories: 600kcal (30%)