Slow Cooker Lamb Tacos recipe! The meat is so moist!
What do you think of when you hear Leg of Lamb? What recipes come to your mind?
Tacos might not be the first… but I'm here to change that!
These Slow Cooker Chipotle Leg of Lamb Tacos are super delicious as they are slow cooked with a bunch of spices for flavor. The lamb itself gets to marinade in this sauce for 8 hours making it oh so juicy when you grab a fork and cut it up. Unlike sometimes when you slow cook, the marinade doesn't always sink down into all the meat, but these tacos have flavor in every single bite you take.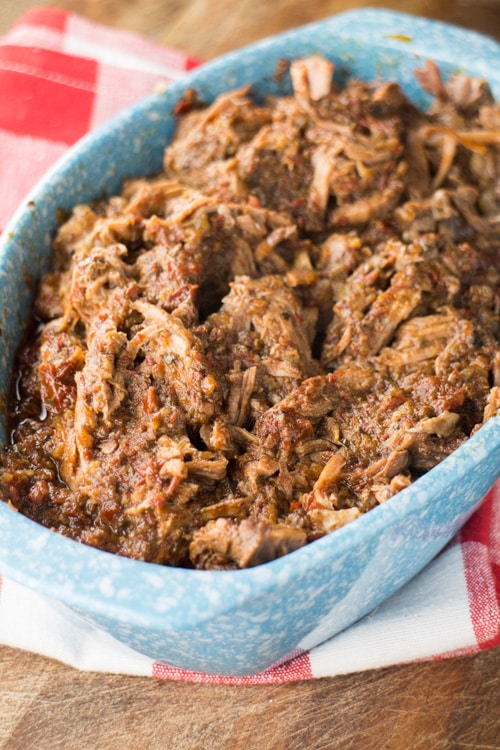 For these lamb tacos, I took one of my favorite chicken taco recipes, and then added and removed ingredients that I thought would make a better pairing for the lamb.
You're going to need cumin, pepper, oregano, garlic and salt. Oh and you're definitely going to need green chilies. You can buy green chilies whole or diced in a can, but it doesn't really matter as it's going in the food processor. Below, I'm using whole.

Right around now Goblin was saying "Mom, get this in the slow cooker already, I'm hungry!"

And to give it that spice? You'll be adding 1 whole can of chipotle peppers in adobo sauce. You might think that's crazy adding all the peppers into this, but the heat of the peppers combined with the spices balance it out. It's safe for taste buds ranging from loving hot to those that don't.

And 8 hours later and one heck of a good smelling home… Slow Cooker Chipotle Leg of Lamb Tacos are ready!

Serve these on hard or soft corn tortillas.

Pick whatever toppings you want. I'm obsessed with cilantro so I add a good pile of that on along with a big spoonful of salsa verde.

Line your family up and have everyone serve themselves, throwing on the toppings of their choice.

Why else do I love this?
LEFTOVERS!
We had these… 3 nights in a row. And every single night we loved them.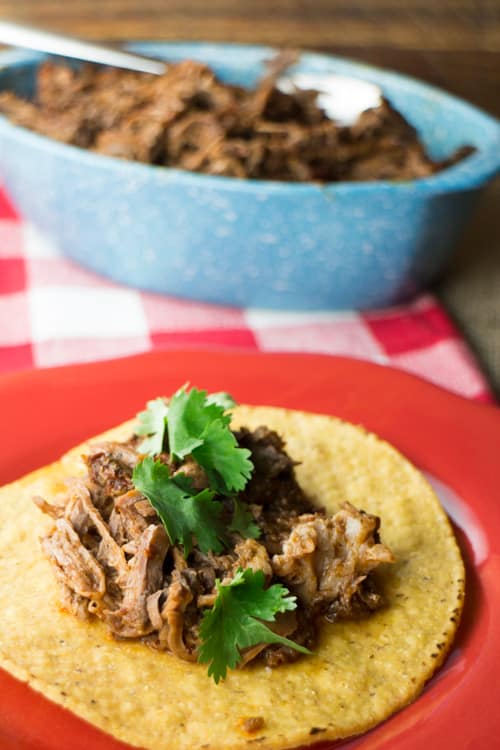 So next time you're in a lamb mood, why don't you mix it up with these tacos?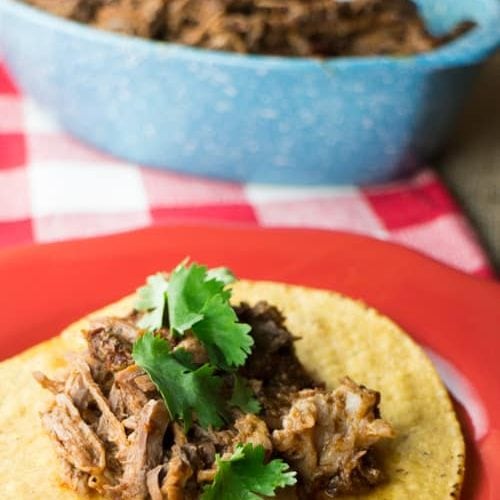 Slow Cooker Chipotle Leg of Lamb Tacos
Print
Ingredients
3 pound boneless leg of lamb you can subsitute boneless chicken breast
7 ounce can of chipotle peppers in adobo sauce
4.25 ounce can of Green Chilies whole or diced
1 teaspoon pepper
2 teaspoons cumin powder
2 tablespoons oregano
6 cloves garlic
2 teaspoons salt
1/4 cup vegetable oil
1/4 cup water
Instructions
Combine chipotle peppers in adobo sauce, green chilies, pepper, cumin, oregano, garlic, salt and vegetable oil in a food processor. Pulse until creamy.

Stab your leg of lamb a few times with a knife to create little holes that the marinade can run into.

Put leg of lamb in slow cooker.

Pour marinade on top, covering the lamb.

Add water.

Cook on low for 8 hours.

Serve on hard or soft tortillas with your favorite taco toppings!