Hello beautiful Macaroni and Cheese.
I love you.
Please be mine.
Would you like to dance?
Let's be friends.
These are all ways I like to greet this macaroni and cheese. Its real special.
This macaroni and cheese mixes a bunch of cut up cauliflower with pepper jack jalapeno cheese to add some spice. Then it's all melted over pasta shells. Oh and there's bread crumbs on top to add a bit of crunch.
Do you love pepper jack jalapeno cheese as much as I do? I love the kick of it. When I saw it the grocery store I threw it in my buggy right away. I knew I had to make something with it (besides eating it by the slice because I did alot of that too). Next time you're in the supermarket try to look for this!

The cauliflower comes straight from the garden. In the winter. Seriously. We still have vegetables growing under the green house. It makes my gardening heart pretty happy to go up to the roof in my winter coat and cut off a cauliflower head (and then cover it in cheese).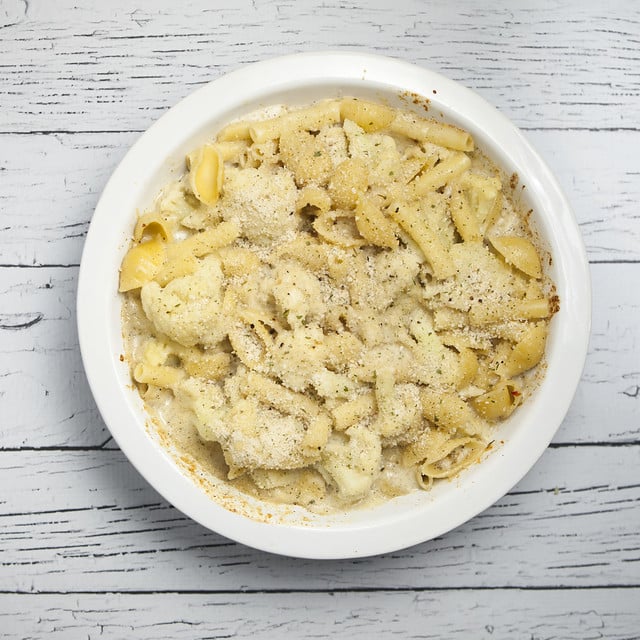 Next time your'e craving macaroni and cheese, give this a try!
Pin for later:

Pepper Jack Jalapeno Cauliflower Macaroni and Cheese
Print
Ingredients
2 cups pasta shells
3 cups cauliflower cut up into pieces
1/4 cup butter
2 tablespoons flour
1 teaspoon dry mustard powder
1 teaspoon pepper
1 1/2 cups milk
10 ounces pepper jack jalapeno cheese
1/4 cup bread crumbs
Instructions
Preheat oven to 400 degrees.

Boil water and cook pasta shells as instructed on box. When there are 3 minutes left, add your cauliflower to the boiling pot. Drain and set aside.

In a large saucepan melt your butter over medium heat. Slowly add flour, dry mustard and pepper until smooth.

Add your milk and cheese slowly and keep stirring until it's smooth and melted. Take off burner.

Add your macaroni and cauliflower to cheese mixture saucepan and stir until all shells are coated.

Transfer your mixture to a baking dish and sprinkle bread crumbs on top.

Cover and bake for 25-30 minutes or until cheese is bubbly.

Enjoy!