Learn How to Make Rotisserie Chicken in the Oven in just 1 hour. This seasoned roasted chicken is tender and juicy, and can be added to sandwiches, casseroles, soups, and more.
Juicy and moist rotisserie chicken
We can all picture it now: juicy, golden brown whole chickens rotating on the rotisserie at the grocery store. The smell is overwhelming and so tempting. It's no mystery that rotisserie chicken is an easy last-minute buy on most grocery trips!
Learning How to Make Rotisserie Chicken in the Oven will not only save you from this temptation but will keep you from spending too much on something that can easily be made at home. The easy set it and forget it method takes just 1 hour and doesn't involve using too much salt or any preservatives.
I've made whole roasted chicken and slow cooker chicken before, but there's something special about rotisserie chicken in the oven. While the chicken in this recipe isn't technically cooked on a rotisserie, the flavors and results are still outstanding. So juicy and tender on the inside and golden brown and crispy on the outside, this healthy rotisserie chicken is sure to become your new favorite!
How to roast a rotisserie chicken in the oven
Storebought rotisserie chicken has a bad reputation for being too salty, so we're swapping all of the salt for simple herbs and seasoning instead.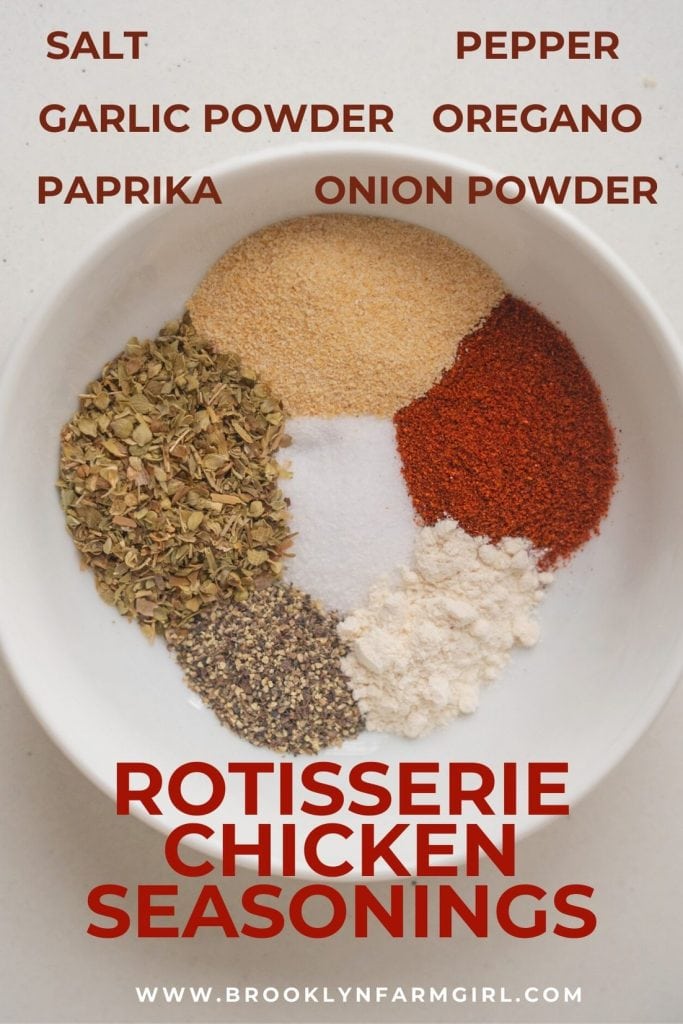 Once the chicken is ready, you can set it and forget it in the oven for 1 hour. The 3-step process couldn't be much easier:
Place the pieces of chicken in a bowl with the seasonings. Toss to coat.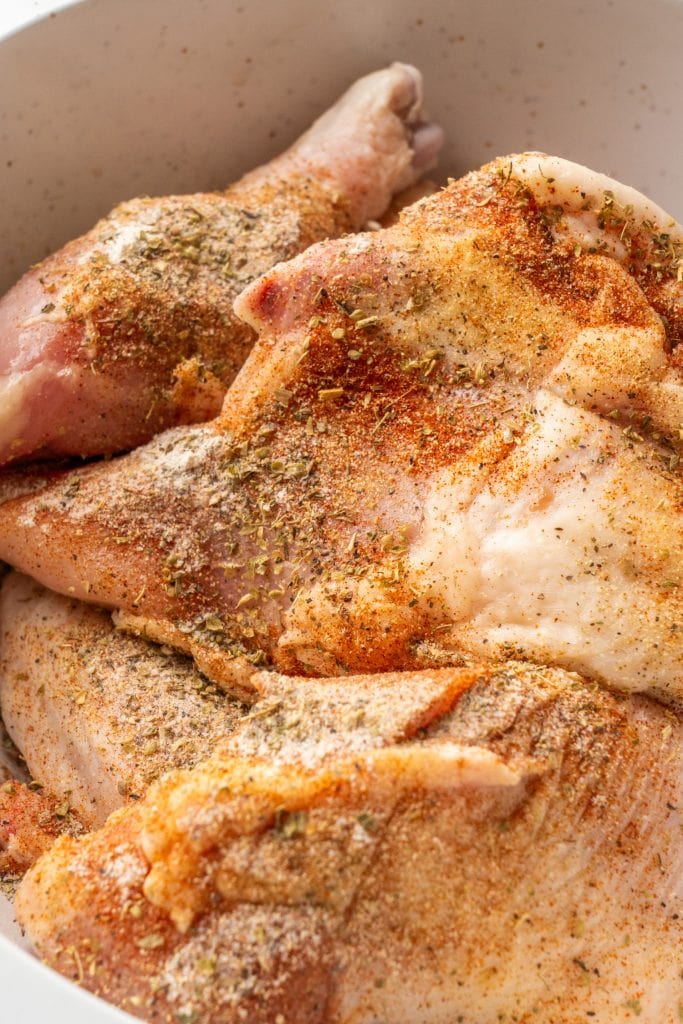 Add the seasoned chicken pieces to your prepared baking sheet.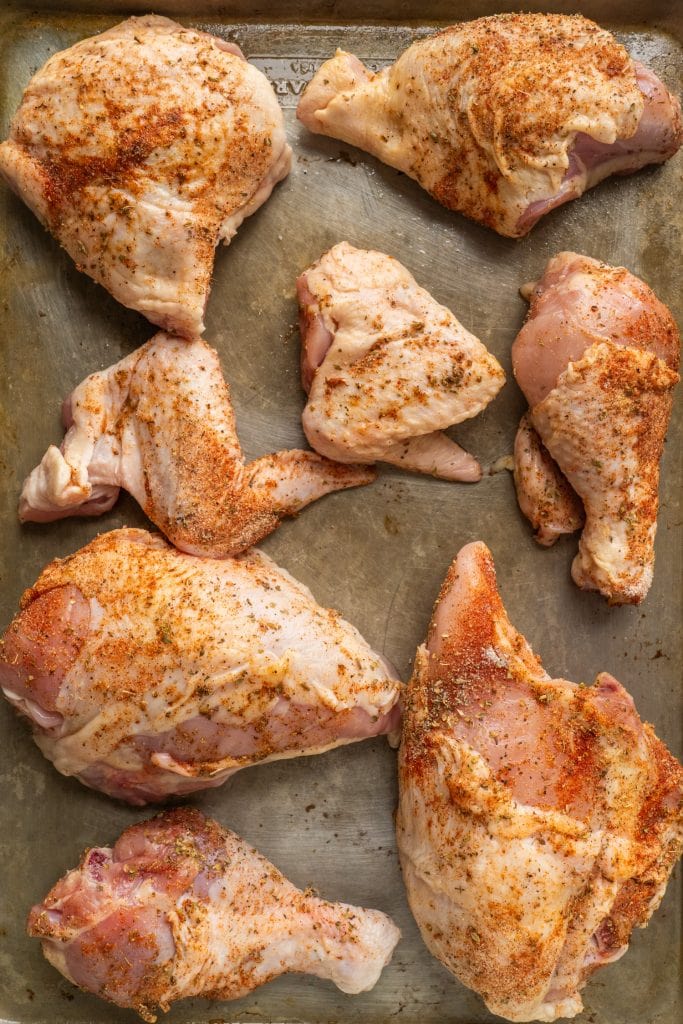 Cook for up to 55 minutes or until the skin is golden brown and crispy.
Remove the chicken from the oven and serve the pieces with your favorite sides or slice it up for a sandwich!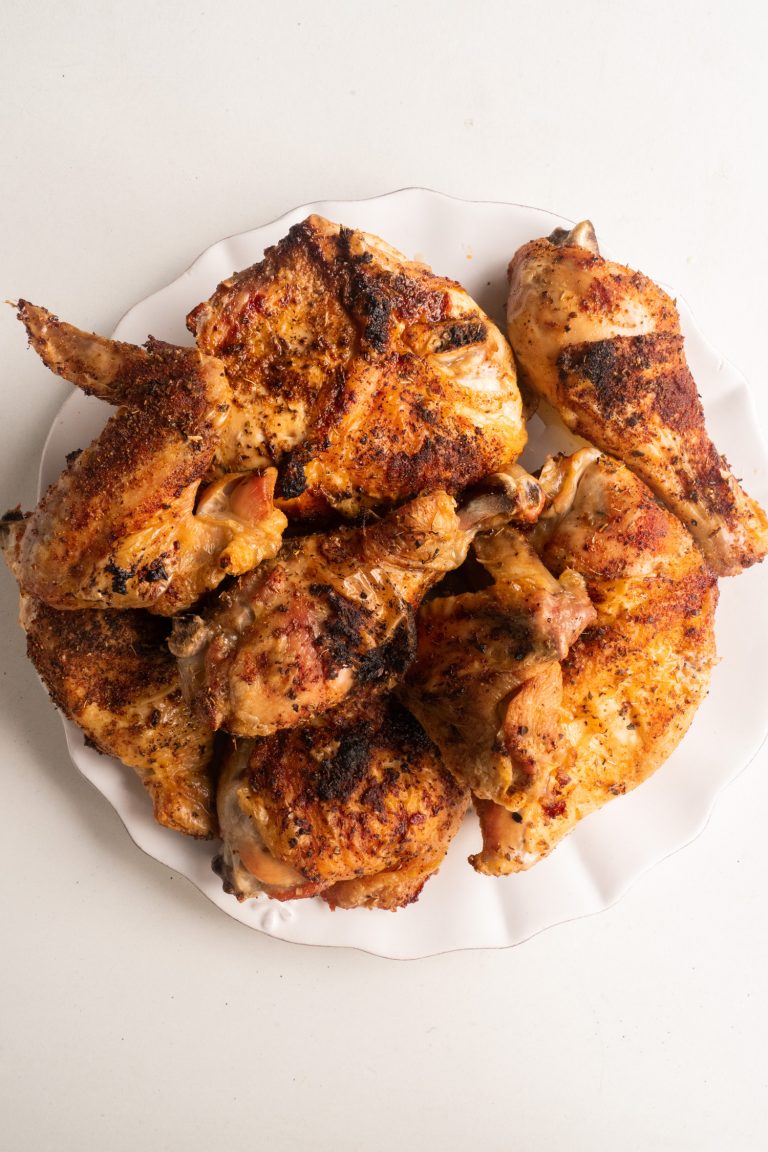 Tips and tricks
If you don't know how to break down a whole chicken, follow Serious Eat's helpful and easy guide to learn.
The chicken is ready to eat when the internal temperature reads 165ºF. You can easily check this using a meat thermometer.
Let the cooked chicken rest for 10 minutes after it comes out of the oven. This will seal in its tasty juices.
How to use rotisserie chicken
Pre-cooked sliced rotisserie chicken is so convenient to have around. There are a million different ways to use it, but these are some of my favorites:
Main Dish: Make the chicken as the main dish, but pair with classic sides like macaroni and cheese, roasted potatoes, buttered noodles, baked potatoes or fried corn.
Sandwiches: Layer the sliced chicken into these roasted vegetable or broccoli grilled cheese sandwiches. Add a little bbq sauce on it too!
Casseroles: Make dinner in a flash by tossing the pre-cooked chicken into a green bean and potato, quesadilla, cheese and cauliflower, or creamy cabbage casserole.
Pasta: White sauce lasagna, chicken and noodles, swap this chicken in sausage pasta and tomato macaroni and cheese would all benefit from the deliciously seasoned chicken.
Soup: Make my cabbage soup, taco soup, or cheesy vegetable soup even heartier with some added chicken.
Storing and freezing leftovers
To store, keep the whole pieces or sliced chicken in an airtight container in the fridge for up to 4 days.
To freeze, place the cooked chicken in sealed ziploc bags for up to 3 months. Let the frozen pieces thaw overnight in the fridge before reheating.
Looking for more chicken dinners to try?
Pin for later:

How to Make Rotisserie Chicken in the Oven
Print
Learn How to Make Rotisserie Chicken in the Oven in just 1 hour. This seasoned roasted chicken is tender and juicy, and can be added to sandwiches, casseroles, soups, and more.
Prep Time: 5 minutes
Cook Time: 45 minutes
Total Time 50 minutes
Ingredients
1 whole chicken cut into 8 pieces
1 teaspoon salt
1 teaspoon ground paprika
1 teaspoon garlic powder
1 teaspoon dried oregano
1/2 teaspoon ground black pepper
1/2 teaspoon onion powder
Instructions
Preheat oven to 400 degrees F. Spray a 9×13-inch baking sheet with nonstick spray.

In a large bowl add chicken pieces, along with salt, paprika, garlic powder, oregano, pepper and onion powder tossing to fully coat the chicken on all sides.

Add chicken onto the baking sheet and cook for 45-55 minutes, or until chicken skin is browned and the internal temperature reads 165 degrees.

Remove from oven and serve. Enjoy!
Check out my step by step web story for this recipe!