Easy 4 hour crockpot chicken recipe. All you need is chicken, cream of mushroom soup, onion soup mix and water.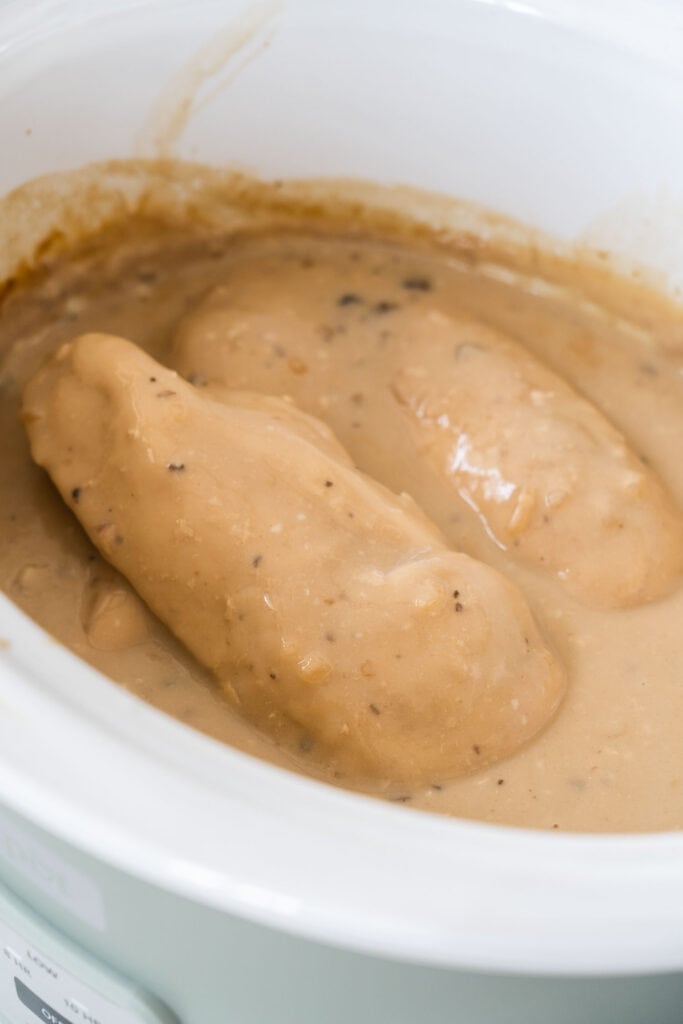 Easy Chicken in the Crockpot Recipe
This is such a quick and easy chicken breast recipe because all you need to do is drop the ingredients into the crockpot, turn it on and 4 hours later – it's ready for you! The chicken is moist, delicious and covered in a cream of mushroom gravy!
And because this recipe is so quick, I'm going to dive straight into the recipe and not talk your ear off. 🙂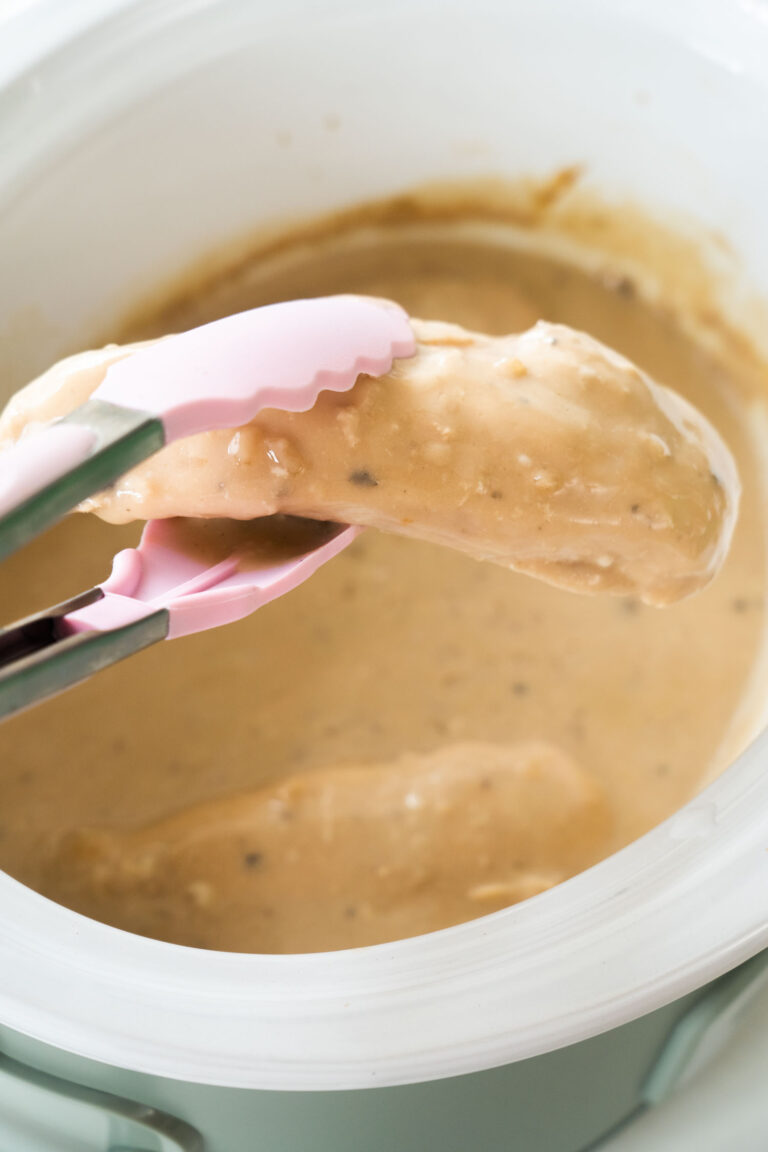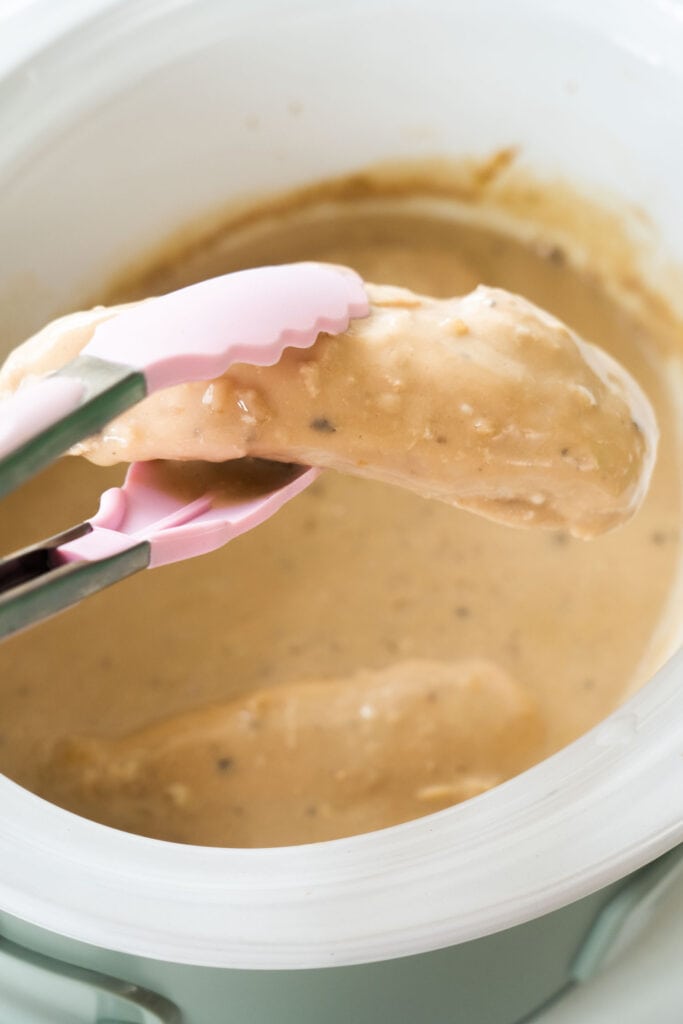 Crockpot Chicken and Mushroom Soup Ingredients
Here's everything you need to make this chicken recipe.
Chicken Breast – Make sure it's skinless and boneless. You can use anywhere between 1-2 pounds.
Cream of Mushroom Soup – You'll need 2 cans, or if you'd like try making homemade cream of mushroom soup (it's really easy!).
Dry Onion Soup Mix – I always have one of these boxes in my cabinet, especially in the Fall/Winter when we're often using our slow cooker.
Want to make your own? Mix together 1/4 cup dried onion flakes, 2 tablespoons beef bouillon powder, 1/2 teaspoon onion powder, 1/4 teaspoon dried parsley, 1/8 teaspoon celery seed, 1/8 teaspoon paprika and 1/8 teaspoon pepper.
Water – Use water or you can also use chicken broth if you want to.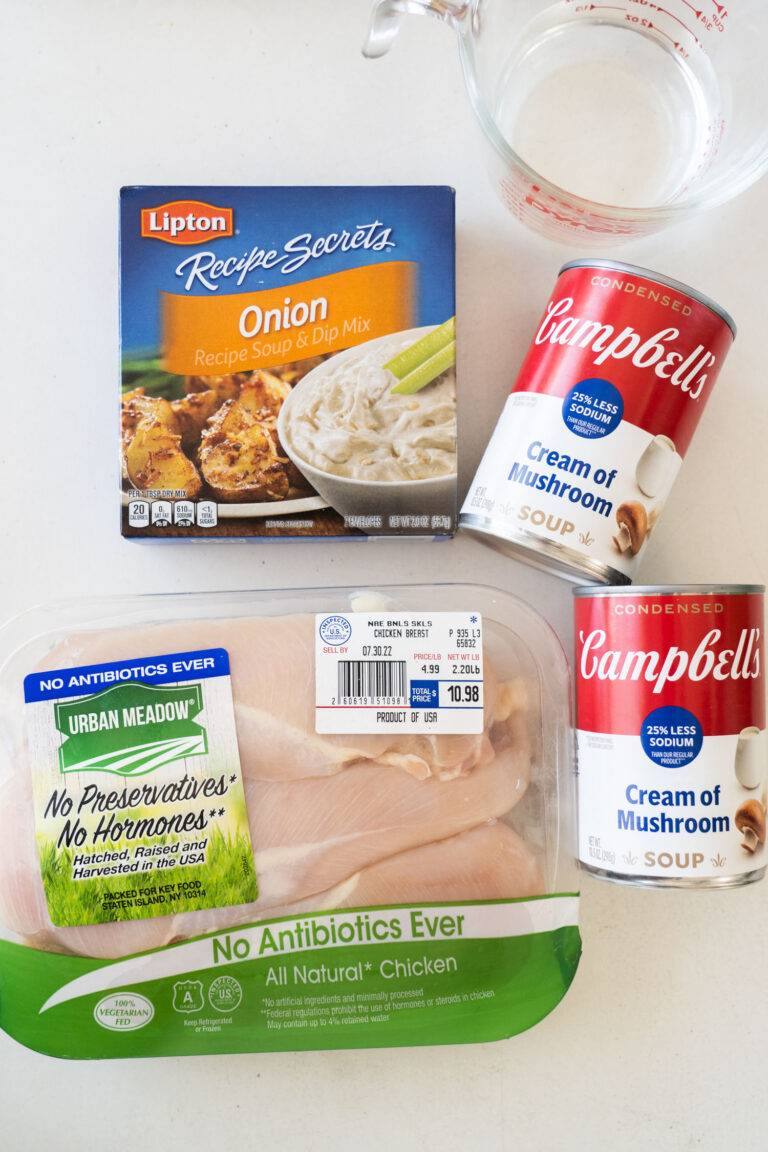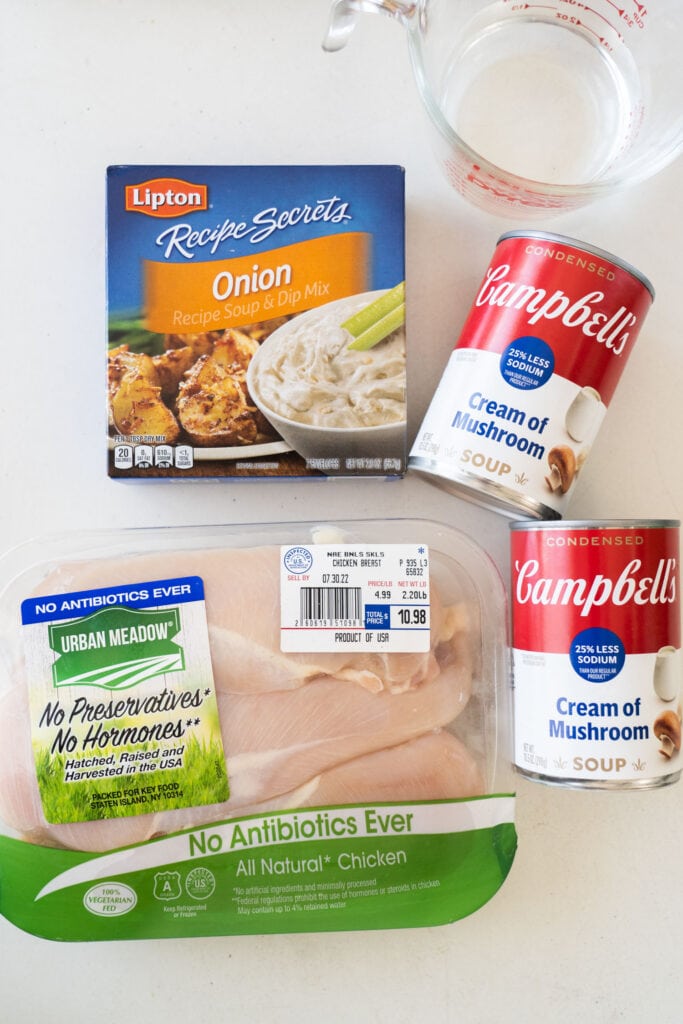 How to Make Slow Cooker Chicken
Add chicken breasts into the slow cooker.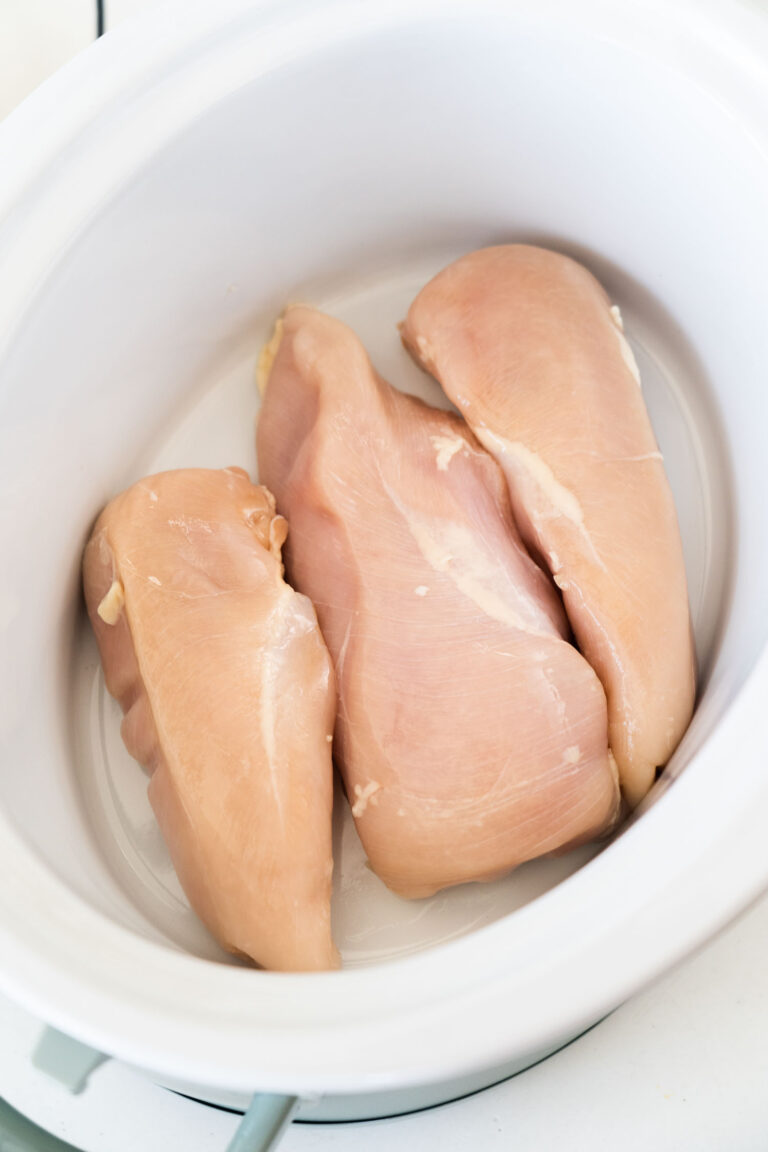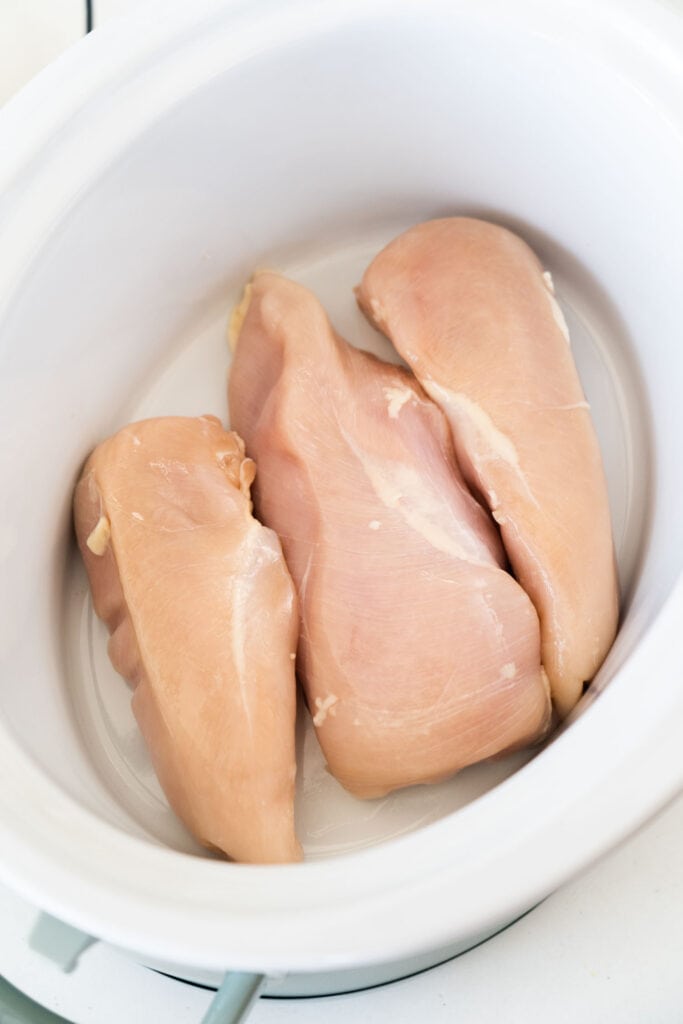 Mix mushroom soup, soup mix and water together in a bowl.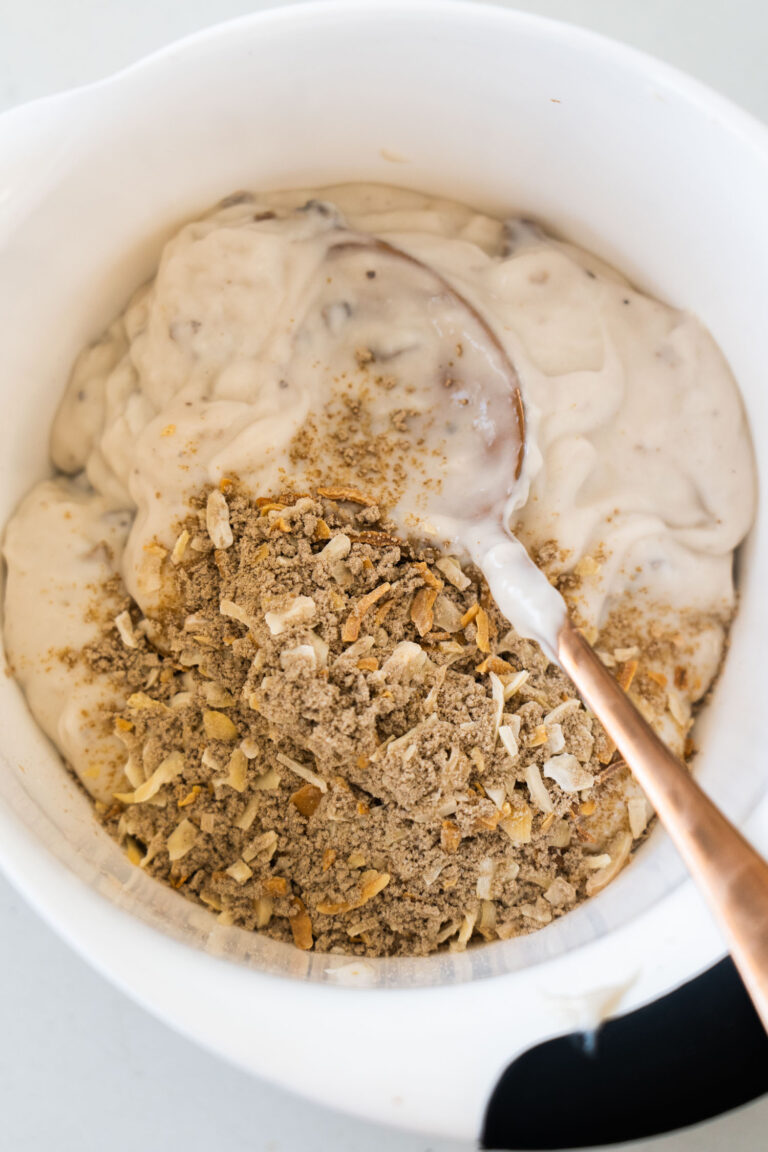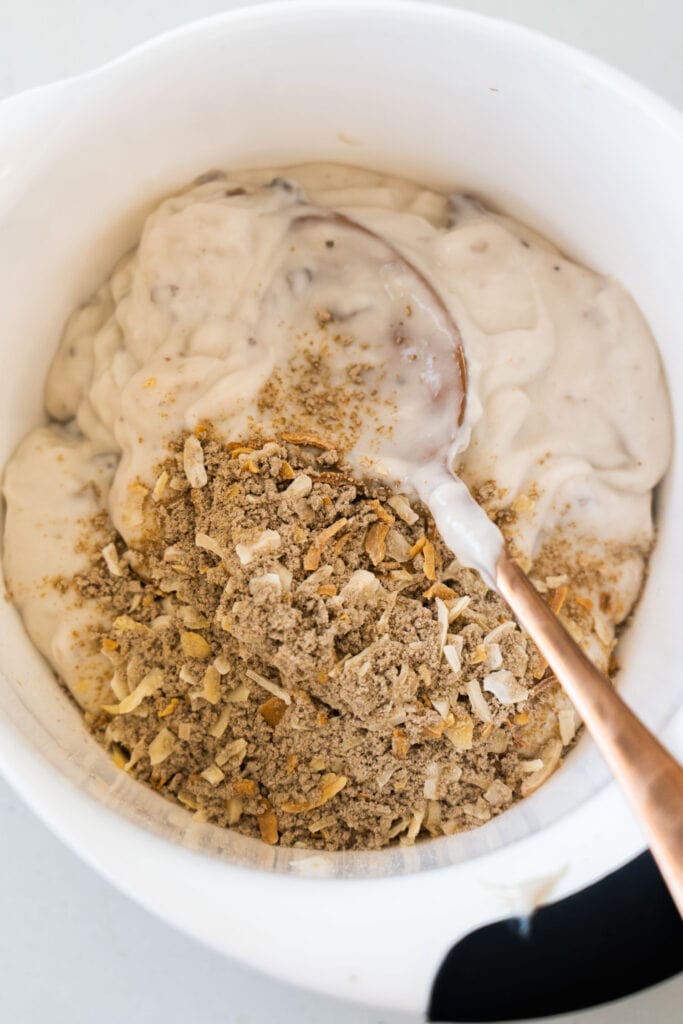 Pour this mixture into the slow cooker on top of the chicken.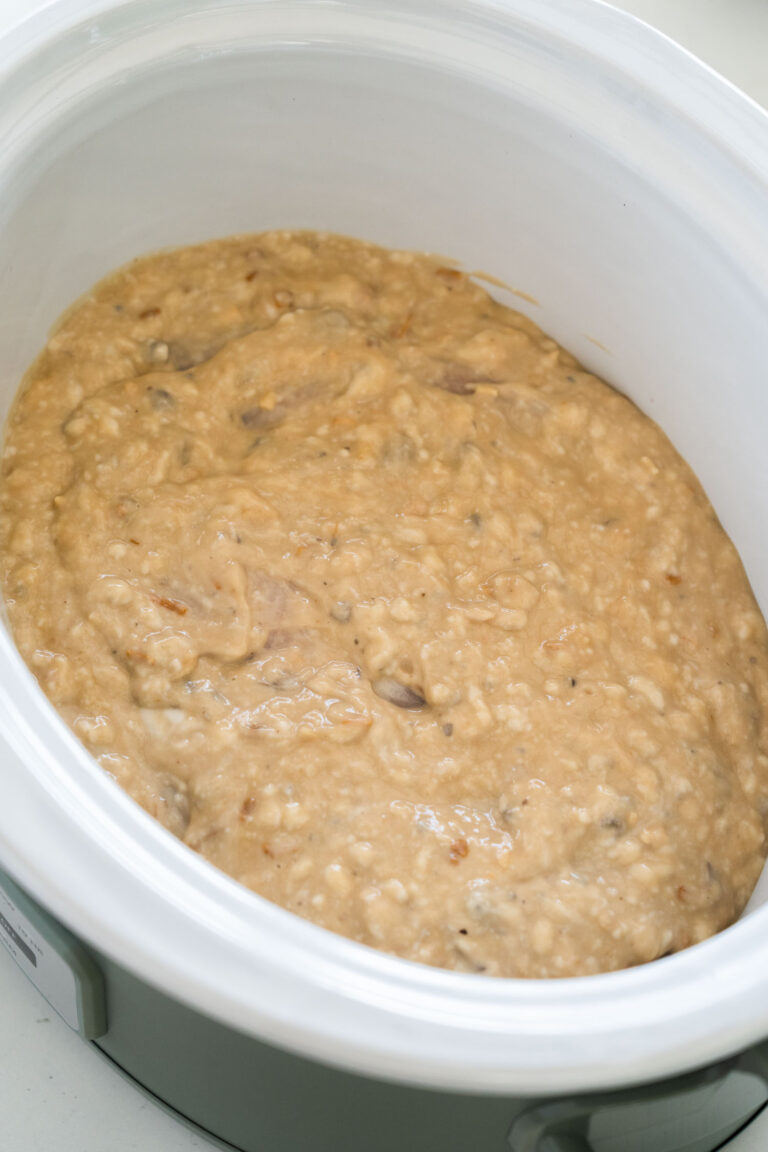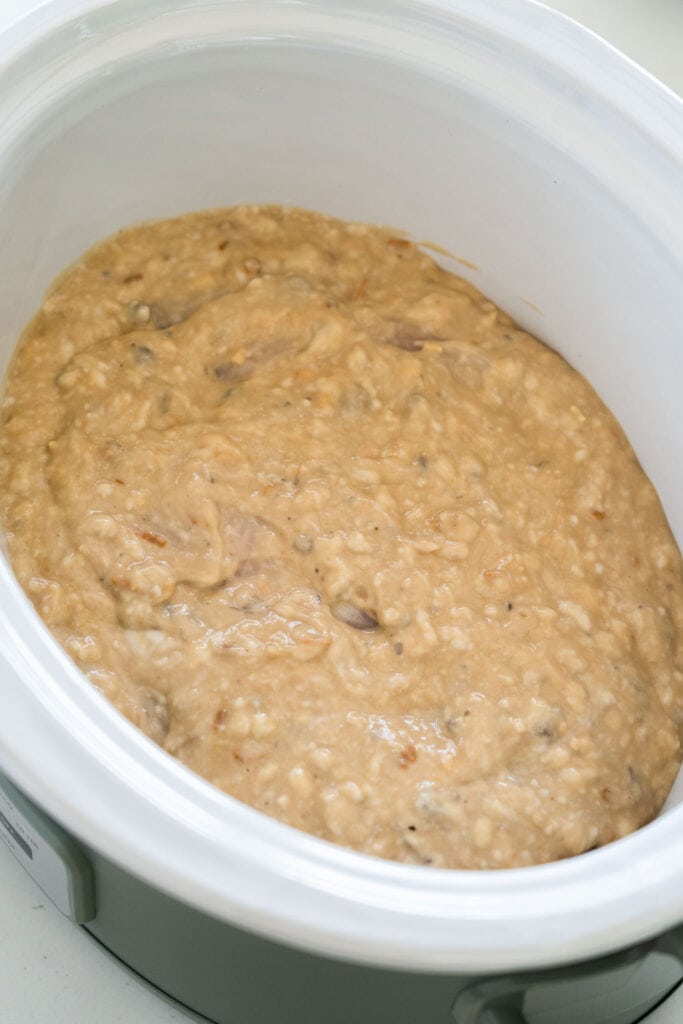 Cook and serve! So easy, right?
I hope you enjoy this crockpot chicken meal for dinner!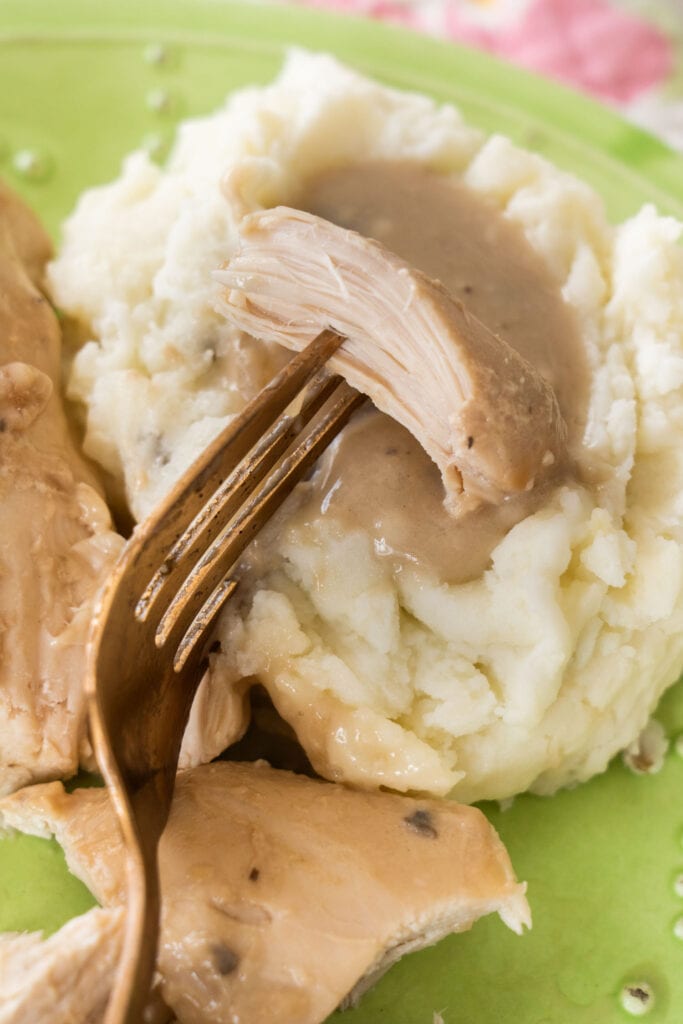 Gravy for Chicken
This slow cooker meal makes plenty of extra gravy to add to the chicken and to the mashed potatoes on the side. There's no need to make any extra gravy for this meal, so you get to skip a step here!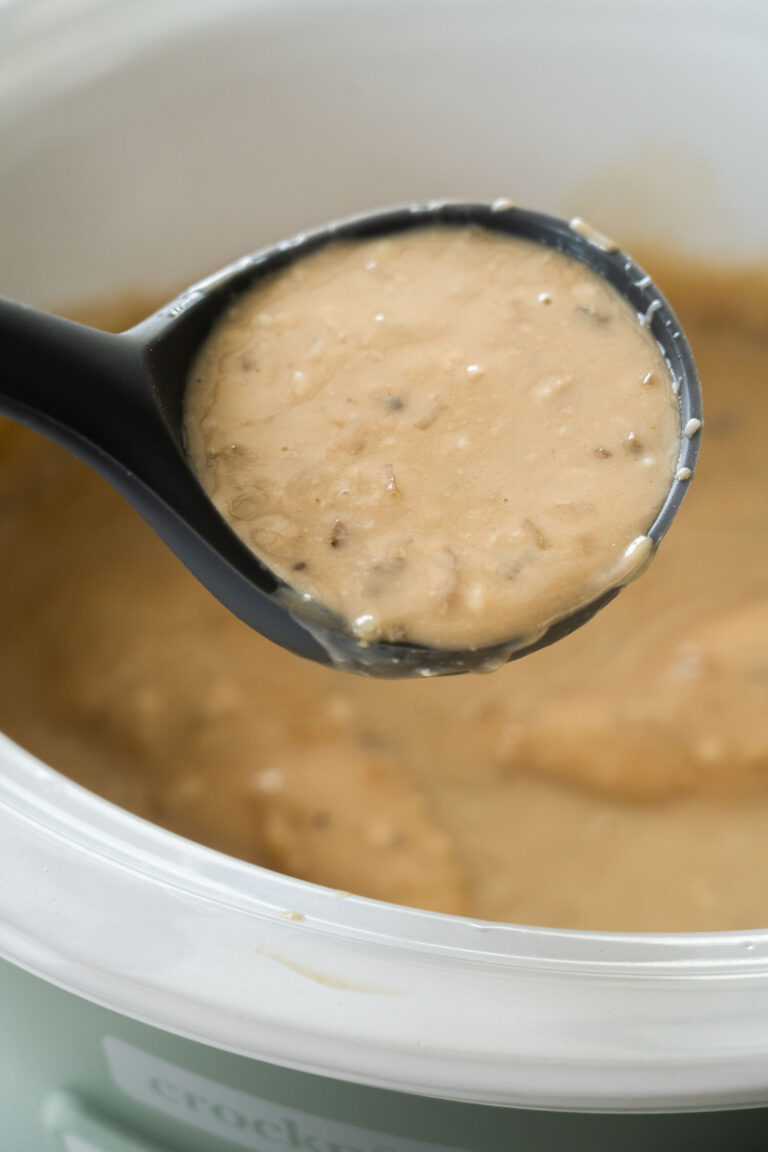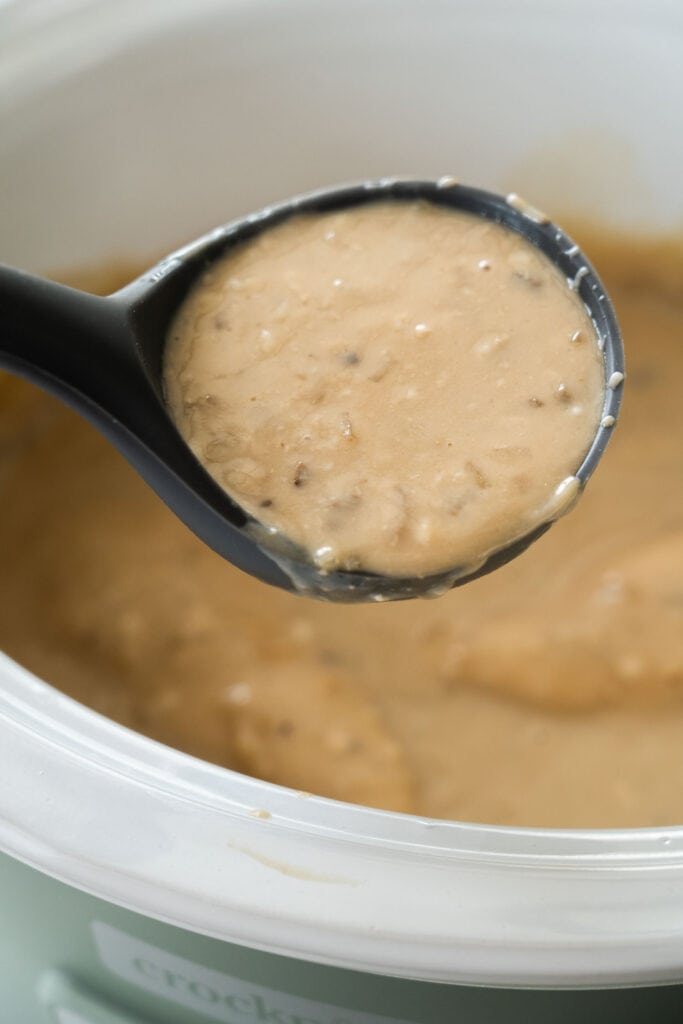 What to Serve With Mushroom Chicken?
Serve with easy mashed potatoes, crockpot baked potatoes, mashed cauliflower or scalloped potatoes and your favorite vegetables, we love broccoli, corn and slow cooker mushrooms.
You can also shred up the chicken and serve on top of rice for a simple chicken and rice meal!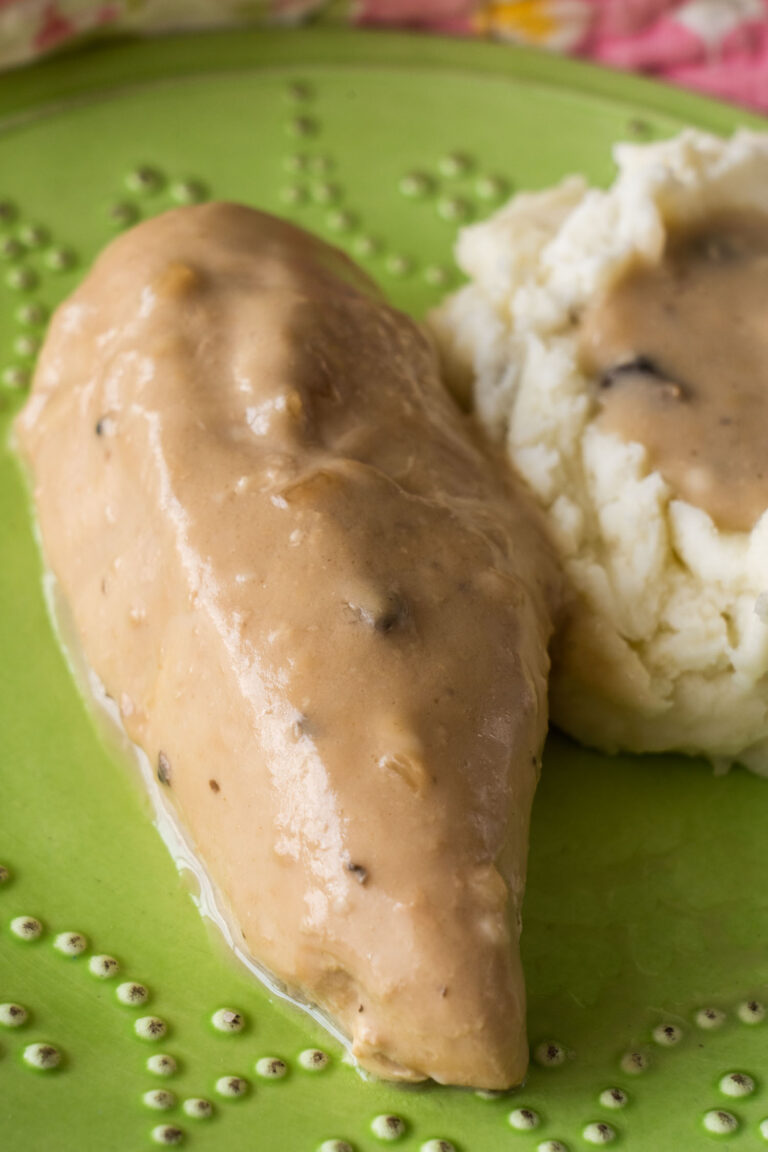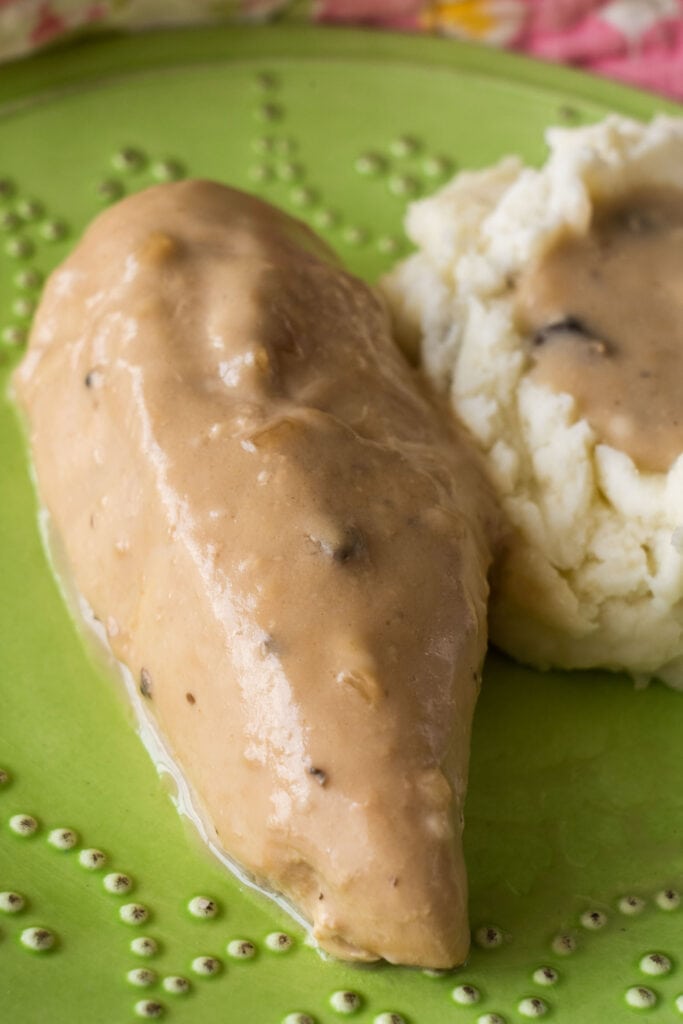 More Easy Chicken Recipes
30 Minute Chicken Marsala
Crockpot Barbecue Chicken
Slow Cooker Chicken and Dumplings
Chicken and Asparagus Skillet
Chicken and Gravy Sandwich
Instant Pot Chicken Tacos
Homemade Chicken Noodle Soup
Creamy Chicken and Noodles
Pin for later: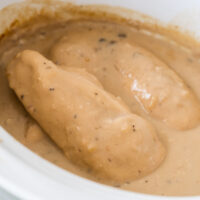 Crockpot Chicken With Cream of Mushroom Soup
Print
Easy 4 hour crockpot chicken recipe. All you need is chicken, cream of mushroom soup, onion soup mix and water.
Prep Time: 5 minutes
Cook Time: 4 hours
Total Time 4 hours 5 minutes
Ingredients
1-2 pounds boneless skinless chicken breasts
2 (10 ounce cans) cream of mushroom soup
1 package dry onion soup mix
½ cup water
Instructions
Place chicken breasts at the bottom of the crockpot.

In a bowl mix together cream of mushroom soup, onion soup mix and water. Pour mixture on top of chicken.

Close lid and cook on HIGH for 4 hours or LOW for 7 hours.