This creamy mashed cauliflower recipe is like mashed potatoes, but made with cauliflower instead! Adding shredded cheese makes it cheesy too!
If you are a fan of traditional mashed potatoes then you will love this easy mashed cauliflower recipe because it tastes just as great but contains less starch and carbs!
It's super creamy, full of delicious cheese and garlic flavors, and goes with many other main dishes as the perfect side. It's super easy to whip up on a busy weeknight or Sunday dinner, your family is going to be shocked when you tell them it's made from cauliflower!
Love cauliflower? Here's some of my other favorite cauliflower recipes: Cauliflower Casserole with Cheddar Cheese, Roasted Cauliflower Soup, Baked General Tso's Cauliflower, Creamy Cauliflower Pasta and Cheesy Cauliflower.
The Best Mashed Cauliflower Recipe
This is the best cauliflower mash because it's ultra creamy and has the best flavor. Mix it with just a touch of butter, shredded cheese, garlic and salt for a comforting side dish that doesn't taste as heavy as mashed potatoes.
And to make this recipe even easier for you, you don't have to use fresh cauliflower if you don't have any. If you are trying to find a way to use up your frozen cauliflower florets, that can work for this recipe too. Whichever you choose to use, it's going to produce the same tasty results.
This easy recipe is the perfect side dish and will be the perfect addition to make for the whole family this upcoming holiday season. When it comes to delicious and easy side dishes on the holiday table like this one, I'd suggest making extra because I won't be shocked if everyone comes back for seconds (and maybe thirds)!
How to Make Mashed Cauliflower
Chop up a head of cauliflower into small pieces. This is going to speed up the cooking time.
Bring chicken broth to a boil. Add fresh or frozen cauliflower and continue to boil.
Cook until cauliflower is softened, using a spoon to break it up as it cooks.
Take off the burner and add the cheese, butter, garlic and salt.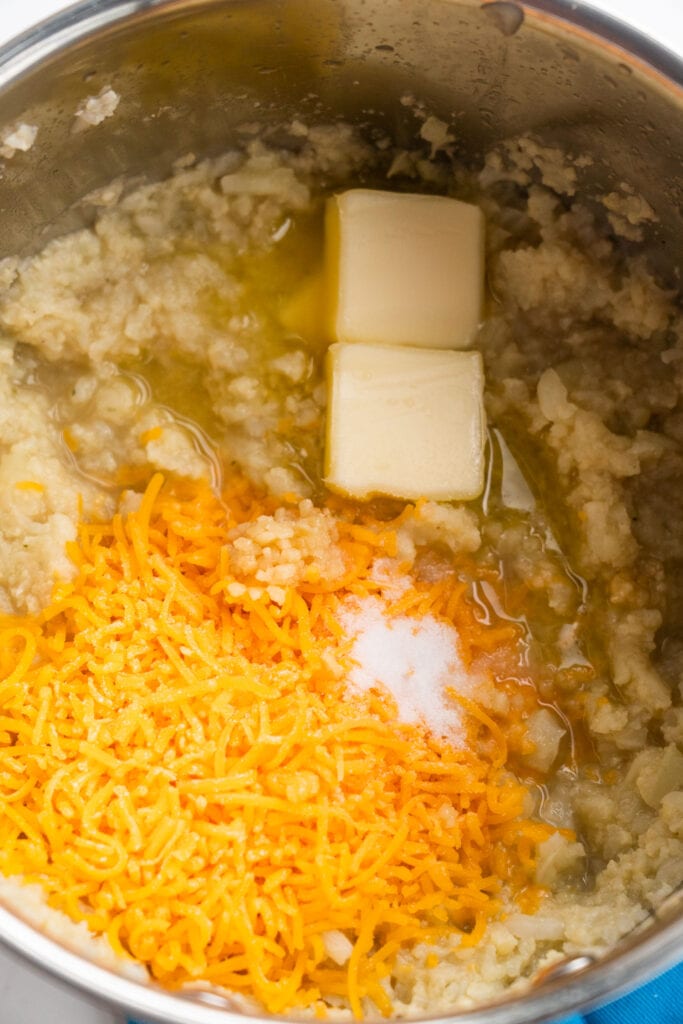 Use a potato masher, or spoon to smash and stir until creamy. You can also use a food processor if you want extra creamy mashed cauliflower.
Serve next to your main course (like cheesy meatloaf!) and enjoy!
Storing/Reheating Leftovers
Store leftover mashed cauliflower in an airtight container and in the refrigerator. If stored properly, mashed cauliflower can last up to three days.
To reheat leftover mashed cauliflower, you can do so in a skillet on the stovetop or in the microwave. It should take no longer than one to two minutes but cook until warmed through.
Mashed Cauliflower FAQs
How do you keep mashed cauliflower from getting watery?
If you feel the mashed cauliflower consistency is too watery you can add more cauliflower, or you can add instant potato flakes at the end when you're mixing it with the cheese and butter.
What does mash cauliflower taste like?
Mashed cauliflower tastes similar to mashed potatoes. The consistency is fluffy and light. This recipe consists of butter, shredded cheese, garlic and salt—so these are the primary flavors you will taste from this cauliflower mash recipe – much like mashed potatoes!
Is mashed cauliflower better than potatoes?
Mashed cauliflower is a great low carb alternative to regular mashed potatoes. This delicious recipe is a healthier alternative to mashed potatoes but it's up to you which you prefer. However, I think it's safe to say that you will love this delicious recipe and it will become a new favorite staple in your household!
Do I use gravy on mashed cauliflower?
Yes, you can use gravy on mashed cauliflower if desired. A mushroom gravy or whichever gravy you prefer will work. If you're looking to learn how to make gravy, I have a recipe for that as well!
There are also different ways you can garnish this dish, like with fresh parsley, chopped green onions or a sprinkle of Parmesan cheese.
Can I make this mashed cauliflower recipe vegan?
Yes, you can make this recipe vegan-friendly by replacing the butter with olive oil or vegan butter, replacing the chicken broth with vegetable broth, and the cheese with vegan alternatives.
Pin for later:
Creamy Mashed Cauliflower
Print
This creamy mashed cauliflower recipe is like mashed potatoes, but made with cauliflower instead! Adding shredded cheese makes it cheesy too!
Prep Time: 5 minutes
Cook Time: 15 minutes
Total Time 20 minutes
Ingredients
1 cup chicken broth (or vegetable broth)
1 medium head of cauliflower, chopped small (or 16 oz bag of frozen cauliflower)
1/2 cup shredded cheddar cheese
3 tablespoons butter
1 clove garlic mined
1/2 teaspoon salt
Instructions
Bring chicken broth to a boil in a medium-sized saucepan.

Add cauliflower and bring to a boil. Reduce heat and simmer, breaking up cauliflower with a spoon as it cooks, for 15 minutes, or until cauliflower is very soft.

Remove saucepan from burner and add shredded cheese, butter, garlic and salt. Use a spoon (or potato masher) to mash by hand until creamy. Alternatively, you can add everything to a food processor and pulse a couple of times until creamy.

Serve and enjoy!