FUDGY CHOCOLATE AVOCADO BROWNIES that are made with APPLESAUCE instead of butter! These healthy version brownies are easy to make in a 8×8 pan and can easily be turned vegan! They are flourless and delicious – my entire family (even the kids!) love them!
I stock up sometimes in the supermarket with avocados because my mind is racing with so many ideas. Usually though I come home with multiple avocados and only use them for soup (this soup to be specific – it rules). With the heat on this July soup isn't really in the cards, but my avocados were turning ripe quickly.
Chocolate Avocado Brownies
One problem, my beloved Matthew doesn't like avocados. I'm a bad girl. A very bad girl. I apologize in advance.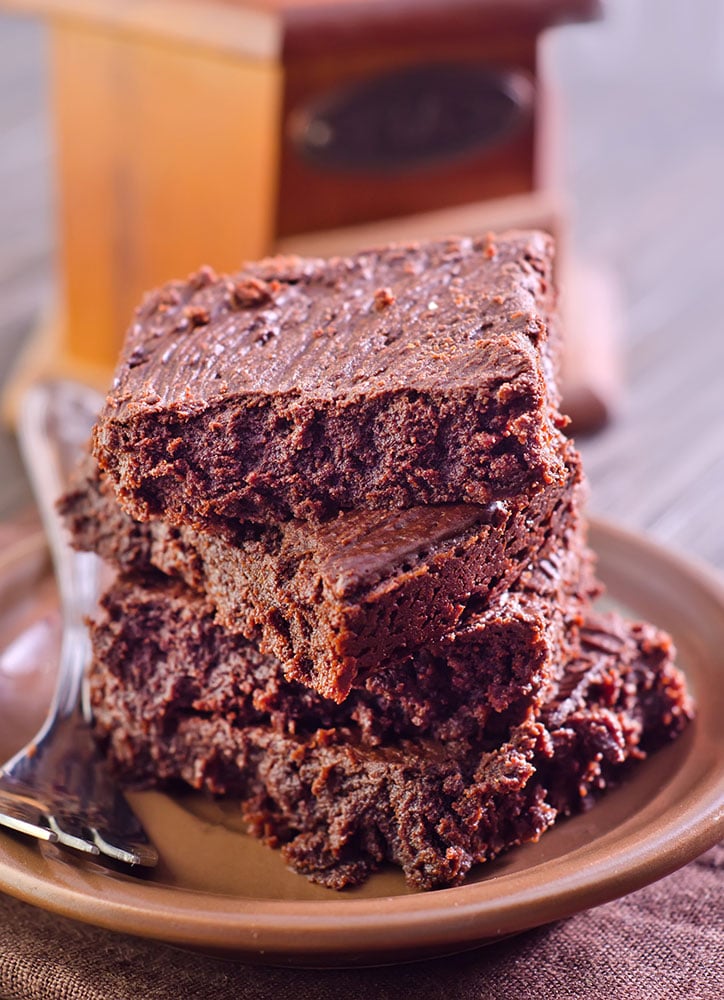 I made these while he was working on the computer. I did it pretty secretly incase he would walk by. I hid my avocado pits and skin under the compost. I cleaned my bowls quickly. I lit a gingerbread candle in the kitchen incase he would smell the avocado (I'm crazy). Once I had it mushed up a good bit, I was in the clear so I quickly covered it with the other ingredients to where it appeared like the usual brownie mix.
Then I was brave. I needed a tester for my brownie mix so I held out a spoon to him. He ate it. I stared at him (too much). "Is it good?" I asked. He shook his head yes, "very good". And than ate another spoonful.
I just lied to my other half. I'm sorry. I had to do it. Please forgive me. Sometimes you have to sacrifice things in a relationship and this is one of them.
Anyways – these brownies are amazing! They're super fudgy and filled with avocado, chocolate and peanut butter! They are now a family favorite in my house – even if my family sometimes doesn't know there's avocado in them!
Healthy Avocado brownies
Why else are they amazing? They're made with applesauce instead of butter! They are flourless! They are the perfect brownies to make if you have that overripe avocado that you don't know what to do with! These brownies are WIN WIN WIN!

The chocolate chips are a key to this recipe because you put them into the mixture whole – not melted. As the brownies bake, the chocolate chips will melt which cause a intense decadence.
If you want to make them vegan, that's easy too! Just substitute the chocolate chips with vegan chocolate chips (I like these ones!).
When they come out of the oven, let them cool. I know this is really hard to do because you just want to eat them but because they are so fudgy they need to cool off or they will fall apart. They are so fudgy delicious and definitely worth the wait!


So eat one, go for it. You deserve it. Eat it with a fork. Eat it with a spoon. Eat it plain. Throw ice cream on top. Throw whip cream on top. Throw sprinkles on top. Just throw it in your mouth already.
Enjoy!
Looking for more recipes? Try my Chocolate Banana Bread Muffins too!
Flourless and No Butter Chocolate Avocado Brownies
Print
FUDGY CHOCOLATE AVOCADO BROWNIES that are made with no butter or flour! You will love these healthy brownies!
Ingredients
1 avocado inside - all mashed up
3 tablespoons apple sauce
1/4 cup creamy peanut butter
1 egg
1 cup sugar
1/2 cup brown sugar
2 teaspoons vanilla
3/4 cup cocoa powder
1/3 cup chocolate chips
Instructions
Preheat your oven to 350 degrees. Spray a 8x8 pan with cooking spray, set aside.

Mash your avocado up with a fork or spoon, as creamy as you can get it.

Add your apple sauce, peanut butter, egg, sugar, brown sugar, vanilla. Stir until smooth.

Add your cocoa powder and chocolate chips. Stir all together.

Pour into pan, smooth top with spatula.

Cook for 30-35 minutes or until your toothpick comes out clean.