Extra fudgy 4 ingredient pumpkin brownies. All you need is a box of brownie mix, pumpkin purée, pumpkin pie spice, and chocolate chips! These easy pumpkin brownies are the ultimate fall dessert, perfect for a quick Halloween treat.
If we're going to do Fall right, we're going to reach for a can of pumpkin purée or make our own! We're also going to have a heavier hand with spices and chocolate because it's the season for baking and I couldn't be happier about it!
Come September and I'm already craving pumpkin donuts and pumpkin muffins. I know, I know… I'm just SO excited for fall. I love it! This is also the time when we start thinking of Halloween desserts.
The first thing I had to make with our fresh pumpkin harvest, from the garden, was pumpkin brownies. I had such a great success with my pumpkin whoopie pies, last year, that pumpkin brownies were next on the list! I know these are definitely going to make another appearance as one of my Halloween desserts this year.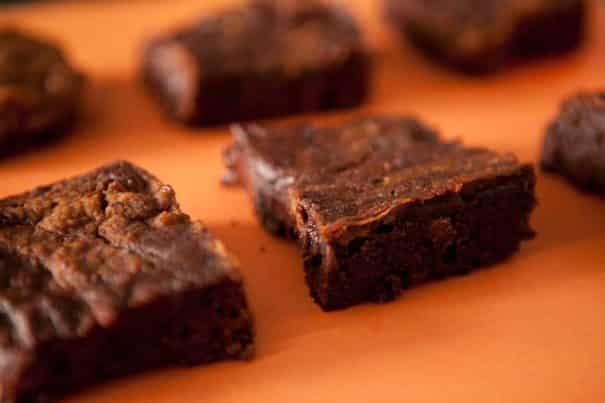 Not only is pumpkin delicious and super versatile, but it's also healthy too! A whole one cup of pure pumpkin is only 49 calories! Pumpkin is also rich in dietary fiber, antioxidants, minerals, and vitamins (vitamin-A, vitamin-C, vitamin-E). Did I mention it's delicious too? Because it really is!
I love you pumpkins, I love you!
Ingredients in Pumpkin Brownies
This pumpkin brownie recipe is so easy and can be baked up at a moment's notice because it only involves 4 ingredients: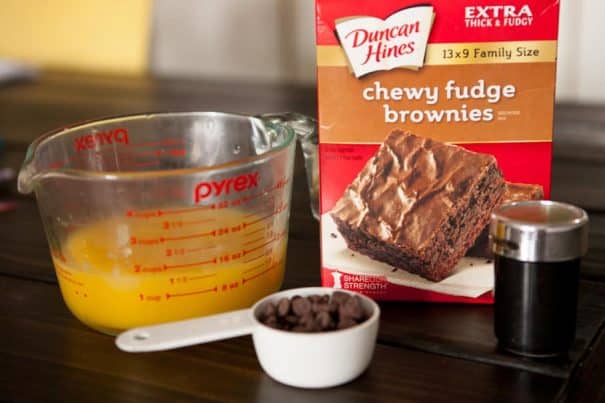 You'll notice there's no butter, eggs or vegetable oil in these brownies. The pumpkin purée takes care of all of that! The pumpkin adds moisture to your pumpkin brownies so you don't have to worry about adding in the high calorie, high fat ingredients that we usually associate with making brownies.
As an added plus, the pumpkin also makes these pumpkin brownies super fudgy! Just the way I like them!
Warning: If you love pumpkin pie and chocolate, once you eat one of these pumpkin brownies youwill have a hard time not immediately eating a second!
I also find that people who aren't huge pumpkin fans also love these brownies due to how moist and chocolatey they turn out. They really are a hit all around for the brownie crowd.
How Do You Make Pumpkin Brownies?
Start this recipe with the brownie mix, chocolate chips and 1 1/2 cups of pumpkin purée. Add those ingredients in a mixing bowl and stir them together. It will look something like this. I demand (nicely) you take a spoon right away!
Now in a small mixing bowl or large measuring cup, mix your remaining 1/2 cup pumpkin purée and pumpkin pie spice together.
Time to layer these brownies!
For the first layer, 3/4ths of the brownie mix goes into the bottom of an 8×8" pan that has been sprayed with nonstick cooking spray.
Then your pumpkin mixture goes on top.
Next, add the remaining brownie mixture over the very top. Swirl with a knife, so it blends nicely with the pumpkin layer below.
Bake the pumpkin brownies at 350ºF for 33-35 minutes. When the time is up, your pumpkin brownies will emerge from the oven with such an irresistible smell. Your entire kitchen is going to smell so good and just like fall! Let the brownies cool for about 5-10 minutes before slicing… if you can possibly wait that long. Ha!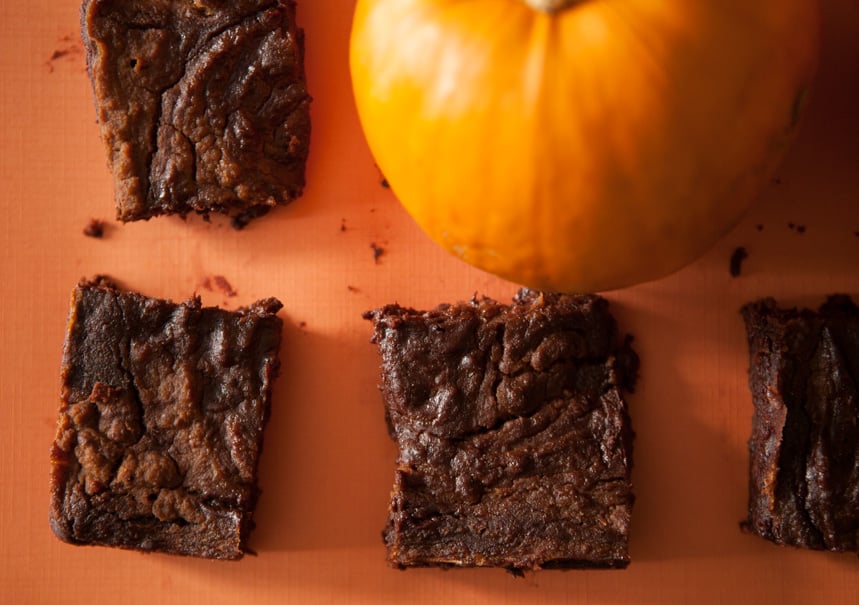 Not only are these Pumpkin Brownies amazingly delicious, but they are also ridiculously easy to make and take very little hands-on time. If you need a chocolate or pumpkin fix, or you are in charge of bringing a dessert to the holiday table, these will be a great go-to fall recipe. Not only that, but they will disappear quickly from the dessert table.
Hope you enjoy these Pumpkin Brownies as much as my family and I did! Seriously, craving another batch as I type this up!
More Yummy Pumpkin Recipes To Try:
5-ingredient Healthy Pumpkin Cookies
Pumpkin Roll with Cream Cheese Filling
Pumpkin Pancakes
Did you make and love this recipe? Give it your review below! 👇 And make sure to share your creations by tagging me or using the hashtag #brooklynfarmgirl on Instagram!
Pin for later: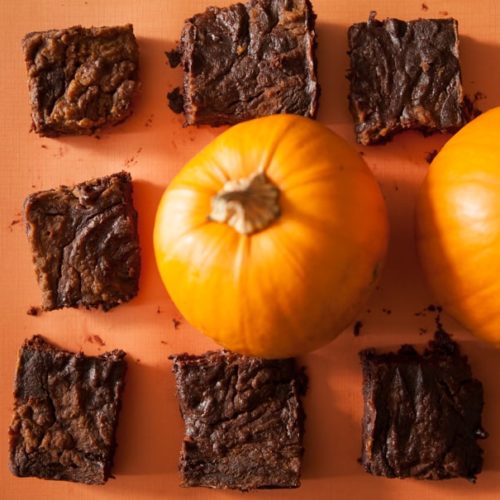 Pumpkin Brownies
Print
Extra fudgy 4 ingredient pumpkin brownies. All you need is a box of brownie mix, pumpkin purée, pumpkin pie spice, and chocolate chips! These easy pumpkin brownies are the ultimate fall dessert, perfect for a quick Halloween treat.
Prep Time: 5 minutes
Cook Time: 35 minutes
Total Time 40 minutes
Ingredients
1 18.3 oz Family Size Brownie Mix box I used Duncan Hines Chewy Fudge Brownie Mix
2 cups pumpkin puree
1 teaspoon pumpkin pie spice
1/3 cup chocolate chips
Instructions
Preheat your oven to 350 degrees.

Spray a 8x8 pan with nonstick spray.

Mix your Brownie Mix, Chocolate Chips and 1 1/2 cup of your pumpkin puree together in a bowl.

In a separate bowl mix the 1/2 cup of your remaining pumpkin puree and pumpkin pie spice together.

Spread 3/4 of your brownie mix mixture into your pan.

Spread your pumpkin puree mixture on top.

Spread your remaining brownie mix on the very top.

Then with a knife gently swirl around the top layer of the brownie so it gets mixed up with the pumpkin puree.

Bake 33-35 minutes or until a toothpick comes out clean.

Enjoy!
Notes
Tip: If you want your brownies more firm, store in the refrigerator.
Nutrition Information:
Calories: 170kcal (9%)