Easy Pumpkin Pie Milkshake
Easy PUMPKIN PIE Milkshake! This easy milkshake recipe uses 1 slice of PUMPKIN PIE to make the BEST tasting pumpkin milkshake! This drink is one of those 4 ingredients desserts, including vanilla ice cream and milk! It's a perfect Fall Thanksgiving dessert and a great solution if you have leftover pumpkin pie!
Pumpkin Pie Milkshake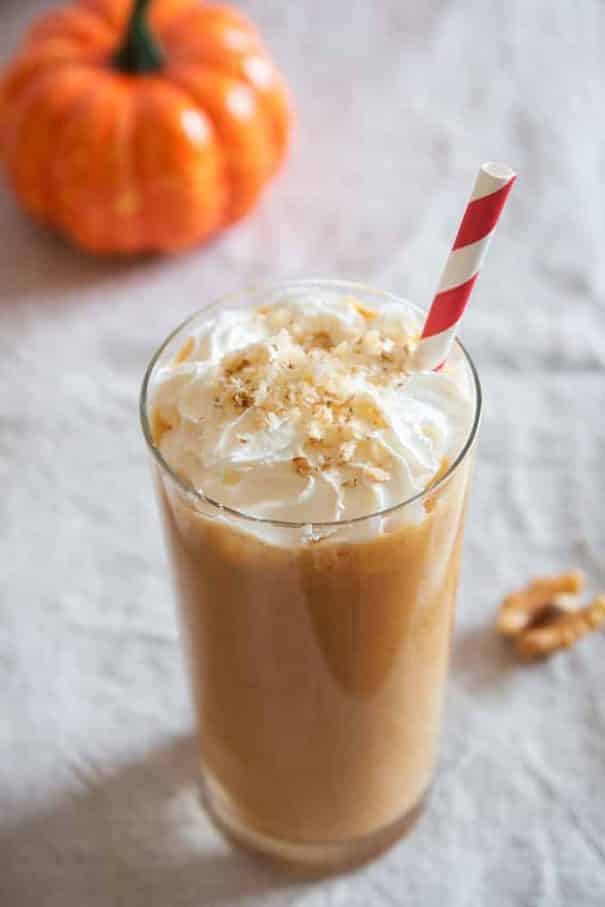 You aren't going to believe this but this pumpkin pie milkshake tastes just like pumpkin pie! In shake form! It's so delicious! Hello, Thanksgiving Desserts!
This past weekend we stopped at a Mom and Pop ice cream shop. I asked them what flavor milkshakes they had and they responded: "Any type you want."
SAY WHAT.
So I (too) excitedly yelled "Pumpkin Pie!".
Two minutes later, I was skipping back to the car with a Pumpkin Pie Milkshake that only cost $4. After the first sip, I was in love. Immediately I knew I had to make this in my own kitchen!
Leftover Pumpkin Pie Recipe
What's the secret of an Easy Pumpkin Pie Milkshake? Can you guess? I will give you a hint! It's in the title!
Yup, that's right! The secret ingredient is Pumpkin Pie (my favorite pie recipe by the way!)! And to make this more interesting, this recipe is one of my 4 ingredient desserts.
Pumpkin Pie Milkshake Ingredients
You'll only need 4 ingredients for this recipe.
whole milk
vanilla ice cream
pumpkin pie spice
pumpkin pie
How to Make a Pumpkin Pie Milkshake
This 4 ingredient desserts recipe calls for 1 piece of pumpkin pie that you're going to add to the blender along with a few other simple ingredients (milk, ice cream, pumpkin pie spice) . You can use any simple blender for this recipe. I used my Hamilton Beach Multi-Function Blender. Now just blend until it reaches milkshake consistensy!
Top with whip cream (optional, but c'mon!)
Don't you love that you're drinking pumpkin pie? Pumpkin pie is one of my favorite parts of Fall so I'll eat or drink it any way I can!
Thanksgiving Desserts
So if you're in the mood try something new for your Thanksgiving desserts, or you are craving a Fall flavored milkshake, or you want to use all that leftover pumpkin pie, or you just have too much pumpkin pie to eat (I know this is hard to believe, but it happens!) then I hope you try my Easy Pumpkin Pie Milkshake! Enjoy!
Some more Thanksgiving desserts ideas that you can wow your family with are Easy Pumpkin Pie Recipe and Pumpkin Roll with Cream Cheese Filling and Pumpkin Whoopie Pies!
Pin for later:

Easy Pumpkin Pie Milkshake
This easy Pumpkin Pie milkshake recipe uses 1 slice of leftover pumpkin pie to make the best tasting pumpkin milkshake!  Top with whip cream!
Ingredients
1

cup

whole milk

3/4

cup

vanilla ice cream

1/2

teaspoon

pumpkin pie spice

1

slice

pumpkin pie

this should be 1/8 of a pie

whipped cream
Instructions
Add all ingredients except whipped cream into a blender. Blend until smooth.

Pour into 2 glasses. Add whipped cream on top of each. Serve with a straw and a spoon!
Recipe Notes
Yes, you are adding a slice of pumpkin pie to the blender! This is a great recipe to use leftover pumpkin pie. The recipe calls for 1 slice of pie, which is 1/8 of a normal sized pumpkin pie.