BLUEBERRY Thanksgiving Stuffing recipe! Traditional homemade vegetarian stuffing with sweet blueberries added in! This comes from a Grandma's vintage cookbook so you know it's going to be the best! It's easy to make and you can make it ahead of time to freeze!
I'm back with another stuffing recipe! So many of you have loved my Amish Potato Stuffing recipe so I decided to share with you another favorite, Blueberry Thanksgiving Stuffing! Obviously it doesn't need to be Thanksgiving to make this stuffing, but it is the perfect Thanksgiving side dish!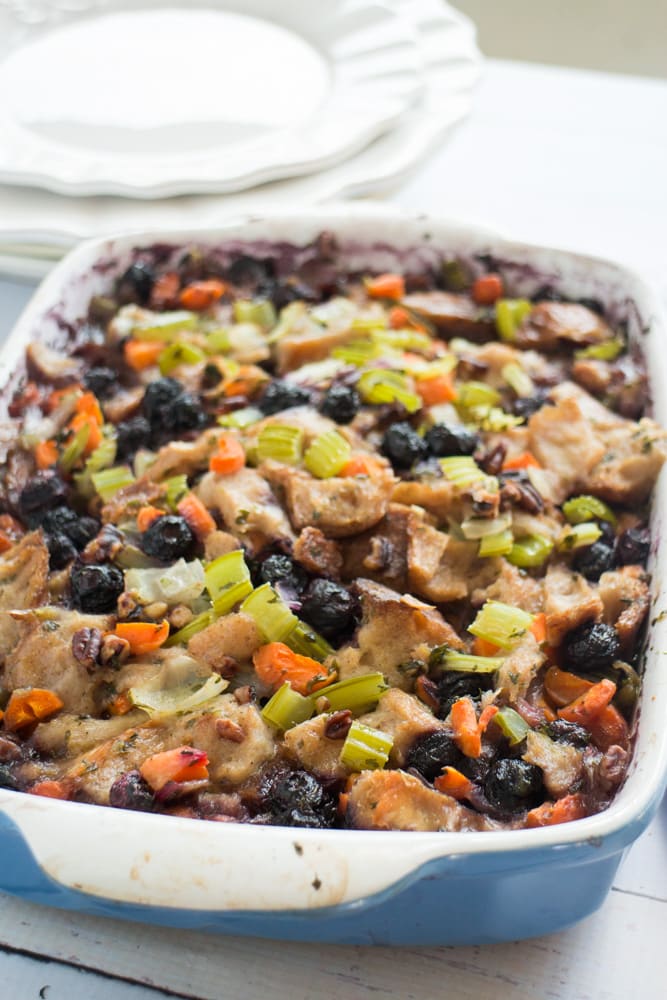 Thanksgiving Side Dish
This is the perfect side stuffing to accompany a main meat, like chicken or turkey. It's also the perfect vegetarian side dish because it doesn't involve any meat products or broths (it's made with vegetable broth).
This is a vintage stuffing recipe that I have tweaked over the years to fit with our taste buds. It originally appeared in a old cook book that my husband's Grandmother gave me. The original recipe included a minced meat that even Google couldn't tell me what it meant, so I decided to change the meat ingredient to pecans.
Pecans in a stuffing recipe is great because it adds a crunch! Everytime I serve this stuffing recipe, everyone wants to know what the crunch is because they love the small surprise. And just to note, it's not a overwhelming crunch, it's subtle as the recipe only calls for 1/2 cup pecans.