Easy to make dozen of baked blueberry donuts with lemon icing glaze. These fluffy donuts only take 20 minutes from start to finish!
These delicious blueberry donuts with a zesty lemon glaze can be made with just several simple ingredients, a donut pan, and your oven!
They are far easier to make than traditional fried donuts but offer the same blueberry flavor and lemon zest. The best part is that they are super easy to make and the whole family will keep coming back for more!
The Best Baked Blueberry Donuts Recipe
These baked lemon blueberry donuts are the perfect treat to have with your coffee in the morning or for a treat later in the day. Along with the wild blueberries and delicious lemon glaze, there will be a hint of vanilla and cinnamon with each bite!
If the idea of creating donut shapes intimidates you, don't worry. If you get a donut pan, the pan will shape these lemon blueberry doughnuts for you. Glazed donuts might feel complex but with this great recipe, you will quickly see just how simple they can be.
The beauty of this simple recipe is that once you've learned how to make one baked donut, you can more easily bake other flavors, too. From pumpkin to chocolate, keep reading to find out which other delicious flavors are on my page. Happy baking!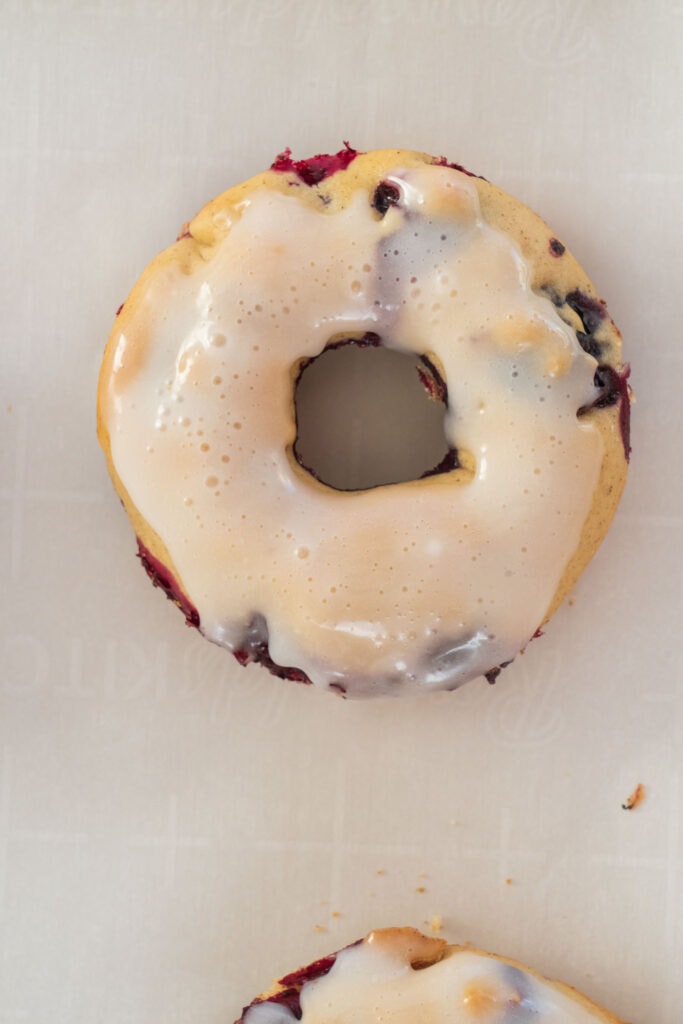 How to Make Baked Blueberry Donuts
Preheat the oven and prepare the donut pans. This recipe makes 12 donuts.
In a large mixing bowl, combine the dry ingredients.
In a separate bowl, combine the wet ingredients.
Combine both the dry and wet ingredients and mix thoroughly. Be careful not to overmix or the dough can turn gummy quickly.
Add in the fresh blueberries last and stir gently.
Spoon the donut batter onto the prepared donut pan. Then bake until golden brown on the sides. Remove when done and allow to cool.
While the donuts cool, mix the icing ingredients in a small bowl.
Dip each donut into the icing. Then serve and enjoy your lemon blueberry cake donuts!
Baking Donut Tips
Careful not to overmix the dough. This batter tends to get "gummy" if you overmix.
Don't forget to prepare your pan with non-stick spray before adding in the batter.
Refrain from filling your donut pan with too much donut batter. Your donuts will need a little room to rise.
Do not add the lemon glaze on top of the donuts straight out of the oven. The heat from the donuts will make your glaze too runny and even more sticky. Allowing the donuts to cool before adding the glaze will create a better texture.
Storing Leftovers
You can store your homemade baked donuts at room temperature for one to two days. This is the standard rule of thumb as long as you make homemade donuts without a creme filling. Store them in a ziplock bag, wrapped tightly in plastic wrap, or placed in a container.
If you're hoping to make them last longer than two days, refrigerated baked donuts stored in an airtight container can last up to three to four days.
You can store unglazed donuts in a freezer for up to two months. Thaw when ready and add on the lemon icing once they have cooled to room temperature. Before adding the icing, you can also put them in the microwave for a few seconds to warm them up slightly. However, as mentioned above, you do not want to add the lemon glaze on too hot a surface or it will become more runny, messy, and sticky as a result.
Do baked and fried donuts taste different?
Baked donuts are more likely to have a similar texture to a cupcake while fried donuts tend to have a more breaded texture. The strong flavor elements of blueberry and lemon will be in each but you will primarily taste a difference in the texture rather than flavor.
Are baked donuts healthier than fried?
Yes, baked donuts are notoriously healthier than fried donuts. Since traditional fried donuts are fried in a lot of oil, this makes them even more padded in fat and calories. Meanwhile, baked donuts tend to require only a couple of teaspoons of oil.
Can I use frozen blueberries instead of fresh blueberries?
Yes, you can use frozen blueberries instead of fresh ones if that's what you have on hand.
More Baked Donut Recipes
If you love this easy baked donut recipe, you will love the other delicious baked donut recipes on my page. Check out these favorites!
Pin for later:

Baked Blueberry Donuts with Lemon Icing
Print
Easy to make dozen of baked blueberry donuts with lemon icing glaze. These fluffy donuts only take 20 minutes from start to finish!
Prep Time: 10 minutes
Cook Time: 12 minutes
Total Time 22 minutes
Ingredients
For the donuts
2 cups flour
1/2 cup white sugar
2 teaspoons baking powder
1 teaspoon cinnamon
1 teaspoon salt
1/2 cup milk
2 egg
2 teaspoons vanilla
2 teaspoons lemon juice
2 teaspoons vegetable oil
1 1/2 cup fresh blueberries
For the icing
1 cup powdered sugar
2 tablespoons milk
1 teaspoon lemon juice
Instructions
Preheat oven to 325 degrees F. Spray donut pans with nonstick spray.

In a large bowl mix flour, sugar, baking powder, cinnamon and salt together.

In another mixing bowl stir together milk, eggs, vanilla, lemon juice and oil until well combined. Add milk mixture to the flour mixture and stir until mixed well, careful not to over mix the dough.

Gently add in the blueberries to the dough.

Spoon mixture into donut pans, filling them about 2/3 of the way. Bake for 12-14 minutes, or until lightly browned on sides.

Remove from oven and allow to cool. Remove donuts from donut pan and place on wax paper (easy cleanup for the icing below).
For the icing:
Mix sugar, milk and lemon juice in a shallow bowl until smooth. Dip the donuts into the icing, one at a time. Serve and enjoy!