Blueberry Overnight Oats is a quick breakfast that's waiting for you in the morning! Healthy ingredients include oats, blueberries, milk, maple syrup, flaxseeds and cinnamon!
What Exactly Are Overnight Oats?
Overnight oats are old-fashioned rolled oats that are soaked in liquid, overnight, until soft. The oats absorb the liquid, resulting in soft, creamy oats in the morning. You can serve straight from the fridge or heat slightly in the microwave before enjoying.
What Do I Need To Make Blueberry Overnight Oats?
All you need to make overnight oats are just a few simple pantry ingredients:
Oats: I recommend using old-fashioned rolled oats for overnight oats. They will have the best texture. Use gluten free as needed.
Milk: Use any favorite milk that you have on-hand. Dairy or dairy-free milk will work. I love almond milk for mine.
Cinnamon + Maple Syrup: I love the flavor that cinnamon and maple syrup adds to this breakfast. These overnight oats almost taste like pancakes!
Fruit: Obviously blueberries are my fruit of choice here, but any fruit you happen to have available will work. Strawberries or diced peaches are also great choices.
Flaxseeds: Flaxseeds are a nutritional powerhouse. Learn more about the nutritional benefits here. Flaxseeds also help to thicken the oats up, giving them the best possible texture.
Optional Toppings: Feel free to add toppings to your blueberry overnight oats. Some toppings that I really like are shredded coconut, chopped nuts, seeds and/or almond butter.
How To Make Blueberry Overnight Oats
These blueberry oats are so easy, even your kids can get in on the action. You'll want to use a mason jar or resealable container with a lid.
Add your old-fashioned oats to the jar.
Then pour the milk in with the oats. By the way, you can use any type of milk you want.
Next add the fresh blueberries. Even though these are sitting overnight, they will still have that fresh bite to them in the morning.
Now add the cinnamon and maple syrup.
Time for the flaxseeds. Flaxseeds are ruling my life right now.
Great, you have all of the ingredients.
Stir all ingredients together, or if you are using a mason jar, just put the lid on and shake it up.
It's that easy! You can throw it in the fridge and let it sit overnight or at least 4 hours.
And when you wake up, this delicious blueberry overnight oatmeal will be waiting for you! Such a satisfying, delicious breakfast! I like to add a little splash of milk on top and give it a quick mix around for the perfect consistency.
You can even add more berries and other fun toppings, if you'd like in the morning.
Tips For Making Overnight Oats
On Sunday, double or triple the batch and divide into separate jars or bowls. This will make for a tasty, grab-and-go breakfast through the week.
You can make so many different variations of overnight oatmeal. Experiment with adding ingredients like yogurt, banana slices, honey and other favorite flavor add-ins.
Try my Cookie Dough Overnight Oats if you love the taste of cookie dough!
Enjoy!
Looking for more blueberry recipes?
Try my Mini Blueberry Muffins, Blueberry Buckle and Vegan Blueberry Smoothie.
Pin for later: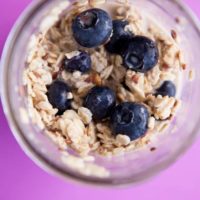 Blueberry Overnight Oats
Print
Blueberry Overnight Oats is a quick breakfast that's waiting for you in the morning! Healthy ingredients include oats, blueberries, milk, maple syrup, flaxseeds and cinnamon!

Prep Time: 5 minutes
Total Time 5 minutes
Ingredients
1/2 cup old fashioned oats
1/2 cup milk + splash in the morning you can use any type of milk, I prefer almond milk
1/4 teaspoon cinnamon
1 teaspoon flax seeds or chia seeds
1 teaspoon maple syrup
1/2 cup fresh blueberries
Instructions
Put all ingredients in a jar or bowl.

Stir so everything is combined.

Put lid on, and put in refrigerator overnight.

In the morning, splash a bit of milk on top and stir around again.

Enjoy!
Nutrition Information:
Calories: 225kcal (11%)