HOMEMADE Blueberry English Muffins! You're going to love this easy to make breakfast recipe! Save money and start making your own English muffins instead of buying the store bought ones.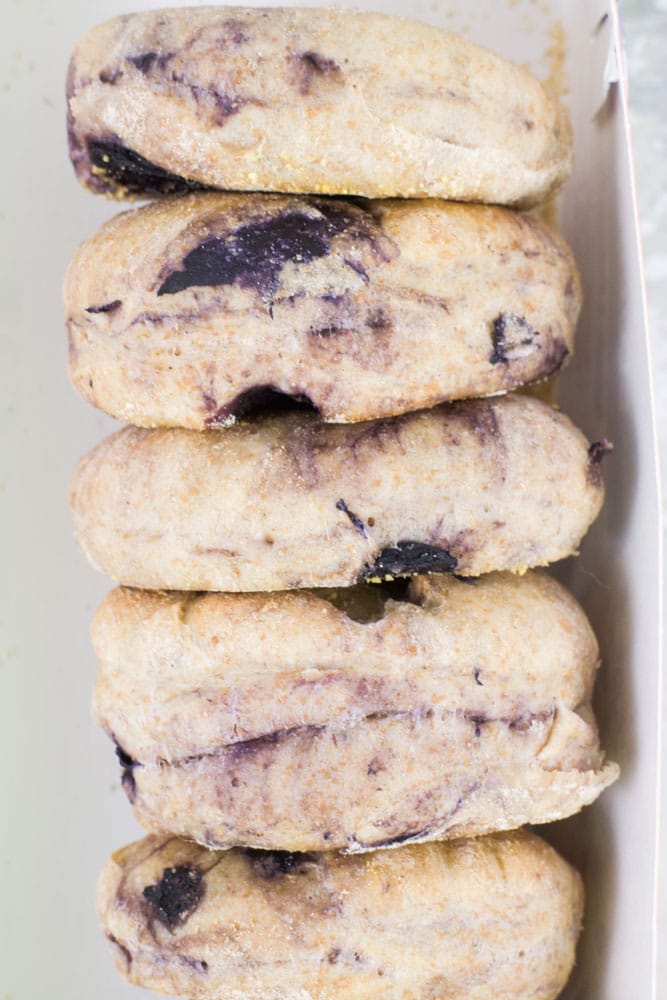 I'm starting 2017 with a bang – homemade Blueberry English Muffins! These have been on my "must make list" for quite some time since every morning I start my day off with one. I decided I was sick of buying the store bought version (plus they're sometimes hard to track down) so I wanted to start making my own.
Surprisingly these homemade English Muffins are easy to make and don't require that much time waiting for the dough to rise. Once you've made your own batch of these I bet you'll never buy them again! Hope you all enjoy… and Happy New Year!
Blueberry English Muffins recipe
There's a few points I want to mention about these Blueberry English Muffins:
First, you want to make sure you are have a nice foamy yeast before you pour it into your flour bowl. Once the yeast reacts with the sugar and warm water you should have a bowl of foamy yeast in about 10 minutes.
Probably even more important, you want your dough to rise. This dough should take about 1 hour to double in size. I always like to cover my dough with plastic and place in a warm spot, such as near a sunny window, on top of a dryer if you're running it or near a heater (hey it's Winter, why not double up?). It's always a great feeling when your dough starts like this….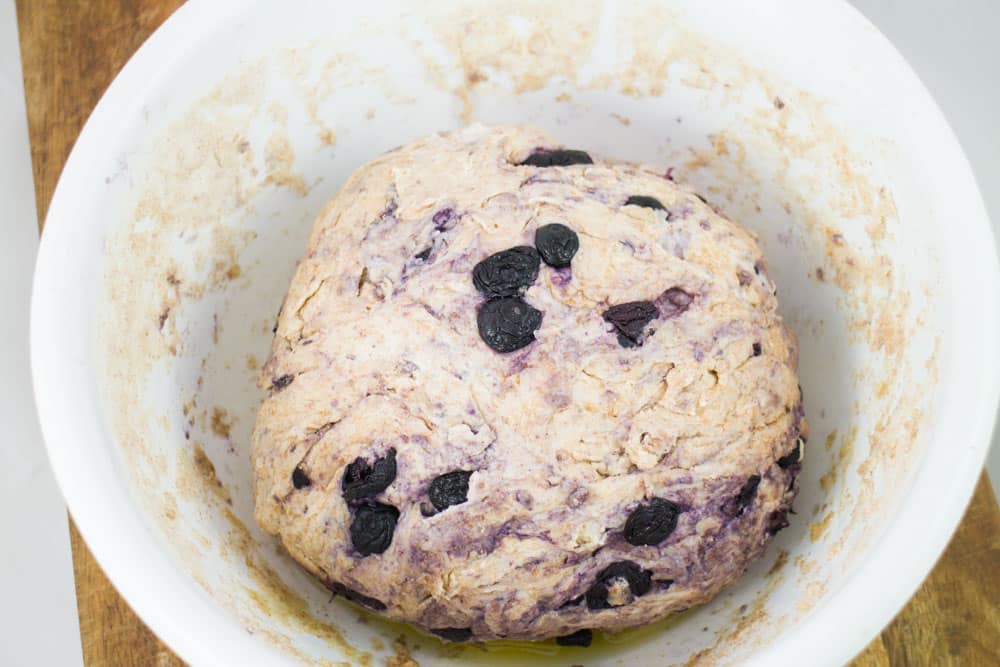 And ends up like this. This means you're going to have fluffy English Muffins.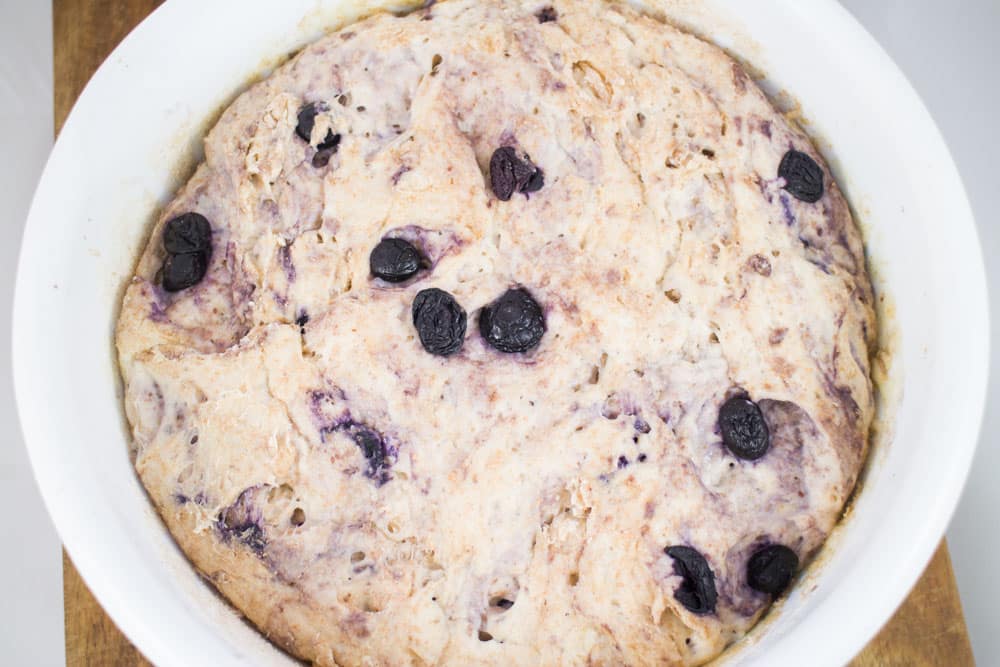 Roll your dough out on a floured surface and use a biscuit cutter to cut out the English Muffins. Alternatively, you could use a upside down glass if you don't have a biscuit cutter.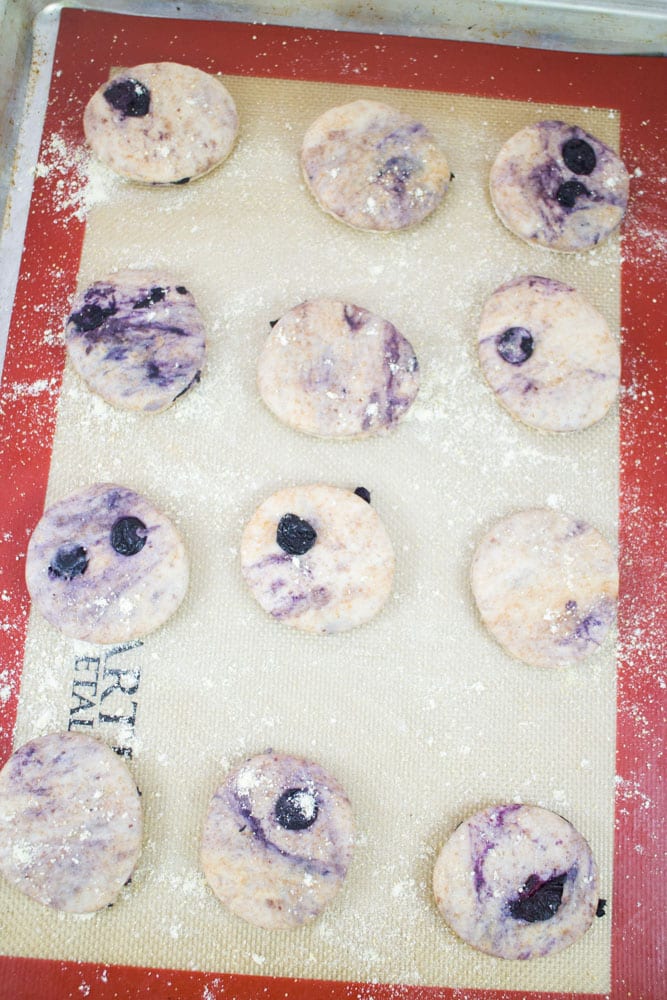 Some people like to cook their English Muffins on top of a griddle and that's totally ok if you want to, but I'm more of a girl who likes to bake, so I bake these at 375 degrees for 16 minutes (8 on each side). And out comes some delicious Blueberry English Muffins that I can't wait to eat! (PS. Do you like how I recycle English Muffin boxes?!)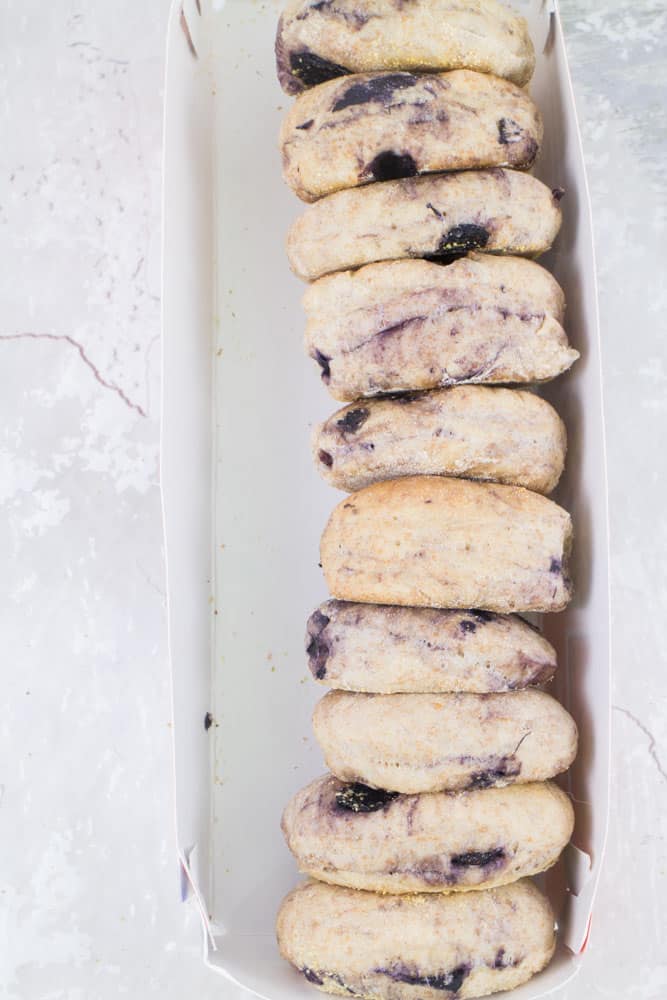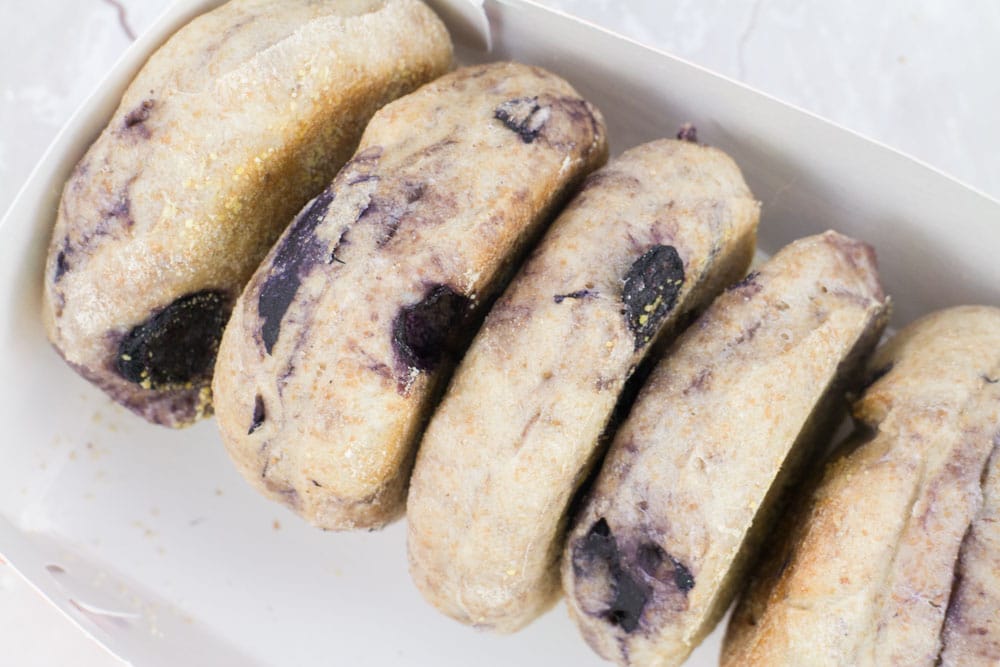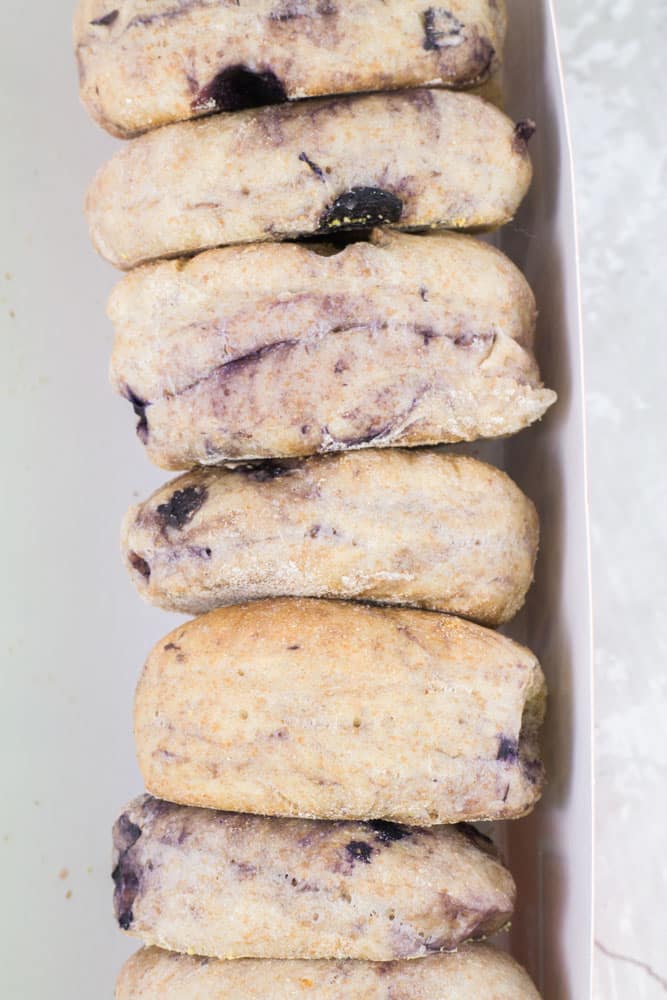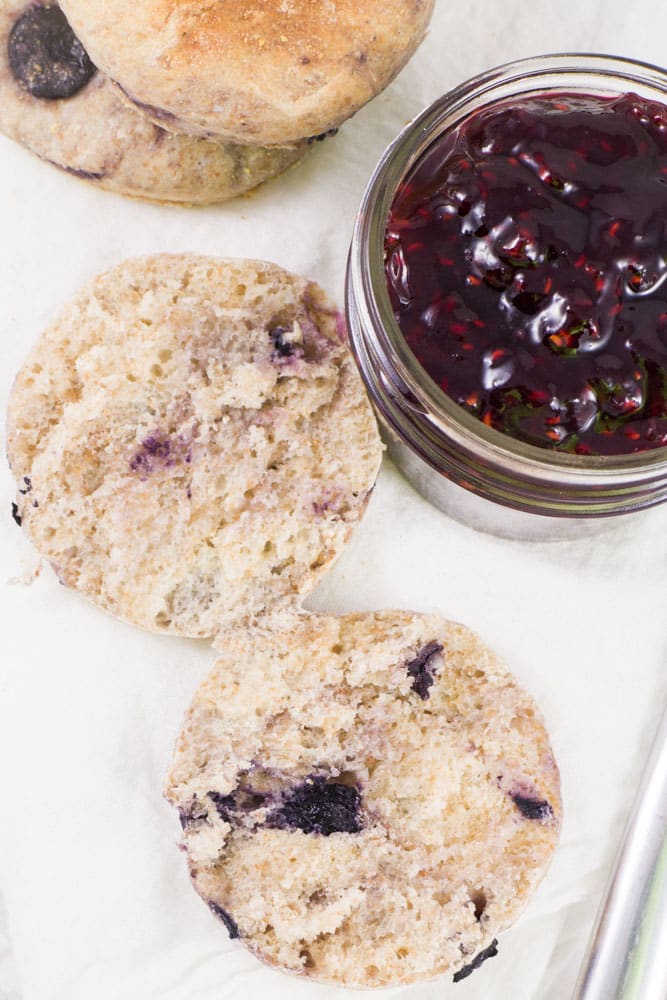 And don't worry, each muffin is filled with nooks and crannies!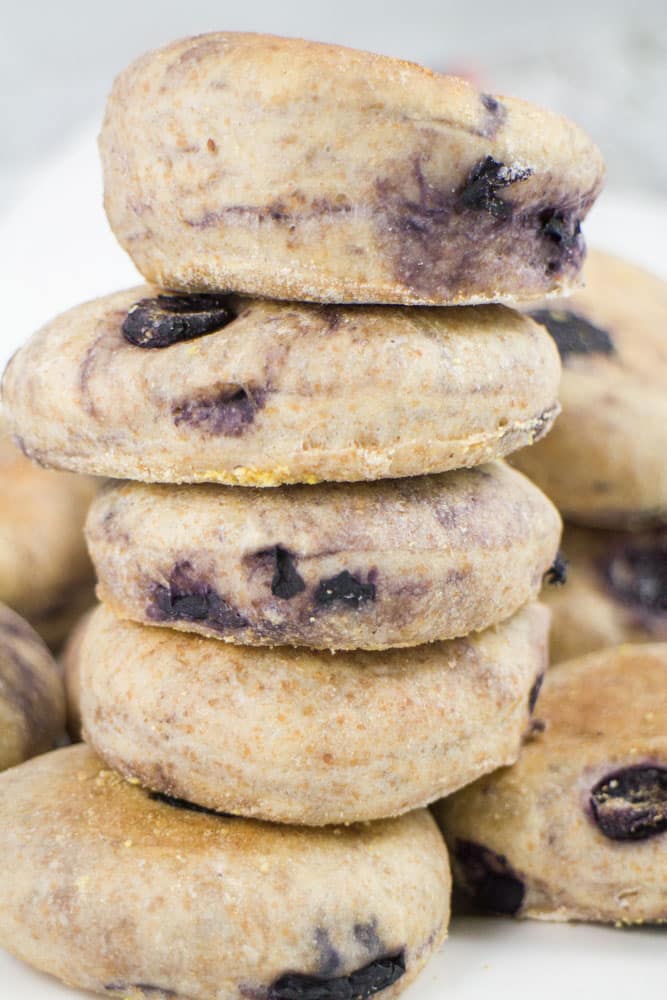 Eat immediately or use within a few days. Since this recipe makes 30 you can also freeze them!

Enjoy!
Looking for more blueberry breakfast recipes?
Pin for later:


Blueberry English Muffins
Print
HOMEMADE Blueberry English Muffins! You're going to love this easy to make breakfast recipe! Save money and start making your own English muffins instead of buying the store bought ones. These ones are much more delicious and healthy! I love having one of these muffins with a cup of tea!
Ingredients
1 cup milk
1 cup warm water
1 .25 ounce package of active dry yeast
2 tablespoons sugar
6 cups all purpose flour or 3 cups all purpose + 3 cups whole wheat
1/4 cup butter – melted
1 teaspoon salt
2 cups fresh blueberries
Instructions
Warm the milk in a small saucepan over medium heat until boiling. Remove from heat and let cool down.

In a small bowl, add water and then add dry yeast and sugar. Mix. Set aside for 10 minutes until it's foamy.

In a large bowl add 3 cups of flour, milk, yeast mixture and butter. Stir with a wooden spoon to mix. Add the remaining 3 cups of flour, salt and blueberries and continue to stir until everything is combined With your hands, knead the dough for 5 minutes, folding it over again and again.

Place dough in greased bowl, cover with plastic wrap and let rise for 1 hour in warm spot.

Punch dough down and roll out to 1/2 inch thickness. Cut muffins with biscuit cutter (or alternatively you can use a glass). Sprinkle cookies sheets (2 or 3) with cornmeal and place each muffin on there. Sprinkle additional cornmeal on top of each muffin. Cover with plastic wrap and let rise for 30 minutes.

Preheat oven to 375 degrees. Bake muffins for 8 minutes, flip them and then bake for 8 more minutes (so 16 minutes total). Let cool.

Enjoy for the next few days, or freeze them for later usage.
Notes
Makes 30 Blueberry English Muffins.