This easy homemade gravy recipe is made with chicken broth and simple seasonings. It's ready in 10 minutes and perfect for mashed potatoes, chicken, biscuits, and more!
Easy gravy from scratch
Learn How to Make Gravy from scratch using 5 ingredients! Ready to eat in just 10 minutes, this chicken gravy is so delicious and mashed potatoes best friend.
Gravy is a salty, savory sauce that has the ability to make simple foods POP with flavor. A traditional gravy recipe is made from pan drippings (usually from the Thanksgiving turkey) and is elevated with fresh herbs and butter.
This homemade gravy recipe has been simplified so you don't need drippings, complicated ingredients, or special equipment. Instead, it's stirred together in 1 pot using just chicken broth, milk, cornstarch, salt, and onion powder.
This recipe is made with a chicken broth base but can easily be made with beef broth or vegetable broth for a vegetarian alternative. The best part? Any version you make can be poured over basically anything, like mashed potato patties, rotisserie chicken, Salisbury steak, Thanksgiving stuffing or Stuffing Balls.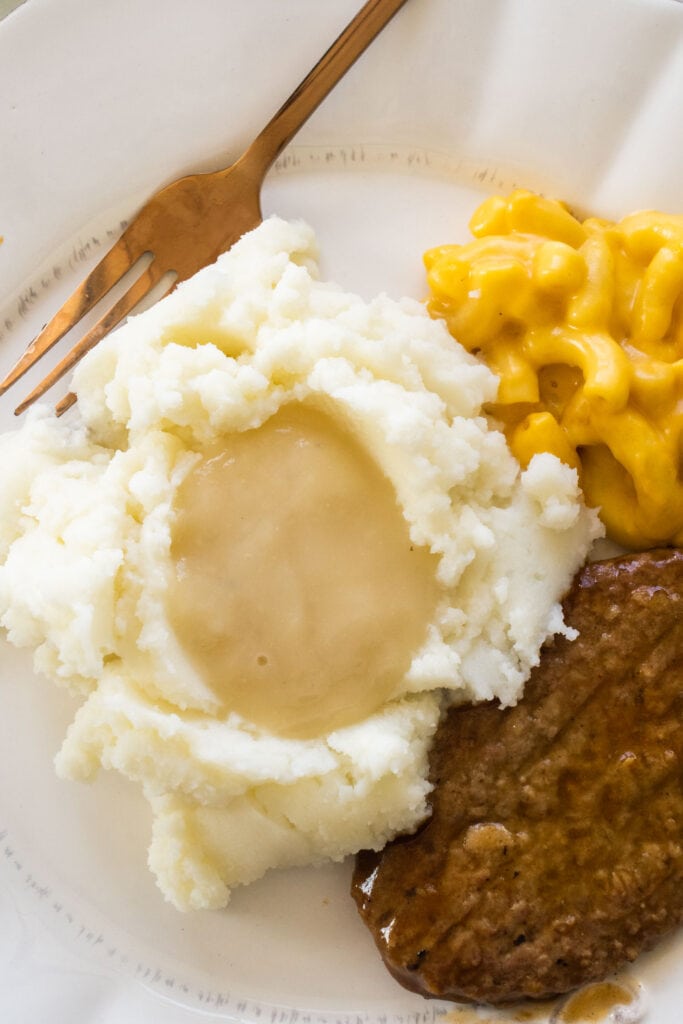 How to make homemade gravy from scratch
This is a chicken gravy recipe but can easily be adjusted to be made with beef or vegetable broth instead. Once you've decided on which broth to use, it's easy to put the gravy together:
Pour your broth into a saucepan and bring it up to a low boil over medium high heat.
Stir the milk and cornstarch together in a small bowl until it's no longer clumpy.
Pour the cornstarch slurry into the broth, along with the salt, onion powder, and black pepper. Stir it all together.
Once the gravy comes up to a boil, lower the heat and let it simmer until it thickens up.
Pour the hot gravy over mashed potatoes, turkey, or biscuits and enjoy!
How to thicken gravy with cornstarch
For that silky smooth consistency, you'll need a thickening agent like cornstarch or all purpose flour. Cornstarch is a powerful thickener compared to flour. Stir it together with milk or water to make a slurry, then add it to the gravy to achieve the perfect consistency.
Gravy add ins and variations
Add ins – Stir in 1/2 cup of chopped mushrooms, sautéed onions, or fresh or dried herbs to enrich the gravy with savory and earthy flavors.
For a richer gravy – Stir in 2 tablespoons of butter.
Change up the broth – If you want a beef gravy, use beef broth. If you want vegetable gravy, use vegetable broth.
Vegan – Swap the milk for your favorite unsweetened dairy free milk.
Instead of broth – Use bouillon cubes dissolved in hot water for a more intense flavor (also more economical!).
Instead of milk – Swap it for half-and-half or heavy cream.
For an ​​umami flavor – Add 1 tablespoon of Worcestershire sauce.
Ways to use homemade gravy
Gravy is a magical condiment you can slather on plenty of meals and side dishes or serve as a savory dipping sauce. These are my favorite ways to use it (besides eating it with a spoon – hah):
Storing, freezing, and reheating gravy
To store: The gravy can be kept in an airtight container in the fridge for up to 5 days.
To freeze: Freeze the gravy in airtight containers or freezer bags for up to 3 months. Let it thaw overnight in the fridge, then reheat in a saucepan the next day.
To reheat: Pour the gravy into a saucepan and reheat over medium heat. While it heats up to a boil, continuously whisk the gravy until it's smooth and warmed through.
More recipes to enjoy with homemade gravy
Pin for later:
How to Make Gravy in 10 Minutes (Made with Chicken Broth)
Print
Easy 10 minute homemade gravy recipe for mashed potatoes made with broth, milk and cornstarch. It's so quick to make a creamy gravy from scratch!
Prep Time: 5 minutes
Cook Time: 5 minutes
Total Time 10 minutes
Ingredients
2 cups chicken broth
1/4 cup milk
3 tablespoons cornstarch
1/2 teaspoon salt
1/4 teaspoon onion powder
pinch of black pepper
Instructions
Add chicken broth to a saucepan and bring to a low boil over medium high heat.

In a small bowl add milk and cornstarch, whisking together until no longer clumpy. Pour this mixture into the chicken broth.

Add salt, onion powder and pepper into saucepan, stir and bring to a boil. Reduce heat to low and simmer for 5-10 minutes or until a thickened gravy forms.

Pour on mashed potatoes and enjoy!
Notes
This makes about 2 cups of gravy.
Note: This makes chicken gravy. If you want a beef gravy, use beef broth. If you want a vegetable gravy, use vegetable broth.