Juicy turkey recipe for Thanksgiving! Nothing fancy, just good old fashioned turkey recipe!
Juicy Turkey
You guys are just the best. All your comments you left on Essy's post are so beautiful and caring. Reading through and seeing all the love, reliving stories of your own past losts and just being the sweetest really made me feel better. I owe you all a donut. When you're in Brooklyn, you holla at me, we have a date. Thanks again, it really means alot to our family. <3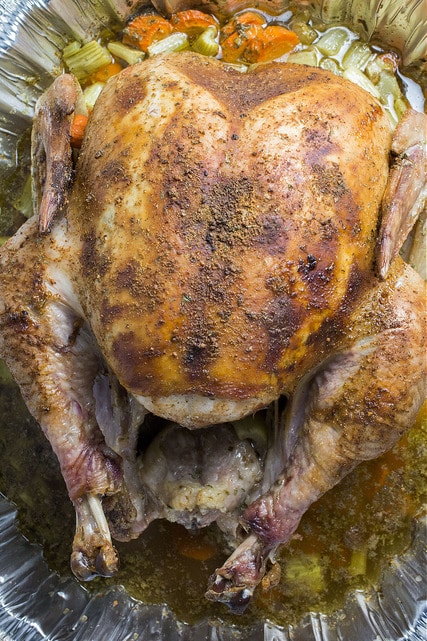 In the post I shared Essy's favorite holiday because it meant her favorite food, Thanksgiving and turkey. Give that girl a whiff of turkey and she was there. From the time the turkey was taken out of the wrapper until it came out of the oven, Essy was pacing like a nervous lady. She would be on the floor staring into the oven, on the kitchen island staring at the oven, on the table staring into the oven. When we opened the oven to get the turkey in and out someone had to hold her because there was no stopping her. She wanted that turkey. The best way to honor Essy we decided was to have Thanksgiving Dinner in January. Essy would want nothing more.
Thanksgiving Turkey Recipe
So this week we went to the store to get Thanksgiving supplies and a feast was had. Throughout the making of I would look up just thinking about how just a few months ago she was staring me in the eyes, licking her lips, whispering into my brain "Feed me!". During dinner, we talked about her and her beloved turkey. We knew that while we ate there was no doubt Essy would be between our plates trying to steal a piece (that's after she finished her own plateful).
So on to one juicy delicious turkey to celebrate Essy!
This turkey is awesome and is now my official go to turkey recipe. It's easy, you don't need to brine overnight, the ingredients it calls for are basic and oh goodness it's moist. Because you are going to stick butter between the skin and breast meat, it's so juicy.

You can use seasoning salt but I recommend a seasoning rub. I used a citrus and savory rub that includes sea salt, sugar, garlic, lemon peel, orange peel, lime, chili powder, chili pepper and paprika. Yum.

Into the oven this turkey goes..
And out comes this beauty..


Crinkles the Frog was taught well by Essy.
Enjoy your Thanksgiving in November or January or whenever you're craving a juicy turkey!
One Juicy Turkey
Print
Juicy turkey recipe for Thanksgiving! Nothing fancy, just good old fashioned turkey recipe!
Prep Time: 10 minutes
Cook Time: 4 hours
Total Time 4 hours 10 minutes
Ingredients
1 12 pound whole turkey
6 tablespoons butter - cut into tablespoon slices
4 cups warm water
4 tablespoons chicken bouillon
2 tablespoons dried parsley
1 tablespoon onion powder
2 tablespoons seasoning rub
3 carrots - cut up into pieces
3 pieces of celery - cut up into pieces
Instructions
Preheat oven to 350 degrees. Wash and rinse your turkey under water. Remove giblets and neck if you don't like them. Put turkey in roasting pan.

Separate the skin over the breast meat and put 3 tablespoons (3 slices) of butter on both sides.

In a bowl combine the warm water, chicken bouillon, parsley and onion powder. Pour over the turkey.

Sprinkle seasoning rub all over the turkey.

Distribute carrots and celery in the bottom of the pan.

Put turkey breast side up, cover with foil and cook for 3.5-4 hours or until the internal temperature reaches 170 degrees. Remove the foil for the last 45 minutes.

Enjoy!