Easy to make delicious Crispy Hash Browns! Perfect for breakfast and dinner!
We love hash browns a whole lot in this house but we always bought the kind in the frozen section at the super market. Being that I love to be able to make everything we eat, I had it set in my mind that I would figure out how to make crispy hash browns. Crispy, that's the hard part. Did you ever make hash browns and they are wet and moist? That's just the worst and it upsets my hash brown loving heart. The key to getting crispy hash browns is by squeezing the grated potatoes, you'll be amazed by the amount of liquid you can get out of them. How do you squeeze them? Well I like to get my exercise in while making dinner so I hold the shredded potatoes in my hand and just squeeze the heck out of them. If you have a potato ricer this will work amazing as well, but I don't so instead I just use muscles.
I hope you give these hash browns a try for breakfast, for breakfast for dinner, or just when you're having a craving. I think you'll love them.
You want to peel and grate your potatoes. If you have a food processor, throw on the grating attachment and you'll be done in seconds. It always amazes me.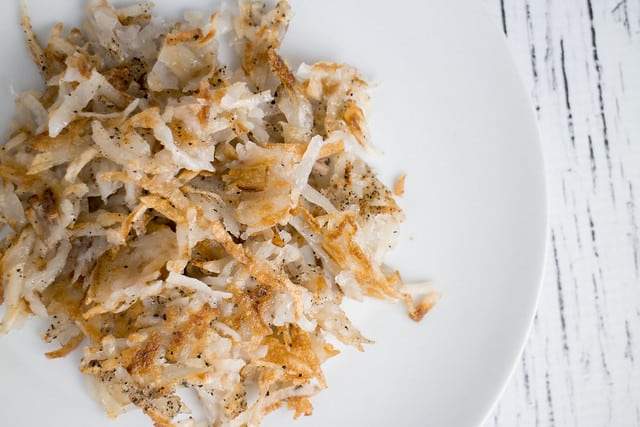 If you want more of a hash brown square, cut it up to desired shape after it's browned.
Crispy Hash Browns
Print
Ingredients
1.5 pounds potatoes - peeled and grated
3 tablespoons vegetable or canola oil
salt and pepper to taste
Instructions
Peel and grate your potatoes. I use my grater tool on my food processor to make it quick and easy.

Squeeze out all the excess water you can from the potatoes by using your hands to squeeze or a potato ricer. You want to remove as much water as you can.

Heat oil up in large frying pan on medium high heat.

When oil is heated, add the grated potatoes, spreading them out along the bottom of the pan, but not more than 1/2 inch thick. Sprinkle salt and pepper on top.

Let sit for a few minutes, and then lift up to see if it's browned. Once browned, flip over to the other side. Sprinkle salt and pepper on the new side now.

Fry to a golden brown on both sides.

Enjoy!
Notes
You can make big hash browns or smaller square shaped ones by cutting up the hash browns once cooked.