Easy to make Vegetarian Taco Casserole recipe. Instead of meat, we use lots of vegetables and beans. This Mexican Casserole takes 30 minutes to bake.
Vegetarian Taco Casserole
This Meatless Cheesy Taco Casserole is one of our favorite dinner recipes. It's one of those dishes that you don't get sick of having multiple times a week (we love it that much). Since trying to make more vegetarian meals for my family, I've had to figure out how to change my original taco casserole recipe and that's what I did for this dish. Instead of ground beef, I'm adding in black beans and frozen corn.
Mexican Vegetarian Recipe
Mix that with some elbow macaroni, fresh tomatoes, green peppers, tomato soup, taco seasoning mix and taco cheese and you have the perfect weeknight meal! I don't want to call this recipe healthy, because it does have the word "cheesy" in the title, but the recipe only calls for 3/4 cups of cheese and if you want you can even add less. You could even skip the cheese if you want to!
My husband, who loves his meat, is a big fan of this meal and doesn't miss the ground beef at all! You know it's a winner when he requests Vegetarian Taco Casserole every week!
So without further ado…here's our favorite taco casserole recipe!
Taco Casserole recipe
This recipe is so easy to make! Throw all the ingredients in the casserole dish!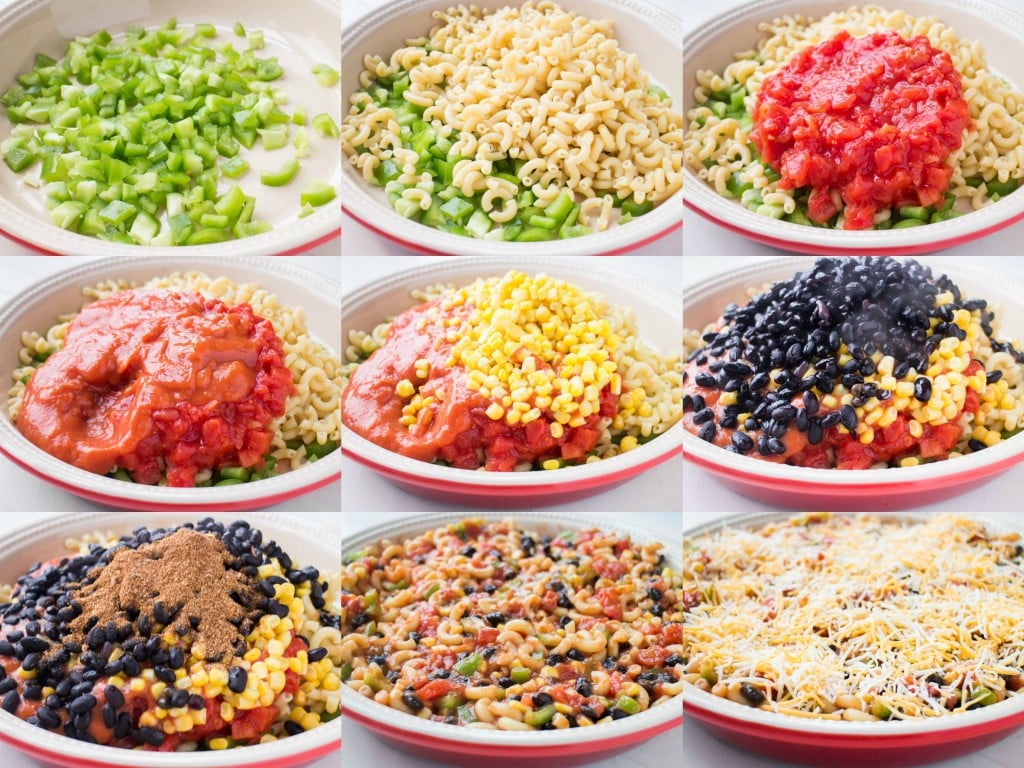 Taco Casserole Ingredients
For this recipe you will need:
elbow macaroni
black beans
frozen corn
green pepper
fresh tomatoes
can of condensed tomato soup
taco seasoning mix (I buy mine in bulk!)
shredded taco or cheddar cheese
jalapenos
Into the oven the casserole bakes for about 30 minutes (or until your cheese is gorgeously bubbling). Now time to add it to plates. Make sure everyone gets a cheesy piece!

This casserole makes about 6 servings, and any leftovers you can eat the next day or you can freeze it!
Enjoy everyone! Have a great weekend!
Looking for more Mexican recipes?
Stovetop Taco Soup
Chicken Tortilla Soup
Tomato Salsa
Quesadilla Casserole
Taco Spaghetti Casserole
Mexican Lasagna
Pin for later:
Vegetarian Taco Casserole
Print
Easy to make Vegetarian Taco Casserole recipe. Instead of meat, we use lots of vegetables and beans. This Mexican Casserole takes 30 minutes to bake.
Prep Time: 10 minutes
Cook Time: 30 minutes
Total Time 40 minutes
Ingredients
1 cup of elbow macaroni
1 15 oz can of black beans drained and rinsed
1 cup frozen corn
1 large green pepper – chopped
2 cups fresh tomatoes – diced
1 10.75 ounce can of condensed tomato soup
1 package of taco seasoning mix
3/4 cup shredded taco blend cheese
2 jalapenos – chopped finely for garnish optional
Instructions
Preheat oven to 350 degrees.

Cook pasta until al dente. Drain.

Into a casserole baking dish add your elbow macaroni, black beans, corn, green pepper, tomatoes, tomato soup and taco seasoning mix. Stir the ingredients with a spoon.

Sprinkle shredded cheese on top of the casserole.

Add finely chopped up jalapenos on top. (optional)

Bake for 30 minutes or until cheesy is bubbly.

Enjoy!