Elevate your breakfast game with these Waffle Iron Hash Browns! This handy kitchen hack will show you how to take frozen hash browns and turn them into crispy, crunchy waffles. It's the best breakfast ever!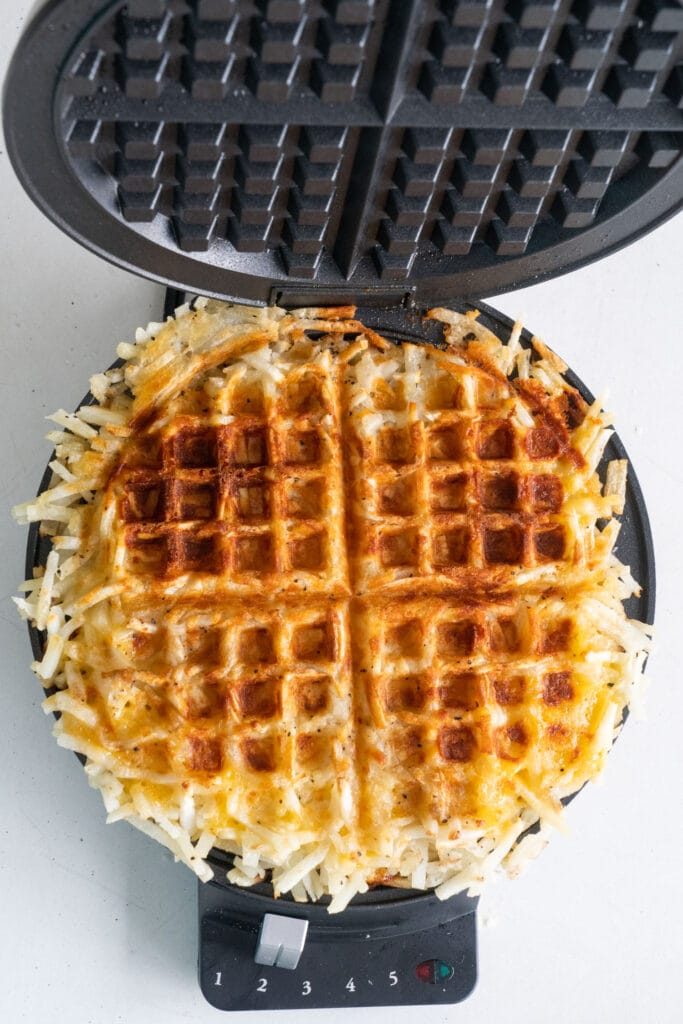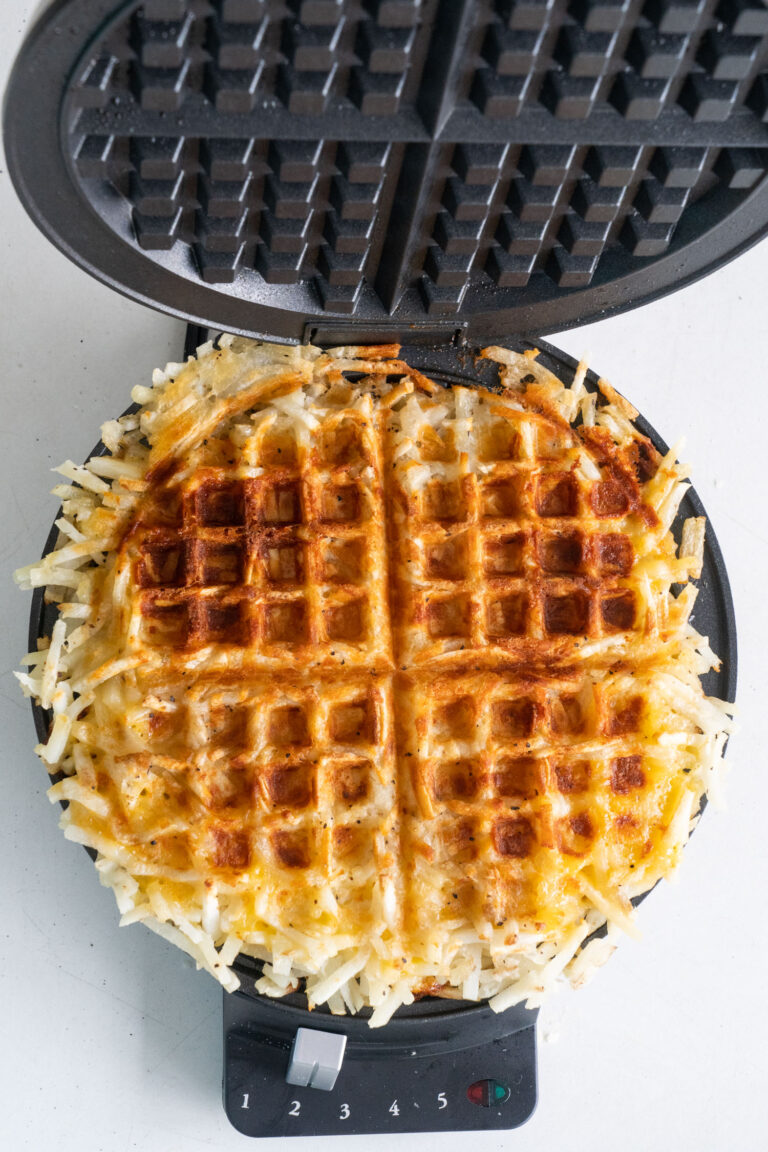 Easy cheesy hash browns for breakfast
Waffle irons are no longer JUST for waffles. They're the perfect tool for making extra crispy Waffle Iron Hash Browns for breakfast! Grilling frozen hash browns in a waffle iron with shredded cheese and butter results in a crispy-on-the-outside, fluffy-on-the-inside side dish to pair with your eggs and bacon.
It's no secret that I love homemade waffles and crispy diner hash browns, but when you combine the two, it's magic! These hash brown waffles are lightly seasoned with just salt and pepper to keep things simple, but there's plenty of room for additional seasonings and flavors. Yum!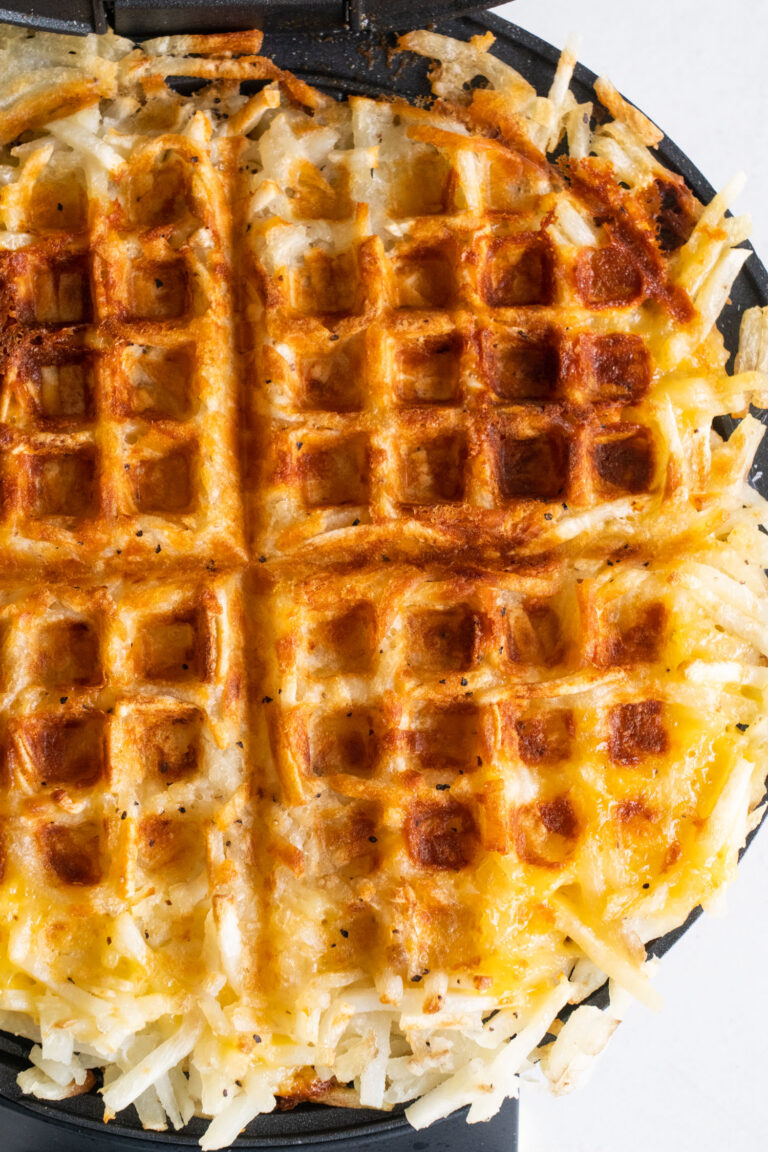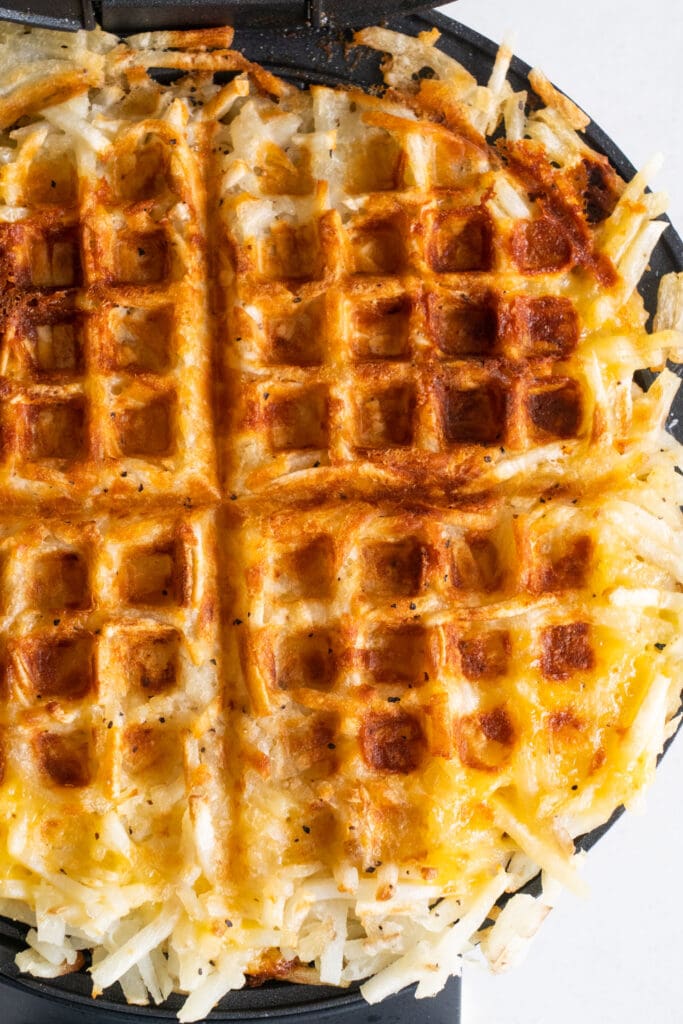 Waffle maker hash brown ingredients
The best part about making hash browns in a waffle maker is all you need are simple ingredients. No need to shred Russet potatoes or whip a fancy batter together. Keep everything easy with these 4 ingredients:
Frozen hash browns
Butter
Salt and pepper
Shredded cheddar cheese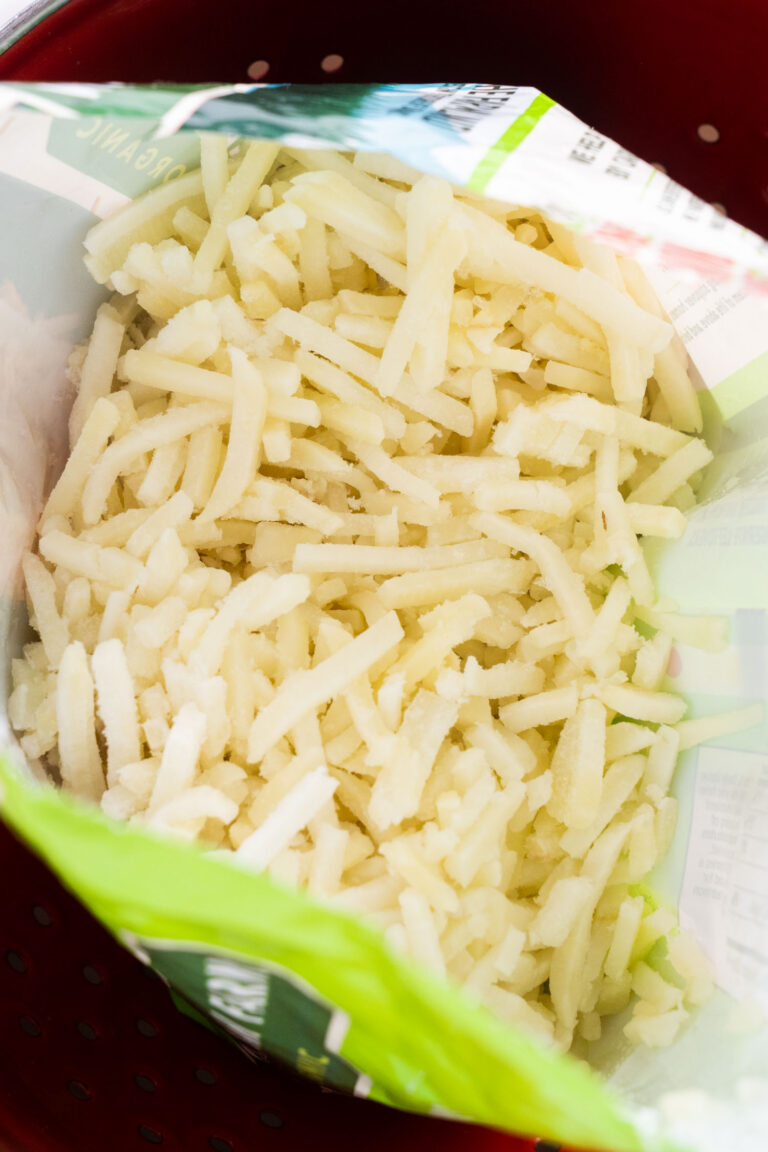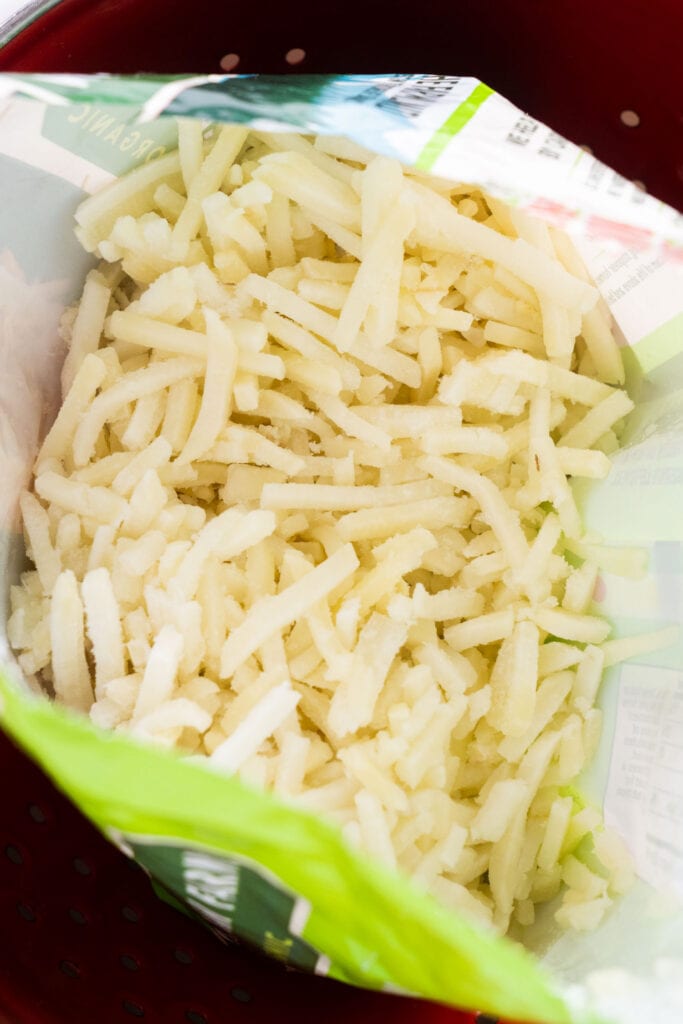 How to make waffle iron hash browns
Quit babysitting your hash browns on the stove or waiting for them to roast in the oven. Quickly grilling them in a waffle iron is the better way! Here's how it's done:
Spray the waffle iron with cooking spray and preheat it while you prepare the hash browns.
Add the thawed hash browns to a strainer placed on top of a bowl. Squeeze the excess moisture out of the potatoes. This is the secret to crispy fried hash browns! Discard water and put hash browns into bowl.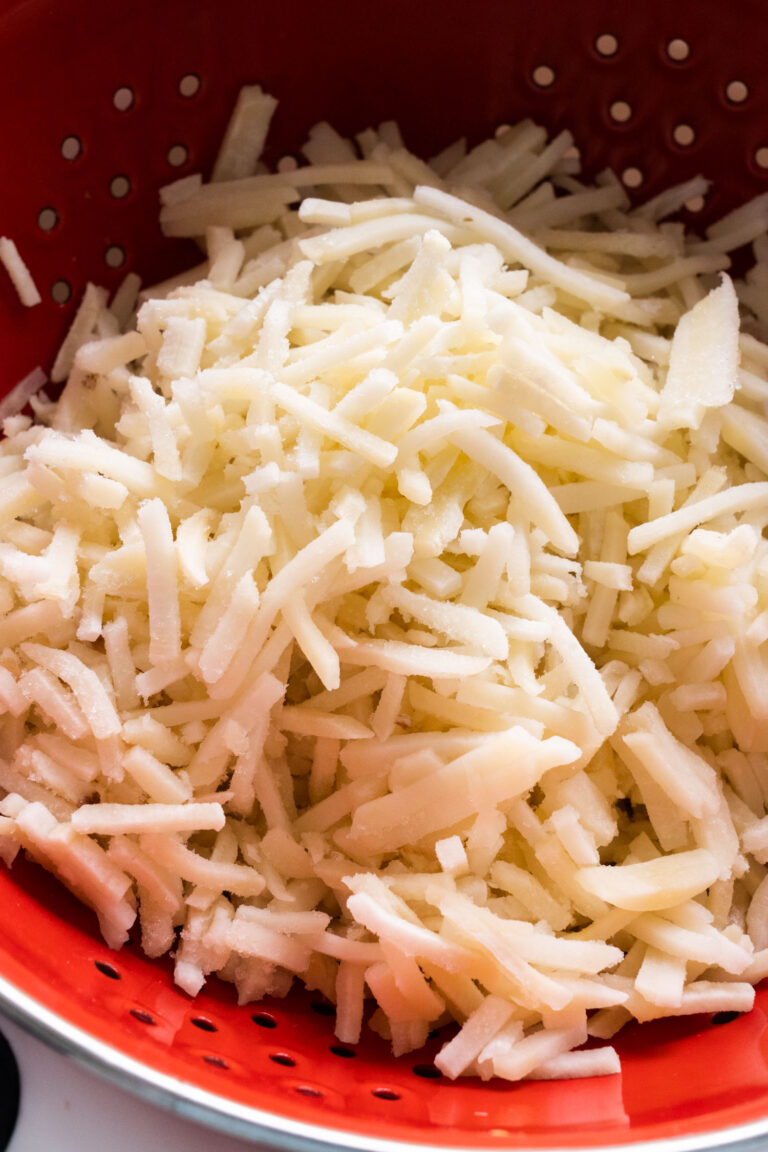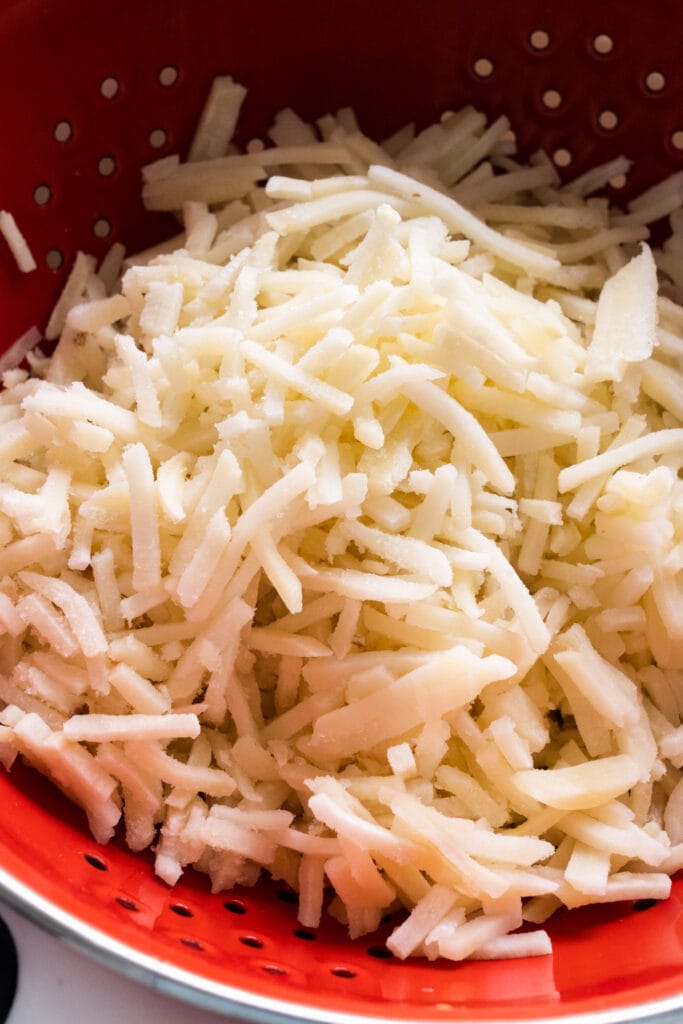 Add the butter, salt, and pepper to the bowl and stir to combine.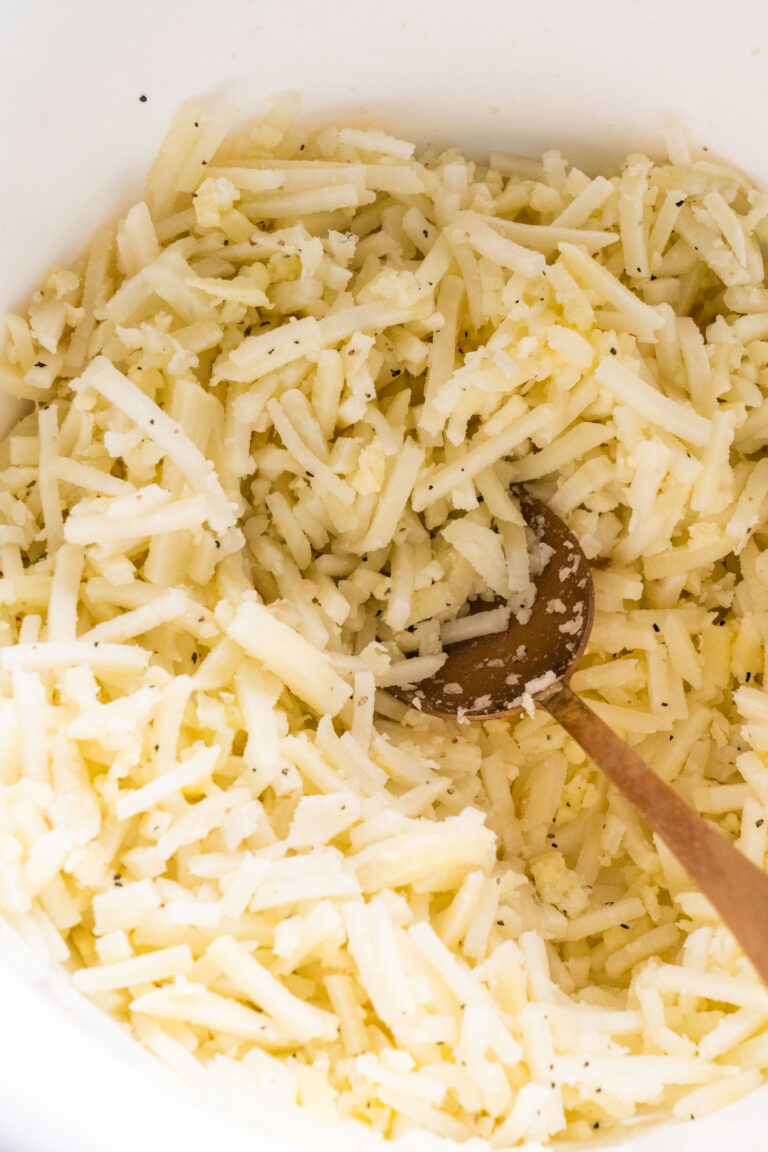 Place ½ cup of the hash brown mixture onto each section (4) of the waffle iron.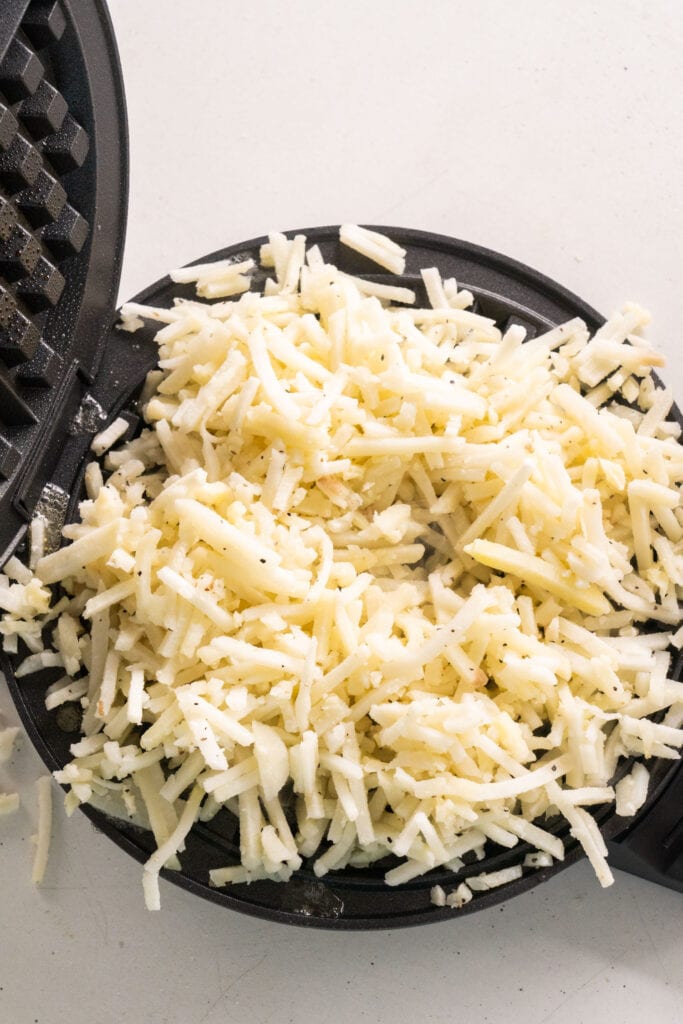 Sprinkle some cheese on top of each section.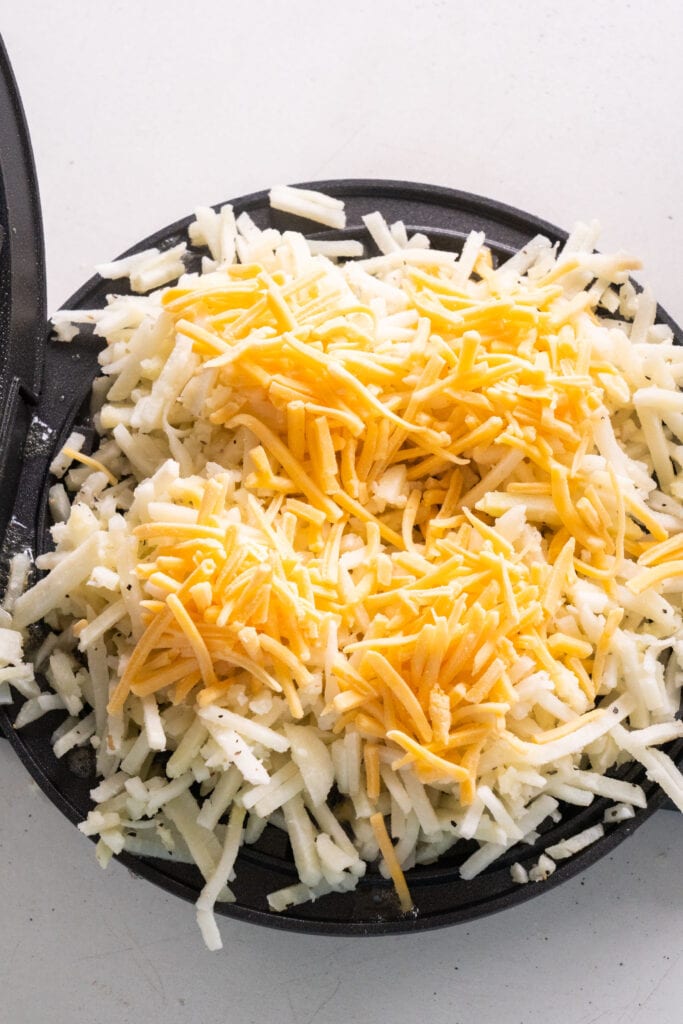 Then add more hash brown to cover the cheese.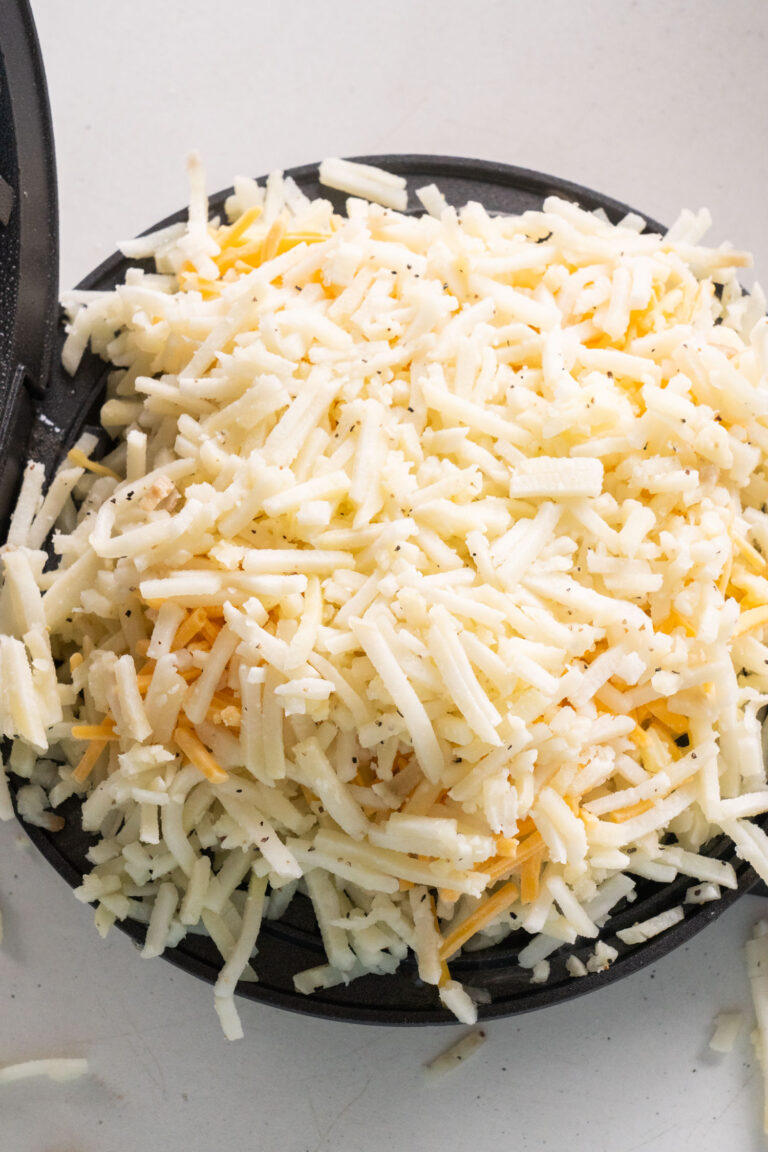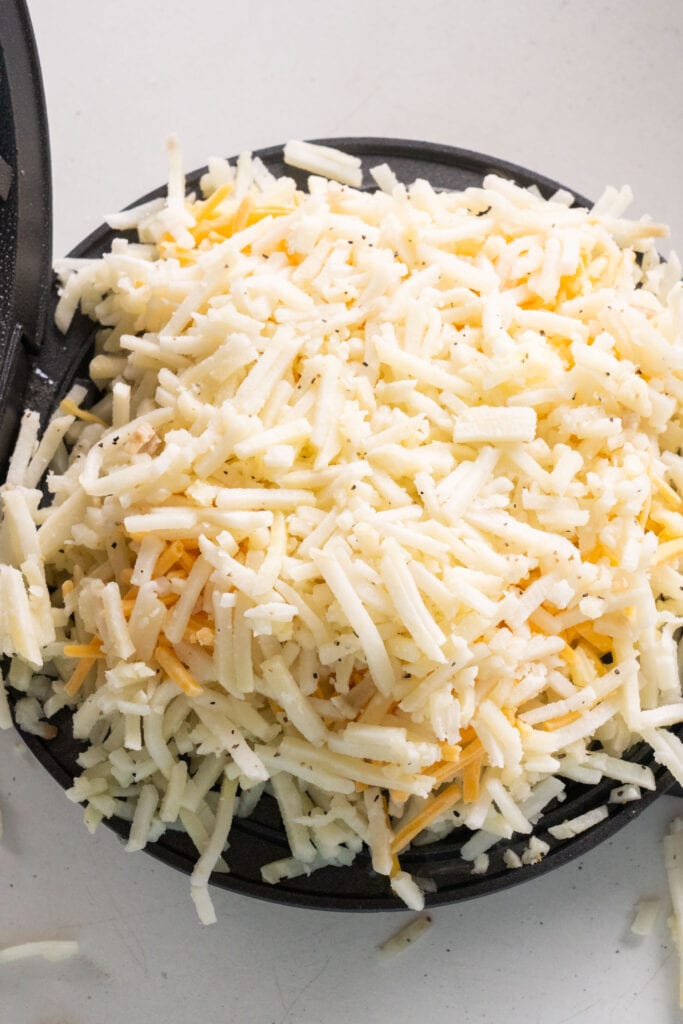 Cook the hash brown waffles until the top is crispy and golden brown. Enjoy!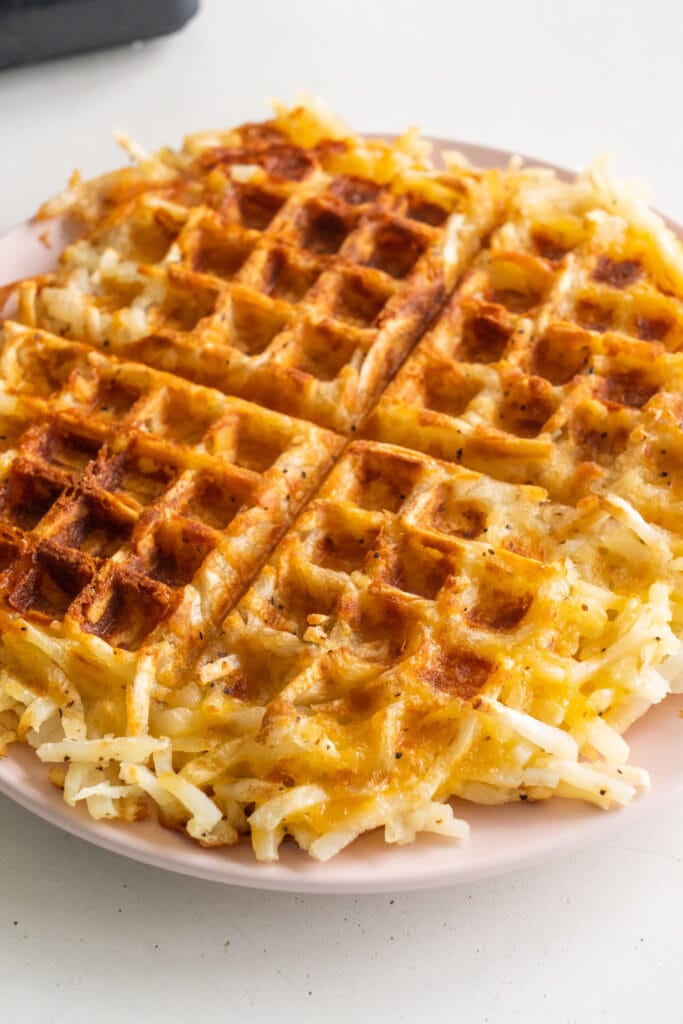 Play with the flavors!
Once you've mastered this no-nonsense recipe, you can play with the flavors by stirring in all kinds of flavor-boosters into the hash brown mixture. To make the experience even better, pile on plenty of toppings before serving!
Use any of these add-ins and topping ideas to make your waffle maker hash browns even better:
Add-ins
Chopped bacon
Dried herbs, like chives, rosemary, parsley, or dill
Parmesan cheese
Sauteed onion and garlic
Diced ham
Smoked paprika
Roasted garlic
Toppings
Pickled red onions
Sour cream
Green onions
Chives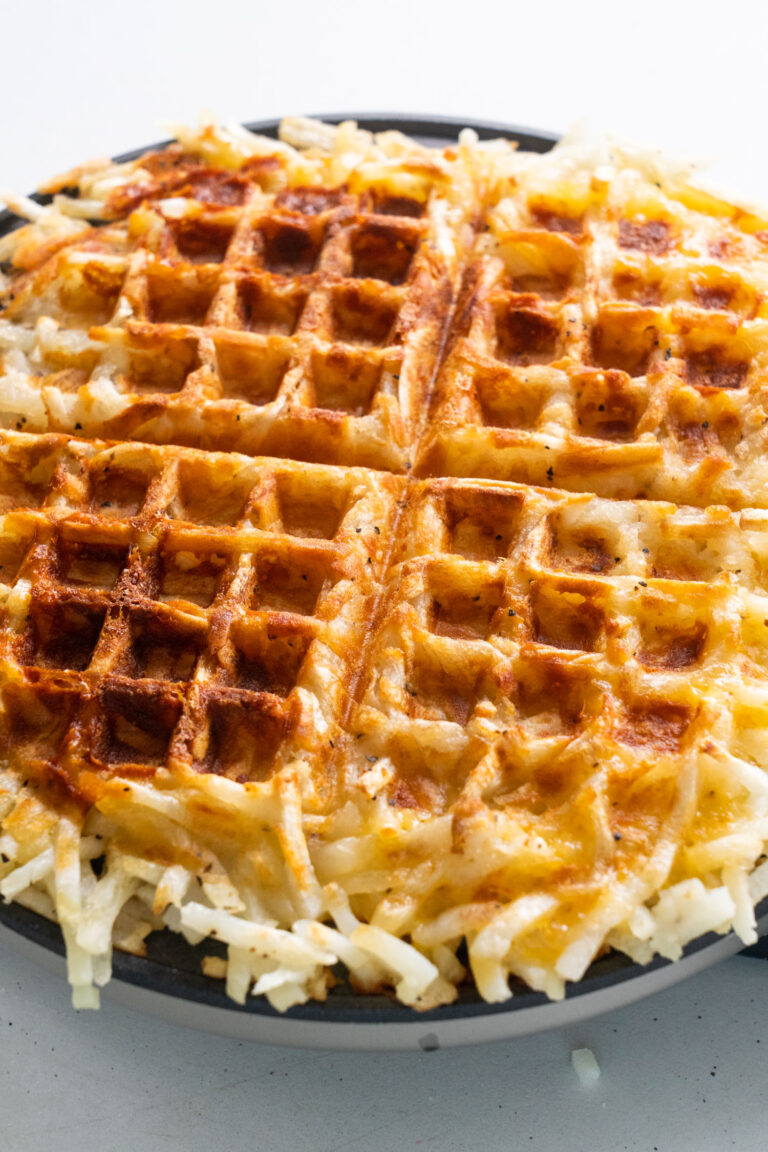 Helpful recipe tips
Not all waffle irons are the same. Use the cooking time as an approximation and peek at the hash brown waffles as they cook to make sure they're cooked through and golden brown.
Shredded Russet potatoes (fresh or frozen), frozen tater tots, and other kinds of frozen hash browns will all work for this recipe. Just make sure the frozen potatoes are thawed first and that you take the time to squeeze out the excess liquid.
The extra moisture and starch in the potatoes will prevent the waffles from crisping, which is why it's important to drain the liquid first.
If you're making a double batch, be sure to spray the waffle iron with cooking spray in between each waffle.
Making ahead and storing
To prepare the hash brown waffles ahead of time, be sure to place the frozen hash browns in the fridge overnight so they're thawed by morning. The cooked and cooled waffles can be wrapped in plastic and stored in the fridge for 5 days or frozen for 3 months. Just reheat them in the toaster and enjoy!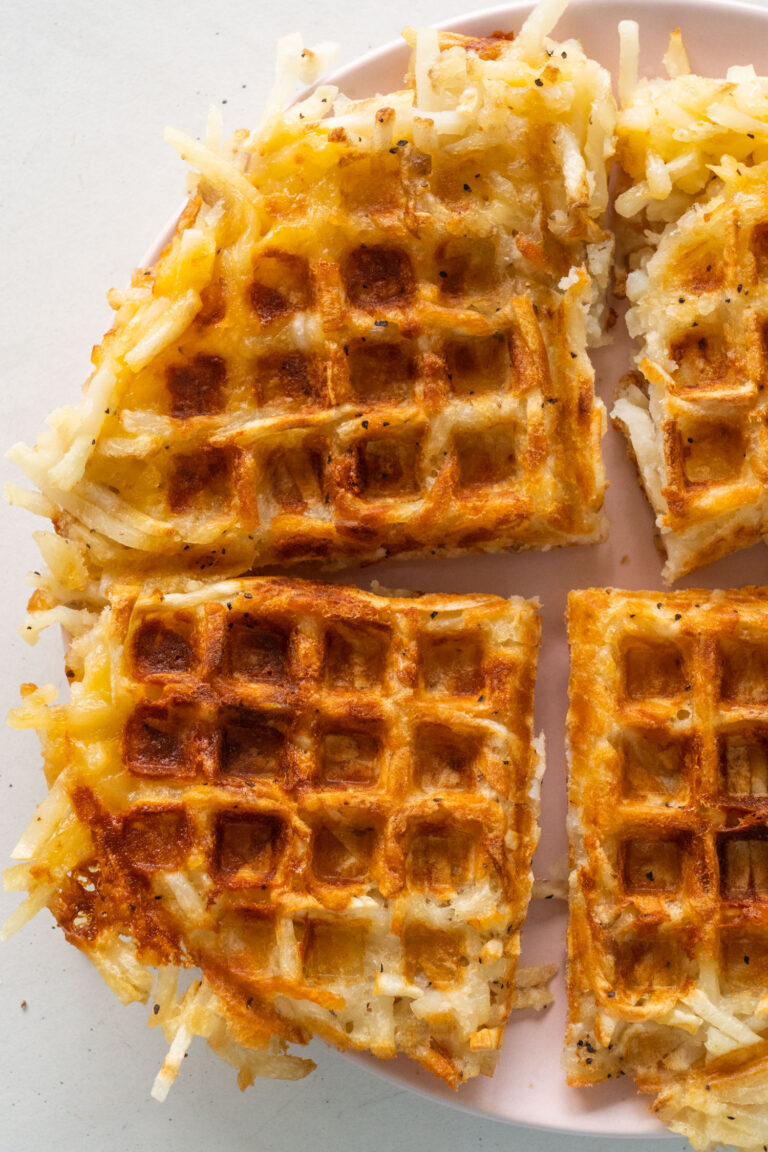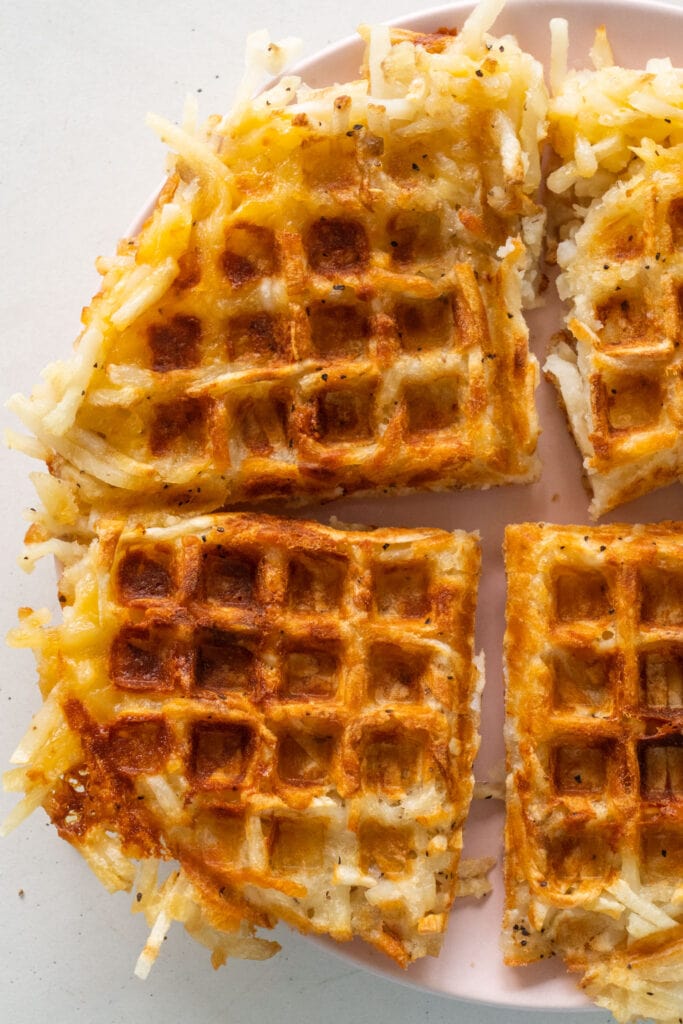 Looking for more fun breakfast recipes?
Pin for later: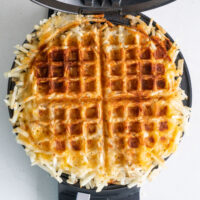 Waffle Iron Hash Browns
Print
This easy kitchen hack will show you how to make Waffle Iron Hash Browns using frozen hash browns, cheese, and a waffle iron.
Prep Time: 5 minutes
Cook Time: 15 minutes
Total Time 20 minutes
Ingredients
1 16 ounce bag frozen hash browns defrosted
3 tablespoons butter melted
1/2 teaspoon salt
1/4 teaspoon pepper
1/2 cup shredded cheddar cheese
Instructions
Spray waffle iron with nonstick spray. Turn on and preheat.

In a large bowl add hash browns and squeeze out any additional liquid that is in them. Discard additional liquid.

Add butter, salt and pepper to the bowl and stir to fully coat the hash browns.

Open the waffle iron and add 1/2 cup hash brown mixture into each of the 4 sections. Sprinkle 2 tablespoons of shredded cheese onto each section, and then add remaining hash browns on top.

Close lid and cook for 13-16 minutes, or until the top is crispy. Serve and enjoy!