Delicious Vegetarian Chili made in 45 minutes that even meat eaters will love!
Vegetarian Chili
Last weekend we had some pretty amazing chili for lunch while we were out of town. The chili was filling, tasty with great spices and had that very important texture that ground meat gives in dishes. The thing is though, this was vegetarian chili.
After I exclaimed for the 20th time how great this chili was (everyone agreed – vegetarians and meat eaters) I then made it my goal to make similar style homemade chili in my kitchen. This 45 Minute Vegetarian Chili recipe was born!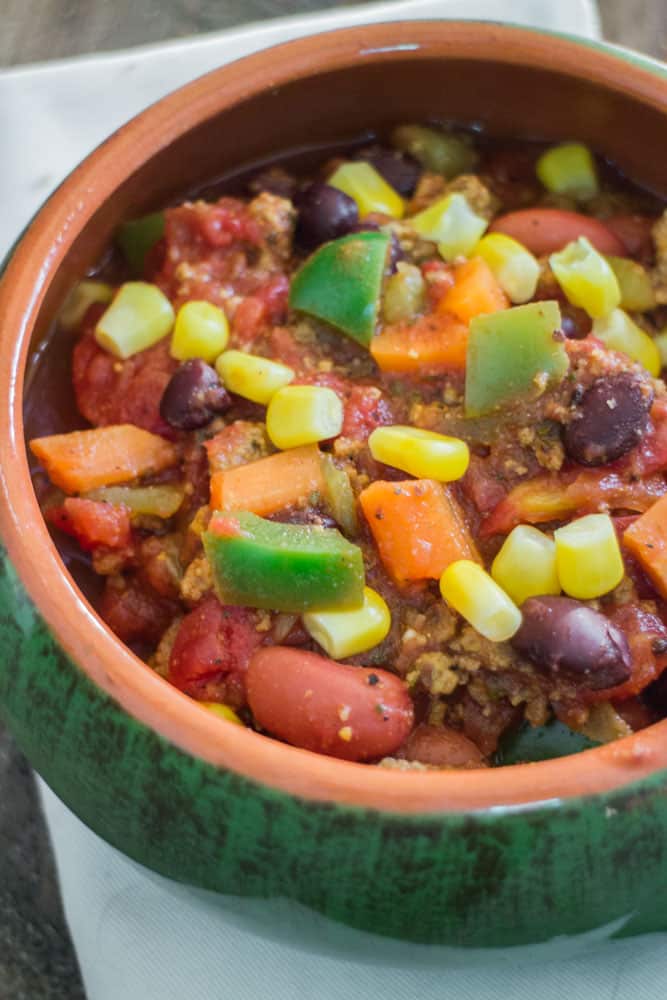 Vegetarian Chili Recipe
The chili is made up vegetables: tomatoes, bell pepper, corn, carrot, jalapeno and diced green chilies. Now comes the beans: black and kidney beans. There's plenty of spices: garlic, bay leaf, cumin, oregano, chili powder salt and pepper. We're going to give it that texture that ground meat gives it with meatless crumbles.
If you're a meat eater and you're thinking "yuck" you better check yourself because these are good (I promise!). It has the same texture consistency of meat while being tasty. I recommend using Neat or Morningstar brands for crumbles. Matthew (husband) is a meat and potatoes guy. His dream meal is a pot roast with mashed potatoes and he even says how good this recipe is, so you can trust me (and him).
For this recipe I used Neat Original crumbles. All you do is add water and two eggs to the mix and then brown just like ground beef. As soon as it's sizzling in your frying pan you'll become a fan. And look – it's not even scary looking! (This is great to use in pasta sauces too!).

After you gather all your ingredients, then you'll start adding them into the pot and within 45 minutes you'll have a big bowl of delicious Chili to serve to your family! This was a dinner table hit with the bowl being licked clean – there was no leftovers!

I suggest serving it alongside some warm buttered cornbread – yum! And add some shredded cheese on top if you'd like because shredded cheese makes everything better. 🙂

Once you make this recipe you might never add ground meat to your chili again – it's that good!

Hope you enjoy! Have a great dinner.

Looking for more vegetarian recipes? Try my Vegetarian Collard Greens or Dairy Free Mashed Potatoes!
45 Minute Vegetarian Chili
Print
45 Minute Vegetarian Chili Recipe. This is so easy to make and filled with healthy vegetables!
Ingredients
1 tablespoon olive oil
1 green bell pepper - chopped
1 large carrot - chopped
1 jalapeno - chopped and deseeded
1 4 oz can of diced green chilies
1 clove garlic - minced
1 bay leaf
1 tablespoon cumin
1 tablespoon dried oregano
1 teaspoon salt
1 teaspoon pepper
12 oz vegetarian meat crumbles cooked
2 tablespoons chili powder
2 28 oz cans of diced tomatoes
1 15 oz can of black beans
1 15 oz can of kidney beans
1 15 oz can of corn
shredded cheddar cheese
Instructions
Add olive oil to large pot over medium high heat.

Add green pepper, carrot, jalapeno, green chilies and garlic. Mix until garlic is fragrant, about 5 minutes.

Add bay leaf, cumin, oregano, salt, pepper and crumbles. Mix.

Add chili powder, tomatoes, black beans and kidney beans. Bring to a boil.

Reduce heat to low and simmer for 45 minutes.

With 5 minutes left, add corn to pot and stir.

Serve in bowls and sprinkle with cheddar cheese on top.