EASY SLOW COOKER Kielbasa and Cabbage recipe! Throw Beef Kielbasa, Cabbage, Onions and Potatoes in a crockpot and dinner will be ready in 6 hours! I serve this healthy dish over egg noodles with rolls – my family LOVES this comfort food meal!
Kielbasa and Cabbage
I am back with another slow cooker meal! Even though it's not even Fall yet, I've been loving my slow cooker this Summer! It's been a life safer to have a delicious dinner ready when time management isn't on my side!
With a beautiful cabbage picked from the garden, I was contemplating what I should do with it. Recently we've been loving Slow Cooker Green Beans, so I decided to throw the cabbage to in the slow cooker too! Boom – this Slow Cooker Kielbasa and Cabbage dish was created!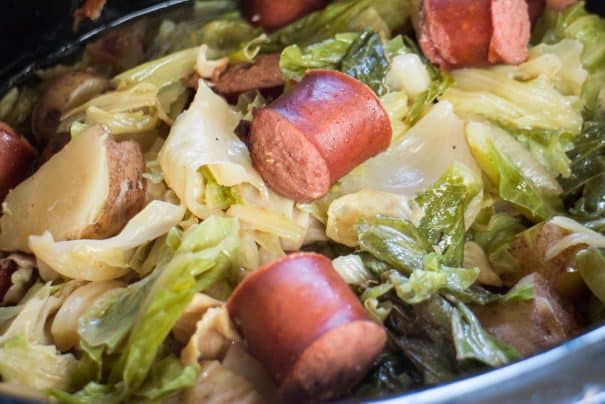 Crockpot Cabbage
Besides cabbage, throw in potatoes and onions to your slow cooker, alongside some beef kielbasa. I've made this kielbasa and cabbage slow cooker recipe a few times in the last month and we love adding carrots in it too! The ingredients are incredibly simple, you might already have everything in your kitchen!