50 cheap chicken recipes for $10 or less that feeds at least 4 people. This is a great dinner list for families on a budget! You'll find baked, grilled, slow cooker, simple and quick chicken recipes here – plus much more! Bookmark this page.
Cheap Chicken Recipe Ideas
Are you looking for a cheap chicken recipe? Then I'm here to help! This post has 50 recipe ideas for your family that all costs less than $10 for a family of 4 (sometimes this recipes even feed more! leftovers!).
I broke the sections up into chicken type for easy searching.
Chicken Breast Recipes
Chicken Thigh Recipes
Chicken Drumstick Recipes
Ground Chicken Recipes
Whole and Rotisserie Chicken Recipes
Tips for Chicken Meals on a Budget
Buying family packs of meat is always significantly cheaper than buying individual, smaller packs. Buy a family pack and then freeze the chicken in individual freezer bags. Even better use silicone freezer bags so you can reuse them!
Rotisserie chicken becomes cheaper later in the day. The store wants to get rid of them, so often before they close they will dramatically reduce the price. If you're able to pop by the store later in the day, you could possibly pick one up at a discounted price. You could also pick 2 up, and freeze the other (remove the meat first).
Buy a whole chicken and cut it up into pieces yourself. This will save you a few dollars. Whole chicken per pound prices are usually much less than for example, chicken breast per pound prices.
Always look at the supermarket sales ads. If your recipe calls for breasts, but thighs are on sale that week, then if possible, substitute the meat. Most likely it won't make a difference for the recipe.
You don't need to get fancy to make a good chicken dinner. Some baked chicken, along with rice (cheap) and veggies (cheap – buy what's on sale, steer clear from out of season produce) makes a delicious meal!
Chicken Breast Recipes
Easy to make recipe for Homemade Shredded Chicken Dumpling Soup with potatoes, carrots and celery. This creamy soup is a healthy comfort dinner food! You can also make this with homemade egg noodles.
Chinese Chicken and Broccoli. Homemade, healthy and easy recipe that tastes just like your favorite Chinese takeout restaurant! Your entire family is going to love how delicious this is, and you're going to love how simple it is to make!
Creamy Chicken and Gravy Sandwiches are easy to make and taste delicious. Chicken is cooked in a homemade gravy, ready in 30 minutes.
Instant Pot Chicken Curry is a comforting dish that is full of flavor. It is easy to make from pantry staples.

This delicious and simple Salsa Verde Chicken Bake only requires a few pantry ingredients, 5 minutes of prep, and one pan! Perfect for busy weeknights.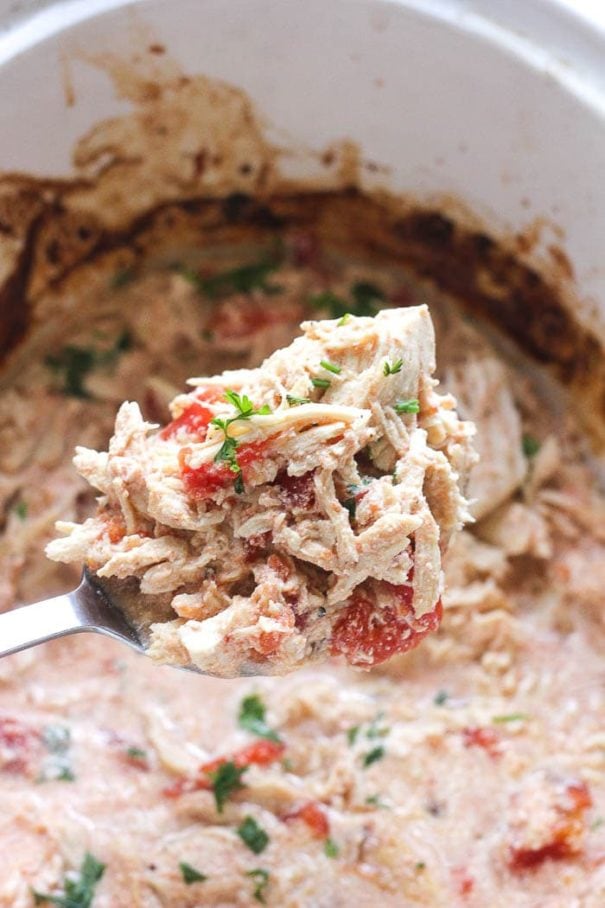 Quick 30 minute Chicken, Asparagus and Mushroom Skillet recipe, all made in one pan. Chicken and asparagus are cooked in a tasty butter sauce.
Yummy low carb keto Mexican chicken recipe for your slow cooker. This easy crock pot recipe will be a perfect dump and start dinner for the whole family to enjoy!

These insanely delicious, ridiculously EASY Carolina-Style Instant Pot Shredded BBQ Chicken Sandwiches are inspired by epic family beach vacations along the Eastern Carolina shore.

If you need to dress up your typical week night meal, try this Instant Pot Salsa Chicken recipe. It's delicious, simple to make and is a one pot meal through the Instant Pot.

Making Chicken Cacciatore in the slow cooker will help you get dinner on the table in a snap. Why should you spend hours cooking when you can easily make a delicious Italian Dinner in the Crockpot.

This chicken & cauliflower sheet pan dinner is a deliciously easy all-in-one meal! Serve with naan as I did here, or simply enjoy it on its own.

This Skillet Chicken Rotini is easy to make and only uses a few ingredients. It's the perfect one-pot recipe for busy nights.

This is the Best Chicken Quesadilla Recipe ever! It's a unique, quick, easy, delicious dinner recipe that is ready in under 30 minutes and loaded with sneaky veggies!

Easy chicken confetti casserole is a retro recipe that will help you utilize ingredients you probably already have in your pantry! Plus, it's totally delicious and versatile.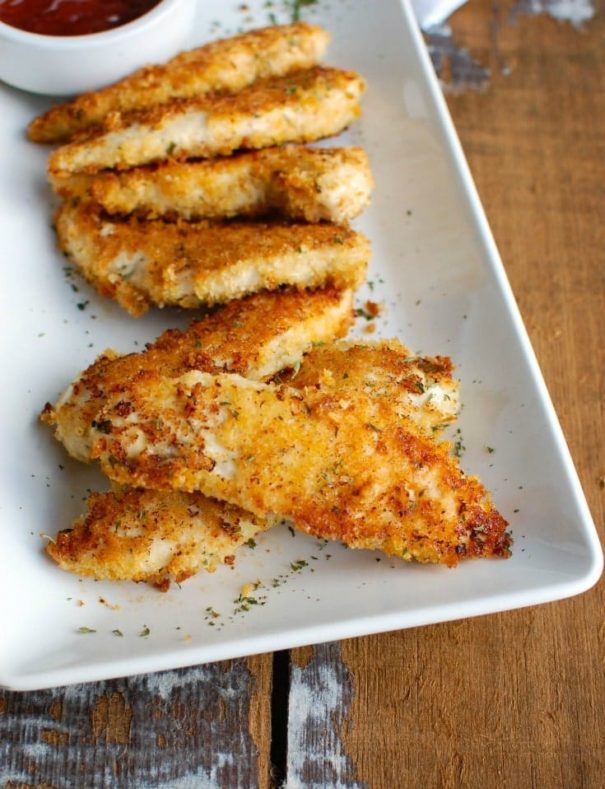 Healthy Chicken Fingers are oven baked to create healthier chicken tenders. The panko crust is crunchy, but you can sub in regular breadcrumbs, and has good flavor from the spices. These are a kid and adult favorite!

These Chicken Fajitas are so easy to make and taste incredible! This recipe uses simple healthy ingredients and can be made in the Instant Pot or slow cooker.

This delicious and healthy Dairy-Free & Gluten-Free Chicken Broccoli Rice Casserole is the perfect main dish for busy weeknights. Prep it ahead of time and then bake it when you're ready to eat

This 10-minute easy turmeric chicken is so simple, but packed with so much flavor! It's perfect on a bed of greens for a hearty lunch time salad, or as the main attraction at dinner time with your favorite side dishes.

This easy orange chicken can easily be doubled or tripled for a busy week. Make this takeout favorite at home and you'll never order it out again!

Instant Pot curried chicken and brown rice is a filling, low fat meal made in one pot! The spices used in this meal are mild, savory and sweet…giving you the perfect balance of flavors!

Heat up the grill to make these cilantro-lime chicken tacos with grilled bananas! That's right, bananas. Trust me on this one.

These savory chicken crepes are a great way to use up left-over chicken, ham or other meat in the fridge. Perfect recipe for a snack, appetizer or meal!

This low carb, Keto friendly everything chicken recipe is as easy as it gets! Perfect to serve with a salad or veggies for lunch or dinner!

This Slow Cooker Creamy Chicken Chili is so easy to make: toss together, slow cook for 5-6 hours, and you're set! Plus, this recipe is tummy friendly with no beans, dairy, or gluten.

This crispy air fryer Keto chicken parmesan is easily made in just 30 minutes! Delicious enough to eat on it's own or served over zoodles!

If you are looking for an easy Chicken Parmesan recipe, go for this Chicken Parmesan Casserole! This delicious dinner is a crowd pleaser and sure to become a family favorite!

Instant Pot Creamy Chicken Vegetable Pasta almost makes itself! This creamy, filling pasta dish will be everyone's new fave comfort food.

Chicken Thigh Recipes
BBQ Slow Cooker Chicken Thighs recipe that my family loves! Throw these boneless chicken thighs in the crockpot for 2 and a half hours and then serve over rice for a easy complete meal! Keto and low carb recipe.

Mediterranean Instant Pot Chicken and Potatoes is a perfect family meal. This is a one-pot dish that is affordable, quick and easy to make, yet full of amazing Mediterranean flavors.

This creamy paprika chicken is easy to make using the Instant Pot and is made with simple ingredients. Serve it with your favorite side and you've got an awesome dinner!

Chicken Thighs in Creamy Tomato Spinach Sauce is a ridiculously fast and delicious Trim Healthy Mama S meal that tastes like something you'd order at a restaurant! It's gluten-free, high in protein, and low in carbs.

This easy recipe for Sticky Maple Lime & Ginger Chicken makes for a delicious low carb weeknight dinner! The marinade bursts with the flavour of lime and ginger and turns into a sticky glaze that coats the tender chicken thighs!

5-Ingredient, One Pan Keto Ranch Chicken Thighs is an easy and super yummy weeknight meal on a budget made in less than 30 minutes. Dinner has never been so good!

Make Slow Cooker Chicken Adobo for dinner whenever your grocery store has chicken thighs on sale. This chicken adobo recipe is a take on a traditional dish from the Philippines.

This Sheet Pan Lemon Rosemary Chicken Thigh Dinner is a perfect quick meal! Made with only 10 simple ingredients, it's absolutely delicious, paleo + whole30.

Chicken Drumstick Recipes
This Greek chicken recipe relies on the classic Greek combination of lemon, garlic, oregano, and olive oil. As it cooks, it basically forms its own sauce that's so yummy you'll want to drink it straight.

Saucy Baked Chicken Legs is the perfect weeknight family-friendly recipe that's quick to make and is a yummy chicken drumstick marinade.

Oven baked chicken drumsticks is a cozy and hearty comfort food your whole family will love. Baked on a sheetpan, this recipe has very little prep! Serve the leftovers with a little BBQ sauce for a great cook once, eat twice kind of dinner.

These Asian Chicken Drumsticks are baked in the oven in their own marinated. Which produces a tender and juicy chicken that is served best over rice.

Ground Chicken Recipes
Dinner is served! This easy and delicious ground chicken chili is one of our family's favorite meals, and the best part: it all comes together in an Instant Pot or crockpot. Serve this made ahead chili with yummy toppings and a side of cornbread and you've got yourself an incredible, hearty, healthy, and simple dinner.

These flavor-packed orange ground chicken bowls are perfect for busy weeknights. Super fast and easy, and at less than $2 per serving, you're looking at the trifecta: fast, healthy, and affordable!

Whole and Rotisserie Chicken Recipes
4 Hour Slow Cooker Meal for a 6 Pound Whole Chicken! This easy recipe makes the entire meal in the crock pot, including potatoes and other vegetables! You'll love how simple it is to cook a HEALTHY Rotisserie Chicken meal!
Looking for a main dish casserole the whole family will love? This Creamy Chicken Rice Casserole's got you covered! With its creamy deliciousness and how easy it is to make, it's a hit with both kids and grown-ups alike. Take advantage of a store-made rotisserie chicken to make prep even that much easier.
Oven Roasted Whole Chicken and Cabbage meal, ready in 1 hour. This simple recipe shows you how to make a juicy chicken on the inside and crispy skin on the outside.
This Quick and Easy Chicken Noodle Soup (with rotisserie chicken!) is budget-friendly with simple ingredients – plus it has plenty of shortcuts and make-ahead options, and it's freezable, too! So hearty and comforting – just what we all need on a cold day … or when the sniffles unexpectedly strike!

Super easy Rotisserie Chicken Tuscan Mac and Cheese recipe for feeding a family something beyond the basics on a budget.

Need to use up leftover rotisserie or cooked chicken? Fix this thick & creamy skillet chicken pot pie on the stovetop! It's packed with hearty veggies and made with simple pantry ingredients. Grab some white wine (or sub extra broth instead) and you're good to go.

Cook a whole chicken in the Instant Pot to get rotisserie-style juicy and tender chicken that you're going to love! Easy, quick and delicious!

Mediterranean whole roasted chicken with fresh herbs. Includes mushrooms and best served with cooked rice.

This is the best comfort food casserole – my friend made this for me at Bible Study and I kept requesting it every week – and then I finally begged for the recipe. It's so easy!!

Cheesy Crustless Pot Pie. Potatoes inside and crispy cheese on top ensure you won't miss the crust! It's also a quick weeknight dinner, perfect for using up leftover chicken.

More Budget Recipes You Might Like:
Cheap Dinner Recipes for $5 or Less
25 Cheap Meals for Large Families Under $10