A collection of over 30 Best Green Bean Recipes using FRESH green beans! Bookmark this page for your garden green beans! Dishes include casseroles, salads, crockpot, Instant Pot, roasted, Southern and Chinese recipes!
The Best Green Bean Recipes
We pick green beans by the basket in the garden. It always begins with a couple green beans, and then a handful, and suddenly you're picking 5 pounds of beans and wondering "What should I make?".
Tip: If you have too many green beans, don't worry, you can freeze green beans too!
I made this collection of my favorite green bean recipes using fresh green beans! You'll find everything from roasted to casseroles to snacks and everything in between! Enjoy all these green bean recipes!
Fresh Green Bean Recipes
Enjoy this large collection of green bean recipes using fresh green beans.
"15 minute succotash recipe using corn, green beans and cherry tomatoes. This is an easy to make fresh green bean salad side dish!" Succotash with Green Beans
"Easy Sausage, Green Beans, Potatoes and Apple Sheet Pan Meal, ready in 30 minutes. Throw everything on one pan, cook it and a healthy dinner is ready! " Sheet Pan Sausage and Green Beans
"These baked cheesy green beans are delicious and easy to make. Made with fresh green beans, cabbage and cheese, this creamy dish is sure to be a hit with the whole family! Perfect for a chicken side dish, or on the holiday table." Cheesy Green Beans Recipe
"This comforting Green Bean Broccoli Casserole (With Frozen Vegetables) comes together quickly with the help of frozen vegetables, canned mushroom soup, cheddar cheese, and crunchy Ritz crackers. It's a delicious and creamy side dish you can enjoy for the holidays or weeknight dinners. "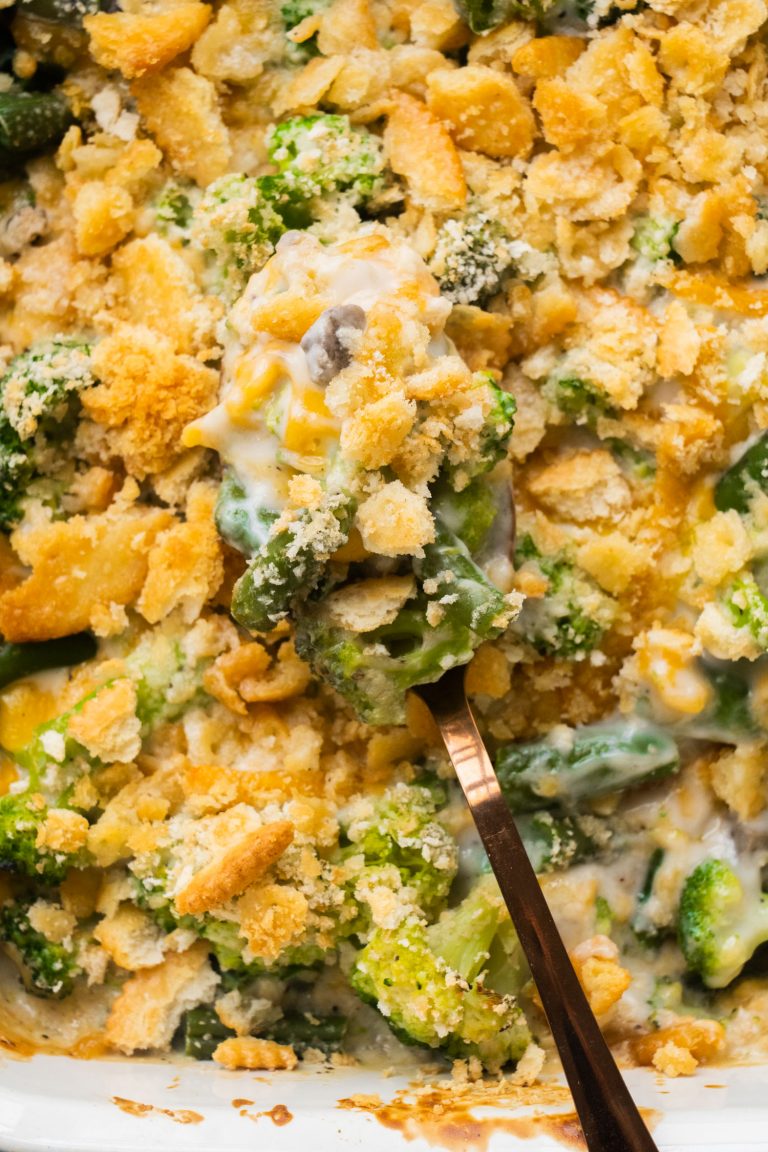 "Beef green bean stir fry is inspired recipe from my mom. Quick easy and simple recipe from ground beef and green bean. The ingredients are easy to find. Only cook for 15 minutes then you can serve for your family." Recipe from Much Butter.
This simple and very flavorful vegetarian recipe for these Italian Style Stewed Tomato Green Beans will provide you with the perfect side dish throughout the year." Recipe from She Loves Biscotti.
"Chinese Green Beans With Ham recipe! These taste just like the Chinese buffet! A soy sauce garlic sauce is added on top of the beans in this easy to make dish that only takes 15 minutes to make!" Chinese Green Beans Recipe
"Mashed Cauliflower Green Bean Casserole with just 6 ingredients and made in 3 easy steps. Treat yourself to the best delicious vegan comfort food ever." Recipe from Contentedness Cooking.
"A delicious, vegan chilli, loved by all the family. Absolutely packed full of vegetables to give you (almost) all of your 5-a-day in one go". Recipe from Charlotte's Lively Kitchen.
"Asian flavors are simple, clean-eating and delicious. Our Garlicky Sesame Stir Fried Green Beans has just a handful of ingredients, is super easy to make and you probably have everything in your pantry to make it right now." Recipe from Healthy World Cuisine.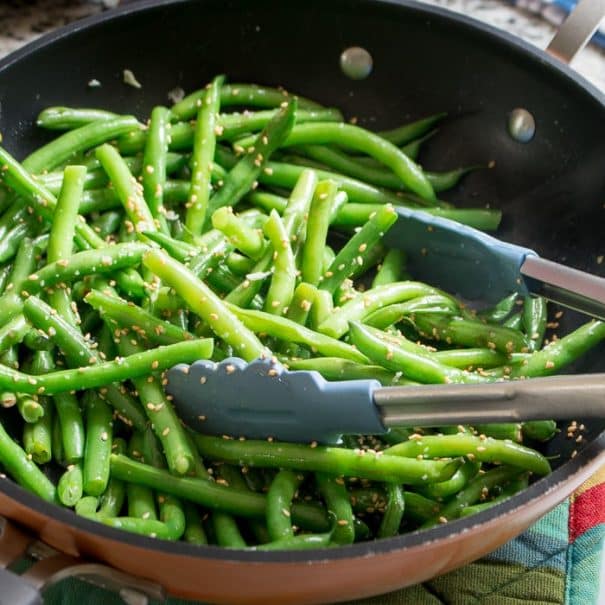 "Slow Cooker Green Beans Recipe with Tomatoes! This easy recipe cooks fresh green beans, tomatoes, potatoes and bacon in a crock pot for 4 hours. This is a healthy side dish perfect for pairing with a meat or on your holiday table." Slow Cooker Green Beans Recipe.
"Green Beans and Mushrooms with Shallots, a delicious and healthy low carb side dish that's ready in about 20 minutes! " Recipe from Everyday Eileen.
"Roasted Green Beans are so easy to prepare and are a great addition to any meal! Simply toss fresh green beans in olive oil, sprinkle with sea salt and freshly cracked pepper, and roast! Top it all off with an easy mushroom garlic butter sauce for a touch of gourmet!" Recipe from The Cozy Cook.
Simple Green Bean & Tomato salad – using fresh ingredients! Recipe from Simply Stacie.
"Easy to make healthy Minestrone Soup recipe made in the slow cooker. This homemade vegetable soup, packed with green beans, is made in the crockpot in 6 hours. At the end, add elbow noodles and you have a complete meal that your family will absolutely love!" Slow Cooker Minestrone Soup recipe
"Mix up the weekly side dish routine with these Simple Garlic Parmesan Green Beans. This 10 minute side dish is a great addition to your weekly dinners or a holiday meal." Recipe from A Cedar Spoon.
Beans Curry with Coconut – fresh and straight from the garden! Recipe from My Cooking Journey.
"Roasted Green Beans and Red Bell Pepper with Garlic and Ginger are perfect for Christmas or any holiday where you want a festive side dish." Recipe from Kalyn's Kitchen.
"This easy gluten-free Green Bean Potato Salad with Sun-Dried Tomato Pestomakes an outstanding side dish to take to a summer picnic or potluck because it has no mayo and only 5 ingredients." Recipe from Flavor Mosaic.
"This sheet pan Italian sausage dinner with sweet potato, green beans, and cherry tomatoes is a filling, one-pan, veggie-packed meal that's easy to get on the table. Just a few minutes of prep, and no pile of dishes to deal with afterwards!" Recipe from Nourish and Fete.
"This traditional paella recipe is cooked on the BBQ and is based on what is thought to be the original paella. Valencian paella containing rabbit, chicken, beans and artichokes…" Recipe from Krumpli.
Green Bean Casserole made with green beans, potatoes and and parmesan cheese. Recipe from An Italian in my Kitchen.
"The trick to getting super crispy Oven-Fried Green Beans is toasting the panko.It gives that super crunchy fried taste without all that fat and oil making them a healthier version of the popular appetizer." Recipe from A Kitchen Hoor's Adventures.
Beans, Carrot and Cabbage stir fry. "This is one of the most common stir fry side dish we make for day to day lunch. Most common combination of vegetables, carrot + beans + cabbage. It is also one of the most reliable dish to clean up your fridge stock." Recipe from Curry Trail.
"Instant Pot Green Beans with Potatoes and Bacon is a Southern comfort food from my youth! These delicious pressure cooker green beans with new potatoes, onion, and bacon are perfect for an easy, fast, tasty meal." Recipe from Simply Happy Foodie.
"This Bean Pumpkin Curry is so easy to make and with pumpkin puree in the curry base, it is so hearty and filling with naan or paratha – and it's ready in less than 20 minutes!" Recipe from Savory Spin.
"Here's an easy Spring side dish for healthy green beans! Spring Pesto Green Beans are low in calories have only 5 ingredients and are ready in 10 minutes. " Recipe from Garlic and Zest.
"Pappardelle pasta with green beans, cherry tomatoes and parsley pesto. This simple pasta sauce is ready by the time the pasta is cooked and it couldn't be easier. It's simple, fresh, flavourful and perfect for weeknights!" Recipe from Inside the Rustic Kitchen.
"String Bean Casserole with Candied Bacon is a unique twist on a holiday classic. Easy baked candied bacon added to creamy, tender string bean casserole that can even be prepped ahead." Recipe from Plating Pixels.
"Asian-Inspired Air Fryer Green Beans take about 10 minutes to cook and are full of flavor. And you only need 3 ingredients to make them." Recipe from Veggies Save The Day.
"Are you looking for a fun way to get more veggies into your diet or a healthy snack to take with you on the go? I've got you covered either way with these Crispy Green Bean Chips. They're a healthy version of those so-called "veggie chips" you find in the store." Recipe from Whole New Mom.
"Everything you need in one pan. This Green Bean and Mushroom Braised Chicken is an easy and delicious weeknight dinner." Recipe from Served From Scratch.
"A really super simple Green Bean & Potato Curry that is budget friendly, only has 8 ingredients & needs no fancy-schmancy spices. " Recipe from A Virtual Vegan.
"These sautéed green beans and mushrooms are the perfect way to sneak in more veggies to your mornings. Throw them on a plate with some eggs and / or bacon, and you've got yourself a killer breakfast!" Recipe from Cook It Real Good.
I hope you liked these green bean recipes and found something you'd like to make!