EASY and HEALTHY Chinese Green Beans With Ham recipe! These taste just like the Chinese buffet! A soy sauce garlic sauce is added on top of the beans in this easy to make dish that only takes 15 minutes to make!
Chinese food is one of my favorites but I have to admit that usually after I eat takeout I feel guilty and awful. Over the years I've really been working hard to perfect some Chinese recipes to get them tasting like the restaurant but healthier by making them in my own kitchen. I even have a section of Chinese recipes favorites here, with a little push that the Chicken and Broccoli is a fan favorite on my blog.

Fresh Green Beans Recipe
Right now we have a bunch of green beans growing in the garden. I love rooting around in the bush beans trying to find the beans. I love my Slow Cooker Green Beans recipe, but I wanted to try something new!

With some freshly green beans just picked I knew what was on the menu: Chinese Green Beans, just like from the Chinese buffet! To make this a full all around meal ham is a great addition to Chinese Green Beans. You can used Cubed Ham or Diced Ham, depending on what you like. It's also a perfect recipe for leftover ham.

What else do you need? I love adding green peppers to Chinese meals because they soak up the soy sauce and other sauces so nicely. Whenever I get broccoli and garlic sauce for takeout, they always add green peppers. I love it!

And 15 minutes later, your meal is done. That's faster than calling the Chinese restaurant and waiting for it to be delivered! Not to mention it's so much more healthy!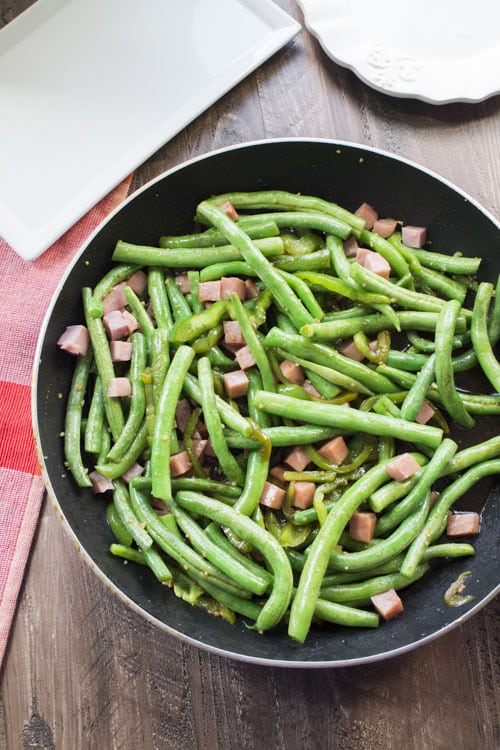 If you have sesame seeds in your pantry, sprinkle some on top. They make a nice little crunch on top.
Enjoy my Chinese Green Beans recipe! Now load up on beans and enjoy your meal!

Pin for later:

Chinese Buffet Green Beans With Ham
Print
These Chinese Buffet Style Green Beans With Ham are delicious! A soy sauce garlic sauce is added on top of the beans in this easy to make healthy recipe that only takes 15 minutes to make!
Ingredients
2 tablespoons vegetable or sesame oil
2 cloves garlic minced
1 pound green beans ends cut off
1 large green pepper chopped
1 cup chopped ham
1 tablespoon sugar
2 tablespoons oyster sauce
2 tablespoons soy sauce
Instructions
Heat oil in a large pan over medium high heat.

Stir in garlic and mix for a minute or until slightly browned.

Add green beans and pepper and stir for 10 minutes.

Add ham, sugar, oyster sauce and soy sauce and heat for a additional 5 minutes.

Remove from heat and serve.
Notes
For vegetarian option, follow the recipe but don't add ham.