Say hello to The Best Fluffy Buttermilk Waffles! Crisp on the outside and fluffy on the inside, these easy waffles are freezer-friendly and ready to eat in minutes.
Hands down, these are The Best Fluffy Buttermilk Waffles ever! Made with a classic buttermilk waffle batter, these golden-brown beauties come out of the waffle iron with crispy edges and an impossibly fluffy and soft inside. Pair them with maple syrup, fresh berries, and whipped cream for an out-of-this-world breakfast or brunch!
Have I mentioned how easy they are to make? Just mix the batter together in one bowl, cook them one at a time in your waffle iron, and you're done! You can even freeze a batch and heat them later on to enjoy fluffy and light waffles whenever you feel a craving coming on.
If you want the best start to your day, pair a fluffy waffle or two with a Strawberry Banana Smoothie, Waffle Iron Hash Browns or Scrambled Eggs with Bacon. Wash it all down with a glass of homemade Apple Pineapple Juice (or my favorite coffee) and get your day going.
What is buttermilk?
Buttermilk is, traditionally, what's leftover after churning butter from cultured cream. Nowadays, it's made by adding cultures into low fat dairy milk. The living cultures in buttermilk are acidic, which react when mixed with a rising agent like baking soda.
This means that when you make waffles with buttermilk instead of regular milk, you end up with an extra fluffy result!
What if I don't have buttermilk?
No problem! There's a popular substitute made from milk and acid to replicate the same properties of storebought buttermilk. To make this alternative, mix 1 tablespoon of white vinegar or lemon juice in 1 cup of milk. After 5-10 minutes, the acid will help curdle the milk and produce the same result as traditional buttermilk.
How to make fluffy buttermilk waffles from scratch
You're going to need a waffle iron to make buttermilk waffles. Otherwise, they're just pancakes! In just a few minutes, you'll have the most perfect, fluffy, and crispy buttermilk waffles:
Mix the dry ingredients together in a bowl. Stir in the buttermilk, melted butter, and eggs until you have a lump free waffle batter.
Once your waffle iron is hot, pour 2/3 cup of batter in the middle.
Close the lid and cook until each waffle is golden brown and crispy.
Waffle toppings
You can keep things simple with a little maple syrup or powdered sugar on top of the waffles, or go all out with a bounty of fun toppings! These topping ideas are sure to win the hearts of any sweet tooth:
Fresh berries
Whipped cream
Fried chicken and syrup
Nut butter
Chocolate chips
Caramel syrup
Nutella or chocolate sauce
Frequently asked questions
How are these different from homestyle waffles? Waffles without buttermilk are still delicious and fluffy but lack a certain 'oumph'. Not only does the buttermilk help the waffles fluff up, but it also provides a nice acidity and balance in each bite.
Can I make them gluten free? Sure! Replace the all purpose flour with a gluten free all purpose flour blend.
Can I make them vegan? Use vegan butter instead of butter, flax eggs instead of eggs, and almond milk mixed with 1 tablespoon of lemon juice or vinegar instead of buttermilk to make vegan buttermilk waffles.
What's the secret to crispy waffles? Don't cook the waffles until you know the iron is hot. Test it by placing some butter on the iron; if the butter sizzles, the iron is ready! To keep them crispy after cooking, place the waffles in a 200ºF oven until you run out of batter.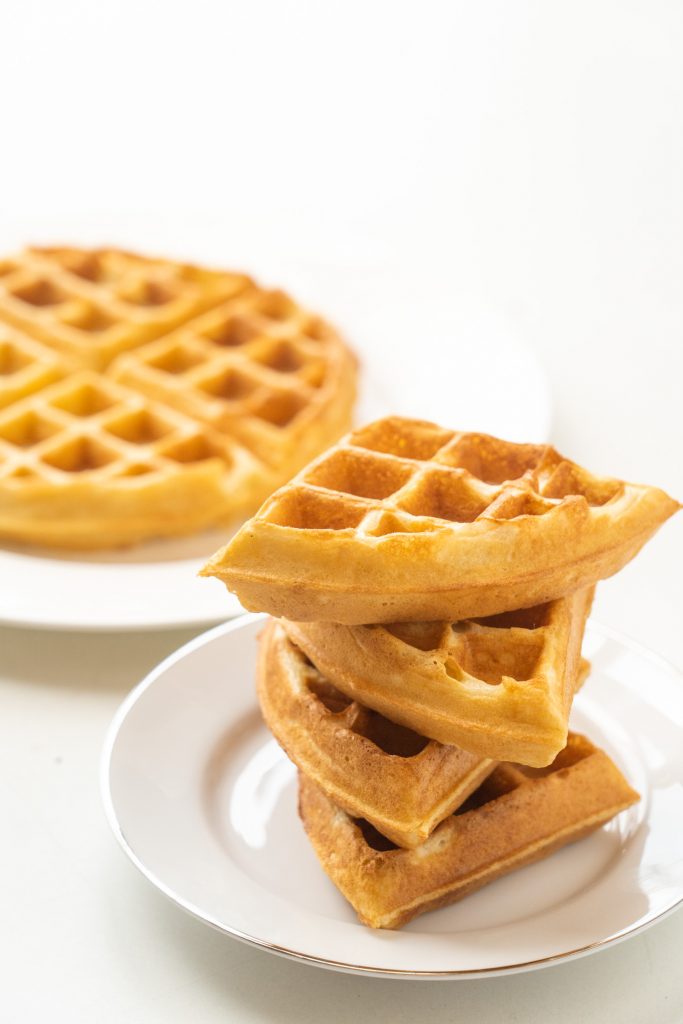 How to freeze waffles
Cook all of the waffles, let them cool, then place them in a freezer-safe bag. I like to put wax paper in between each waffle so they don't freeze together.
How to reheat waffles
To make your leftover waffles crispy, toast them in a toaster or toaster oven for about a minute. This is the best way to retain their crispy edges.
More pancake and waffle recipes to try
Pin for later:
Fluffy Buttermilk Waffles
Print
The Best Fluffy Buttermilk Waffles are made with 7 simple ingredients and come out crisp on the outside and fluffy on the inside every time.
Prep Time: 5 minutes
Cook Time: 5 minutes
Total Time 10 minutes
Ingredients
1 1/2 cups flour
1 1/2 teaspoons baking powder
1/2 teaspoon baking soda
1/2 teaspoon salt
1 1/2 cups buttermilk
1/4 cup butter melted
2 eggs
Instructions
In a large bowl mix together flour, baking powder, baking soda and salt.

Make a well in the middle of the dry ingredients and add in buttermilk, melted butter and eggs. Stir until batter is well mixed, and not lumpy.

Heat up your waffle maker according to the directions. Pour 2/3 – 1 cup of batter into the waffle maker. Close lid and cook 4-5 minutes or until golden brown.

Serve waffles with syrup, butter or fruit preserves on top. Enjoy!