FLUFFY Rainbow Waffles recipe! This is the perfect birthday breakfast in bed!
Is today your birthday? If so, Happy Birthday!
But chances are it probably isn't, but that doesn't mean you don't deserve party time rainbow breakfast waffles to wake up to in the morning, right? YIPPEE! Let the party begin.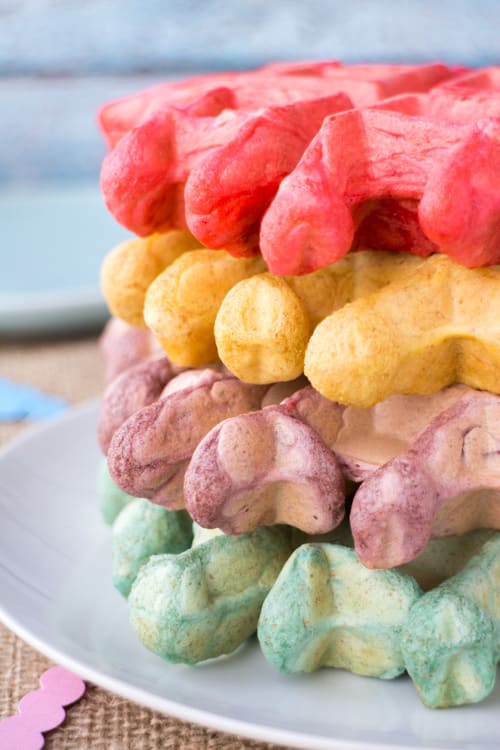 Rainbow Waffles recipe
It's totally up to you on what colors you want for your waffles and if you want to go bold or pastel. I was in the mood for a soft rainbow that morning, so I used just a bit of food coloring of blue, purple, yellow and pink to get the pastel effect.
Make sure not to cross contaminate colors when mixing, always use a new spoon for each!

And once each one is done in the waffle iron, we can let the party begin!
Don't you love how fluffy these waffles got? Don't you love them more when you find out there's no eggs in the recipe?!
These waffles are the perfect birthday breakfast in bed for someone special.
Make it a true party by throwing some candles on top. Don't forget to make a wish!

Pin for later:
Rainbow Waffles
FLUFFY Rainbow Waffles recipe! This is the perfect birthday breakfast in bed!
Ingredients
Dry Ingredients
1 1/2

cup

all purpose flour

you can use whole wheat if you want to

2

teaspoons

baking powder

1

tablespoon

sugar

dash of salt
Wet Ingredients
1 1/4

cup

milk

1

tablespoon

vegetable oil

1/2

teaspoon

vanilla
Color
food coloring of your choice - I use blue

pink, purple and yellow.
Instructions
Mix all dry ingredients together in large bowl.

Create a well in the middle and add wet ingredients (milk, oil, vanilla).

Continue to mix until everything is combined.

Separate the batter into 4 small bowls, dropping 2-3 drops of food coloring in each. Stir each bowl separately getting the color mixed well. Use more drops if you want it to be more dramatic.

Warm up your waffle iron. Once warmed up add 1/2-3/4 cup of batter to the iron and cook each waffle for 5-6 minutes.

Continue until all batter is gone.

Enjoy!