Baked strawberry donuts recipe using fresh strawberries. These homemade donuts are soft, moist, fluffy and covered in cinnamon sugar!
Don't you love strawberry season? It's that magical time when you can grow or buy the most juicy strawberries that taste so delicious!
We're picking juicy strawberries by the basket in the garden right now. Even though most time they don't even make it back to my kitchen (pregnant woman + toddler = EAT ALL THE STRAWEBRRIES), I was able to save a couple as I've been dreaming up these fluffy strawberry donuts!
Fruit and baking go together perfectly. Just like when I make my Blueberry Buckle Cake, Slow Cooker Blueberry Cobbler, Strawberry Pie or Cherry Clafoutis, I think strawberries are the perfect match for donuts. This recipe makes 12 fluffy, moist inside, beautiful strawberry donuts! And since these donuts are only 154 calories a piece, they won't give you too much guilt if you eat one (or 2!) for breakfast or dessert!
Recipe Video
How to Make Strawberry Donuts
First grab your fresh strawberries. Gorgeous aren't they? Clean them off and eat a couple. No, this isn't part of the recipe. They're just so delicious so treat yourself! 🙂 Tip: Here's how to store strawberries.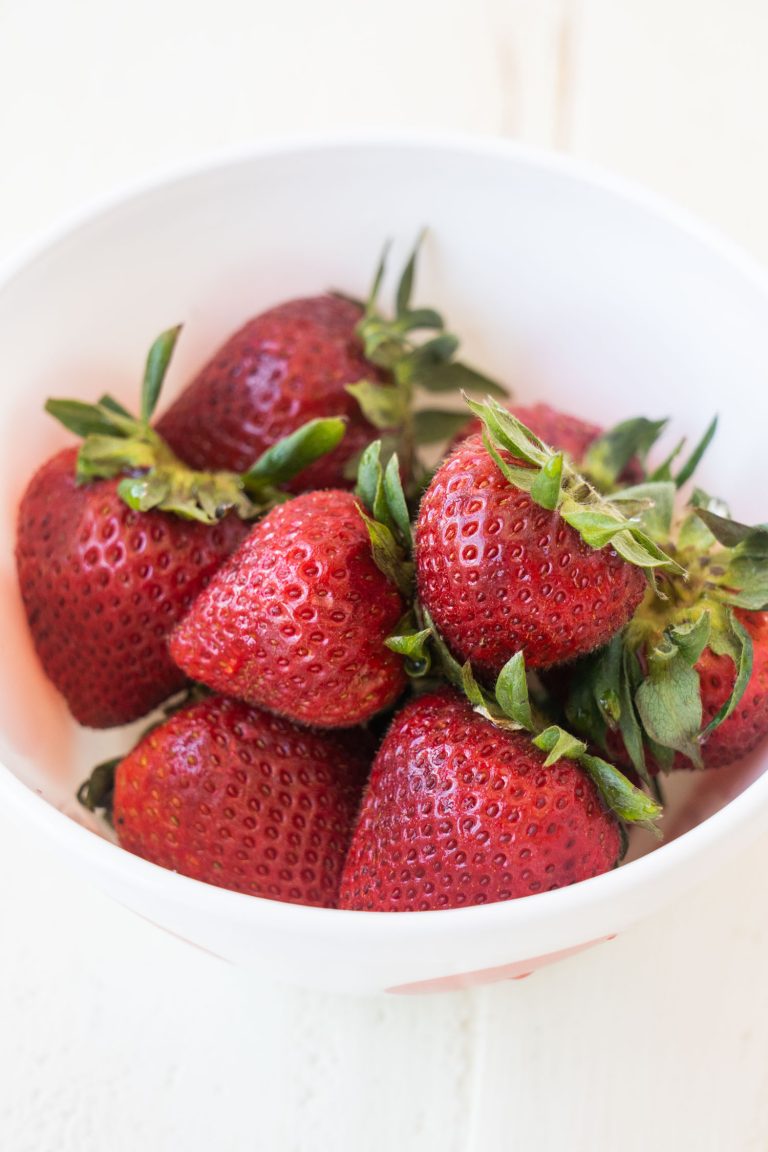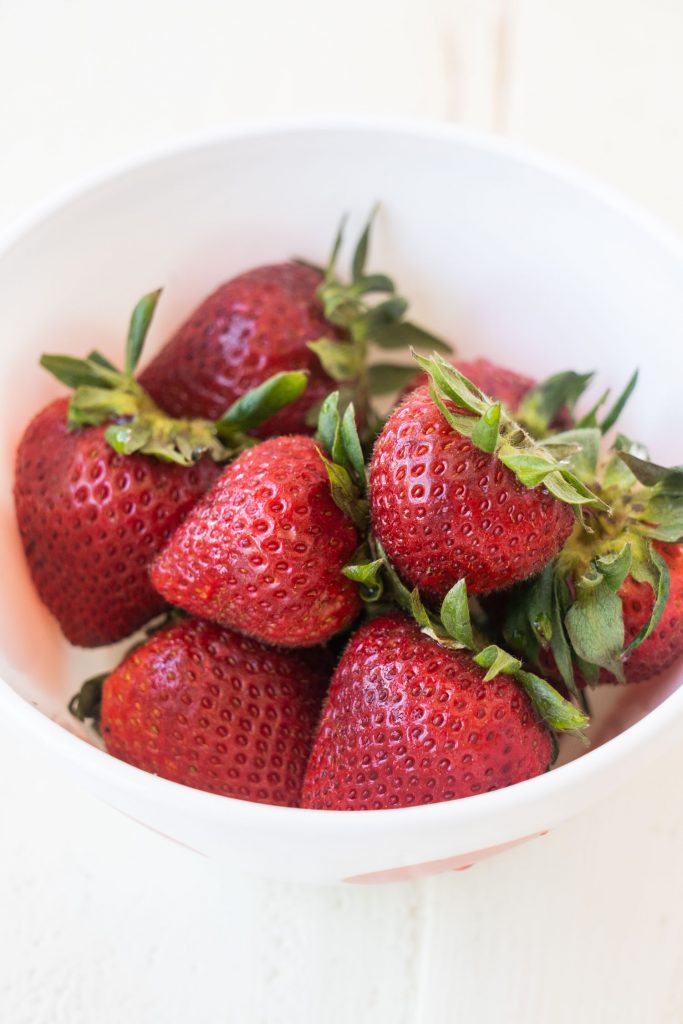 When you're done eating them, dice up 1/2 cup strawberries. You want to chop them up pretty finely so they aren't too big in the donuts. Also I recommend draining them if you find they're too juicy.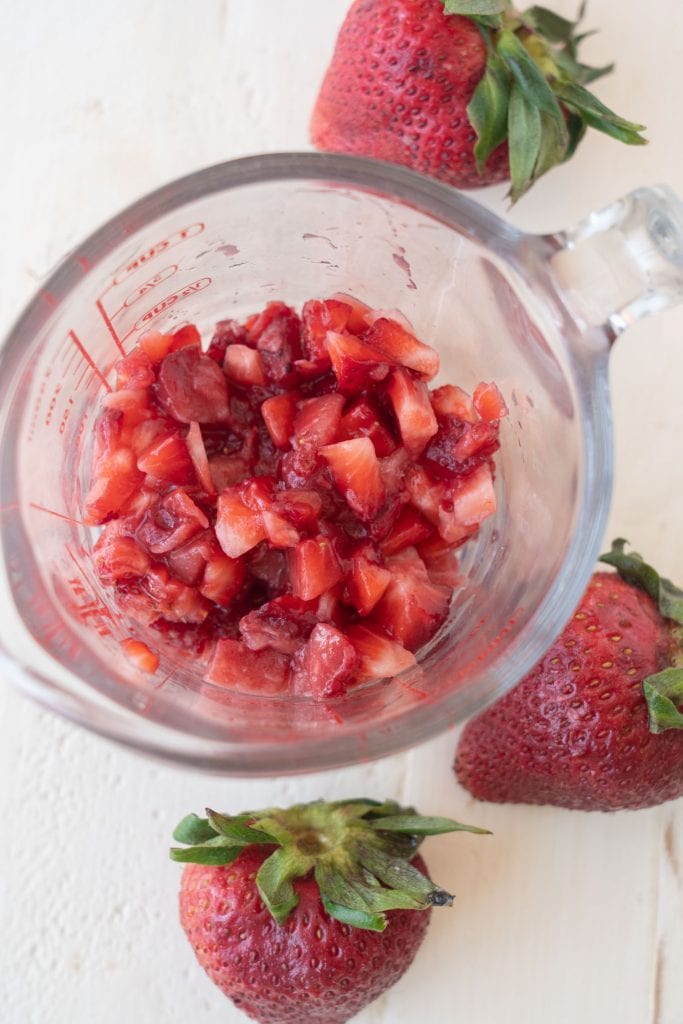 Once the batter is ready (vegetable oil, buttermilk, eggs, sugar, salt, baking powder, vanilla and flour) in a bowl, then add in the diced strawberries. PS. If you don't have buttermilk check out my buttermilk recipe substitute below.
Very carefully with a wooden spoon mix the strawberries into the batter. Don't be too aggressive here or you'll end up with red batter. Instead just do a couple flips with a spoon and the strawberries will be equally distributed.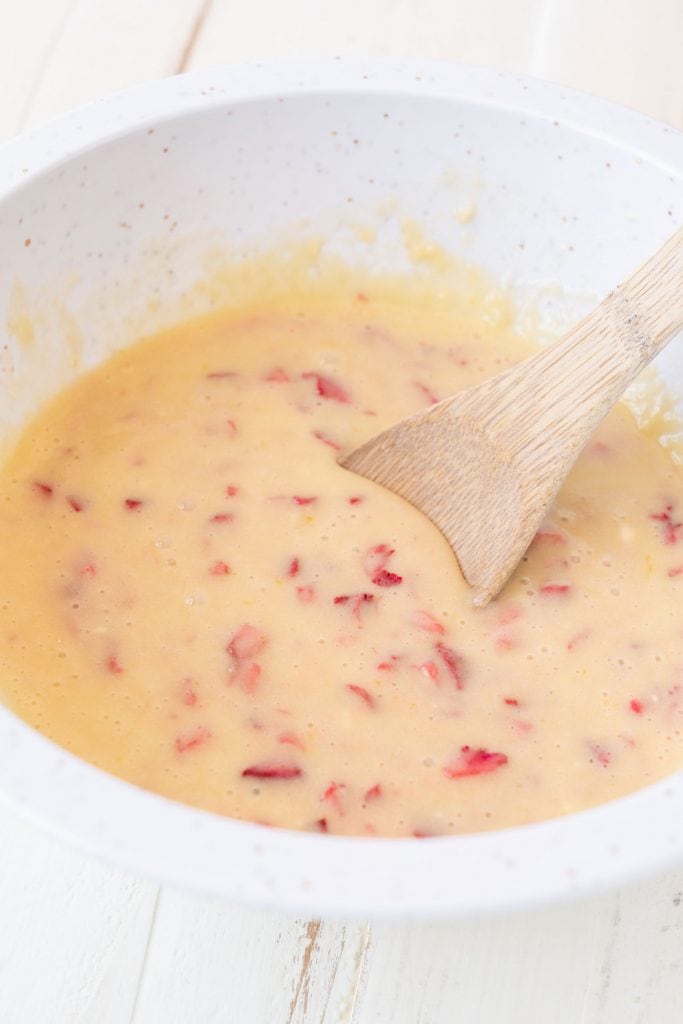 This recipe makes 12 donuts, but if you want to cut it in half you can. Alternatively you could double it and make 24. Either way, fill up your donut pan about 3/4 of the way in each spot.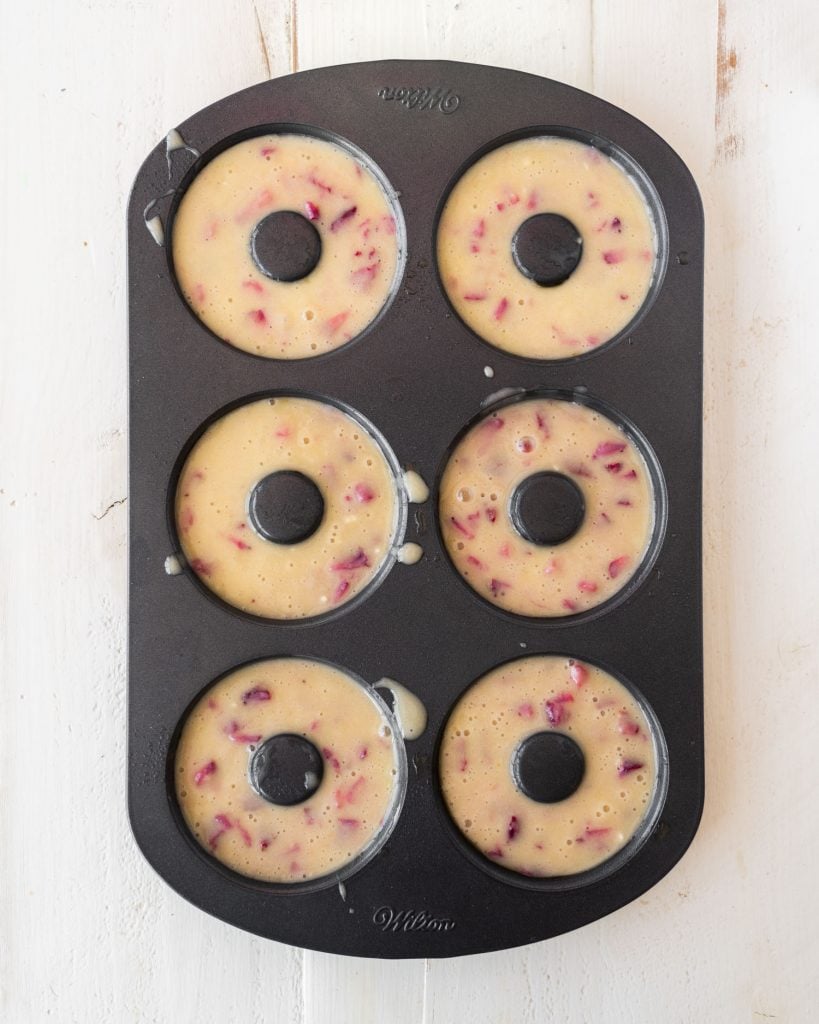 Bake for 17 minutes, and out comes fluffy beautiful donuts!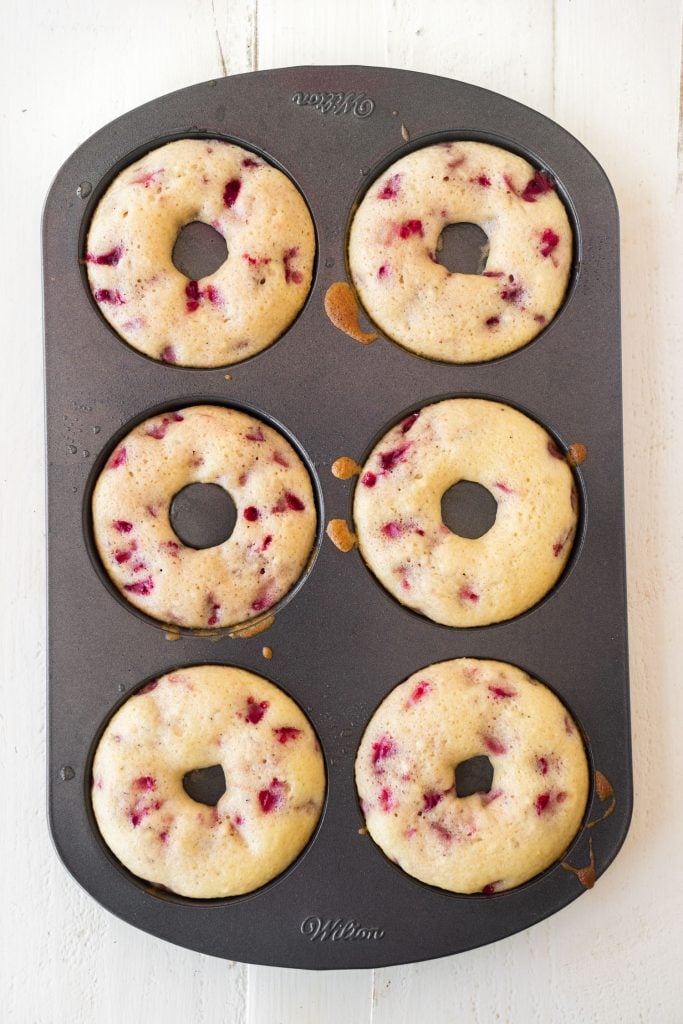 If you want to glaze these and add sprinkles go for it, but honestly I like these strawberry donuts more on the simple side, so I like to cover them with cinnamon sugar. To do this add your cinnamon and sugar into a plastic bag and give it a little shake.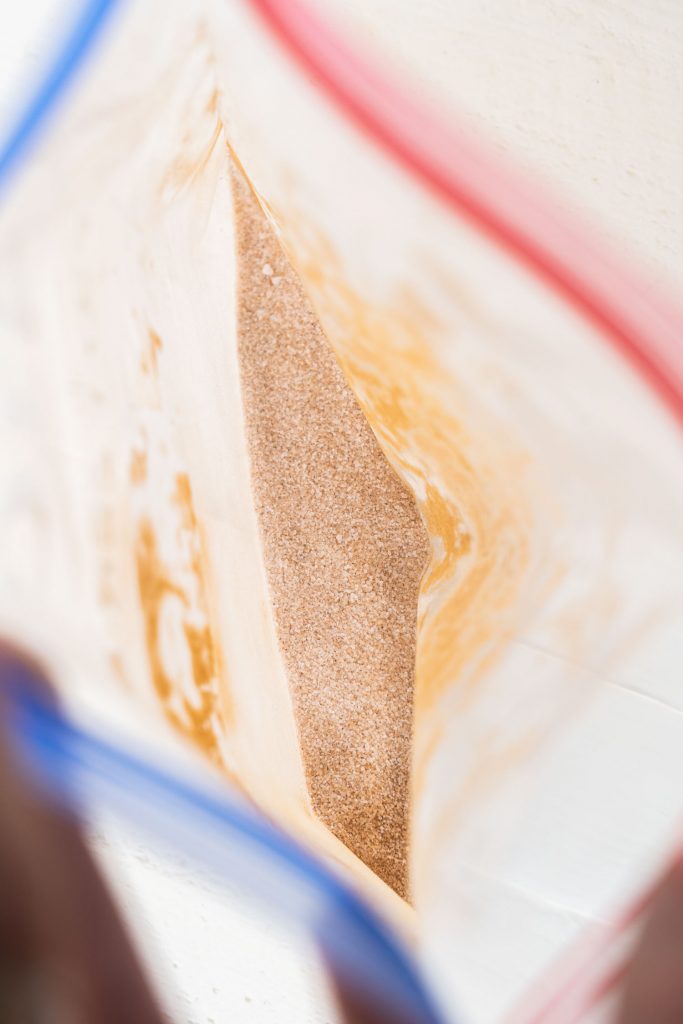 After you let the donuts cool down a little bit, put the donuts in the bag (one at a time) and give them a soft shake to get covered in cinnamon sugar. Now remove and repeat until all the donuts are done.
And just like that you have Baked Strawberry Donuts that are ready to be devoured! You can store these in a bag for 2-3 days, but they're always gone within a day in my kitchen!
Buttermilk Substitute with Lemon Juice
This recipe calls for 1/2 cup buttermilk but honestly I hardly ever have buttermilk in my fridge. I'm a "no waste" kinda girl so I hate having to buy a big container and only use it for 1/2 cup. Instead I make my own homemade buttermilk using lemon juice. Here's how to make it.
You only need lemon juice and milk. I find that whole milk works best! Add 1 1/2 teaspoon lemon juice into a measuring cup. Now fill up with milk until you reach 1/2 cup. Give it a little stir and let sit for 5 minutes.
In those 5 minutes, the ingredients will thicken up and you'll have buttermilk. Wasn't that easy? You'll probably never buy buttermilk from the store again!
I hope you enjoy these strawberry donuts as much as I do!
Other Donut Recipes
Looking for more donut recipes? Of course you are! Try these:
Pin for later: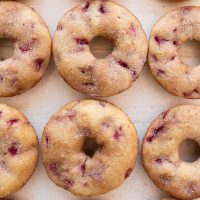 Baked Strawberry Donuts
Print
Baked strawberry donuts recipe using fresh strawberries. These homemade donuts are soft, moist, fluffy and covered in cinnamon sugar!
Prep Time: 15 minutes
Cook Time: 17 minutes
Total Time 32 minutes
Ingredients
1/4 cup vegetable oil
1/2 cup buttermilk
2 eggs
3/4 cup sugar
1/2 teaspoon salt
1 teaspoon baking powder
1/2 teaspoon vanilla
1 cup all-purpose flour
1/2 cup finely chopped strawberries
For the sugar coating
2 tablespoons sugar
1 tablespoon cinnamon
Instructions
Preheat oven to 350 degrees F. Spray donut pan with nonstick spray.

Mix together oil, buttermilk, eggs, sugar, salt, baking powder and vanilla until combined. Stir in flour and continue to mix until smooth.

Add chopped strawberries, and mix gently with a wooden spoon.

Fill the donut pans up about 3/4 of the way.

Place donuts in oven and bake for 17 minutes.

Remove from oven, let cool for 10 minutes, then remove donuts from pan.

Put sugar and cinnamon in a sandwich bag. One at a time, drop your donuts in bag and shake lightly to cover.

Eat right away or store in container. Donuts will stay fresh for 2-3 days.
Notes
If you don't have buttermilk you can substitute 1/2 cup strawberry yogurt, or make homemade buttermilk. To make buttermilk add 1 1/2 teaspoon lemon juice into a measuring cup and then fill to 1/2 mark with milk. Stir and let sit for 5 minutes. Now you have buttermilk!
Nutrition Information:
Calories: 154kcal (8%)