EASY Chocolate Chip Carrot Bread recipe! This homemade loaf uses fresh carrots and takes 1 hour to bake! The bread tastes just like cake – it's so moist! This is one of my BEST carrot recipes! Serve for breakfast, dessert or snack!
There's something magical about a warm piece of homemade carrot bread, isn't there? Maybe it's the love that goes into making it. Maybe it's the smell of cinnamon, nutmeg and clove that fills your kitchen. Maybe it's the feeling of Fall being around the corner. Or maybe it's just the great feeling of knowing there's a bunch of vegetables in this bread and that makes it healthy, right? I love this carrot bread recipe!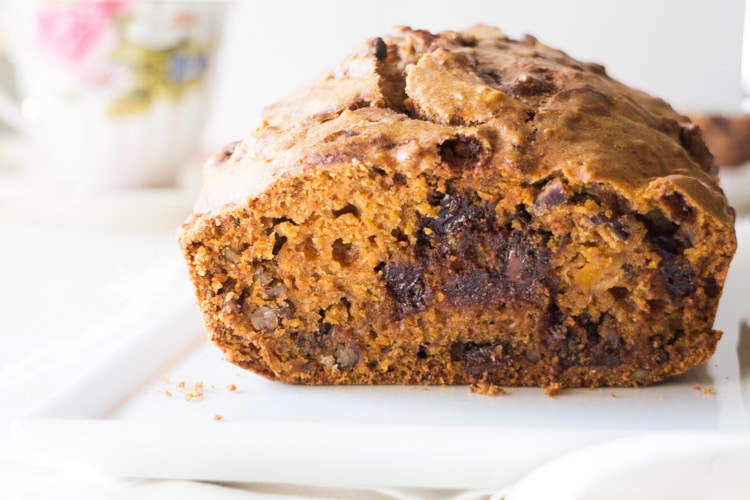 With a whole bunch of carrots just picked from the garden and a whole bed of seeds just planted I'm stocked with carrots. We've been eating some processed junk for dessert lately so I was on the mission to bake something delicious that could use our batch of just picked vegetables. My mind immediately went to the carrots, what could I make?
What's your favorite carrot dessert?
There's carrot cake, carrot cake cupcakes but I wanted something a little more savory without the frosting on top, so carrot bread was what I started daydreaming about.
This bread is delicious and really hits that Autumn dreaming spot. I can imagine this would be a Fall or Winter favorite on those chilly days where you'll curl up with a blanket, book and a hot cup of tea. This can be a delicious breakfast or a dessert and it would be a perfect hit at holiday dinners, potlucks and friendly get togethers.
Let's make this carrot bread recipe!
This Chocolate Chip Carrot Bread uses up a number of carrots, 6 to be exact. What you're going to need to do is turn those carrots into mashed carrots which is really easy to do.
First, gather your beautiful carrots. Here's ours straight from the garden.

Peel them and cut up into pieces.

Put them in boiling water for 15 minutes, drain and then throw in your food processor and you get mashed carrots. If you take a spoonful of this you'll fall in love with mashed carrots.

Time to make Carrot Bread!
Get all your ingredients ready in your bowl. Make sure to throw the chocolate chips and nuts at the end, mixing it with a spoon. Everything is better with chocolate chips, right?

Now bake for 55 minutes and try to sit tight while the bread turns your home into a delicious smelling bakery. And when you take that bread out of the oven… Goodness golly molly, look at this beauty.

I just love the way the way the bread naturally rises and creates it's craters of chocolate chips.

Did I mention this would be the perfect treat for a tea party with your friends or daughters too? What a sneaky way to get those carrots in!

And when you cut that first slice, marvel at the beauty of the inside of this bread.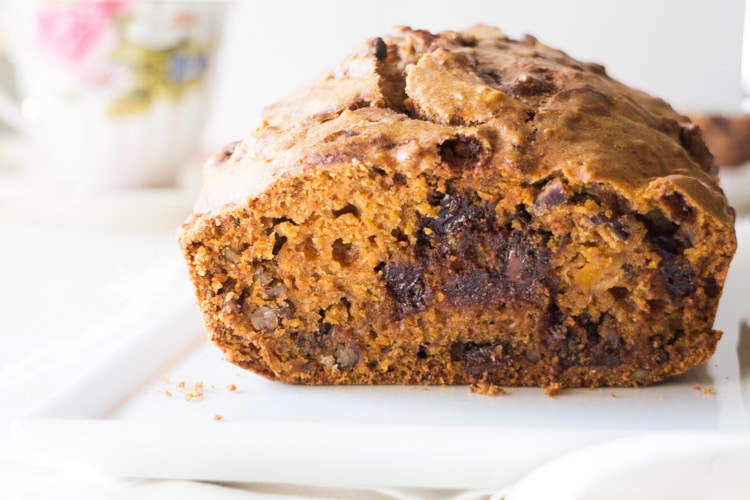 Now cut yourself a nice warm slice, throw a little powdered sugar on top and relax. Enjoy this Chocolate Chip Carrot Bread recipe!

Need more Carrot Recipes?
Pin for later:

CHOCOLATE CHIP Carrot Bread
Print
EASY CHOCOLATE CHIP Carrot Bread recipe! This homemade loaf uses fresh carrots and takes 1 hour to bake! The bread tastes just like cake - it's so moist! This is one of my BEST carrot recipes! Serve for breakfast, dessert or snack!
Ingredients
1 1/2 cups flour
1 cup sugar
1 teaspoon baking soda
1 1/2 teaspoon cinnamon
1/2 teaspoon nutmeg
1/2 teaspoon cloves
1/2 teaspoon salt
2 eggs
1/2 cup vegetable oil
1 cup mashed carrots equals about 6 carrots
1/2 cup chocolate chips
1/2 cup chopped pecans
Instructions
Put a pot of water on stove and bring to a boil. Peel and cut up your carrots. Put in boiling water and boil for 15 minutes. Drain the carrots and put in food processor to turn them into mashed carrots.

In bowl stir together flour, sugar, baking soda, cinnamon, nutmeg, cloves and salt.

In another bowl beat the eggs, oil and carrots together.

Add the flour mixture into the carrots mixture and with using a hand mixer, mix until combined.

Add in chocolate chips and nuts and stir with spoon to evenly combine.

Spray a 9x5 inch loaf pan with nonstick spray. Pour bread mixture into pan.

Bake at 350 degrees for 55 minutes.

Cool for about 10 minute sand then serve warm.
Notes
Cover with aluminum foil or place in airtight container and you can store this for a few days.
Great with powdered sugar or a simple glaze on top.