DELICIOUS Nutella Banana Bread recipe. This easy to make bread has chocolate chips inside of it!
This Nutella Banana Bread you guys.
This This Nutella Banana Bread you guys. SWOON!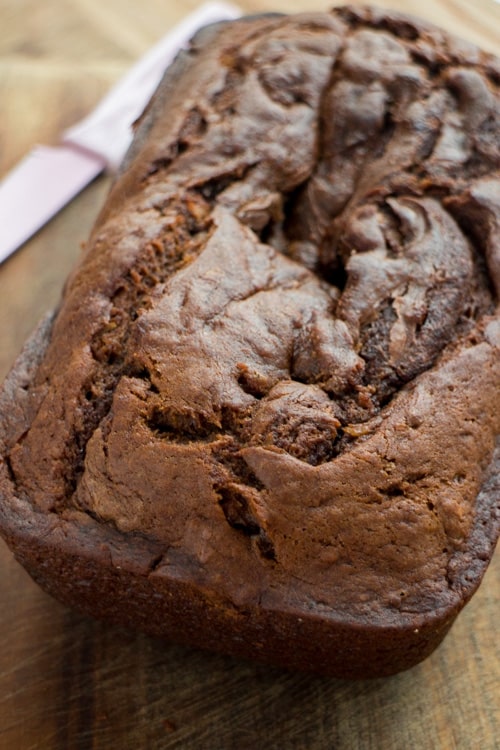 It's delicious. It's moist. It's chocolatey. It smells the best. I'm in love. Do you know how good it is? My banana hating husband (GASP) runs to the kitchen when I make it to steal the first piece. I hit his hands though. The first piece is always mine.
Nutella Banana Bread Recipe
The main ingredients are bananas, Nutella (or other chocolate hazelnut spread) and coconut flakes. That's what creates all the magic in this bread.

What to do with ripe bananas?
This recipe needs 2 bananas. Riper is better. Plus aren't ripe bananas gorgeous?

Then you'll need your Nutella and coconut. When the Nutella bottle is done, it might be cleaned completely with a combination of my finger/spoon/tongue. Please don't ever let any Nutella go to waste. It's precious. The coconut adds a little crunch to the bread and a little extra flavor. It works perfectly in combination with this bread.

One hour in the oven and your home will be smelling like banana paradise. Then you'll take it out to cool down for a few minutes. During these minutes just sit there and stare at your gorgeous Nutella Swirled Banana Coconut Bread. Oh goodness, I love you bread.

Look at those Nutella swirls! I'm in love.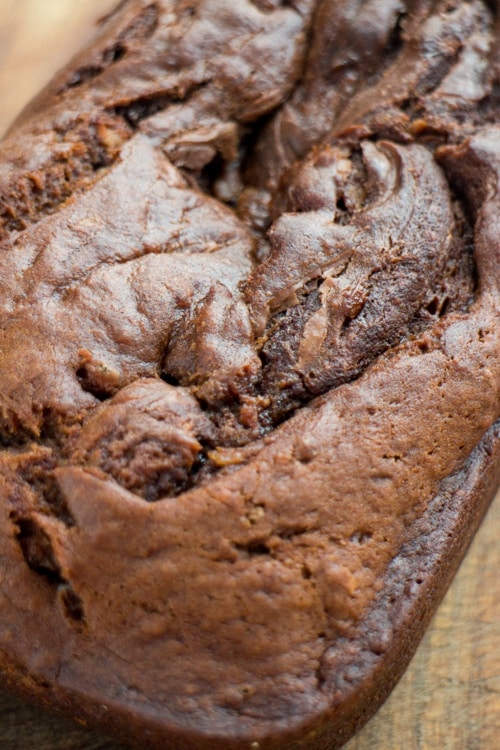 Ok, it's time to dive into this.

If my blog could play music for this post it would be the voice of angels singing.

Each piece has a bit of chocolate in it. The Nutella keeps it's form and adds some creaminess to each slice of the bread.
The obstacle is going to be eating only 1 slice.

I might be a bad girl sometimes and eat 2.

It's amazing for breakfast. It's perfect for a after school snack. How about a afternoon snack at work? Or dessert? Or maybe just a piece whenever you want it because you deserve it! This banana bread is my current favorite breakfast. I love that it's already made so I can just wake up, cut a slice and grab a seat to eat it.

Alongside tea, it gets my morning started just right. Added bonus? Sprinkle some additional coconut on your slice. It's purrrrrfect.
Nutella Banana Bread
Print
DELICIOUS Nutella Banana Bread recipe. This easy to make bread has chocolate chips inside of it!
Ingredients
2 cups flour
1 teaspoon baking soda
1/4 teaspoon salt
1 teaspoon cinnamon
1/2 teaspoon nutmeg
2 bananas
1/2 cup butter - softened
3/4 cup brown sugar
2 eggs
3/4 cup Nutella or other chocolate hazelnut spread
1/2 cup sweetened coconut flakes
Instructions
Preheat oven to 350 degrees. Spray a bread loaf pan with nonstick spray.

In a large bowl combine flour, baking soda, salt, cinnamon and nutmeg.

In another bowl smash bananas so it becomes creamy. Then add butter, brown sugar and eggs. Mix with hand blender until combined.

Add wet mixture into dry mixture. Stir in 1/2 cup Nutella and coconut and continue to mix.

Pour mixture into bread loaf pan. Put remaining Nutella on top and with a spoon swirl it around to create a nice design.

Bake for 60 minutes.

Let cool and then serve.