Crispy Garlic Parmesan Shrimp baked in the oven at 350 degrees. This baked shrimp is coated in Panko bread crumbs and tastes so juicy and crunchy!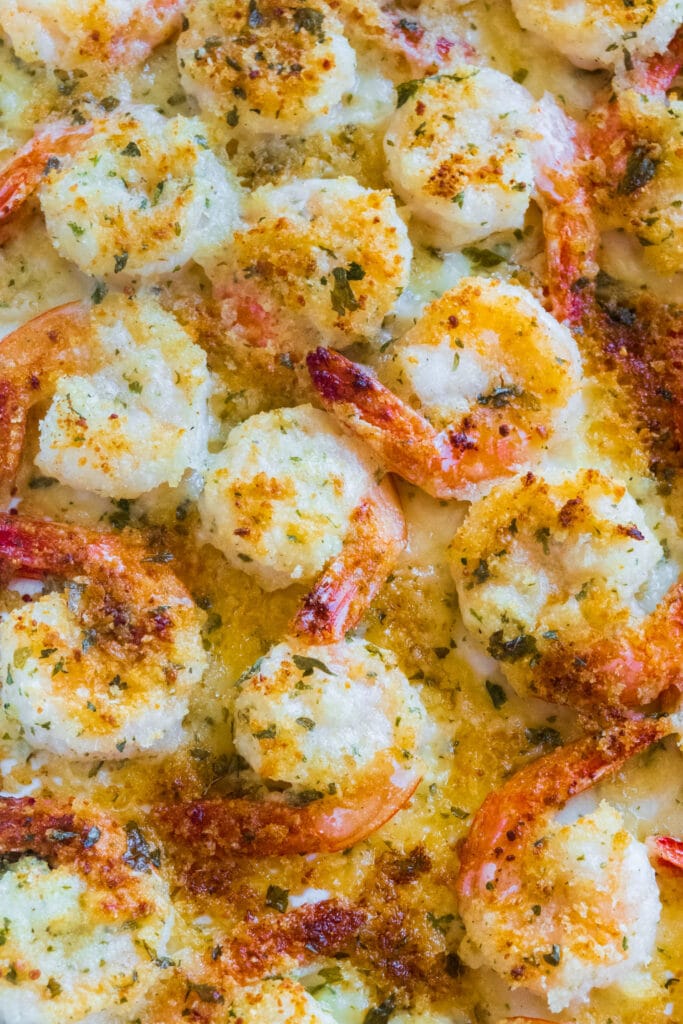 The Best Crispy Oven Baked Shrimp Recipe
This garlic parmesan oven baked shrimp will melt in your mouth! It's crispy! It's cheesy! It's delicious! Pair with your favorite vegetables, or eat as is. Whatever you decide, it makes for a great meal for both you and the family.
This recipe is great because it's simple, easy to make, and doesn't lack flavor in the slightest. You may just want to make an extra batch because it won't be surprising if they run out fast!
Tip: Check out my shrimp fajitas, shrimp salad and shrimp pasta if you can't get enough shrimp!
For sides, consider making baked potatoes (or instant pot baked potatoes if you need them fast!) or cheesy brussels sprouts. You can also pair it with side salads, macaroni salad, or potato salad. However, it's great on its own as well if you're looking for something light!
I hope you love this crispy parmesan baked shrimp. Enjoy!
Crispy Oven Baked Shrimp Ingredients
Panko breadcrumbs
Grated Parmesan cheese
Dried parsley
Garlic powder
Shrimp (jumbo shrimp or whichever size you prefer)
Butter, melted
How to Make Crispy Oven Baked Shrimp
Prepare the oven and baking dish (see exact measurements, cooking times, and instructions at the bottom of this post).
In a large mixing bowl, add your dry ingredients and mix.
Once it's mixed, add in the shrimp, so they are thoroughly covered and coated with the breadcrumb mixture.
Now place the shrimp in a single layer to bake.
Add leftover panko crumbs and melted butter on top.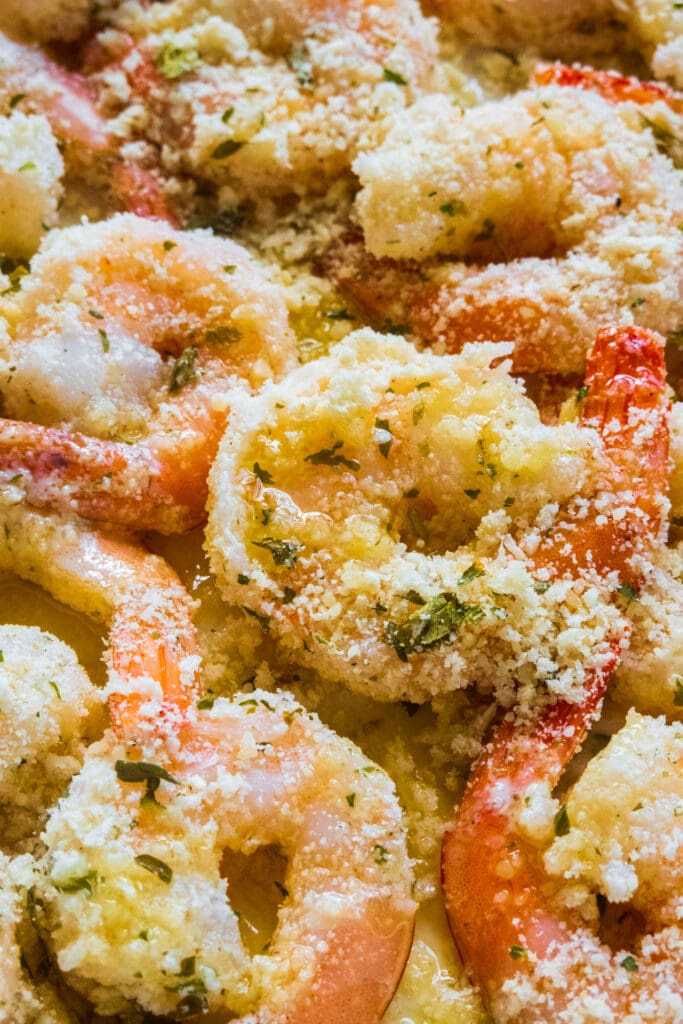 Bake until crispy and golden brown, serve, and enjoy!
Storing/Reheating Leftovers
Wait, you think there's going to be leftovers for this recipe? Hahaha. Ok, but if there is (but there won't be)….
Store your leftover shrimp in an airtight container in the refrigerator. If stored properly, your baked shrimp can last up to 3-4 days.
When reheating the leftovers of this baked shrimp recipe, you can use the oven or microwave. If using an oven, preheat to 300 degrees F. Add a couple of tablespoons of warm water to your pan and then cover it with foil. Then, let it bake for 10 to 15 minutes.
If you're reheating in a microwave, you will need to heat the shrimp for 30 seconds to 1 minute. Just make sure to check the middle and feel if it's still cold or not.
To reheat in an air fryer, set it to 300 degrees F. Spray the bottom of the basket with cooking spray or line with parchment paper. Do not stack the shrimp but ensure it's in a single layer for best results. Bake on both sides for two minutes or longer. Or set for 4-5 minutes without flipping.
Crispy Oven Baked Shrimp FAQs
In this recipe, it is all about the bread crumb mixture, the melted butter, and baking in the oven. Once it's baked, the breadcrumbs will blend in with the butter and bake into the crispy shrimp you're hoping for.
How do you cook cooked shrimp?
Let's talk about reheating and cooking cooked shrimp. If you've bought precooked shrimp, the good news is it won't take long to cook. Generally, it should take up to six minutes to cook. However, since this recipe calls for baking and the goal is to create a crispy texture, it will bake longer.
How can I add more flavor to my shrimp?
If you'd like to add even more flavor, consider adding black pepper and/or red pepper flakes. This will add a kick of heat and spice to your shrimp and bring another element of flavor to your dish.
Pin for later:

Crispy Oven Baked Shrimp
Print
Crispy Garlic Parmesan Shrimp baked in the oven at 350 degrees. This baked shrimp is coated in Panko bread crumbs and tastes so juicy and crunchy!
Prep Time: 10 minutes
Cook Time: 20 minutes
Ingredients
1/2 cup panko bread crumbs
1/2 cup grated Parmesan cheese
1 tablespoon dried parsley
1 teaspoon garlic powder
1 pound shrimp peeled, tails left on
2 tablespoons butter melted
Instructions
Preheat the oven to 350 degrees F. Spray a 9×13 baking dish with nonstick spray.

In a large bowl add bread crumbs, parmesan cheese, parsley and garlic powder, stir with a spoon to mix. Add shrimp and mix again to fully coat them in this mixture.

Remove shrimp from bowl and place in baking dish, in single layer. If there is any bread crumbs left over you can sprinkle some on top. Pour melted butter on top of the shrimp.

Bake for 18-20 minutes or until crispy. If you want them browned on top, turn the broiler on and cook for 2-4 more minutes or until the top of shrimp is light browned. Serve and enjoy!