50 Recipes for Garlic Lovers that smell great and taste amazing! Fill your whole week's meal plan up with these garlic recipes that the whole family will love.
50 Recipes for Garlic Lovers
They say "A little garlic goes a long way", but I say "the more the better". I'm a garlic lover, are you? Nothing smells better than cooking garlic on the stove or having it roast in the oven. And the flavor? The flavor of garlic can go with anything; vegetables, meat, sauces, rolls, and so much more.
What I also love about garlic is that you can buy it fresh and prep it yourself or you can get a jar of minced garlic for convenience. The ease of preparing garlic makes it easy to cook with and comes with some added benefits.
Tip: Here's how to store garlic to make it last for months!
Benefits of Garlic:
Here are a few health benefits that garlic may help with (note, I'm not a Doctor!)
Garlic can combat sickness, including the common cold. Roasted garlic is commonly eaten to combat side effects of the flu.
Garlic is highly nutritious, but has very few calories.
The active compounds in garlic can reduce blood pressure.
Garlic improves cholesterol levels which may lower the risk of heart disease.
It helps protect you against vampire attacks. Just kidding. Or am I? 🙂
And more!
Don't you love it? If garlic can help my health a little bit, I'm all in!
How to Chop Garlic:
I have heard people mention that they don't buy fresh garlic because, "It's a pain to chop". But let me tell you a secret; you can do it in 5 easy steps!
Pull off a single clove from the garlic bulb. Place on cutting board.
Lay a knife blade flat on top of the clove. Using the palm of your hand, push down on the blade with enough strength to crack the skin.
Peel the skin from the clove.
Cut off the root ends.
Use a gentle rocking motion to slice the cloves into several slices, or as many slices as your clove can generate.
Awesome, now you have minced garlic and can be used in these 50 Recipes for Garlic Lovers.
50 Garlic Recipes
Easy Garlic Knots recipe made with refrigerated breadsticks dough. These homemade garlic knots taste just like delicious NYC pizzeria garlic knots!
Pasta with Garlic Butter Sauce: Have your choice: Garlic Butter Broccoli Pasta and Zucchini Pasta.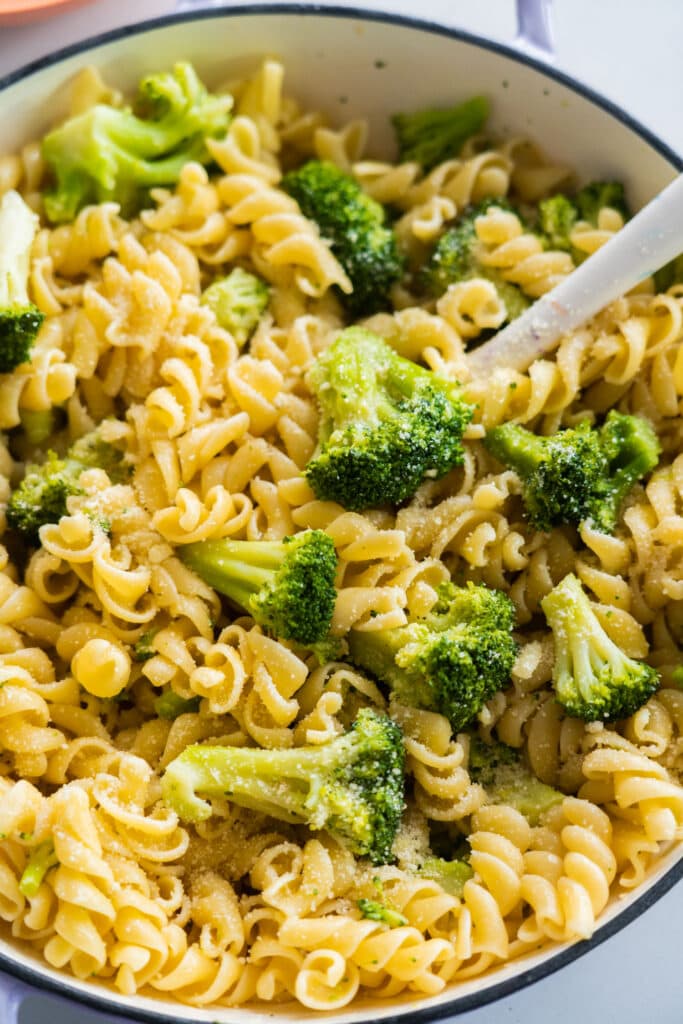 The best creamy garlic chicken, ready in 30 minutes! This recipe delivers tender chicken breasts nestled in a mouth-watering garlic cream sauce. Round out the flavors with lightly caramelized onions and fragrant thyme for an irresistible yet easy dinner.
Garlicky Sauteed Mushroom Recipe
Mushrooms never fail, so do these sauteed mushrooms. The key to cooking mushrooms; keep it simple.
Creamy Garlic Dairy Free Mashed Potatoes
These Creamy Garlic Dairy Free Mashed Potatoes are the best! Enjoy this easy to make vegan mashed potatoes recipe that uses broth and olive oil instead of milk! Perfect for everyday dinner – you won't believe how good and healthy these are!
This recipe calls for 3 cloves of garlic, but you can even add more depending on your love for garlic! Personally I think eggplant and garlic go together perfectly!
Black Garlic Cheese and Turkey Stuffed Portobello Mushrooms
These turkey stuffed portobello mushrooms have creamy black garlic cheese, spinach, onions and roasted red peppers for an easy and unbelievably tasty dinner!
Garlic Naan with Garlic Browned Butter
Homemade naan bread gets an upgrade! Sprinkled with fresh garlic before cooking, AND brushed with a browned butter garlic sauce—this recipe is addictive!
This Roasted Garlic Cashew Dip recipe is paleo and vegan, and packs a ton of flavor. It's a healthy, dairy free appetizer that is both adult- and kid-approved!
Roasted Garlic Asparagus with Feta
Our Roasted Garlic Asparagus with Feta Is Tossed In A Garlic Lemon Marinade And Roasted To Caramelize Flavors In The Asparagus Then Topped With Feta!
Garlic, Bacon, and Beer Macaroni and Cheese
Garlic, Bacon, and Beer Macaroni and Cheese has pub cheese, bacon, and garlic for a ridiculously good bacon and mac and cheese of your dreams.
Garlic Parmesan Smashed Potatoes
These garlic parmesan smashed potatoes are perfectly roasted and then topped with a buttery garlic parmesan mixture. They get baked until crispy and cheesy!
Bok Choy And Garlic Over Pasta
Easy, healthy Bok Choy and Garlic Over Pasta recipe that you can throw together in minutes! The bok choy tastes great in this olive oil and garlic sauce!
These garlic roasted carrots are the perfect side dish: they're an easy crowd-pleaser that's full of garlic and herb flavor. They'll go with almost any main dish, from meats to soups to casseroles.
Garlic and Herb Beef Tenderloin Recipe
This garlic and herb beef tenderloin recipe is easy to prepare, flavorful, and incredibly tender. Wow your guests with this perfect beef tenderloin!
Creamy Garlic Chicken Thighs Recipe
Garlic butter chicken thighs make a perfect low carb chicken dinner! This creamy garlic chicken recipe is fancy enough for guests, but easy enough for weeknights.
Garlic Broccoli Stir Fry with Chickpeas
Flavorful broccoli stir fry with chickpeas and a delicious garlic ginger sauce! This vegan weeknight dinner is easy to make in just one pan and it's ready in about 25 minutes.
Make this easy garlic butter with just 3 ingredients and 1 bowl! You'll want to top everything in this butter!
This Roasted Garlic Vinaigrette recipe is magic in a bottle. The garlic is slow roasted until it becomes tender, buttery and rich. Perfect for salads, grain bowls and vegetables!
These savory whole wheat garlic knots are loaded with roasted garlic and fresh parsley and take just an hour and a half to make.
Whole Roasted Garlic will melt like butter in your mouth. Using whole garlic bulbs this easy recipe will blow your mind!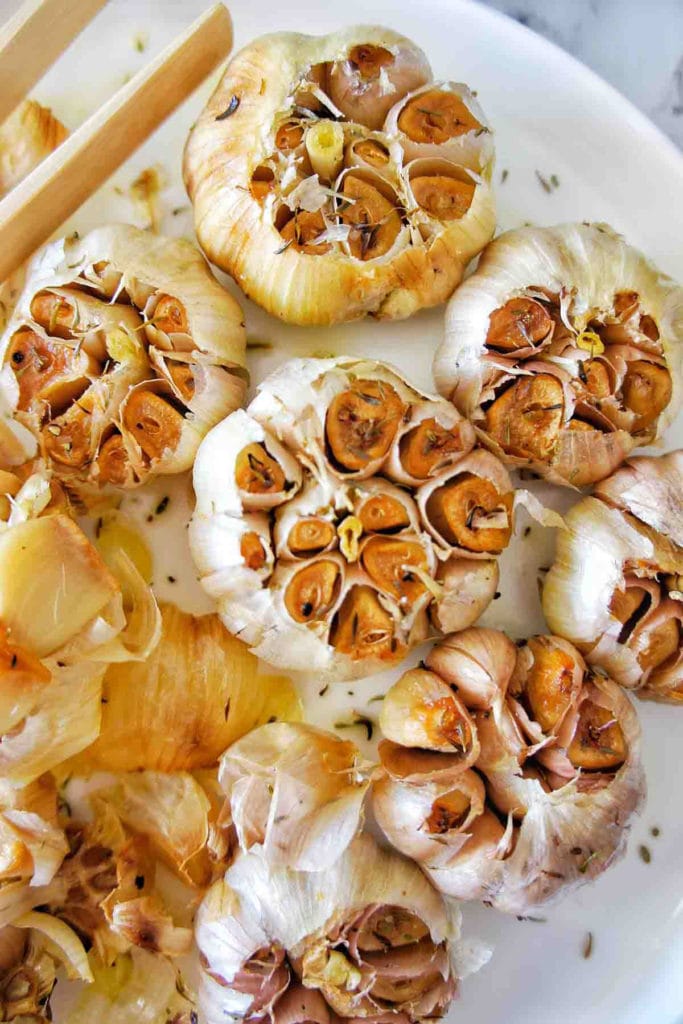 Simple roasted garlic soup made with very basic ingredients. This soup will warm you up and works as an antibiotic during the flu season!
This Grilled Lemon Garlic Shrimp Recipe has an easy marinade that takes just minutes to throw together! Serve over some pasta noodles and you have a perfectly easy dinner!
Asian-Style Mashed Potatoes with Wasabi and Roasted Garlic
Not a "pedestrian" potato recipe, Asian-Style Mashed Potatoes with Wasabi and Roasted Garlic get their delicious flavor from roasted garlic, wasabi, and sesame oil, and finished off with fresh chives or scallions, and a generous sprinkling of furikake! A perfect side dish for your Asian main.
Roasted Garlic Guacamole is a delicious party appetizer or a must- have for taco night! The roasted garlic is the perfect compliment to ripe avocados!
Have you ever thought of making a garlic pickle? It is one of those easy Indian recipes that are so uncomplicated to follow.
Cherry Tomato & Garlic Confit Tagliatelle
A perfectly light, satisfying comfort pasta. And cherry tomato and garlic confit does all the work for you as it slow cooks in the oven, so you can enjoy this decadent dinner with only 15 minutes of work.
This simple and healthy roasted garlic and beet dip is as beautiful as it is tasty. With only four ingredients it's easy to make a batch to serve with vegetables, chips, crackers or as a sauce for roasted vegetables or pasta!
Creamy Garlic Chicken with Thyme
The best creamy garlic chicken, ready in 30 minutes! This recipe delivers tender chicken breasts nestled in a mouth-watering garlic cream sauce. Round out the flavors with lightly caramelized onions and fragrant thyme for an irresistible yet easy dinner.
Roasted Garlic Burger with Cambozola
This roasted garlic cambozola burger may seem unassuming, but this creamy gourmet cheeseburger boasts a sweet and tangy flavor perfect for your next cookout!
Fresh Herb and Garlic Potato Stacks
Need a new potato recipe? These fresh herb & garlic potato stacks have layers of potatoes with fresh herbs, garlic, and Parmesan cheese!
10 Garlic Clove Marinated Grilled Filet
Juicy, flavorful and super easy to prep and make, this 10 Garlic Clove Marinated Grilled Filet is perfect for that weekend when you want to grill! It's mouthwatering and so tender!
Roasted Artichokes with Garlic
Meet your new favorite appetizer! These Roasted Artichokes with Garlic are simple, delicious, and the perfect little starter for any meal or gathering. Best of all, they're SOOO easy to prepare!
This lemon garlic shrimp pasta is a quick and easy dish loaded with flavor. The whole recipe takes about 30 minutes and would be perfect for a weeknight meal.
Black Garlic and Lime Cedar Plank Salmon
Black garlic and lime add even more flavor to smoky grilled cedar plank salmon. You won't have to wait long for this paleo and gluten-free recipe to be cooked up; it's done in a snap and will surly satisfy!
Roasted Garlic and Potato Chowder
Roasted Garlic and Potato Chowder is thick, creamy and hearty and the perfect comfort food.
Cheese Stuffed Garlic Bread Rolls
Quick Garlic Bread Rolls packed with pockets of melty, gooey mozzarella cheese, and brushed on top with garlic-herb butter. One of the best skillet breads ever!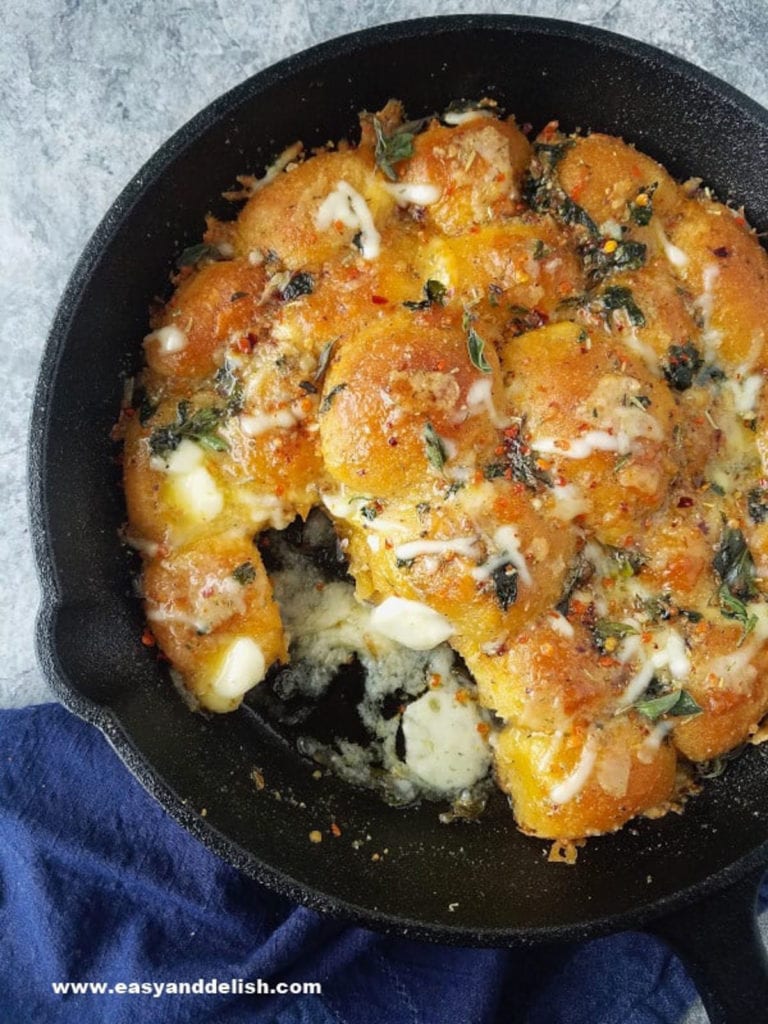 Easy Garlic Lime Chicken Tacos with Lime Crema
Tacos. I can't think of anyone who doesn't love them. And these Easy Garlic Lime Chicken Tacos with Lime Crema are as easy to make as they are to love!
Creamy Garlic Parmesan Orzo is a perfect side dish for dinner tonight! This tasty twist on mac and cheese will have you going back for seconds!
Roasted Cauliflower with Garlic
Roasted cauliflower with garlic is an easy and tasty low carb and vegan side dish to add to your favorite protein for dinner or meal prep. Roast cauliflower florets in a single layer on a sheet tray to get the best flavor and color!
Garlic and Cheddar Buttermilk Muffins
These Garlic & Cheddar Buttermilk Muffins are a perfect cornbread-ish texture with a cheesy, hearty favor. They're gluten-free and delicious for serving with soups, slathered with butter.
This garlic roasted chicken recipe is a one skillet recipe with tender juicy chicken breast surrounded by a creamy garlic sauce. Nervous about so much garlic? Don't be! When garlic is roasted in the oven, it mellows out and takes on a sweet velvety texture.
Pan-Fried Garlic Butter Prawns
No seafood dish is ever complete without a massive amount of garlic. Don't be afraid to add a whole bulb of garlic to these Pan-Fried Shrimp in Garlic Butter!
Easy and Delicious Recipe to Make Your Fav Garlic Fries at home.
Garlic Scape Pesto is such a delicious Pesto! This Garlic Scape Pesto is dairy free, vegan and gluten free, so it is very allergy friendly!
Creamy Vegan Garlic Mushroom Fettuccini
This Creamy Vegan Garlic Mushroom Fettuccini is the perfect comforting meal that is full of rich flavor and easy to prepare. It has a thick and luscious one-minute dairy-free cream sauce that is made in your blender and poured overtop the sautéed mushrooms.
Sliced Tomatoes Salad wtih Basil, Garlic and Olive Oil
This juicy and flavourful sliced tomatoes salad is the perfect way to enjoy the season's fresh tomatoes, garlic and herbs.
These Garlic Mashed Potatoes are smooth and silky, creamy, deliciously buttery and beyond garlicky! You can serve these at every holiday and Sunday supper dinner.
Eggs aren't just for breakfast! This delicious Garlic Rice with Fried Egg is made with sticky rice, a sweet soy drizzle, crispy fried garlic, and a sunny-side up egg on top. Break the yolk and mix everything together for delicious spoonfuls of savory, flavorful rice that makes a wonderful and different dinner from the norm!
This garlic lentil soup is a tasty, budget-friendly meal that can be made on the stovetop or in a pressure cooker. It's loaded with flavor and it's a great weeknight dinner!
Crock Pot Garlic Parmesan Chicken Wing Dip
This easy Crock Pot Garlic Parmesan Chicken Wing Dip will be a hit at your party or potluck! A great dip alternative to Buffalo Chicken Dip for those who don't care for spicy food.
Roasted Garlic Mashed Cauliflower
Roasted garlic totally ups this cauliflower mash's game. Creamy, delicious and full of flavor, you won't the potato!
I hope you like these garlic recipes!