Here's the best ways on how to store garlic to make it last for months. Includes tips on how to store peeled garlic, how to freeze garlic, and recipes you can make.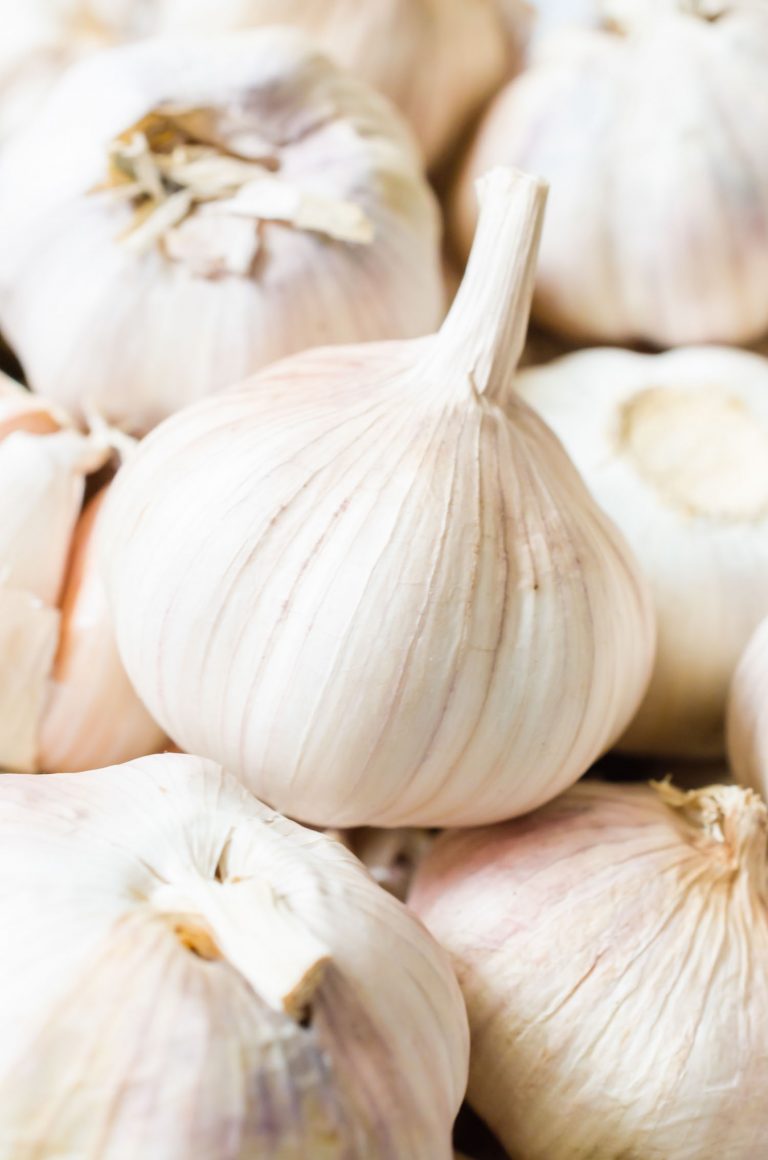 Garlic is a must have ingredient for many cuisines and tasty dishes. It can be quite easy to grow in your garden or you can buy garlic in bulk for cheap, but keeping it usable for long periods of time until you use it may be a challenge. Here's the best ways on how to store garlic for long periods.
Tip: Learn how to plant and harvest garlic – it's so easy to grow your own!
Best Way to Store Garlic
Garlic can be preserved and stored in a number of ways but rule number one is to always store fresh garlic in a ventilated, cool, dark space. Like all the alliums (onions, leeks, etc.) they like it cool and dark. An entire bulb of garlic should be stored in a mesh bag, wire basket, or paper bag completely whole.
A full bulb of garlic that is kept whole can easily last a few months when stored properly. This is great if you have a bunch of heads of garlic and are not going to use them all up right away. As soon as you pull a few cloves off the head the clock starts ticking.
How long can you store garlic for?
This is entirely dependent upon what you do with the garlic before storing it. A fresh whole head of garlic can stay good for months if stored as stated above. If you store fresh garlic in the refrigerator make sure it is in the crisper drawer to reduce the humidity so mold doesn't grow. Don't remove the garlic until you are ready to use it or it will start sprouting.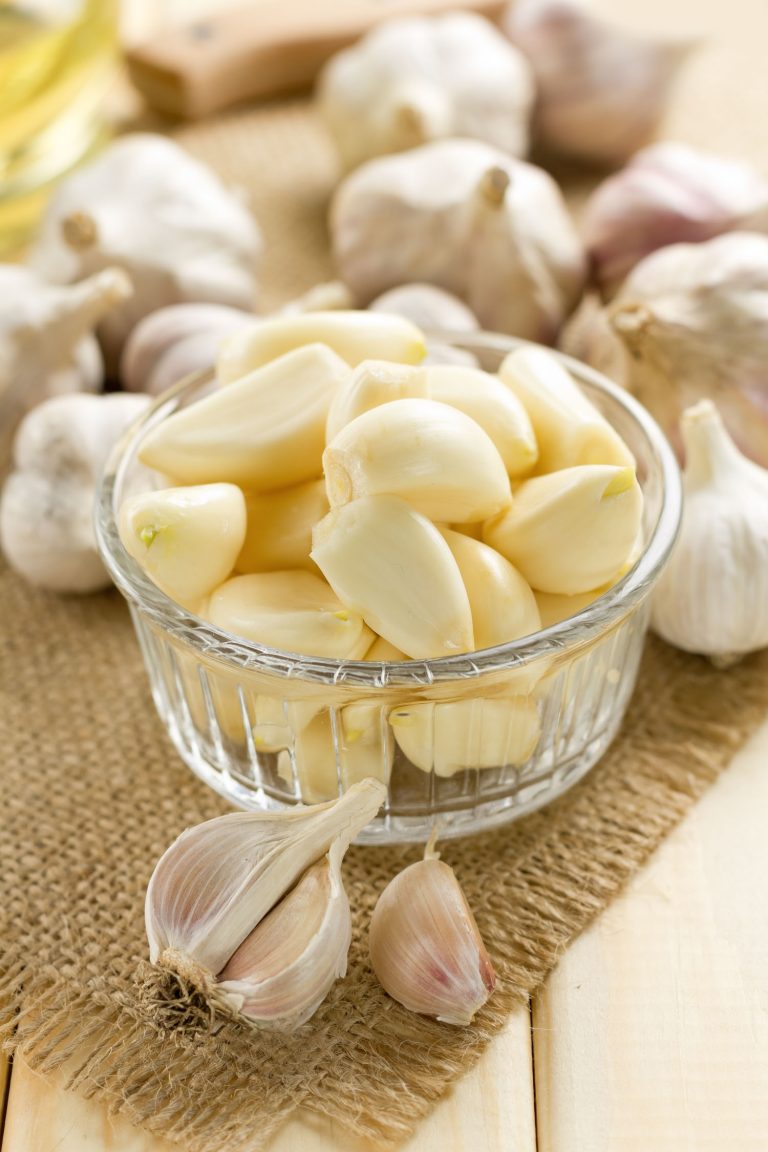 Another method is to dry your garlic in the oven to make garlic powder. Slice up the cloves and lay them out on a sheet pan, baking them for a few hours. Or you can use your dehydrator if you have one.
Garlic powder can be stored for up to 3 years at room temperature in an airtight container. Make a flavored oil with dehydrated garlic sometime! Simply toss a handful into a jar and top it off with olive oil. Again, this is a good way to store and use garlic at room temperature for up to a year.
Roasting your garlic is a great way to deal with a ton of garlic all at once. It tastes heavenly and is super easy to make. Once it is roasted and soft, just squeeze out the soft flesh into an airtight container. This will stay good for about one week in the fridge. See below for tips on how to freeze it!
What temperature to store garlic at?
The ideal temperature is around 60-65 degrees Fahrenheit, but room temperature is okay. You can even get creative with garlic that has a long soft stalk by braiding the stalks together to hang.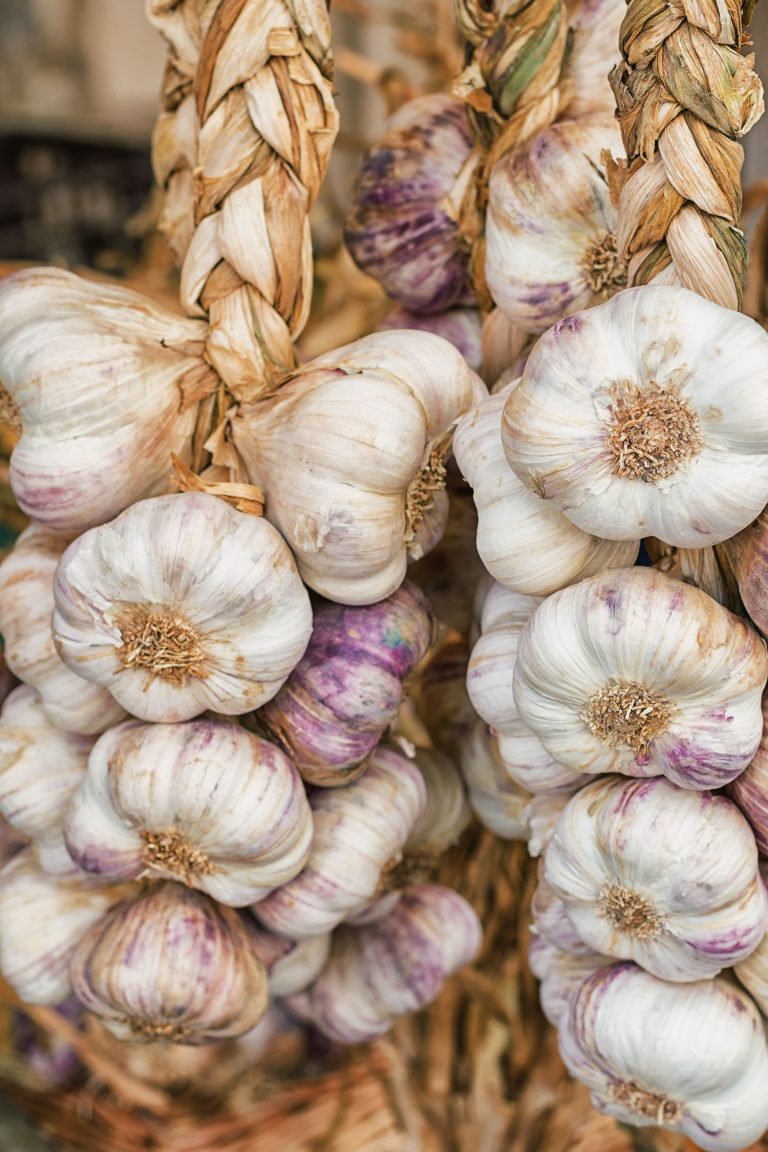 We also found a great tip that suggests storing garlic in a turned over unglazed clay flowerpot in the cupboard. This creates an easy humidor that still allows air to circulate.
It can be more difficult to keep garlic in the winter as heated winter homes tend to be too dry, but if you keep it in a dark cabinet it should stay good.
Can garlic be stored in the refrigerator?
If it is stored in the crisper drawer to reduce humidity, it can. It is not the ideal way to store it, however. Fresh garlic can mold very easily and cold moist environments will only speed that along. Cold also triggers garlic to start sprouting, in a roundabout way.
Once it chills it sort of goes into a hibernation mode, but as soon as it warms up it will think that it is springtime and ready to grow. Thus, it sprouts within a couple of days rather quickly.
How to Store Peeled Garlic
Garlic gets a lot of its protection from its outer skins. The inner skins are much thinner and won't protect the rest of the head of garlic well. So once you separate a clove (or 3-4, who uses only on?) from a bulb of garlic it needs to be used up fairly quickly. Store peeled or chopped garlic for a couple of weeks in a small (to reduce the amount of moist air) container in the fridge.
Or you can go ahead and toss it in olive oil to use, but again, it must be used up within 2-3 weeks. Another option is to pickle it or dehydrate it. This will keep those pieces of garlic good for use for quite a long time.
There are jars of minced garlic in oil that you can buy in the stores. This, too, should be used up in a reasonable amount of time but it has also been acidified. Be sure to check your label for the recommended time to use these jars within. This means that there is almost no risk of botulism from this fresh garlic.
Garlic Likes it Cool But Not Cold
It's also a good reminder that garlic like it cool, but not cold. Garlic will sprout within days of it being brought back up to room temperature after it is chilled. This is usually want happens when fresh garlic is placed in the refrigerator. This does not mean that if the garlic is preserved other ways that it then shouldn't be stored there. If you decide to put fresh garlic in oil, for instance, it must be refrigerated and used within 3 weeks, or you run the risk of botulism.
Pickling garlic is another great way to use it fresh, as the pickling mellows out the garlic flavor. Eat pickled garlic cloves straight out of the jar or toss them on your next salad. A simple way to do this is to toss the fresh garlic in a jar of salt and vinegar and keep it in the back of the fridge.
Is garlic bad when it starts sprouting?
Garlic does not go bad once it starts sprouting. A lot of people do not like the change in the taste, finding it more bitter, though. Personally though, I don't mind the taste at all, especially once cooked or roasted.
If you accidentally leave the garlic out and it starts sprouting, go ahead and plant it in a small pot of soil. Put it on the window sill and enjoy harvesting the garlic greens. These can be readily used in many dishes without too much of a noticeable difference in taste. Use the tender stalks of green garlic in the place of regular garlic, scallions, onions, leeks, or even shallots for any recipe!
How to Freeze Garlic
Some say frozen garlic loses some of its flavors, but it is a good way to store garlic indefinitely. Mince the garlic in a food processor with a little bit of water to make a garlic paste. Then spread this paste on a silicone sheet, or pour it into ice cube trays and freeze. Once frozen, break up the sheet or remove the cubes and store them in an airtight container until you need to use it!
Roasted Garlic can be squeezed out of each peel segment into an airtight container and frozen indefinitely. It becomes freezer-burned if it isn't stored air-tight, but will last a good long while if it is. Roasted garlic contains so many oils that even when it is frozen, you can scoop it out with a spoon.
I hope these tips help you store your garlic!
How to Store Other Vegetables
Here's my other posts that will teach you how to optimize freshness with storing vegetables.
How to Freeze Broccoli for Long-Term Use
How to Store Carrots for Months
How to Store and Freeze Strawberries
How To Store Onions Using Pantyhose
Freezing Tomatoes for Year-Round Use
Store Potatoes Perfectly for a Long Time
How to Store Lettuce to Last for a Month
How to Freeze Peaches
How To Freeze Fresh Green Beans Without Blanching
How to Store Cilantro To Make It Last For Weeks
Pin for later: