Here are some great tips for freezing your tomatoes to make them last for months. As watery as tomatoes are, they are great for freezing and using in dishes!
What is the best way to freeze fresh tomatoes?
Tomatoes are a staple to so many great dishes and are often quite prolific when you grow your own plants. More often than not you end up with more than you could possibly eat at one time.
As watery as tomatoes are, they are actually great for freezing! It's so simple too. Quicker and easier than canning by far. Here are some great tips for freezing your tomatoes to use in dishes like stews, soups, and sauces later.
Wash Tomatoes Before Freezing
Tomatoes should be washed and dried off prior to any sort of freezing. They have very thin skins and can easily absorb any cleaners, soaps, or any vinegar you use to clean them. So, if you do use something other than water, use it quickly and rinse them immediately to minimize transfer that will affect the flavor and edibility. They can also absorb anything through their stem scar as well.
Washed tomatoes can be frozen whole, but it is often recommended that you cut away the stem, stem scar, and core them before freezing. Do this over a bowl so save all the juices.
Freeze Them Diced or Whole
You can have them anyway you choose. Some like to freeze whole tomatoes, some slice them, some chop them, and some mash them. It does not really make any difference. Just know that once they freeze that it the shape they are in until they thaw. Whole tomatoes can be frozen individually on a cookie sheet, then placed into freezer bags or containers for individual use later.
Any tomato or tomato piece that is frozen while touching another tomato will be stuck like that. Their water content is high enough it's almost impossible to successfully separate them while frozen. If you want to use them in bulk down the road, it's easy to chuck them in whatever state they are in, into a bag or container and freeze them that way.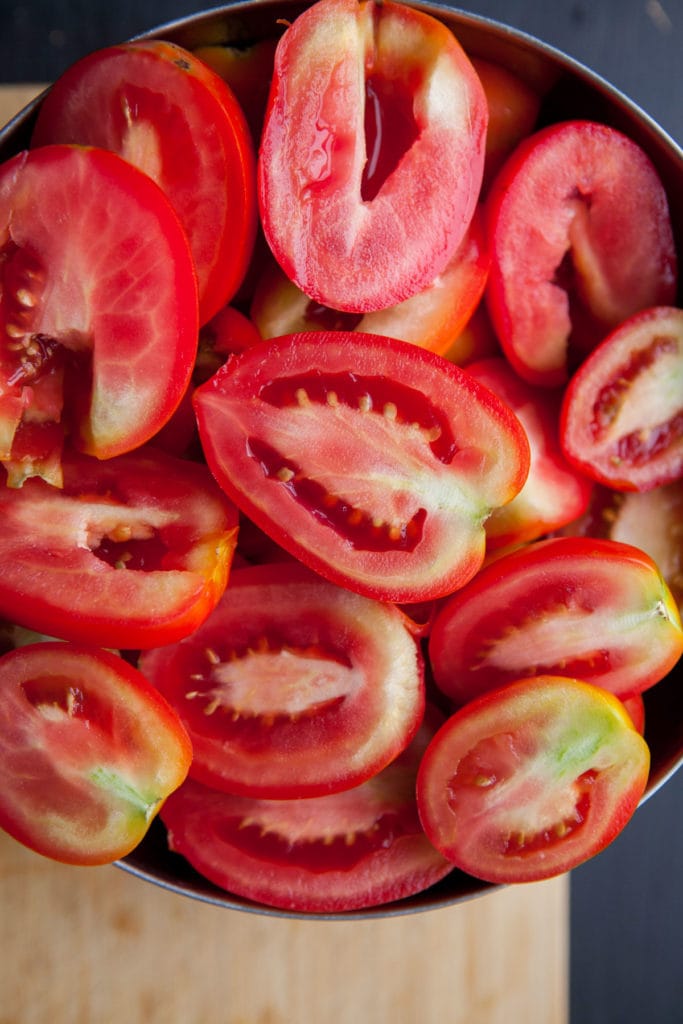 How to Freeze Tomatoes Without Blanching
As mentioned above, the easiest way to freeze tomatoes is…just to freeze them. Once they are washed and dried they can be frozen individually on a tray or tossed into a container. It is best to make sure they are firm but fully ripe. Freezing tomatoes that are large or medium size is ideal.
If you put them in a freezer bag, try to lay it flat for freezing. This way it doesn't take up as much room in the freezer once it is frozen. Then you can stand it up or move it wherever you need. This way you can freeze as much or as little as you want and/or need. Quick and easy!
To Peel or Not To Peel
This is a completely personal preference. The tomatoes will freeze just fine with their peels on. Once you thaw tomatoes though, they will lose their structure and become mushy, negating the need for the peel anyway. Thawed tomatoes are extremely easy to peel as it just slips off.
If you want to peel the tomatoes prior to freezing them, this is the easiest method: After washing and drying, cut a small x into the bottom skin. Boil some water and place the tomatoes in the boiling water from 30 seconds to 1 minute until the peels start to split. Use a slotted spoon to remove then and then simply peel the skins away.
Blanching Before Freezing Tomatoes
Blanching is another method that can be used prior to freezing tomatoes. It isn't necessary but can better preserve the flavor when freezing them for an extended amount of time. Tomatoes are also easily peeled during the blanching process as well. It is quite easy to blanch tomatoes.
Start by bringing a large pot of water to a boil. Prepare a large bowl with cold ice water off to the side. Cut an x in each tomato skin, place them in the boiling water for about a minute. Use a slotted spoon to remove the tomato from the boiling water once the peel starts to split away and immediately place it in the ice bath. This stops certain enzymes from functioning that could cause over-ripening and loss of flavor. Once the tomato has cooled you can finish peeling it and ready it for freezing.
How Long Can I Freeze Tomatoes For?
Frozen tomatoes are generally good for around 3 to 4 months in the freezer. In a deep freezer that is close to zero degrees Fahrenheit, they can last indefinitely without any loss of quality and flavor.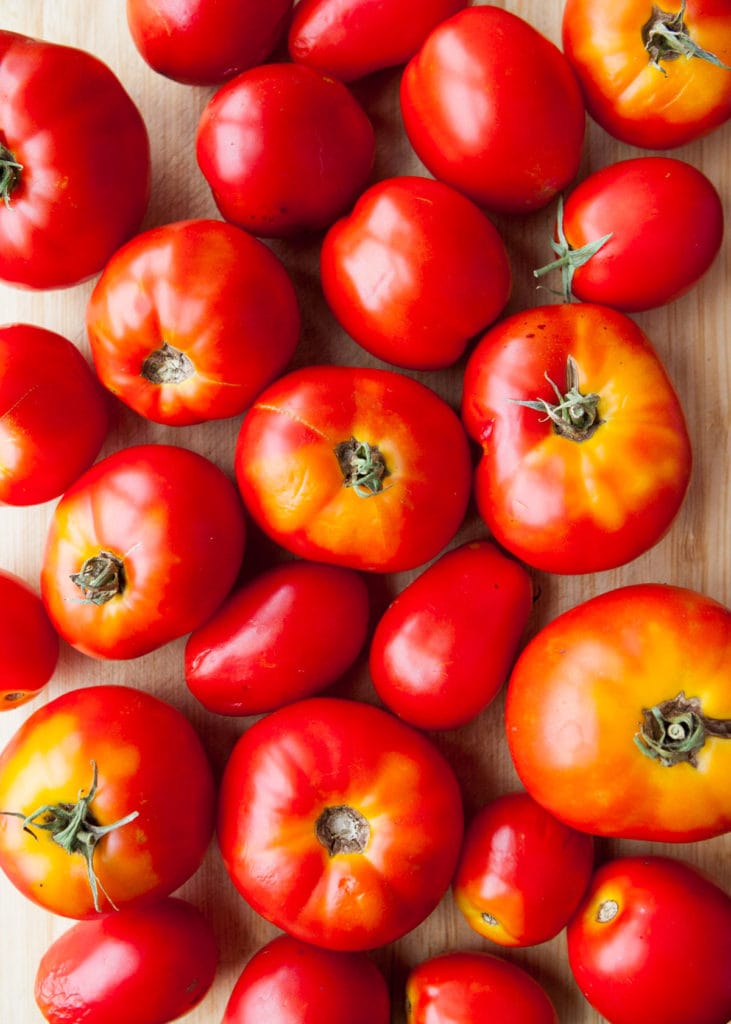 Blanching the tomatoes first will ensure better preservation over longer periods of time in the freezer. So it's ideal to freeze fresh tomatoes when they are at their peak so you can have flavorful tomato dishes long into the cold months when most store-bought tomatoes are quite flavorless. No matter how you freeze them, ensure that they are stored in an airtight container with as little air as possible.
How to Thaw Frozen Tomatoes
First, if you are making a sauce with the tomatoes, like a pasta sauce, you don't have to thaw them right away! Just used a grater and grate the frozen tomatoes! If you are using them in soups, stews or something else tomatoes can be thawed using just about any available method.
Thawing anything at room temperature is not advisable as bacteria can grow in that thawing time, but generally, tomatoes thaw quickly enough and if you are using them in other cooked dishes, it is not a big deal. Frozen tomatoes will never be used raw, their structure will not hold together, so it's not very pleasant to eat them once thawed. If, however, you are making fresh salsa, be sure to thaw them in cold water or in the fridge to avoid any potential bacterial growth.
Using Them Year-Round
Freezing tomatoes is a great way to have great tasting tomatoes year-round. It's an incredibly simple method and it's only downside is their water content means that once frozen then thawed, their structure will not hold together. This makes them perfect, however, for any future cooked dish and fresh-tasting sauces when tomatoes are not in season.
I hope these tips will help you with freezing your tomatoes!
Pin for later: