Learning How to Make Homemade Tomato Paste is the perfect way to use up the abundance of garden tomatoes. All you need are tomatoes, salt, and garlic! Use it in sauces, soups, or as a flavor staple in many more recipes.
Fresh Italian tomato paste
If you have a green thumb, then I'm sure you're more than familiar with a common problem: ending up with TONS of tomatoes in your garden!
There are so many ways to use up an abundance of tomatoes. Whether you choose to make spaghetti sauce, salsa, or freeze them for later, the options are truly endless. One of my favorite ways to preserve all of my tomatoes is to make homemade tomato paste.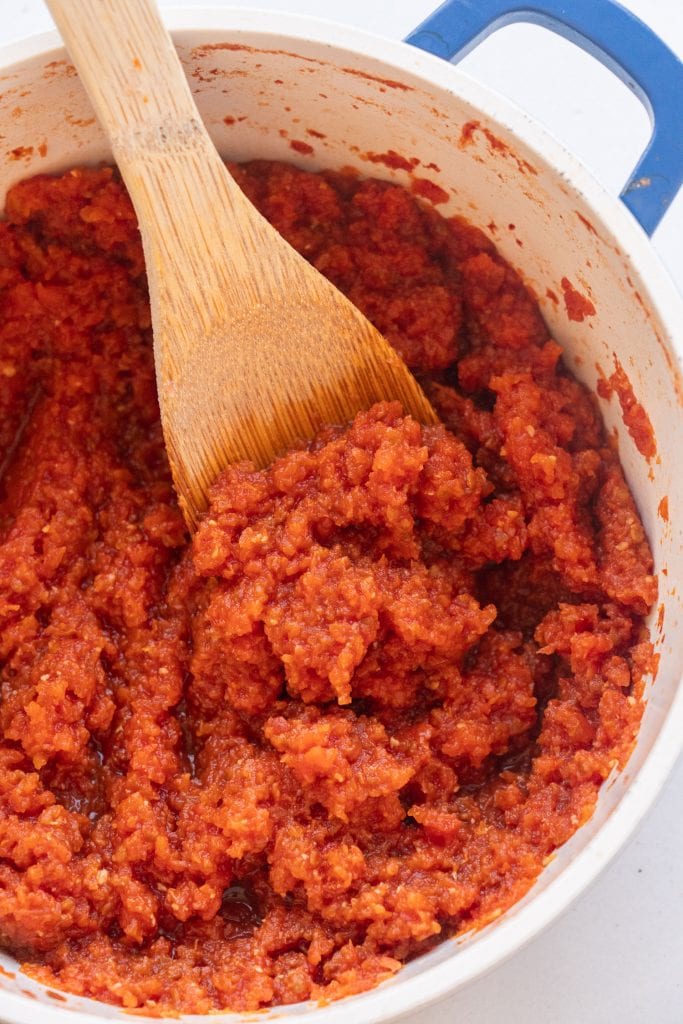 Learning how to make homemade tomato paste is such a valuable skill. All it takes are 3 simple ingredients and a little bit of time to end up with a pantry staple you can use all year long! Cooking them down with some salt and garlic transforms these once plump and fresh tomatoes into a thick and flavorful paste you can use in so many recipes.
Tomato paste is a staple ingredient in cooking and can be used to make tomato sauces for pasta or the perfect pizza with layers of fresh flavors. The best part is you can freeze it into cubes and defrost it for later! This recipe is a zero-waste win.
Cooking Video
What kind of tomatoes are best for homemade tomato paste?
You want to make sure the tomatoes are fresh when making homemade tomato paste. I don't recommend using canned tomatoes because they're usually cooked right inside the can. This means your tomato paste will have a more processed, not-so-fresh flavor.
The best type of tomatoes for paste is Roma or plum tomatoes (think elongated in shape) because they have the least amount of seeds. In this recipe, we don't take the skin off or deseed the tomatoes. They're just cut in half and boiled right away.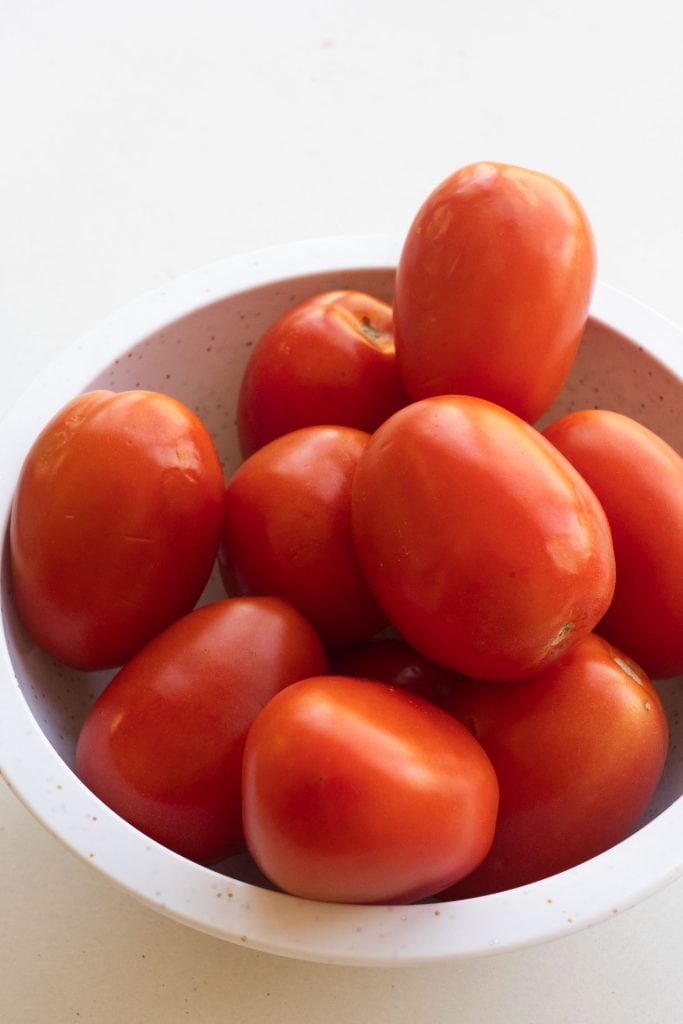 Make sure the tomatoes you use feel heavy compared to their size, are bright red, and have no bruising or moldy spots. A light tomato usually has less flavor. Lastly, the texture should be firm but also slightly soft enough to handle a bit of pressure.
How to make tomato paste with fresh tomatoes
Prepare your tomatoes by washing them thoroughly. Cut each tomato in half lengthwise.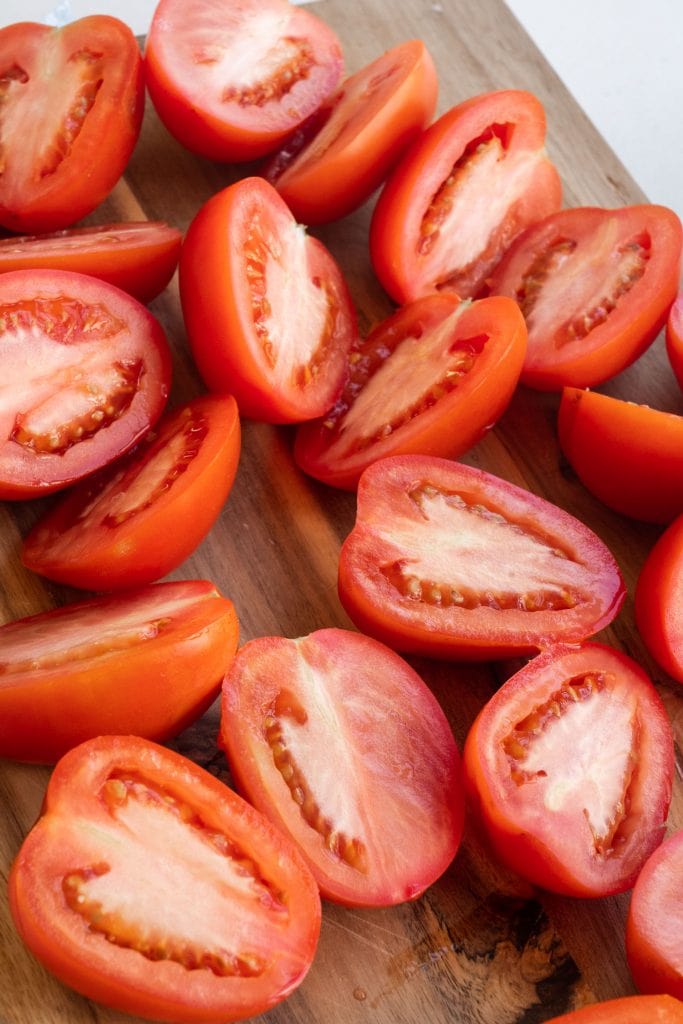 Break down the tomatoes and garlic using a food processor.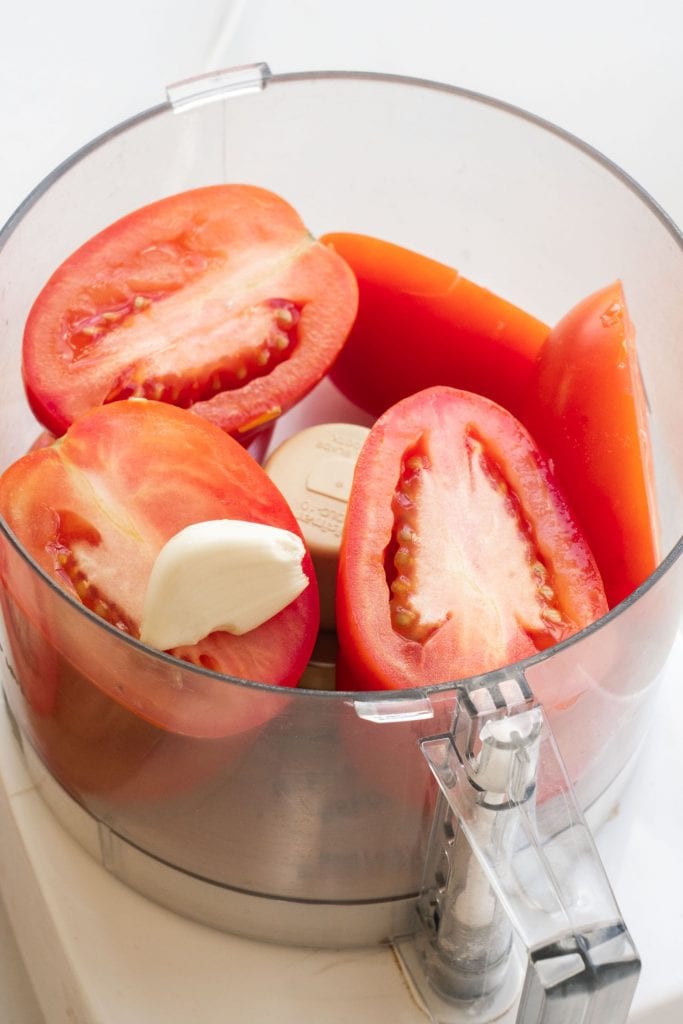 Once the mixture is nice and smooth, add it to a saucepot along with the salt.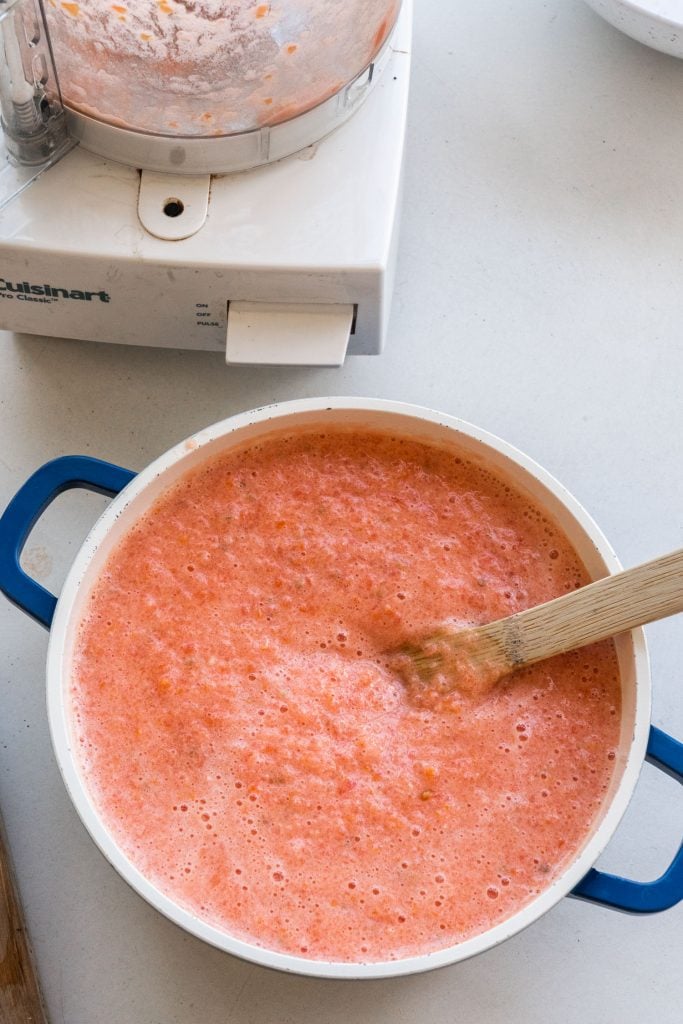 Bring it up to a boil before lowering the heat to a simmer.
The tomatoes will simmer out their liquid for about 3-4 hours. Stir it occasionally to mix up the flavors. You'll know it's ready when there's no visible liquid and a dark red paste has formed.
Let the finished paste cool completely before distributing it into ice cube trays. This recipe will make about 1 1/2 cup tomato paste or fill up 1-2 full ice cube trays.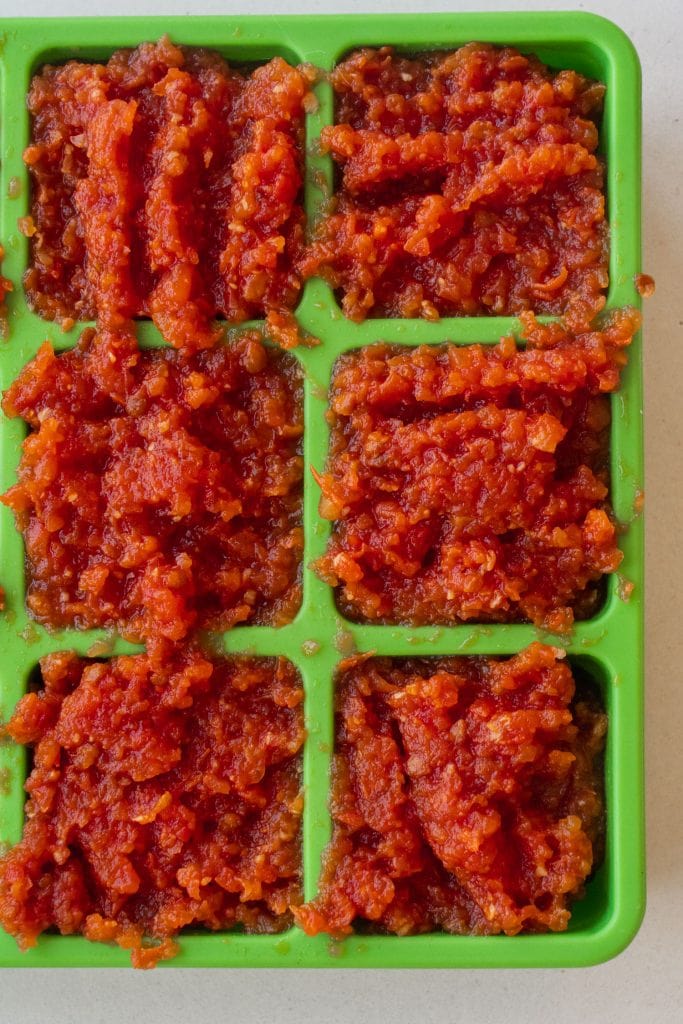 Freeze completely and transfer the cubes to a freezer-safe bag or airtight container for perfectly portioned tomato paste whenever you need it!
Ways to use tomato paste
Tomato paste is a staple ingredient in most soups and chili for added flavor and acidity. I love using it in a warm batch of Black Bean Chili and Slow Cooker Cabbage Beef Soup. Make tomatoes the star of the show by using the paste in some Tomato and Cauliflower Soup or Roma Tomato Soup.
You can also use tomato paste to make so many different kinds of red tomato sauces. My favorites include a Cherry Tomato Sauce and Classic Beef Tomato Sauce.
A rich and bright homemade tomato paste will give your Italian dinners a pop of flavor. Use it in my Slow Cooker Spaghetti and Meatballs, Cheesy Stovetop Lasagna, or Classic Chicken Parmesan.
Storing and freezing
To store: Homemade tomato paste must be stored in the fridge and has a shelf life of 5 to 7 days. Store the tomato paste in a sealed container or silicone bag with as much air removed as possible. This will prevent oxidation and the growth of bacteria.
To freeze: Tomato paste can be frozen for up to 6 months and thawed for later use. The easiest way to freeze tomato paste is by adding it to ice cube trays and then transferring the frozen cubes to sealed ziploc bags (I use the same method when storing my homemade pesto).
Don't have ice cube trays? Place a layer of parchment paper on a baking sheet and add spoonfuls of tomato paste in a single layer. Place the baking sheet in the freezer until the tomato paste is completely frozen. Pop the frozen tomato paste off of the parchment and place them in a freezer-safe bag to freeze for up to 6 months.
More tomato recipes to try
Pin for later:

Homemade Tomato Paste
Print
Learning How to Make Homemade Tomato Paste is the perfect way to use up the abundance of garden tomatoes. All you need are tomatoes, salt, and garlic! Use it in sauces, soups, or as a flavor staple in many more recipes.
Ingredients
3 pounds roma or plum tomatoes
3 cloves garlic
1 teaspoon salt
Instructions
Slice tomatoes in half.

Put tomatoes and garlic in food processor and pulse until smooth. Depending on the size of your food processor, you might have to do this in batches.

Pour tomatoes into a large pot, add salt and stir.

Place pot on medium high heat on the stove, and bring to a boil. Once boiling, turn down heat to low and simmer.

Cover and cook for 3-4 hours, stirring once in a while, until tomatoes turn into a paste and liquid is gone.

Use tomato paste immediately, place in refrigerator to use within a couple of days, or place in ice cube trays to freeze. Once frozen, pop out of ice cube trays and place in freezer safe bag.
Notes
This recipe makes 1 1/2 cup tomato paste, or approximately 1-2 ice cube trays full. You can easily double, triple or more this recipe to stock up on tomato paste.